Published on April 27, 2022
Tuesday night was District 6 Supervisor Matt Haney's final Board of Supervisors meeting, as he just won a state Assembly seat and is off to Sacramento. But one of his final votes late Tuesday night was the unanimous approval of a $145 million purchase of the Common City Gardens Apartments at 333 12th Street (at Folsom Street), a facility with 200 family-friendly, multi-room units that will be used to house families experiencing homelessness.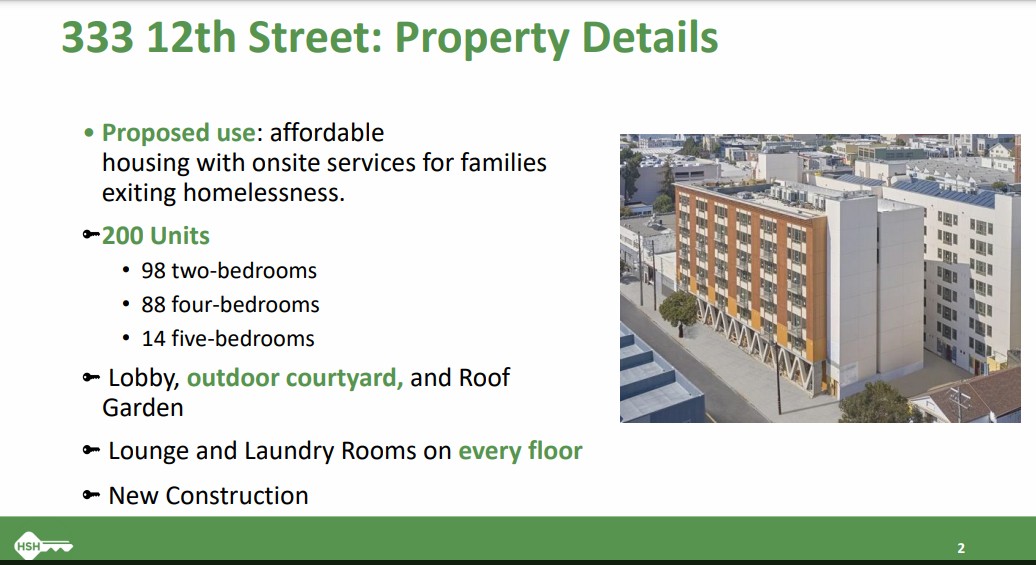 Image: SF Board of Supervisors
It's the latest in a spree of San Francisco City Hall officials buying up hotels to shelter the homeless population. But this particular hotel purchase is unique, as it is intended for homeless families with multiple children. As seen in the graphic above, this property offers 14 five bedroom units, 88 four-bedroom units, and 98 two-bedroom units.
"We know families are struggling to afford housing in San Francisco, and getting such a large new building dedicated to family affordable housing is huge," Haney told the Chronicle last month, when the proposal was still in the works.
Certainly $145 million sounds like a steep price tag. But the city is pulling in substantial new revenue from the 2018 Prop. C "homeless tax" fund, and is shrewdly and aggressively pursuing matching funds from federal and state Project Homekey programs. If homelessness is San Francisco's most visible problem, and the budget is in surplus, then it does make sense to spend money addressing homelessness. And on a moral level, it also makes sense to prioritize sheltering families with kids.
The purchase does come amidst some bad press regarding the living conditions at many SF homeless hotels, as just hours before the vote, the Chronicle published a lengthy investigative piece that details rat infestations, a string of overdose deaths, and bodies not being not being discovered for days. That report mainly addresses single-room occupancy (SRO) hotels which are different from the newer converted hotels.
But the upkeep of these hotels, and serving their populations, may fall on the same nonprofits and groups that manage the SROs. It's a reminder that getting roofs over people's heads is important, but the work doesn't end there, particularly for families with children.