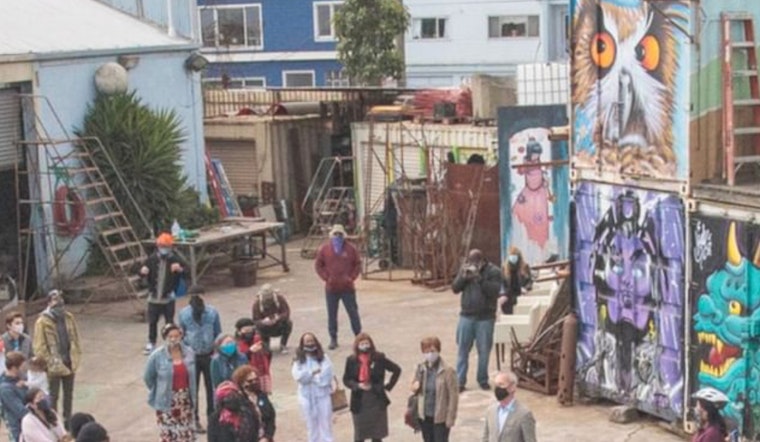 Published on June 10, 2022
You may have seen Golden Gate Park's "Entwined" LED installation these last couple of holiday seasons, or the public art displays of the collective Flaming Lotus Girls, or the towering public sculptures at Hayes Valley's Patricia's Green. You may not realize these were all put together at the same place, a Hunters Point metal and industrial workspace called the Box Shop.
View this post on Instagram
And the Box Shop is welcoming you to see how the magic happens in a two-day, free family-friendly event this weekend called Box Shop Mural Fest. Dozens of new murals have popped up at the space over the course of the pandemic, and even more will be painted over the weekend while you watch, in what organizers call "one of the largest open-air mural art exhibits in the Bay Area" that will also feature live music, breakdancing, and barbecue.
View this post on Instagram
"Over 100 unique and beautiful murals are installed on the exterior and inner yard of The Box Shop," Mural Fest organizers say in a press release. "Murals are painted on 60+ shipping containers that serve as artist studios and storage for creatives. Artworks are created by Bay Area emerging and established street artists including GATS, John Vochatzer, Tracy Piper and Jeremy Novy."
View this post on Instagram
It's a full day of activities both days (Saturday 12-6 p.m., Sunday 12-4 p.m.), along with guest speakers, guided mural tours, and live mural painting. Kids can join in on the painting of a group mural project, plus there will also be live samba and break dancing, and the music of Inti Batey.
And on Saturday night, there will be a Mural After Party from 8-11 p..m "Bring your own drinks and snacks!" organizers say.
View this post on Instagram
You'll want to visit the Box Shop while you can, as they may only have that location for a few more years. Per a Box Shop press release, "The Box Shop is facing troubling waters with its long-term home as the property owner expressed interest in developing the land into condos." Entwined creator Charles Gadeken "could only renew the space's home for three more years without an option to extend the lease," though a Save the Box Shop campaign is underway to help find a new permanent home.
Box Shop Mural Fest is Saturday, June 11 (12-6 p.m.) and Sunday, June 12 (12-4 p.m.) at 950 Hudson Avenue in Hunters Point. Admission is free.