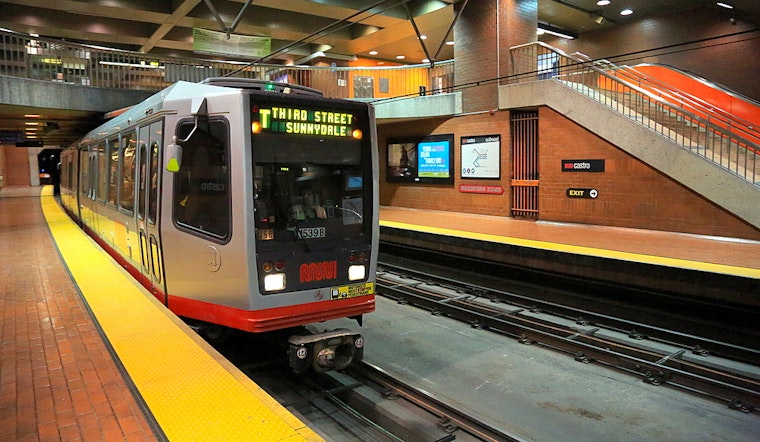 Published on June 22, 2022
Two people were shot and one was killed Wednesday morning onboard a Muni train traveling between Forest Hill and Castro stations.
There are few details so far, but we know that one person has died and another was injured in a shooting that occurred on a Muni train.
Supervisor Myrna Melgar confirmed the news Wednesday morning, saying that the shooter fled the train at Castro station, and may still be on the loose. The SFMTA tweeted an announcement that subway service was suspended between Castro and West Portal stations, pending a police investigation.
"We have too many guns out there. Too, too many," Melgar said.
Terrible news this morning: on the MUNI between Forest Hill and Castro station, we have been informed by SFPD that a shooting occurred inside the train. Two victims were shot. One is deceased and the second victim in hospital. Perpetrator ran out of the train at Castro station

— Myrna Melgar (@myrnamelgar) June 22, 2022
The SFMTA said it was temporarily running bus shuttle service between West Portal and Embarcadero.
Update: It became clear in the hours after the shooting that it was an isolated incident, and it occurred following an argument between two men on board the train. The SFPD said, based on the initial investigation, that the suspected shooter shot a 27-year-old man with whom he was arguing, and a stray bullet then also injured a 70-year-old man sitting nearby. The latter was apparently shot in the knee.
The suspect, who fled into the Castro neighborhood after leaving the train at Castro Station, remains at large, and was described vaguely as wearing dark clothing and a dark, hooded jacket.
Later on Wednesday, police released surveillance images of a person of interest in the case. That individual is being sought for questioning by investigators.
⚠️ Park District Homicide Update ⚠️

Investigators have obtained video of the incident. The SFPD is releasing a still photo of the video, which is an image of a person of interest. The SFPD is asking this person to come forward and speak with investigators pic.twitter.com/9lmudSgtJW

— San Francisco Police (@SFPD) June 23, 2022