Published on December 22, 2022
After three years in the Castro, progressive Indian restaurant Bhoga (468 Castro St.) is calling it quits. However, the space won't sit vacant for long.
A sign in the window and liquor license transfer notification indicates that an American & Asian-Indian fusion restaurant called Castro Restaurant & Brewhouse will be taking over.
Owner Premm Makkena tells Hoodline that Bhoga's last day will be around the first week of January, pending the permit approval process with the California Department of Alcoholic Beverage Control (CA ABC).
"I was looking for a change and a different path," said Makkena about the closure. Makkena says he plans to take a break to spend more time with his family and will not be opening another restaurant.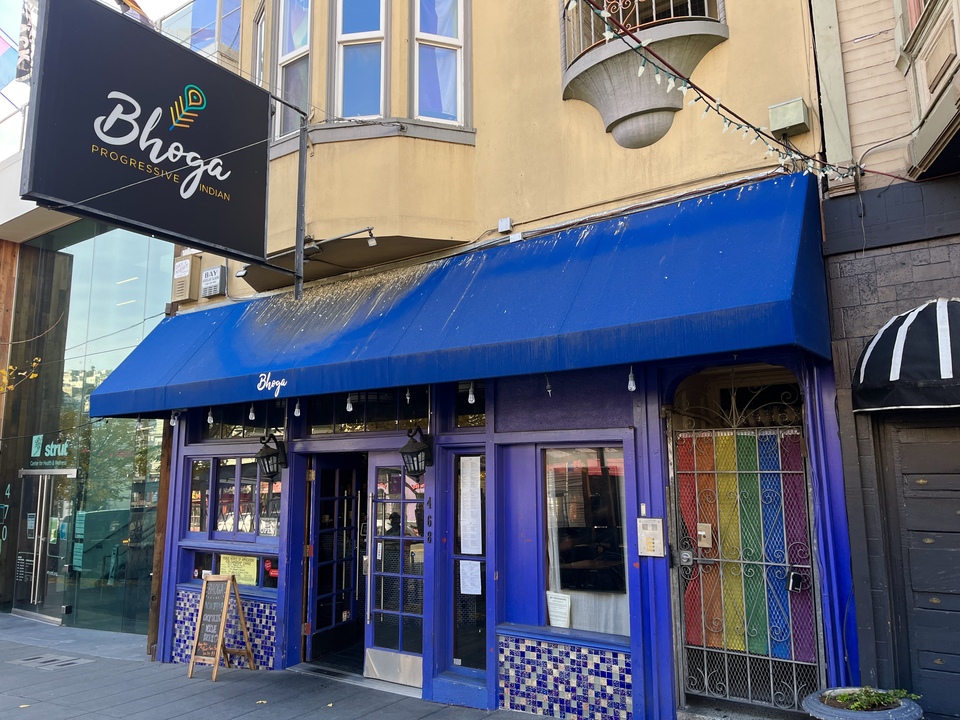 Castro Restaurant & Brewhouse is set to take over at 468 Castro St. | Photo: Steven Bracco/Hoodline
"With COVID, things got a little challenging in the restaurant industry," added Makkena. Public records indicate Bhoga received two Small Business Administration (SBA) Paycheck Protection Program (PPP) loans in May 2020 and March 2021.
Looking back on three years Makkena said, "The Castro has been very friendly. It is a really tight community and I'm grateful for the neighbors, even during COVID."
Makkena tells Hoodline he sold the restaurant to business partners Ajay Khadka and Arun Dangi.
Khadka tells Hoodline that Castro Restaurant will keep Bhoga's Indian dishes and add pizza, pasta, sandwiches, and plant-based meat.
Khadka explained that he's been in the restaurant industry for 15 years and currently owns Upper Haight's Om Indian Cuisine, Millbrae's Sugdanh Indian Restaurant, and a West Coast Sourdough franchise location in Mill Valley.
Khadka, who was born in Nepal to restaurateur parents, went to college in computer science and worked in Silicon Valley as a data analyst and software engineer. In a 2016 interview with Hoodline, he said that after years in that world, "I decided I wanted to do something I like," something more rewarding, more flexible, and more social.
"I always wanted to open a restaurant in a busy area so I can explore more," said Khadka about opening in the Castro.
Looking at the restaurants around the neighborhood, Khadka said he noticed that most focus on one type of cuisine. "We're going to have a menu from all over," said Khadka. "It's going to be American, Asian, and Indian fusion."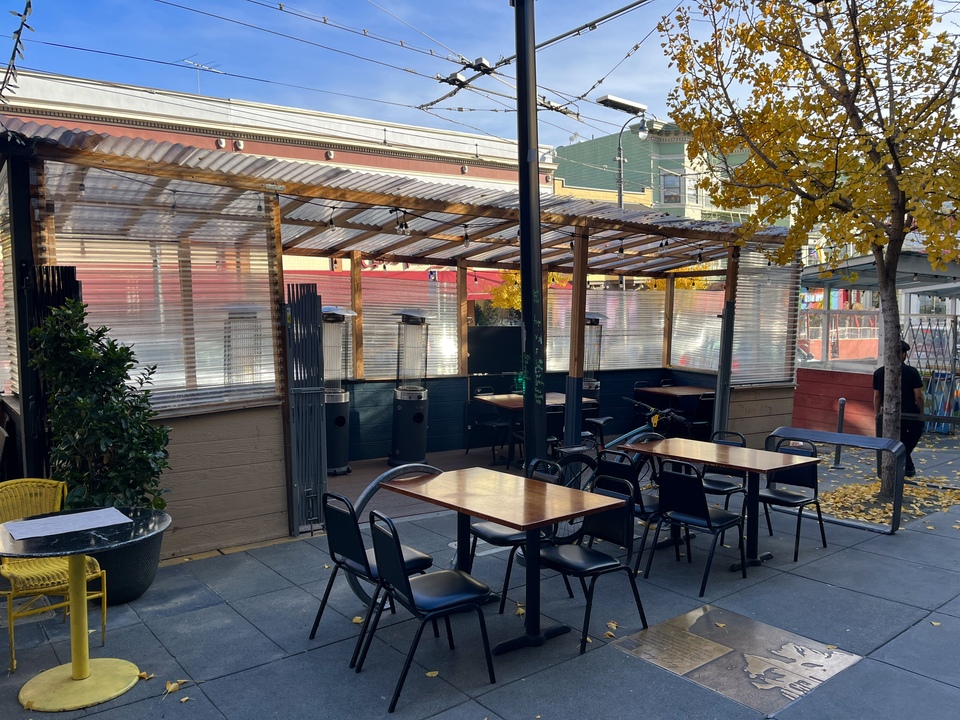 Bhoga's outdoor seating. | Photo: Steven Bracco/Hoodline
While Bhoga prepares to close, Makkena continues dealing with wage theft allegations that plagued the restaurant before it even opened.
Hoodline readers will recall Bhoga opened in 2019 in the former A.G. Ferrari space after a lengthy three-year application process.
Executive chef Mel Oza, front-of-house manager Adam, and bartender Sara resigned citing alleged wage theft at Bhoga, only a month after the restaurant opened in mid-2019. (Citing privacy concerns, both Adam and Sara asked Hoodline to withhold their last names.)
Makkena, for his part, denied all of the allegations, and after filing a wage theft claim with the state, Oza, Adam, and Sara remain in limbo.
Makkena — a Genentech employee who also owns Mission District Indian restaurant Deccan Spice — said that Adam and Sara were consultants who had already been paid in full for their work. Oza, he says, never signed the offer letter.
"There were some consultants who promised some deliverables and took advance pay, but never turned (in) the completed final deliverables," Makkena told Eater SF at the time.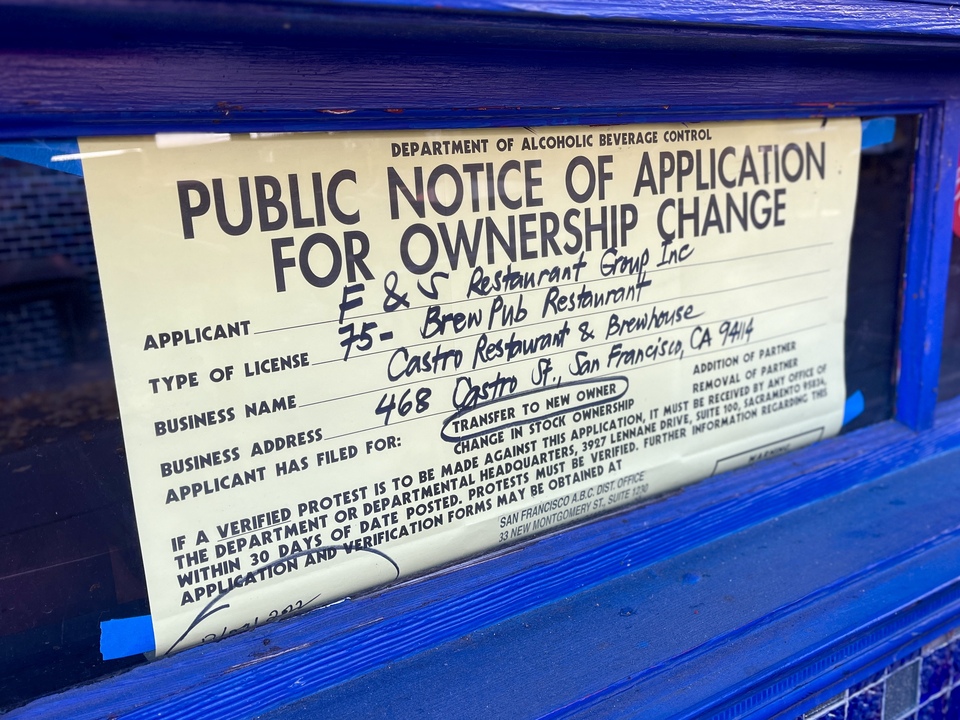 A liquor license transfer notification has been posted in the window. | Photo: Steven Bracco/Hoodline
A California Department of Industrial Relations (DIR) Labor Commissioner's Office settlement conference between Makkena, Oza, Adam, and Sara was scheduled for January 2020. The night before the hearing Makkena emailed DIR notifying them he was denying the claims and would not be attending.
There they learned that due to Makkena's dispute of their claims, they'd require a full hearing with the agency, something that the DIR says could take about 18-24 months to schedule. "Wage theft is a big problem in San Francisco," said DIR spokesperson Paola Laverde at the time, and the hearing backlog is because "there's a lot of claims."
Now nearly three years later, DIR held a hearing on these allegations in September.
The following month, DIR issued its ruling. Court records indicate Oza was awarded $11,953.38 — $4,744.65 in unpaid wage claims and $7,208.73 in interest, damages, and waiting time penalties.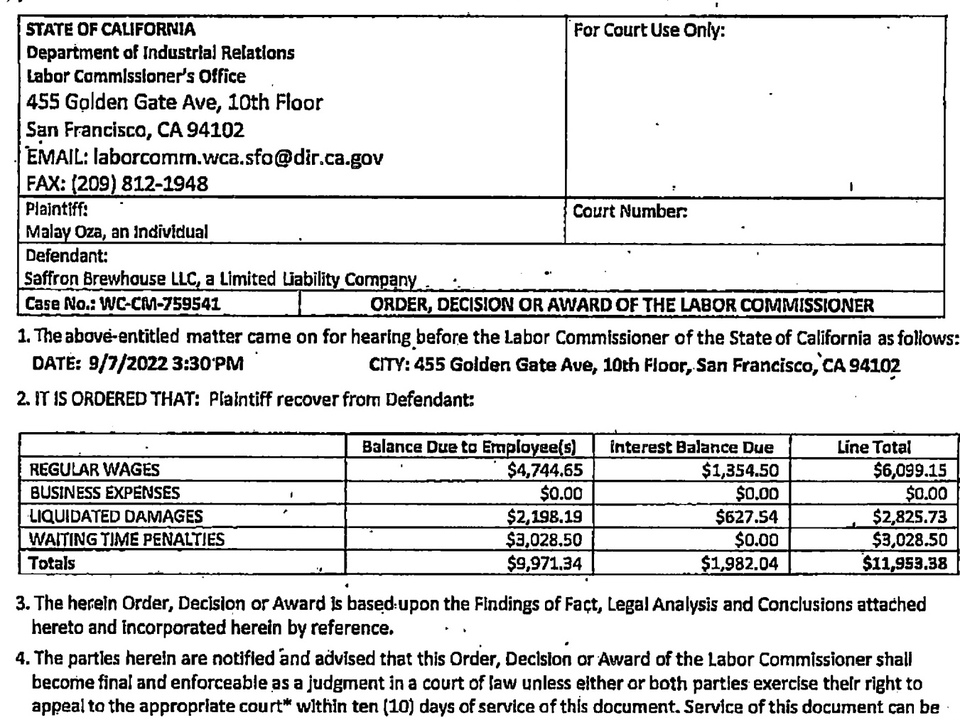 Court records show Mel Oza was awarded $11,953.38. | Image: SF Superior Court
Oza tells Hoodline that Makkena has appealed the ruling. "My case is now moved to San Francisco Superior Court for a hearing since Prem [Makkena] appealed the Labor Board decision in my favor at the hearing we had in September 2022," said Oza.
The total award is well below the $18,104.30 Oza had originally been seeking. "Even that amount is not right," said Makkena. "I'm sure I'll win the case," Makkena said.
As of press time, DIR did not respond to Hoodline's request for comment on the status of Adam and Sara's claims.
According to Oza, an appeal hearing takes approximately four to eight months from when it is filed.
Update 12/29:
DIR spokesperson Paola Laverde shared the decision and awards for Bhoga employees Adam and Sara.
Sara was awarded $8,040.10 — $2,029.48 in unpaid wage claims and $6,013.62 in interest, damages, and waiting time penalties. Adam was awarded $4,657.06 - $634.71 in unpaid wage claims and $4,022.35 in interest, damages, and waiting time penalties.
While Bhoga owner Prem Makkena has appealed the decision in favor of chef Mel Oza, Laverde tells Hoodline that Makkena has not appealed the decisions for both Adam and Sara.