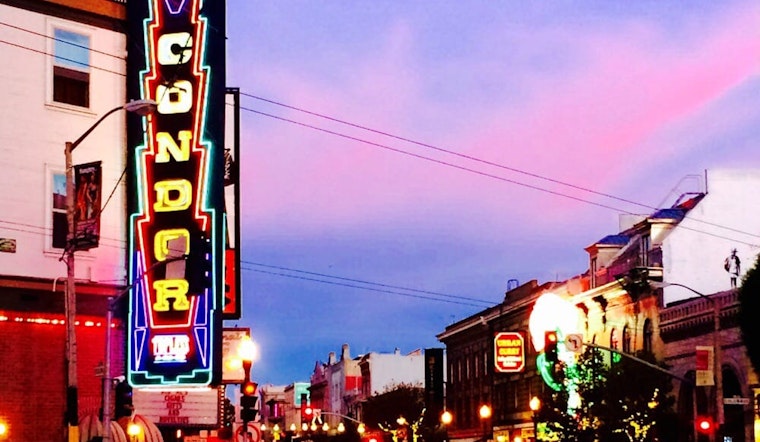 Published on December 20, 2022
We reported in November the North Beach's Condor Club was attempting to become SF's first strip club entered on the city's Legacy Business Registry, a distinction available to businesses 30 years old or older, and makes them eligible for specialized grants to keep these historically important businesses open. But at their November 2 hearing, the SF Historic Preservation Commission made it rain more criticism than praise upon the club, with commissioners complaining of the club's "exploitation for profit," and being a place "where employment or promotion was contingent on sexual parameters." That commission asked the Condor to present "a framework" for promoting women beyond dancer and bartender positions before their request was further heard by the SF Office of Small Business.
Apparently the Condor did just that. The Office of Small Business says they approved the application on November 16, and now Eater SF reports that on Monday, December 19, the Condor Club was officially added to the SF Legacy Business Registry.
View this post on Instagram
The Condor Club was one of four businesses added to the registry Monday. "The other three additions are New Lun Ting Café in Chinatown, Royal Bakery in the Excelsior, and Peking Restaurant in the Sunset District," Eater SF reports.
View this post on Instagram
According to SFGate, District 3 Supervisor Aaron Peskin said in endorsement of the Condor's Legacy Business application that "The Condor served as a gateway of sorts between San Francisco's Financial District and the nightlife of North Beach. Ms. [Carol] Doda and the Condor Club were fundamental to San Francisco's iconic reputation in the mid- to late-1960s, and Ms. Doda remained a world-famous fixture around North Beach until her passing in 2015."
View this post on Instagram
As we noted in our 2016 profile, the Condor Club was the first club in the nation to feature topless dancing. That was back in 1964, when a 26-year-old Carol Doda performed topless, and every other gentleman's club in North Beach followed suit (it didn't hurt that the Republican Convention came to town that summer.) Doda was arrested for this (and acquitted) in 1965, and author Tom Wolfe wrote in his 1968 book The Pump House Gang that Doda was "the greatest resource of the San Francisco tourist industry."