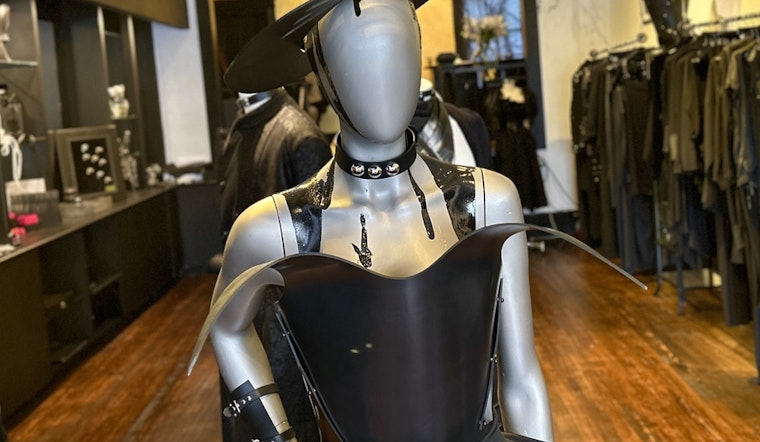 Published on January 04, 2023
A new concept boutique and social club called Mikroblack (pronounced 'micro-black'), featuring only black clothing and accessories, has opened at 2323 Market Street, formerly D&H Jewelers.
As reported here, D&H Jewelers departed last month after 12 years in the Castro. But the space did not sit vacant for long, and Mikroblack officially opened on December 10.
Mikroblack is owned by business partners Jewels Good and Alina Khasin.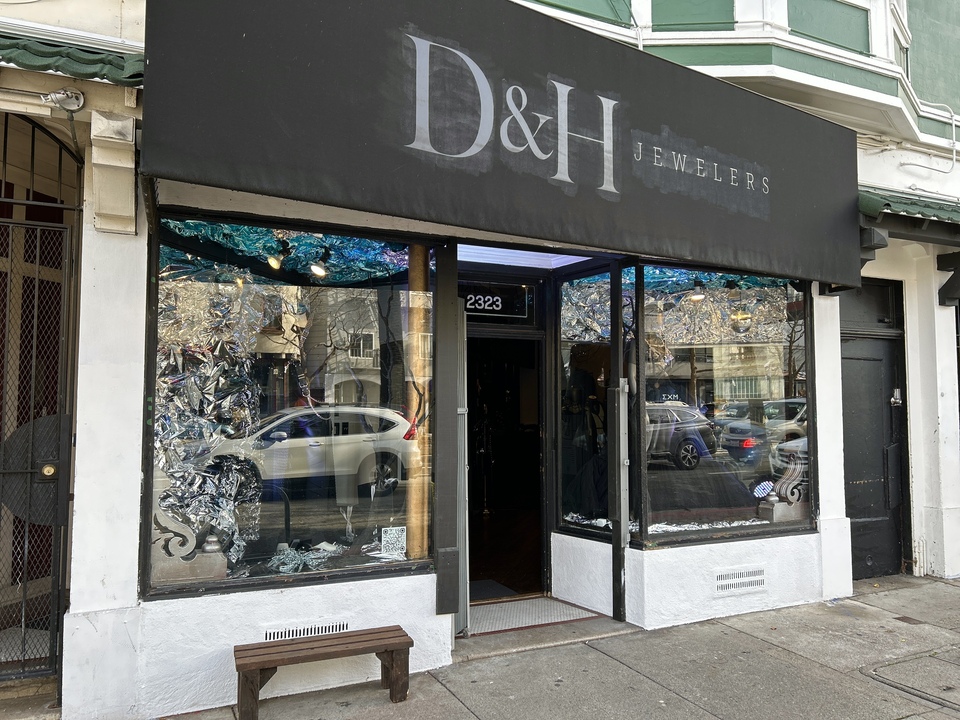 Mikroblack is now open at 2323 Market St. | Photo: Steven Bracco/Hoodline
Mikroblack offers a curated selection of clothing and accessories from across the world along with art and furniture. As things get up and running, Good says more items will be added to the store.
"Originally we started as a concept boutique that only sold black things," said Good. "It's all predominantly designed and made in Europe."
Good tells Hoodline that she brings over everything herself. "It's hand-selected pieces, mostly natural fabrics like silk, leather, cotton, and wool," added Good.
Originally from Sweden, Good went to university in London before moving to Berlin. About five years ago, Good then moved but still goes back and forth to Europe. Along with operating the shop, Good also performs as a magician and sword swallower under the stage name The Beautiful Jewels.
Khasin was born in Kazakhstan and moved to Russia as a teenager before immigrating to the United States in 2009. Khasin brings a background in marketing and project management to Mikroblack.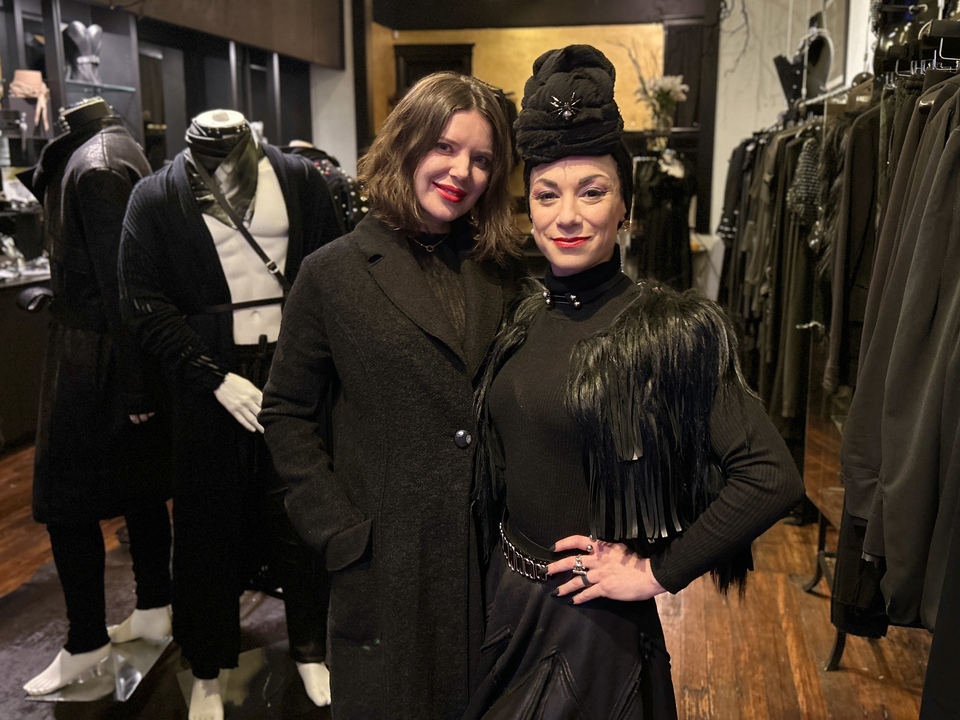 Mikroblack co-owners Alina Khasin and Jewels Good. | Photo: Steven Bracco/Hoodline
Before opening its first permanent location, Good says Mikroblack had two pop-up stores last year — one along Market Street between 3rd and 4th streets, and another on Gough Street.
"I think Castro needs this," said Good about opening in the Castro. "I wanted to specifically be on this block."
In trying to get Mikroblack open for the holiday season, Good and Khasin narrowly avoided catastrophe. While gone for Thanksgiving, a fire started on a small section of the floor that had just been refinished. Luckily the fire self-extinguished and the store only sustained smoke damage. Good estimated the damage at $15,000.
Hoodline readers may recall that a fire broke out next door at home decor shop Stag & Manor (2325 Market St.) just weeks before it opened in 2018.
Once getting the doors open, Good and Khasin said the neighborhood has been overwhelmingly supportive. "We feel welcome in the neighborhood," said Khasin.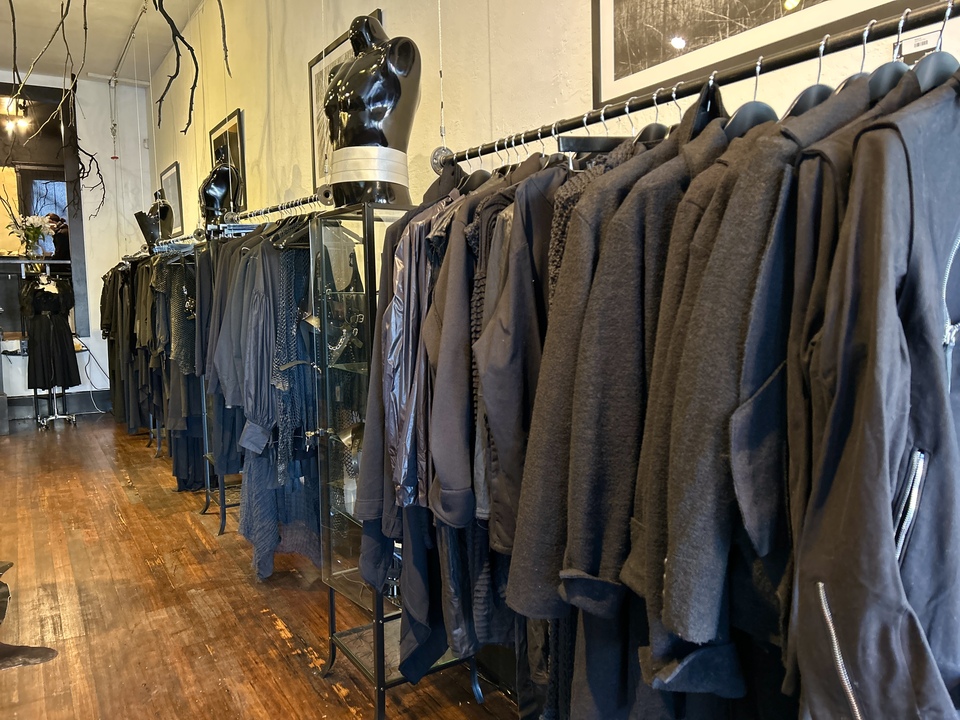 Photo: Steven Bracco/Hoodline
Customers who come in to the store can expect a different shopping experience. Good said she prefers to give each customer her undivided attention. "It's a shopping experience," said Good. "We don't sell online because I believe in touching things and trying things on. It's interactive." Private shopping appointments are also available.
And yes, all of the items inside the store are black. "Lots of people wear black things, it's the brightest color," said Good. "It's not necessarily goth or extreme, a lot of pieces are avant-garde."
"They are high-end quality, so it could be for dressing up but it's also for casual wear," added Good.
Along with being a retail shop, Good and Khasin tell Hoodline they plan to operate a social club and co-working space later on down the line.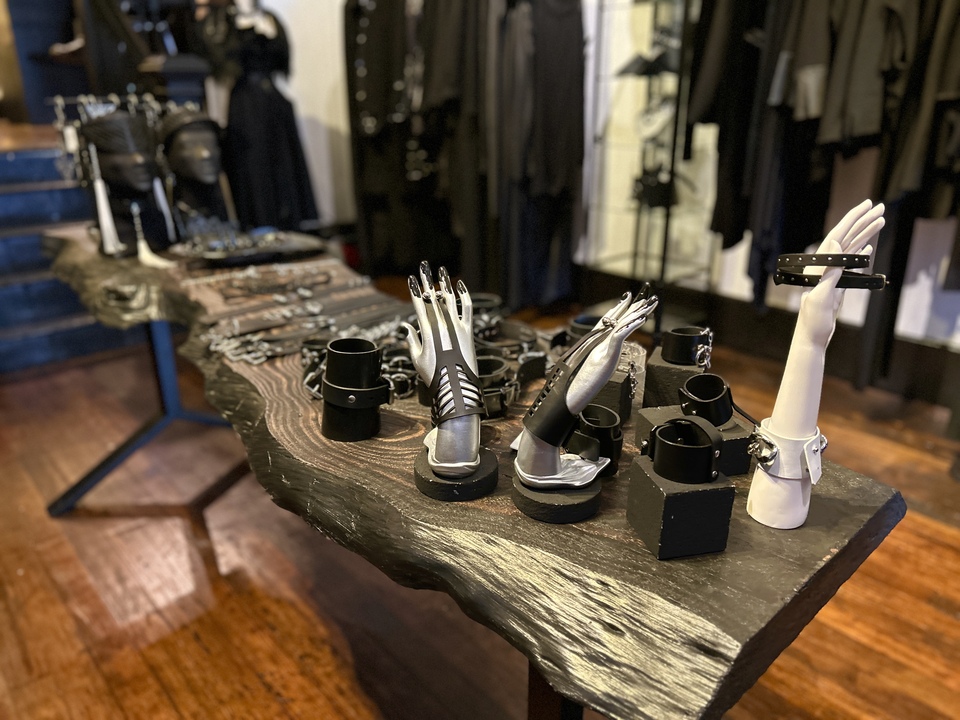 Photo: Steven Bracco/Hoodline
Good said Mikroblack will host a variety of events and stage performances. Aerial rigging has been installed inside the store for acrobatic shows and a hoisting mechanism has been installed to lift the clothes racks up to the ceiling in order to make room.
"I want to make it a membership club so people can come and socialize," said Good. "I want to build a community where artists, performers, and people with money come together."
Three years ago, the 2323-2335 Market St. was sold to new landlords. Public records indicate Golden Pacific Properties LLC purchased the five-unit mixed-use commercial building in February 2020 for $5.8 million.
D&H Jewelers co-owner Lindsay Daunell told Hoodline one of the reasons they ultimately decided to depart the Castro was because of the new landlords. "We considered renewing and potentially dealing with a rent increase," said Daunell. "We don't love the new owners of this building or staying in business with these particular owners who haven't been supportive in the past."
While Daunell and business partner Shawn Higgins shared their frustrations, Good said they have not had to interact with the current landlords. "We deal with Shawn [Higgins], we don't deal with the landlord," said Good. Good declined to comment further as they have taken over the lease from D&H Jewelers.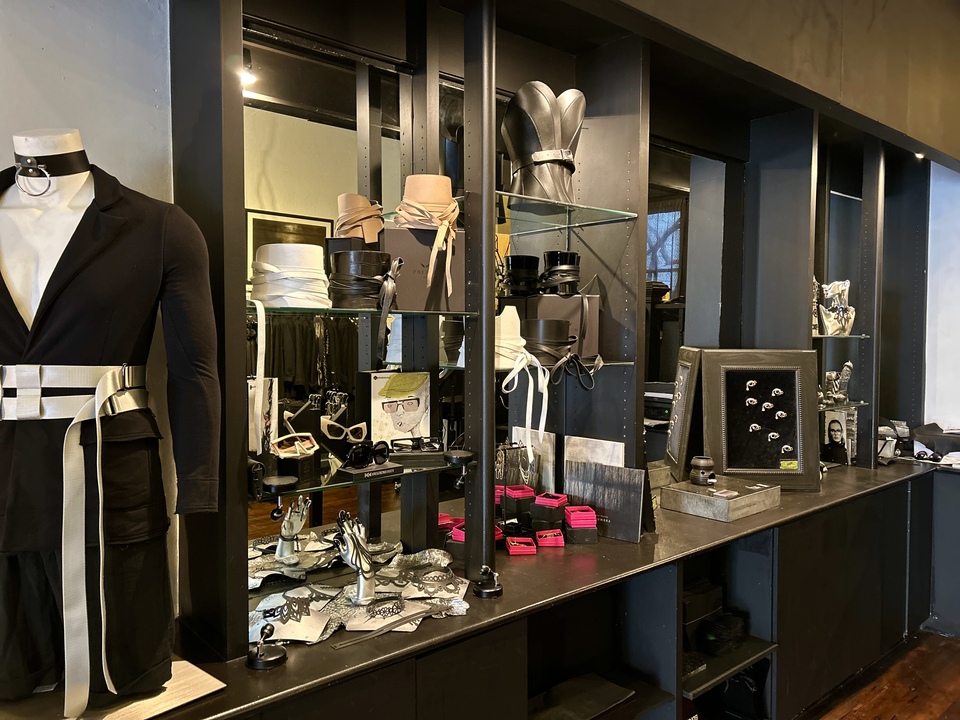 Photo: Steven Bracco/Hoodline
The opening of Mikroblack fills one of three vacancies in the 2323-2335 Market St. building.
Last year, home decor shop Kenneth Wingard (2319 Market St.) closed after 16 years, and floral shop Ixia (2331 Market) departed in 2019 after 36 years. Home decor shop Stag and Manor and metaphysical supply store Crystal Way (2335 Market) both remain open.
The forthcoming pharmacy Mistr is also set to take over the former Weaver's Coffee & Tea space at 2301 Market. More on that store this week.
Ground-floor retail vacancies continue to plague the Castro, and the 2300 block of Market St. between Castro and Noe streets has 7 vacancies; spaces formerly occupied by Kenneth Wingard (2319 Market), IXIA (2331 Market), Worn Out West (2354 Market), Coldwell Banker (2355 Market), Art Attack (2358 Market), Bisou (2367 Market), and Pottery Barn (2390 Market) all remain vacant.
---
Mikroblack is open Tuesday from 4 p.m. to 8 p.m. and Wednesday through Sunday from 1 p.m. to 8 p.m.