Over the weekend, Castro art gallery Art Attack SF (2358 Market St.) announced it would be closing its doors for the foreseeable future. Hoodline readers will recall that Art Attack opened in the former Frame 123 space in 2017.
"It is with a heavy heart that I have been tasked to share the news that Art Attack SF will be closing its doors," said gallery manager John Hartford in an announcement.
Art Attack owner James Capadona tells Hoodline that the city's restrictions became too much to bear. "The whole COVID thing has become too much, there's no foot traffic," said Capadona. "It could be months and months before we can reopen."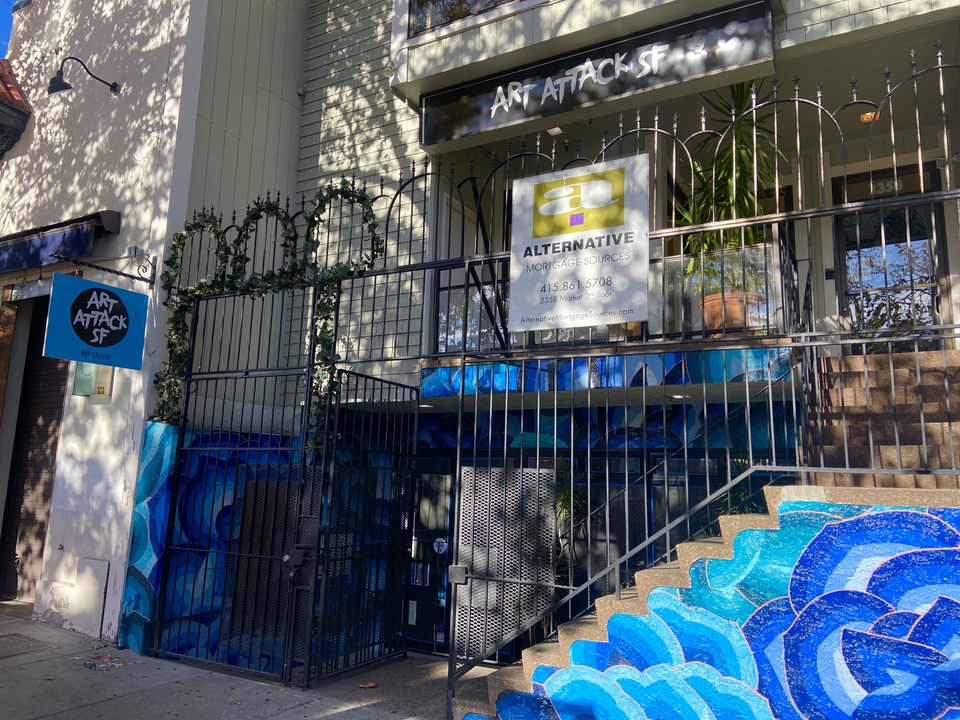 Art Attack SF's gallery at 2358 Market St. | Photo: Steven Bracco/Hoodline
In the meantime, Capadona says he plans to hold onto the gallery space. "I don't wanna give up space until I have to," said Capadona. "We're going to hold back and see what happens."
Capadona added that his landlord has been understanding during these difficult times. "Our landlord has been good with us and gave us a huge break on the rent," said Capadona. "He hasn't been pressuring us at all."
At this time Capadona says they're working on returning all the artwork to the artists. "It wasn't fair to hold on to their stuff," said Capadona. "It's unfortunate, but sometimes things just don't go the way you want them to go."
"I want to share my thanks to our artists, patrons, and everyone that came through to make Art Attack SF what it was," said Hartford.
Prior to the pandemic, Art Attack hosted a variety of art events, weddings, and private parties at the gallery. However, due to health restrictions, the gallery had only been hosting virtual exhibits and recently began opening to in-person visits by appointment only.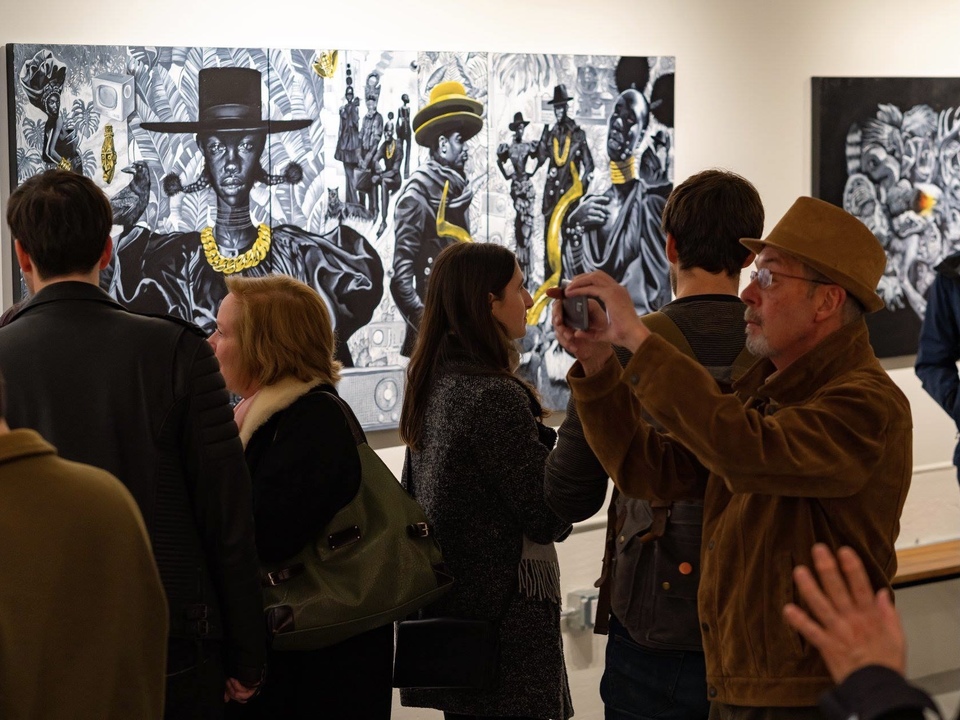 Inside Art Attack at a recent gallery event. | Photo: Art Attack/Facebook
Capadona tells Hoodline that in March the gallery had to cancel 10 events due to shelter-in-place restrictions. "The virtual events went okay, but they weren't enough," said Capadona.
Despite Mayor London Breed announcing a $3.5 million expansion of the financial relief program for small businesses, that just wasn't enough for Art Attack. "I can't keep going with the payroll," said Capadona.
Since the beginning of shelter-in-place orders, the San Francisco Hardship and Emergency Loan Program (SF HELP) has identified nearly $21 million in grants and loans for more than 1,150 small businesses and employees.
Capadona tells Hoodline he applied for a Paycheck Protection Program (PPP) loan but wasn't approved. "They didn't think we were worth saving," said Capadona.
While Capadona hopes to be able to hold on to the gallery, he said that if anyone approached him about purchasing the gallery he would consider selling.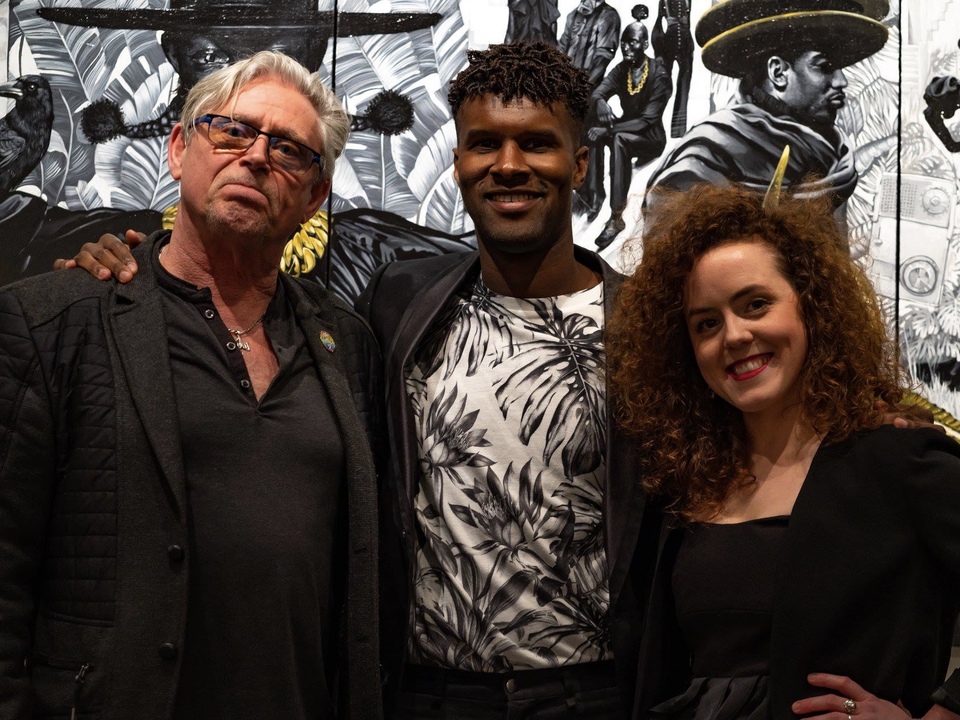 Art Attack owner James Capadona (left) with artist Serge Gay Jr. (center). | Photo: Art Attack/Facebook
"It has been a beloved honor to be a part of the vibrant community that is the Castro," said Hartford. "[A]nd to have had the chance to showcase some of the amazing work being done by those in our community and beyond."
"We're going to miss the Castro a lot," added Capadona.
"Til whatever comes next, and with all love for our artistic community, please be well and be safe through these challenging days," said Hartford.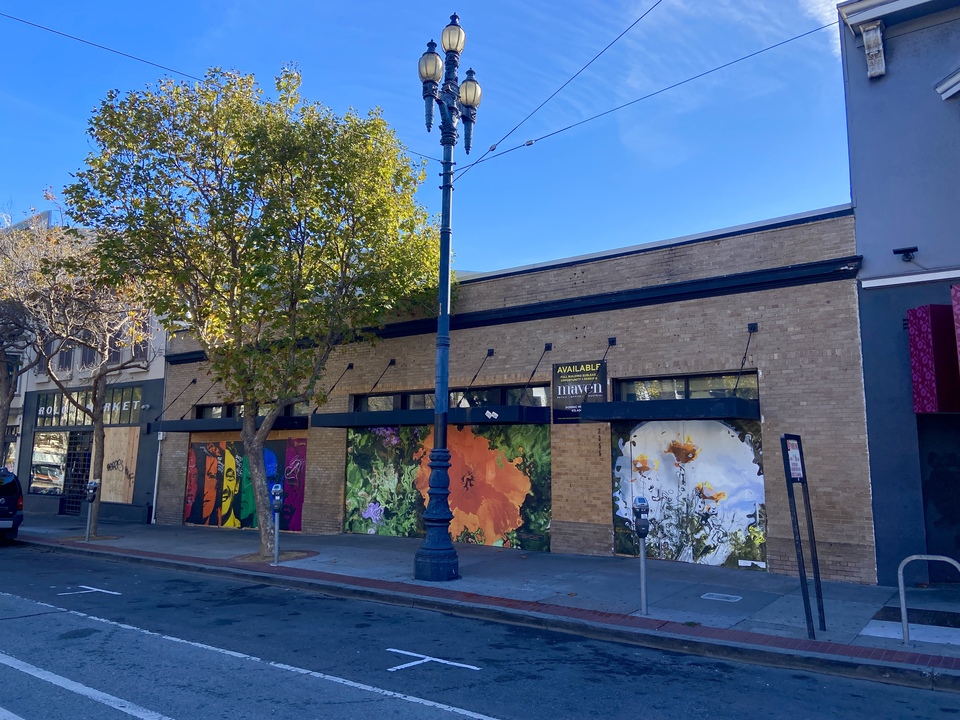 Coldwell Banker closed its offices at 2355 Market St. in 2019. | Photo: Steven Bracco/Hoodline
In recent weeks Castro business closures have been slowing, and two businesses recently opened: Double Rainbow Ice Cream (415 Castro), and Aquitaine (216 Church). Last month Castro Barbers (2195 Market) and Tanglad (469 Castro) opened, while arcade bar The Detour (2200 Market) announced it was hitting the pause button.
Art Attack's closure leaves the 2300 block of Market with eight vacant retail storefronts including; 2301 (Weaver's Coffee & Tea), 2355 (Coldwell Banker), 2331 (Ixia), 2350 (Streetlight Records), 2352 (Worn Out West), 2354B (Berkshire Hathaway), 2367 (Bisou) and 2390 (Pottery Barn). Art Attack is now the ninth.
In total, the Castro has lost at least 21 businesses during shelter-in-place.