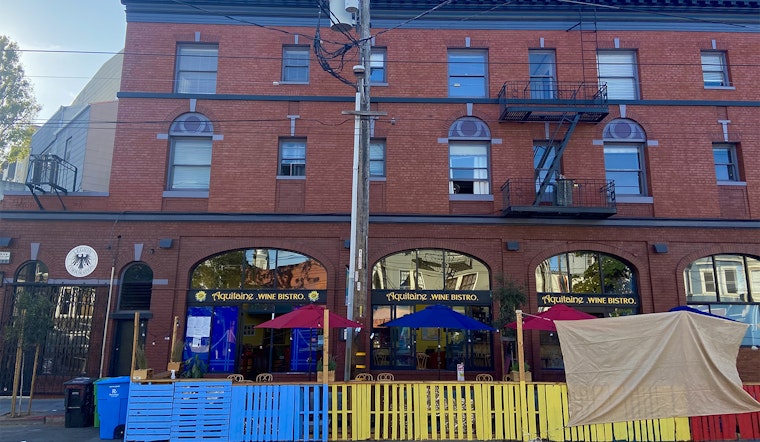 Published on November 05, 2020
French bistro and wine bar Aquitaine has opened at 216 Church St. after a months-long delay due to shelter-in-place restrictions. Aquitaine's first day of business was on Election Day Tuesday, November 3.
Last December Aquitaine announced it was closing its restaurant at the Crocker Galleria (175 Sutter St.) in the Financial District and moving to Church and Market. However, those plans were put on pause after shelter-in-place restrictions went into effect March 17.
Hoodline readers will recall 216 Church St. had been the former home of Crepevine, which closed in 2017 after 18 years in business.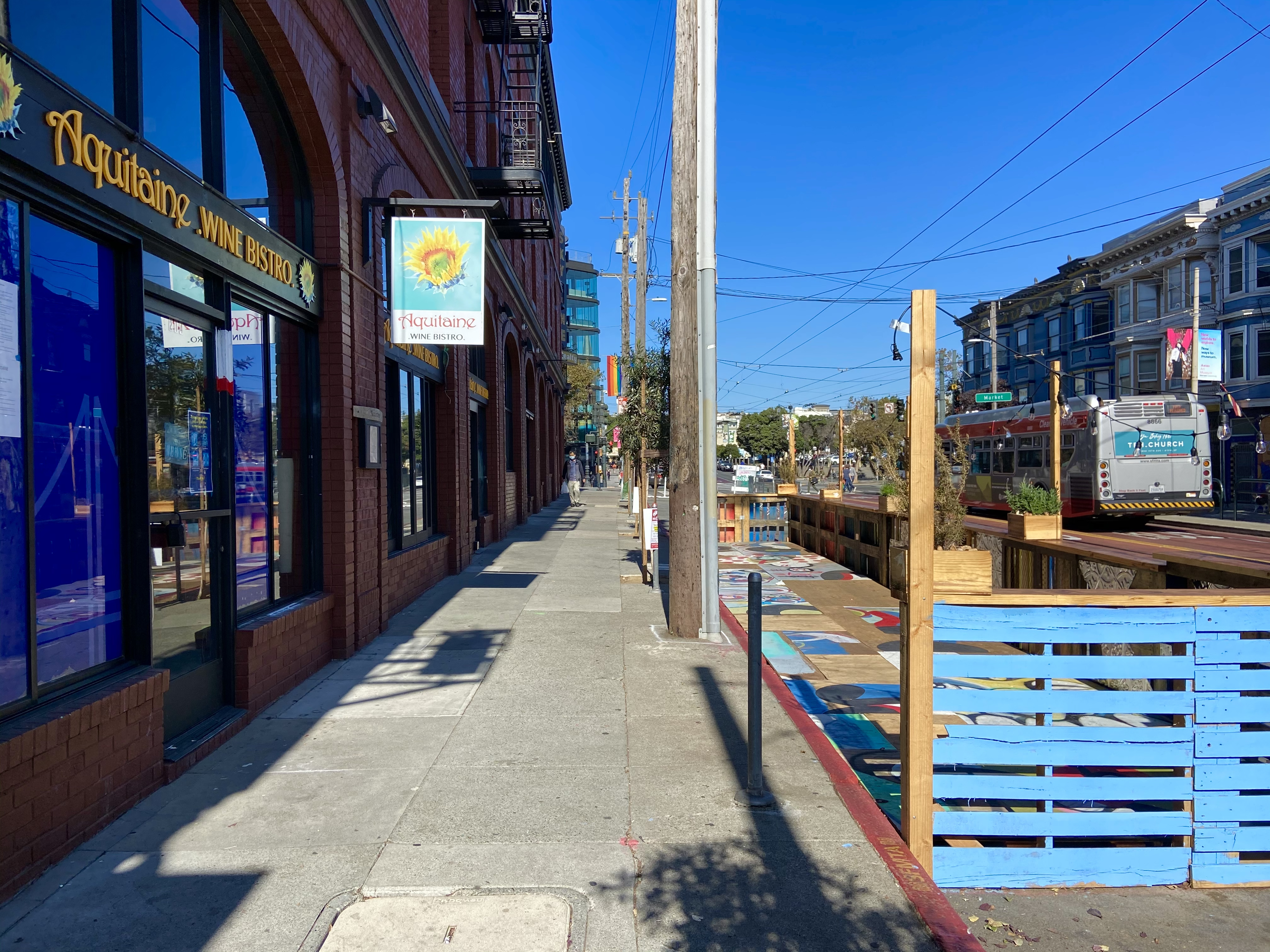 Aquitaine's outdoor dining area. | Photo: Steven Bracco/Hoodline
Aquitaine co-owner Andrew Fidelman tells Hoodline that he along with co-owners chef Laurent Manrique and Chris Condy had been preparing to open since October.
"It feels good to be open," said Fidelman. "We've been received really well and gotten a lot of positive vibes from the neighborhood."
Fidelman says that he and chef Manrique are longtime friends who previously worked together at Aqua (252 California St.) before opening Aquitaine in 2013 with Chris Condy.
"Aquitaine is a casual, comfortable place where you can drink good wine and eat good food," said Fidelman. The trio also owns FiDi wine bar Blanc et Rouge (2 Embarcadero Center).
Fidelman tells Hoodline they were waiting to open Aquitaine until indoor dining was allowed. With current restrictions at 25% capacity, Aquitaine can accommodate approximately 12-13 diners indoors.
Aquitaine also has an outdoor dining Shared Spaces Platform which they created by repurposing the plywood that had been covering the restaurant's windows.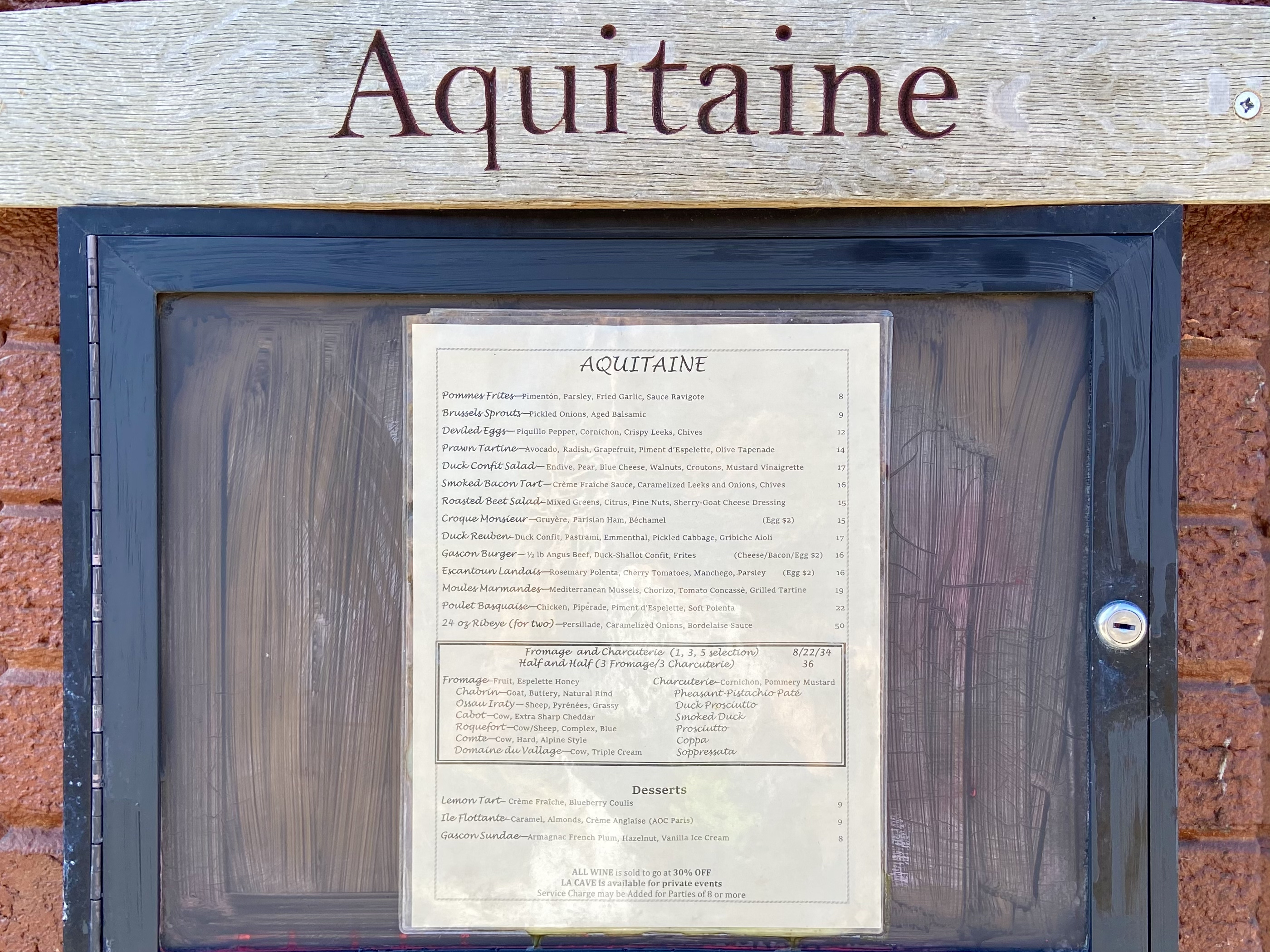 Aquitaine's menu. | Photo: Steven Bracco/Hoodline
Fidelman tells Hoodline customers can expect the menu to include highlights of the best dishes from over the years. Menu highlights include; moules marmandes ($19), duck Reuben ($17), escantoun landais (a rosemary polenta with mushrooms and Pyranees cheese, $16), prawn tartine ($14), and a 24 oz ribeye for two ($50).
Fidelman says that Aquitaine decided to move to the new location after being approached by Veritas Investments' Justine Shoemaker, who owns the property.
"Our old place was a lot of dark wood and fewer windows, this is a lot of light with a ton of windows," said Fidelman about the new location.
Aquitaine is also currently using the former Church St. Flower (212 Church) space as storage. Depending on how the business progresses, Fidelman says they may consider using the space for private dining, or as a wine retail store.
"I lived two blocks from there from about 2003 to 2010 and spent a lot of time on Church and Market," said Fidelman. "I used to go to Sparky's, Crepevine, and Warakubune."
"We love the area, it's so vibrant," said Fidelman.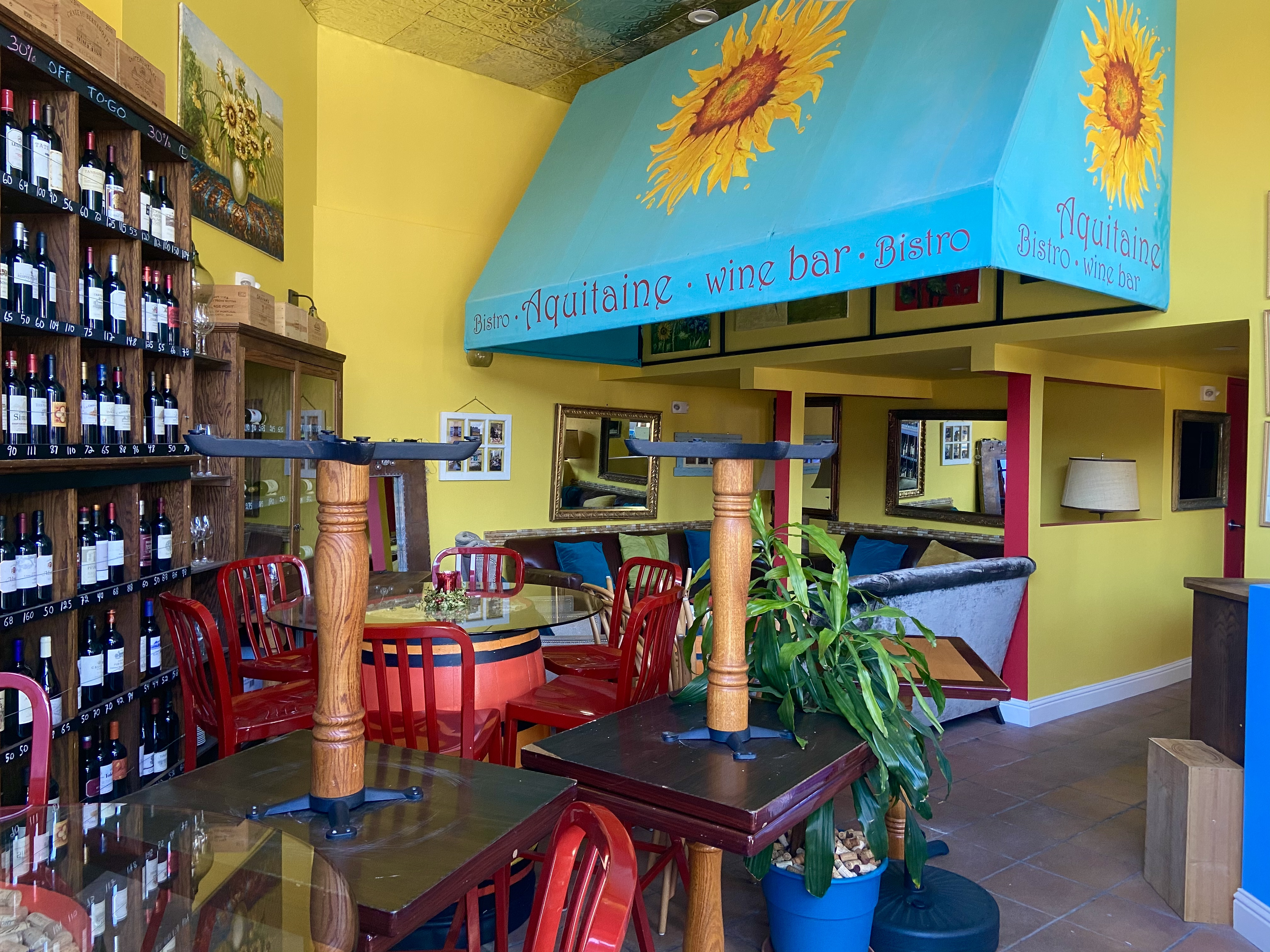 Aquitaine's awning from its location in the Crocker Galleria at 175 Sutter St. | Photo: Steven Bracco/Hoodline
When customers walk inside they will immediately be greeted by Aquitaine's awning from its Crocker Galleria location. "We felt like it fit there and looked nice inside," said Fidelman about the awning.
In the future, Fidelman says the area will become a semi-private dining area called 'La Cave' (the cave).
Looking towards the future Fidelman plans on hosting a Cassoulet Saturday dining event. Fidelman explained cassoulet is a traditional southwest French duck confit with white beans and sausage. "It's a rich, hardy dish," said Fidelman. Brunch is also planned down the road as the restaurant becomes more established.
With Aquitaine's opening, Il Casaro across the street, and the eventual reopening of Pilsner Inn, Fidelman hopes they can create a positive vibe along the closed section of Church Street. "Something similar to Belden Alley," said Fidelman referencing the longtime FiDi outdoor dining alley.
Aquitaine's opening fills one of many vacancies along a long-darkened section of Church Street.
Prior to Aquitaine's opening, 216 Church St. had previously been leased in January 2019 to Mark White, who announced plans to open Gramercy Park Brasserie & Wine Bar there.
Ultimately Gramercy Park never opened after White's restaurant across the street, Cook Shoppe (215 Church St.), closed in August 2019 in the wake of an investigation by the California Department of Alcoholic Beverage Control for serving alcohol without a license.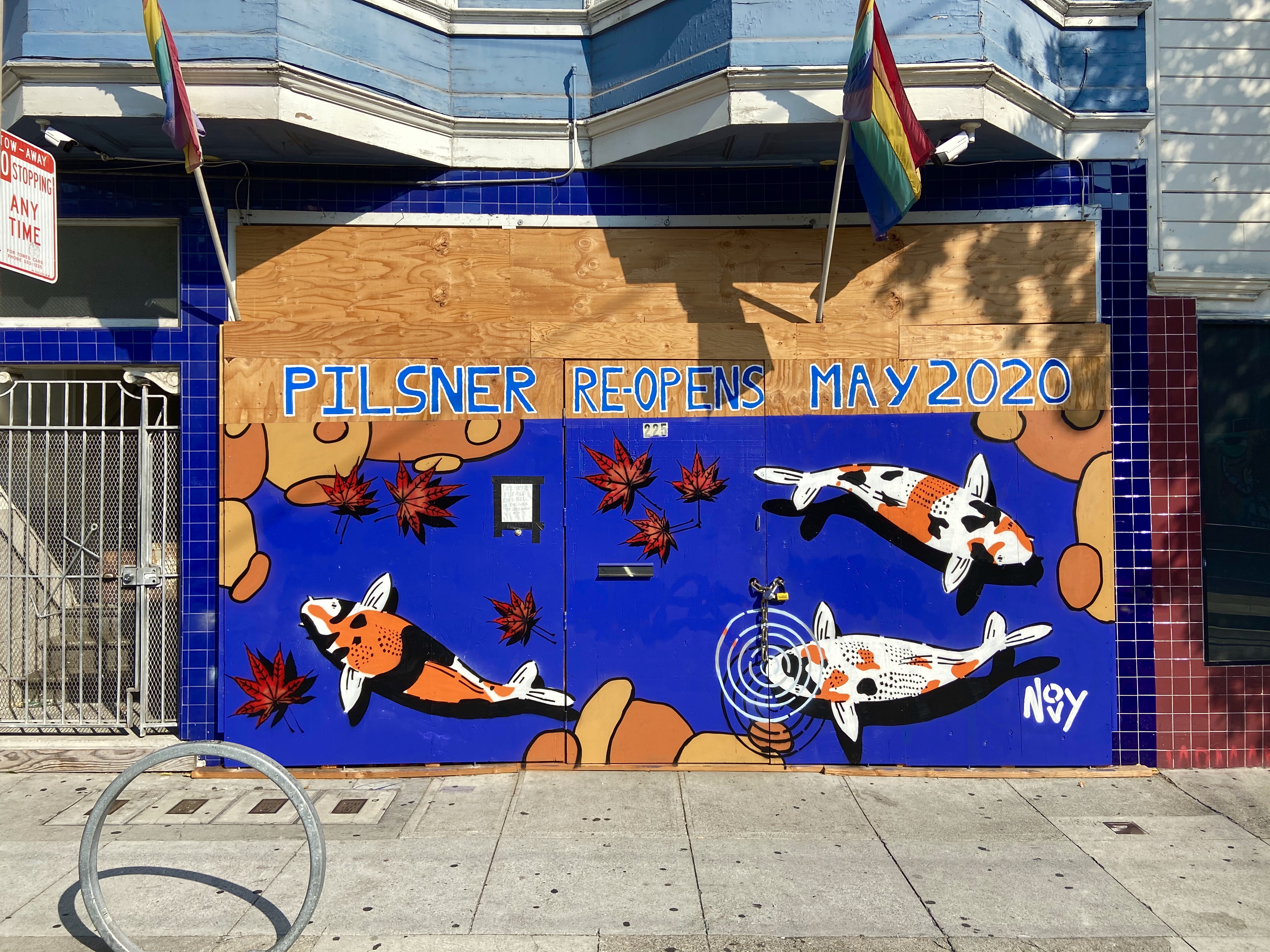 Neighborhood bar Pilsner Inn remains closed. | Photo: Steven Bracco/Hoodline
The 200 block of Church currently has six vacant storefronts including; 213 Church, 215 Church (Cook Shoppe), 227 Church (Aardvark Books), 253 Church (Miyabi Sushi), 268 Church (Underglass Custom Framing), and 242 Church St. (Sparky's Diner).
Neighborhood bar Pilsner Inn (225 Church) remains closed and has not announced a reopening date.
Aquitaine is currently open Tuesday through Saturday from 2 p.m. to 9 p.m. Happy hour is Tuesday through Saturday from 2 p.m. to 5 p.m. And the restaurant is currently offering 30% off wine to-go.
---
Thanks to Hoodline tipster Christopher V.! If you've seen something new (or closing) in the neighborhood, text your tips and photos to (415) 200-3233, or email [email protected]. If we use your info in a story, we'll give you credit.