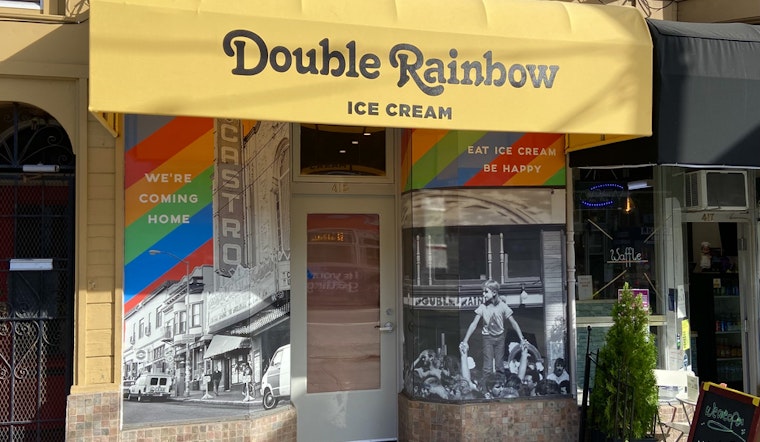 Published on November 11, 2020
Double Rainbow Ice Cream (415 Castro St.) is set to begin scooping ice cream in the Castro on Thursday, November 12.
Hoodline readers will recall that we broke the news back in June about Double Rainbow returning to where it all began more than 40 years ago — at least very close to where it all began.
Double Rainbow had originally planned to open by the end of summer, however those plans were delayed as the company worked its way through the permitting and approval process.
During that time, owners worked to remodel the former Sunglasses on Castro space — just two doors down from the original Double Rainbow location in the 1970s. (That space is now home to Hot Cookie.)

Inside Double Rainbow Ice Cream's scoop shop at 415 Castro St. | Photo courtesy of Mary Lagier/Double Rainbow
Double Rainbow was founded by childhood friends Michael Sachar and Steven Fink in 1976. As the story goes, the ice cream shop was named after a double rainbow that appeared on the day Sacher and Fink signed the lease — September 28, 1976.
Taryn Segal, daughter of late co-founder Michael Sachar, has been the president and CEO since 2013. "This was the community and neighborhood that gave us our start, and we're so excited to return full circle," said Segal.
"We've been a little bit under the radar," she said. "We're looking forward to opening our store and reintroducing [ourselves] to those that don't know us, and welcoming back those that grew up with us."
Double Rainbow will be keeping it simple with cups, cones, pints, and shakes. Fans of the brand can expect classic flavors like It's a Goody (vanilla with fudge chips and peanut butter), Coffee Blast, and Coney Island-style frozen custards. The Castro location will also have exclusive flavors like PB&J (raspberry, creamy vanilla, and old fashioned peanut butter).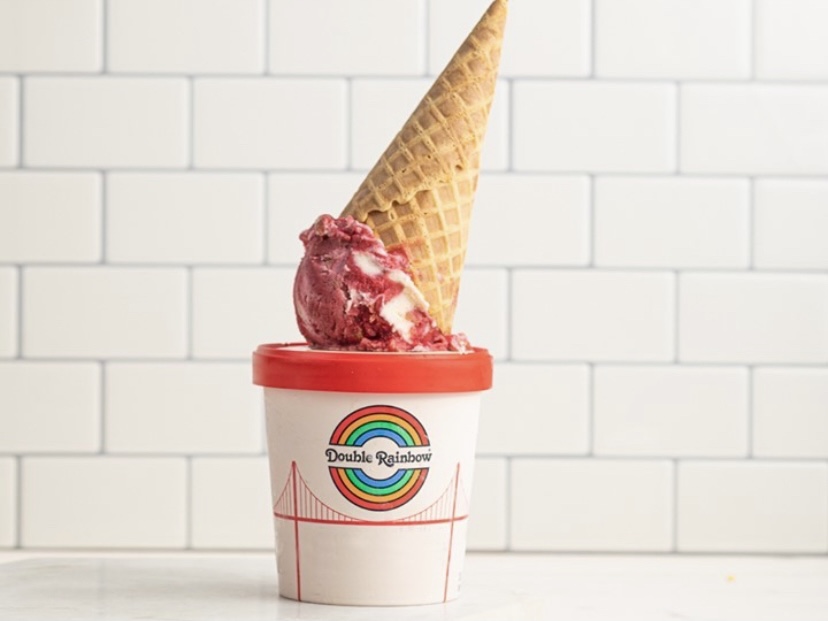 Double Rainbow's PB & J ice cream. | Photo: Double Rainbow/Instagram
A new vegan flavor lineup will also be available including Banana Chip (nut-free, dairy-free milk alternative with real bananas, banana milk, and vegan dark chocolate chunks).
The single-scoop price is $4, a double scoop is $6, and a triple scoop, $8.
Segal says Double Rainbow will be treating the store as a testing ground for new flavors, and flavors will rotate frequently.
"The new scoop shop will welcome back customers who grew up visiting the original location while introducing a new generation of visitors to the legacy brand that has become an integral milestone on the timeline of the city and neighborhood," said Segal.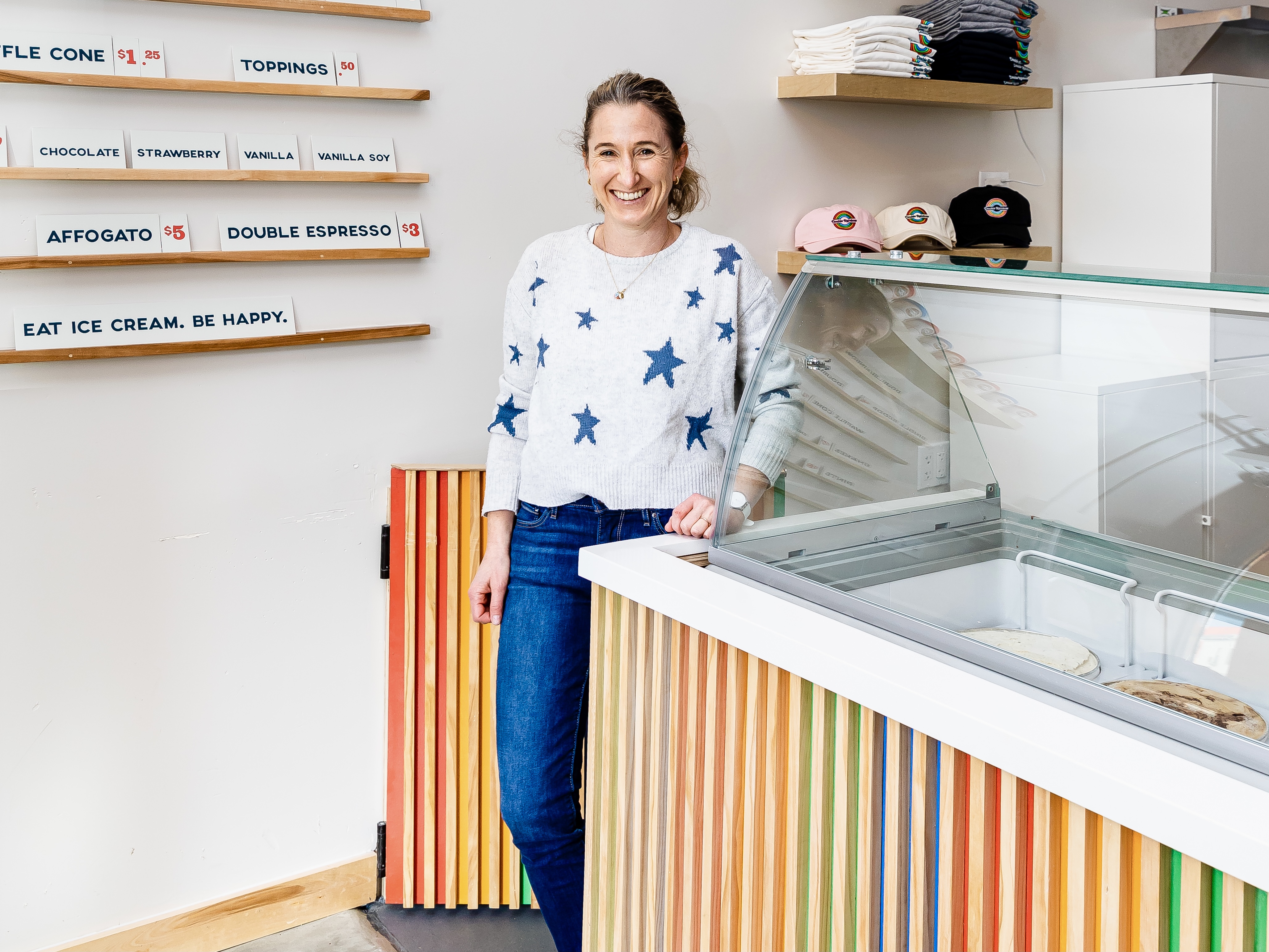 Taryn Segal, Double Rainbow Ice Cream president and CEO. | Photo courtesy of Mary Lagier/Double Rainbow
The scoop shop's small footprint, approximately 220 square feet, lends itself to takeout. With current shelter-in-place restrictions still in effect, Double Rainbow is happy to encourage customers to take their ice cream scoops to-go.
The return of Double Rainbow also brings some much-needed good news to the 400 block of Castro, which has struggled in the past year. Last month, Vietnamese restaurant Tanglad (469 Castro) filled one of four current vacancies on the block.
Three storefronts remain vacant — Park Gyros (449 Castro), Sweet Castro (451 Castro), and Socialhaus/Flying Falafel (463 Castro). Another two, Q Bar (456 Castro) and Osaka Sushi (460 Castro), are still undergoing renovations after being damaged in a four-alarm fire last November.
A third, men's clothing store Body (450 Castro), closed in the wake of the fire. The storefront has since undergone a mandatory earthquake retrofit and is currently listed for lease.
Double Rainbow Ice Cream will be open daily from 12 p.m. to 9 p.m.