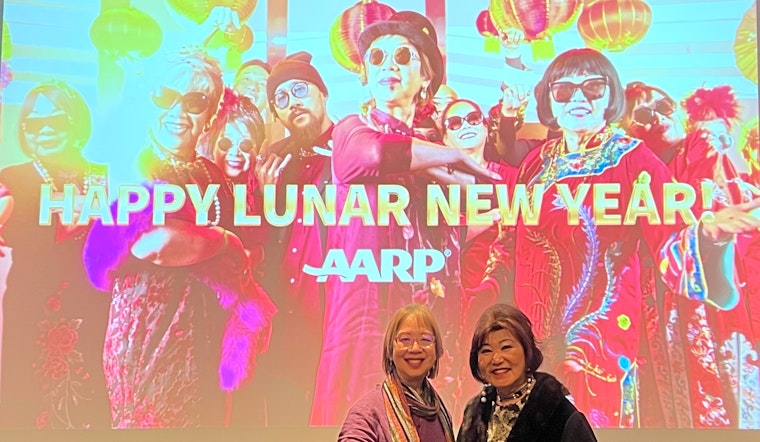 Published on January 25, 2023
Some women their age may be slowing down. But the Grant Avenue Follies are busier than ever. Comprised of 11 Chinese American grandmothers, the cabaret troupe has been entertaining folks around the Bay Area and beyond since 2003. In recent years, they've also made a name for themselves as activists and rap video stars. They even have a hip new moniker — Chinatown's Original Grandmoms.
As Hoodline previously reported, the Follies gained national attention in 2021 when they created their first music video — "The Gai Mou Sou (chicken feather duster) Rap" — in response to anti-Asian hate crimes, especially those targeting the elderly. It went viral on YouTube, racking up 1.5 million views to date. Last fall, the group released a second video, "Glammas Wrap," a light-hearted tribute to their special sisterhood and shared love of fashion, dance, fun, and adventure.
This past weekend, they dropped a new music video: "That Lunar Cheer." For this project, they collaborated with AARP and Jason Chu (@jasonchumusic), a Los Angeles-based rapper and activist. Chu wrote the lyrics for "That Lunar Cheer" and also appears alongside the women in the video.
"Working with Jason was fantastic, because we actually don't know that much about rap—we've sort of been doing our own thing," says Follies member Clara Hsu, who wrote the lyrics for the group's previous raps. "At first, we thought some of his lyrics were kind of strange because they weren't proper English. He said 'yeah, but it's street talk, it's very liberating.' It's what attracted him to rapping in the first place. And then I got it."
Hsu, who is also executive director of the Clarion Performing Arts Center, appreciated AARP for handling all of the tasks and associated costs that go into making a video, such as production, set design, and choreography. In the past, she and the Follies dealt with most of that fun stuff themselves — and raised money to help pay for things they couldn't do, like filming and editing. All they had to do this time was show up and learn the rap. Being fussed over by the professional glam squad who created the sassy looks they flaunt in the video was also a treat.
The video showcases Hsu, Cynthia Yee (founder of the Follies), and Emily Chin rapping about their Lunar New Year traditions. Originally, AARP wanted just three grannies in the video. But Hsu pushed back, insisting that the Follies are a group that always performs together. And that their tight-knit bond enhances the energy and power of their performances. AARP agreed. So now all the Follies appear with the three main rappers in a lively party scene.
Yee loved the experience of making "That Lunar Cheer." "All of a sudden, we had to really learn how to rap," she says. "It was great working with Jason and getting pointers from a young person."
According to Daphne Kwok, vice president of diversity, equity & inclusion, Asian American & Pacific Islander audience strategy at AARP, the organization's collaboration with the Follies and Chu is a strong example of multigenerational unification in the Asian American and Pacific Islander community.
"The Follies personify AARP's work of empowering people to choose how they live as they age, and as we celebrate the Lunar New Year, we hope to continue helping people
navigate life transitions," notes Kwok.
Since AARP debuted "That Lunar Cheer" on its Facebook page last Saturday, the video's generating lots of buzz and getting plenty of views, likes, and shares. We can't wait to see what else the Year of the Rabbit has in store for Chinatown's Original Grandmoms.