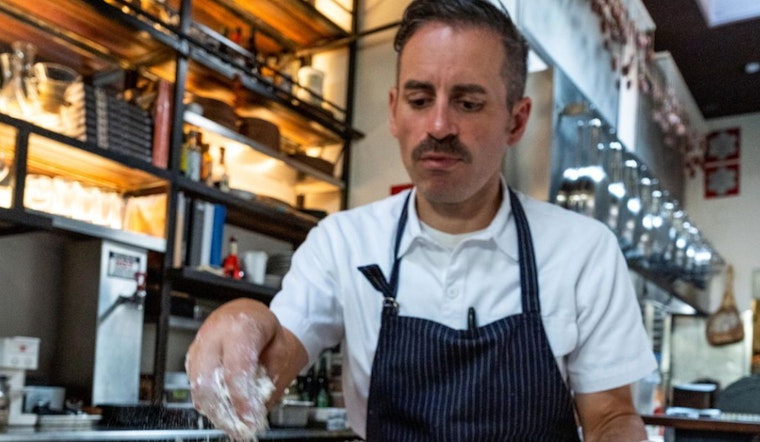 Published on January 12, 2023
Longtime SPQR executive chef Matt Accarrino appears to have a new venture in the works, and it is set to open around the corner from SPQR in Pacific Heights. The SF Business Times caught the liquor license activity for Mattina, which is heading into the space formerly occupied by Charles Phan's Out the Door at 2232 Bush Street.
The restaurant is a venture of Houndstooth LLC, a limited liability corporation that Accarrino registered in 2015.
Hoodline reached out to Accarrino for details about the venture, but we have yet to hear back.
"Mattina" means "morning" in Italian, but it could also be a play on the chef's first name. It's notable that Accarrino has been operating a morning-focused doughnut operation out of SPQR since early in the pandemic, dubbed Accarrino's Coffee & Doughnuts. He serves freshly made, beignet-style doughnuts on weekend mornings, and it seems highly possible that the new venture will highlight those some doughnuts — but stay tuned for confirmation!
View this post on Instagram
SPQR opened in 2007, specializing in modern Italian cuisine with a vaguely Northern Italian bent. The name refers to the letters found on Ancient Roman coins, an abbreviation which translates to "The People and Senate of Rome." The restaurant held a Michelin star for most of its years under Accarrino's tenure, beginning with the first star award in 2013, but it sadly lost its star in this year's guide.
SPQR is a sister restaurant to A16 in the Marina, and both restaurants are co-owned by sommelier Shelley Lindgren. Mattina, however, appears to be Accarrino's own solo venture.