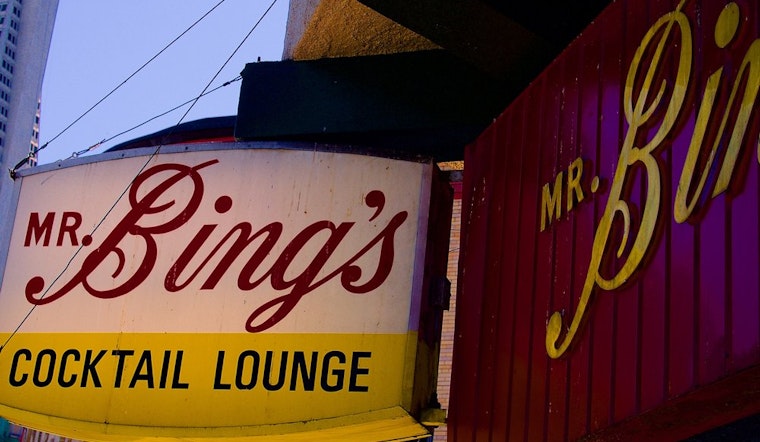 Published on February 15, 2023
The 56-year-old North Beach-Chinatown cocktail dive Mr. Bing's is no longer owned by Mr. Bing. There was plenty of local uproar when original owner Henry "Mr. Bing" Grant sold the bar in 2016, and longtime regulars were up in arms that Mr. Bing's would be upscaled and gentrified out of its dive bar charm. The late celebrity chef Anthony Bourdain complained to Eater SF, that the change was "a fine drinking establishment, ground under the slow, inevitable, pitiless forward motion of the Terrible Wheel."
Those fears proved unfounded. New owners Jackie and Peter Cooper (who also own the Inner Richmod's Ireland's 32) "maintained the foundations of what makes Mr. Bing's beloved by the community, including its cheap and recognizable drinks," according to SF Planning Department staffer Dakota Spycher. And the Planning Department was talking up Mr. Bing's because it received unanimous recommendation to become a San Francisco Legacy Business at Wednesday's SF Historical Preservation Committee meeting.
There were six other businesses also up for Legacy Business status, including Love On Haight, Cow Hollow's The Blue Light, and Chinatown Cantonese barbecue duck spot Hing Lung Company — which now also delivers under the name Go Duck Yourself.
The tie-dye shop Love on Haight (formerly Positively Haight Street) has been around for 31 years, and has sold their wares to the Grateful Dead, Questlove, and poster artist Stanley Mouse. "I first walked into Positively Haight Street in 1992," owner Sunshine Powers told the commission before the vote. "Throughout the years, Love on Haight-Positively Haight Street has been the rainbow ambassadors to the Haight-Ashbury."
The 45-year-old Blue Light was the first live music venue in Cow Hollow, originally owned by musician Boz Scaggs, and was sold to a group of bartenders in 1991. "We all maxed out our credit cards and bought it," owner Johnny "Love" Metheny told the commission. "I meet people who come in and say they met there and have been married for many years, I meet kids whose parents met there and got married, or their parents used to work there."
Other local businesses that received the Legacy Business recommendation Wednesday were the Mission District's Design Media, Inc., Outer Sunset's Playmates Cooperative Preschool, and Chinatown's Dragon Seed Bridal & Photography.
This was not a final determination on these businesses being added to the SF Legacy Business Registry. They still need approval from the SF Small Business Commission. And if something controversial comes up, their applications could even be appealed to the SF Board of Supervisors, like the Castro Theatre's legacy designation is. But considering Wednesday's unanimous vote with no concerns aired, it seems these seven businesses will likely be granted their Legacy Business distinctions.