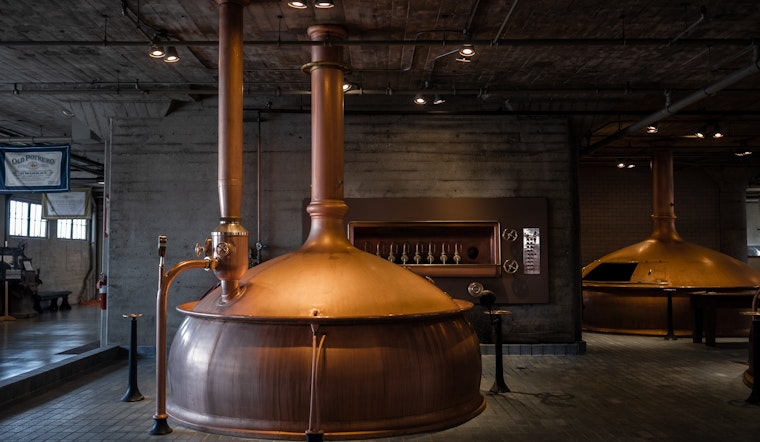 Published on July 18, 2023
San Francisco's historic Anchor Brewing Company may avoid last call as a handful of local investors express interest in rescuing the iconic brewery from the brink of shutdown. According to a recent NBC Bay Area report, among the interested parties is Mike Walsh, an investor who has financed hundreds of businesses and lives just blocks from the brewery. Though he wishes he had made an offer back in 2017, when the company was up for sale before being purchased by Sapporo, he is now taking matters into his own hands, seeking potential investors to bring the historic brewery back to its roots by reintroducing live music and returning to its original branding.
Who wants to join me? https://t.co/wGOIt1epiZ

— mike walsh (@mwalsh) July 17, 2023
Several other hopeful buyers have also emerged in response to the news of Anchor Brewing's potential demise. As the SF Chronicle reported, Kyle Whithycombe, a local entrepreneur, wants to restore the brewery to its core products, Anchor Steam Beer and Liberty Ale, and perhaps limit distribution to the Bay Area only. Meanwhile, tech worker and longtime San Francisco resident Steve Matthews and his group of friends are considering making an offer of their own, with the idea of producing a reality TV show centered on the process of reviving the Anchor brewery.
The uproar highlighted the sentimental attachment these local figures share for Anchor Brewing, seeing the potential acquisition as a chance to preserve a piece of San Francisco's history. Over the past 127 years, Anchor Brewing has survived numerous near-death experiences, from the 1906 earthquake to prohibition and economic hardship. Most notably, Anchor was saved by appliance heir Fritz Maytag, who bought the brewery out of bankruptcy in 1965 and turned it into a pioneering craft beer brand.
Now, Anchor Brewing faces yet another challenge as the market becomes increasingly competitive and beer sales decline nationwide, according to The Chronicle.
Unable to find a buyer over the past year, the brewery's announced closure seemed imminent, before a surge of interest from local investors. Mike Walsh alone has gathered nearly 30 interested parties in just a few days, as reported by NBC Bay Area. In total, a spokesperson for the company told KRON4 News that about 24 individual investors have "expressed interest" in purchasing all or some of Anchor Brewing, their names now being handed to the Assignee for the Benefit of Creditors responsible for managing the company's liquidation process.
As Anchor approaches the Assignments for the Benefit of Creditors (ABC) process—an alternative to bankruptcy where a designated third-party assignee takes control of the company's assets to pay back creditors—hope remains that one of these invested locals will manage to keep San Francisco's beloved brand alive. During this process, bids for Anchor Brewing will be submitted through an assigned liquidator, as mentioned in The Chronicle.
Though the future of Anchor Brewing remains uncertain, there's a frothy wave of hope in San Francisco as the spirited community rallies behind preserving this storied institution.