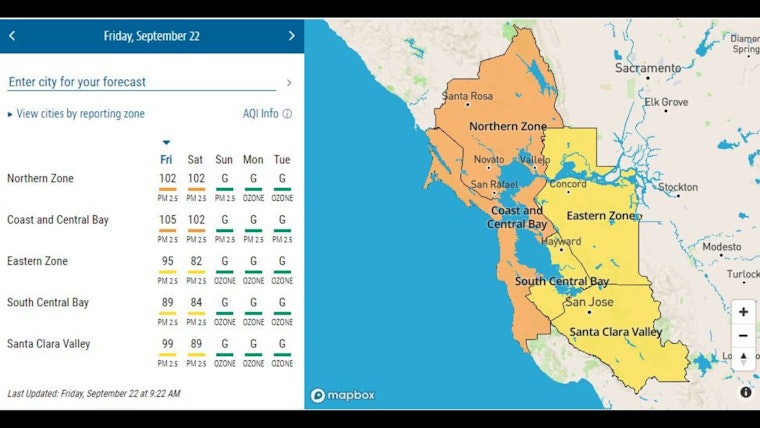 Published on September 23, 2023
In the face of persistent wildfire smoke encroaching from Oregon and Northern California, the Bay Area Air Quality Management District (BAAQMD) extended its Spare the Air Alert through Saturday, September 23, signaling the ongoing battle against deteriorating air quality in the region. Undeniably, the implications of this haze are far-reaching, posing significant health risks to vulnerable populations. According to the BAAQMD, air quality is forecasted to persist in the 'unhealthy for sensitive groups' range.
While the smoke has choked the Bay Area's skies since September 19, recent reporting reflects that the situation remains dire, with pollutant levels reaching high to moderate rankings on the United States Environmental Protection Agency (EPA) Index. As Hoodline explains, PM2.5 particle pollution is the primary culprit, carrying risks to heart and lung health.
With unique insight, Hoodline relays the concerns of San Francisco residents regarding visibility and the enduring presence of smoke. Recognizing the hazards posed to susceptible populations, such as the elderly, children, and individuals with underlying health conditions, experts urge people to restrict their outdoor activities, keep their windows closed, and seek the refuge of cooling centers, if necessary.
We must not forget those vulnerable to the wrath of air pollution. People with respiratory illnesses are particularly susceptible to elevated air pollution levels, which can trigger wheezing and exacerbate the plights of asthma, emphysema, and COPD sufferers. Moreover, pregnant women exposed to suboptimal air quality face heightened risks of miscarriage, low birth weight infants, and childbirth complications. Children and unborn babies bear the brunt of negative developmental effects, while others risk contracting lung cancer and respiratory ailments.
Against this backdrop, health professionals and city authorities are not remaining idle. Guided by their expertise, they implore residents to heed their advice and take the necessary precautions to safeguard themselves from the perils of air pollution. Among these recommendations are the use of high-quality masks, moderation of outdoor activities during wildfire season, and consistent monitoring of pollution levels and forecasts.
As the Bay Area experiences unprecedented challenges brought on by far-flung wildfires, it is essential to keep in mind that we must remain vigilant in protecting ourselves and our communities. With federal resources such as the EPA's Fire and Smoke Map available at https://fire.airnow.gov/, staying informed and making the best decisions for ourselves and our families are within our grasp.