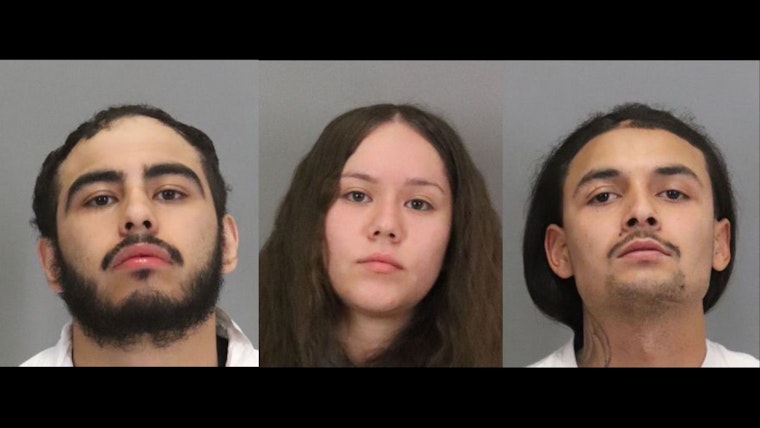 Published on September 18, 2023
On June 22, a San Jose resident fell victim to an armed robbery, whose stolen belongings included their French bulldog. According to the SJPD's official news release, the perpetrators of the crime were 19-year-old Alyssa Castro, 20-year-old Jesse Saavedra, and 21-year-old Isaac Ortiz.
Upon receiving the report of the crime, Officers and Investigators from the Robbery Unit immediately launched an extensive investigation. Aspects of the inquiry included an expansive search for any potential witnesses or surveillance footage that might prove helpful in tracking down the suspects and the stolen bulldog. Ultimately, it was residential surveillance footage that aided detectives in identifying Castro, Saavedra, and Ortiz as the individuals responsible for the crime.
After securing arrest warrants, the SJPD's Covert Response Unit arrested the suspects on September 7, in San Jose. Their search of the suspects' residences and vehicles uncovered firearms and ammunition. Troublingly, one of the recovered weapons was a privately-made firearm, or "ghost gun" — a type of gun that continues to create concern among law enforcement due to its lack of serial numbers and registration.
Fortunately, the victim's stolen French bulldog was found unharmed and returned to its rightful owner. The SJPD attributed the successful investigation and arrest to countless community members who provided video surveillance and came forward as witnesses.
The San Jose Police Department continues to encourage residents to register their security cameras with the SJCAM program. This voluntary initiative assists the police in directly contacting registrants using security cameras in an area where a crime occurred. To learn more, citizens may visit the SJPD website.