After two weeks of construction, the latest work of public art in Hayes Valley is ready to open to the public. Tomorrow, June 26th, the fences will come down on the 37-foot Temple at Patricia's Green, which will spend the next year at the heart of Hayes Valley. The dedication ceremony is scheduled for 11am at the temple site on Patricia's Green. 
As a reminder, the temple was created by artist David Best, and is intended to be a smaller-scale version of the ones he constructs (and later burns) at Burning Man. It's actually the sequel to a similar piece Best displayed on Patricia's Green in 2005; the city invited him back to construct another to celebrate the 10th anniversary of public art in the park.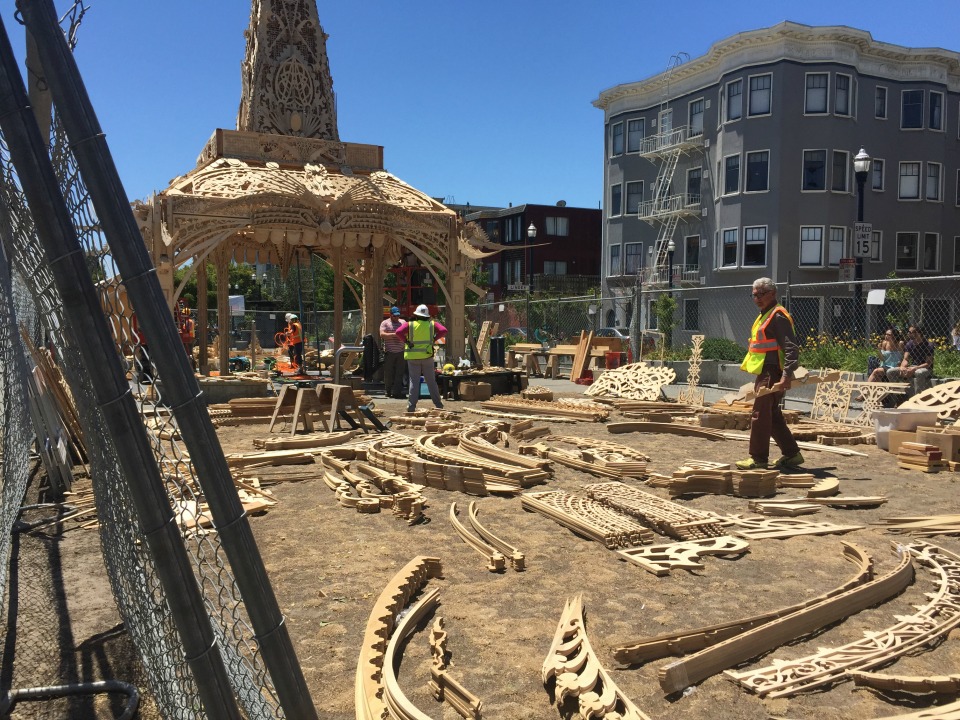 This temple, which is made from hundreds of pieces of laser-cut, weather-treated wood required a crane to lift its spire onto its base. But it's not just a large-scale work of art—it's an interactive structure for the community. As with the temples at Burning Man, locals will be encouraged to fill Best's work with memories, messages and remembrances for those they've lost. At Burning Man, these tributes include writing to deceased loved ones on the temple walls, posting their photographs, and even scattering ashes inside the temple. 
Several representatives of the organizations that helped put together the temple will be speaking at the dedication, including District 5 Supervisor London Breed, Tom DeCaigny (the San Francisco Arts Commission's director of cultural affairs), Tomas McCabe (Burning Man's associate director of strategic initiatives), and Madeline Behrens-Brigham (of the Hayes Valley Art Coalition). Best, the temple's creator, will conclude the dedication with a speech about his work and the purpose of the temple. 
What do you think of Patricia's Green's new addition? Do you plan to leave a message in the temple? Let us know in the comments.