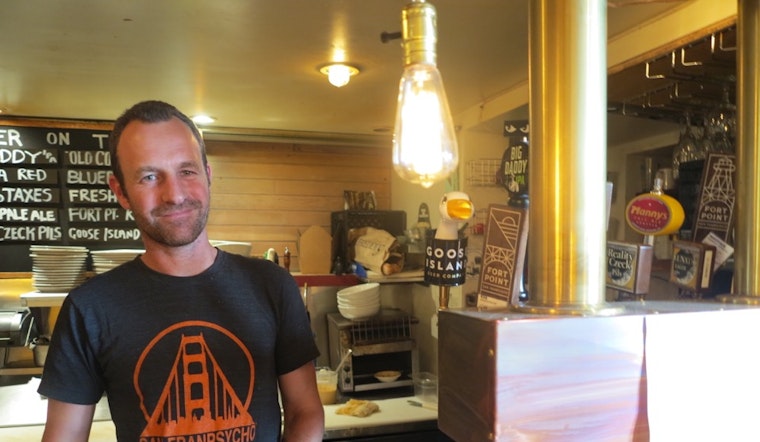 Published on June 18, 2015
Mojo Bicycle Cafe has been a neighborhood fixture since it opened at 639 Divisadero St. in 2007. Between its parklet, friendly bike shop staff, food pop-ups and newly expanded beer selection, the spot aims to create a neighborhood gathering place with an inviting atmosphere for all. We stopped by recently to get to know owner Remy Nelson and learn a bit more about the man behind the hops and the handlebars.
Where are you from and how did you get here?
"I'm from SF, and I walked here. That's my mom [points to a woman tending to the planter boxes in front of the shop]. I grew up in Noe Valley. I went to the French Lysee up on Upper Haight. My mom's French,  she taught there. She was the history and geography teacher for years. Other than a couple of traveling years, I've been here my whole life, except for when I went to college in Santa Cruz. I opened up this place in '07, right before the shit hit the fan, just about the worst timing you could imagine."
How did you come up with the "bike plus coffee shop concept"?
"I was working in bike shops in high school and college and it was a lot of fun. One time when I was in college, we ended up at Zeitgeist with a bunch of buddies. It was in the early 2000s and still very punk rock. There were all these bikes in the back, and we were like, 'What if this place had a bike shop? It would totally survive.' You know, because bike shops all die in the winter. That was the start of the idea.
"I ended up working as an environmental consultant for a few years after college, and that didn't really live up to my expectations, so I wanted to bail on that, and I was living in this neighborhood and knew it was going to blow up. So, this place came up, and I was like, 'Let's do this'.
"We actually originally only planned to have a bike shop and a beer garden, and we built the beer garden, but couldn't use it because we couldn't make it ADA accessible. Then, I went to the ABC to apply for our license, but they told me that if it was just going to be a bar, then I'd have to check IDs at the door, which wouldn't work for a bike shop. However, if it was a restaurant, I wouldn't have to do that. So I basically had to make up our menu in the ABC office on the spot, consisting of food that didn't require a hood or an open flame."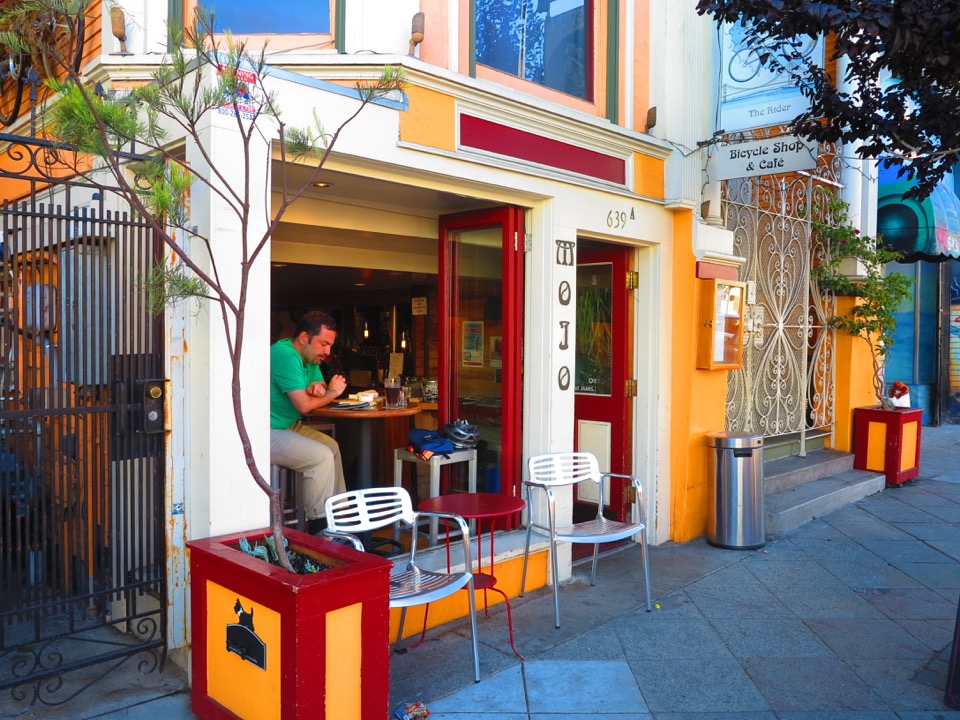 What's you favorite aspect of running a neighborhood hub?
"I grew up in San Francisco, but grew up in Noe Valley and went to school in The Richmond, and later in the Upper Haight, so my sense of the city was very white and isolated. I was an only child and went to a private school, so having a neighborhood was something that didn't really happen for me until I was here. This neighborhood is pretty much like a village. I like the sense of community and I feel a sense of pride in creating a space for people to come together and meet each other. I think that there's been a death of the commercial space in exchange for what could be called the 'Uberization' of retail, and I think that without those commercial spaces, you lose a sense of community, so I feel like I'm kind of hanging onto that in a way."
How do you go about selecting the beers you have on tap?
"It's mixed. Some of them I just have a history with. For example, Moonlight  is a very exceptional and difficult to get beer, and my ties started back when I was in high school and my colleagues had friends who started Speakeasy, so because of those guys when I opened this place, we were looking for accounts and Moonlight came up and my friends pulled some strings to see if Brian Hunt, the guy who runs Moonlight, would pick us up. Right now, out of 10, three of our beers are Moonlight. We've also had Big Daddy by Speakeasy since day one, but when we expanded our tap lines to 10, I still wanted to stay local, or at least in California.
"We started a thing—well, actually Ali, the manager at Madrone and Pop's started a thing—where all the merchants that sell beer on Divisadero would have this informal beer club where we all go to a brewery and try out their beer, in order to get educated and make it so we don't all sell the same beer up and down the street. We recently did Fort Point—which is awesome—Magnolia, Speakeasy, and some other breweries around the Bay Area."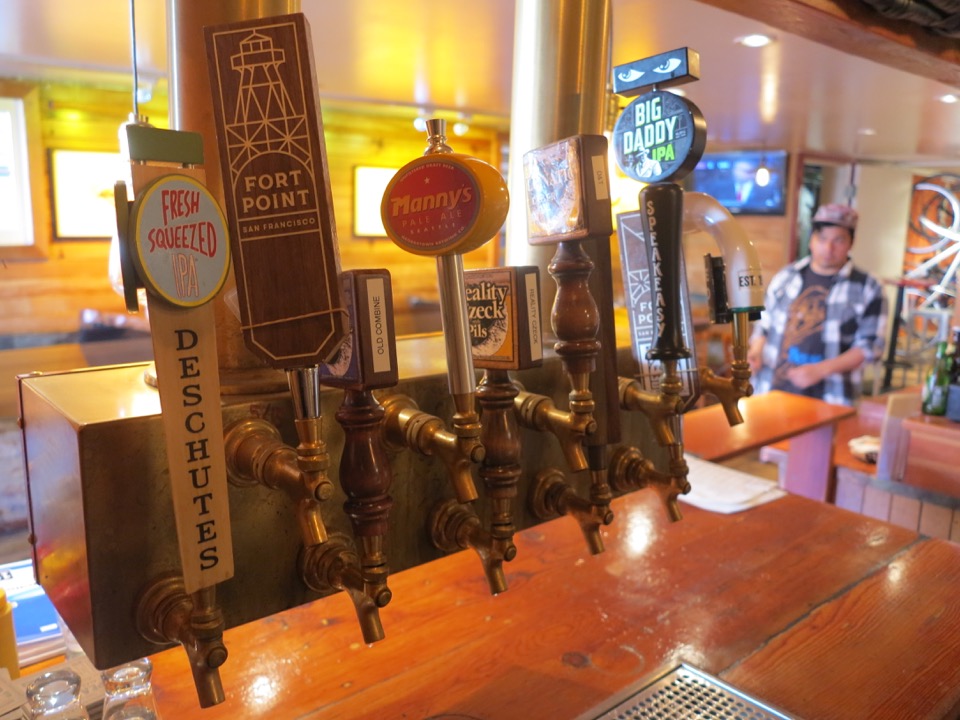 What's the best part about bike culture in San Francisco? What's the worst?
"I think the best part about SF is that it's so bikeable, but it's challenging to to learn the routes. It's labyrinthine, and it's hard to find those routes that are really good, and there's those amazing perfect routes that you only get to know if you know someone. I think the worst part is the culture of assumption about bike shops.  There's an assumption that all bike shops are overpriced, and that their employees are condescending to their customers, and that assumption itself breeds those things. I think that's unfortunate. I think the business of selling bikes, parts, and doing maintenance is a necessary and honest business."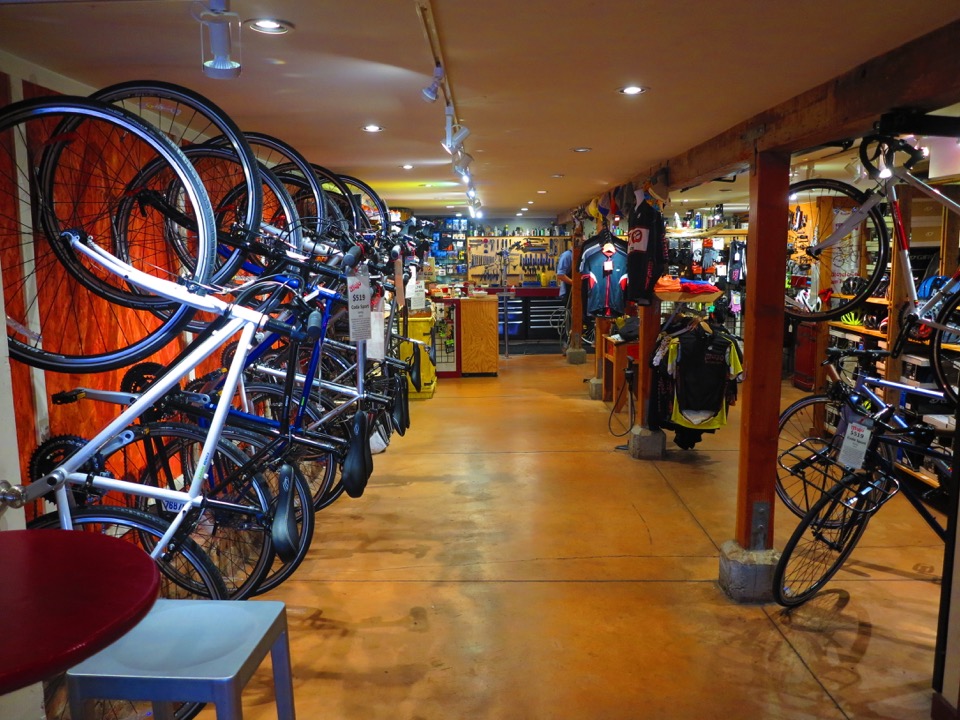 Back in November, you expanded your draught beer selection to 10 lines. How has this changed the atmosphere of the place?
"It's been great, it's been awesome. We went from three on tap to 10. I think a lot of it has to do with the fact that I built and run this place, and although I'm a coffee drinker and coffee lover, I have to be honest with myself about the fact that I'm not a morning person and I drink beer in the evening and I've been drinking beers—not Coors—for a long time. This is a lot of fun and I enjoy this."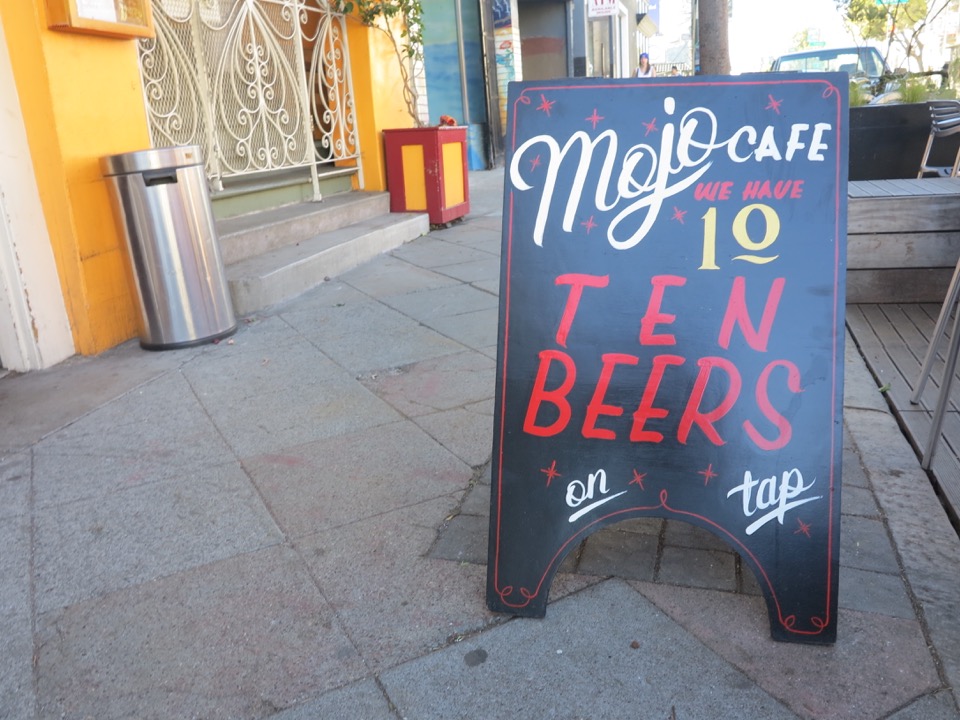 What's next for Mojo?
"The next thing will be more food. I've gotten tired of trying to serve breakfast on days where it's not really happening. I think brunch is a really interesting concept for us. This is a small space and every meal change requires us to change our entire service area, which sucks. I'm thinking about doing a seasonal brunch menu. I think it will require an open flame and hood, which will open us up to many more possibilities. It will take some time, and some funding, but it would be very exciting. I'm thinking about doing it this winter for next spring."
For more Tapping In with local bartenders, get to know Patrick Connolly of the Independent, Giday and Nebiat of Waziema, Michael Wieck of Bar 821, Caleb McGehee of NOPA, Chris Libby of Madrone, and Racquel of The Page.