At first glance, the Castro appears to be one of the least green neighborhoods in the city. But the neighborhood has quite a few green spaces that are hidden in plain sight, many of which are community-managed and allow people to sign up for caretaking shifts. Most are fairly accessible, and an intrepid city hiker could see them all in sequence over the course of 2-3 hours. We've mapped them out in an interactive Google map (below) for your exploring pleasure.
The parks and gardens, typically well-manicured, thoughtfully landscaped, and ranging in size from a single lot to a full city block, are mapped according to their program type.
[Editor's note: Some locations are approximate, and the walk includes several sets of stairs. Our map lists the majority of the stops, with some of them being in-between.]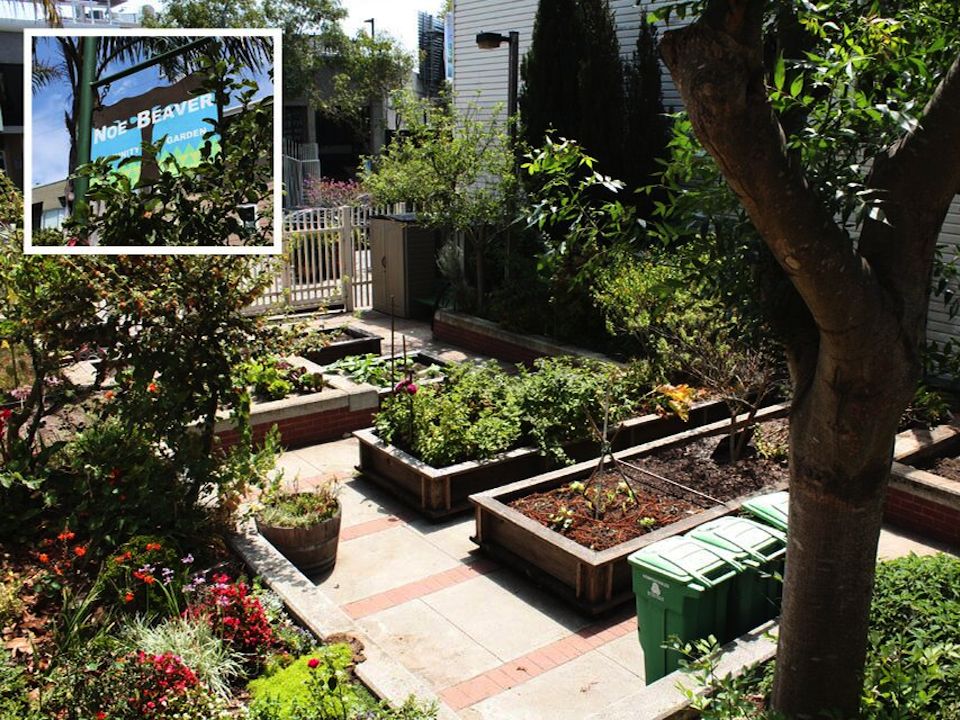 The first stop is the aptly, yet confusingly, named Noe-Beaver Mini-Park. This community garden is located across the street from Café Flore. While it's off-limits to the general public, it can still be admired from the street by peering through the fence. It's maintained by a group of volunteers.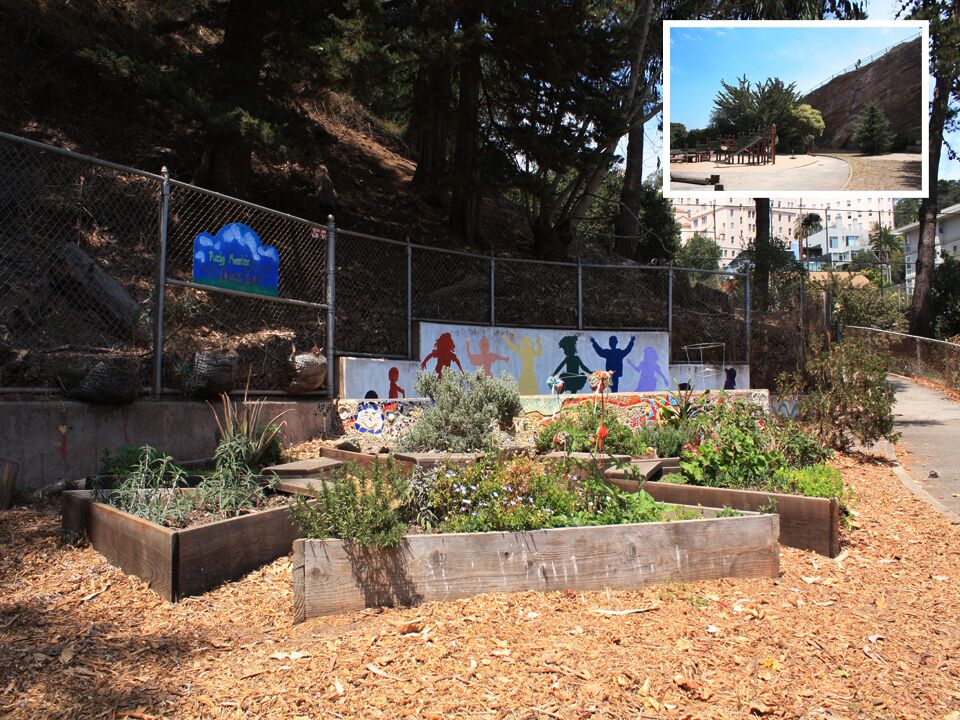 Rocky Mountain Children's Garden
Up the hill from the Noe-Beaver stop, at the base of Corona Heights Park, this space is owned and maintained by the Rocky Mountain Nursery School. It provides a place for youngsters to learn about how plants grow. While it's fenced-off, it can still be viewed by passers-by. There's also a wind-protected playground with an adjacent rock-climbing wall, for those inclined to a more vertical transition to the next stop.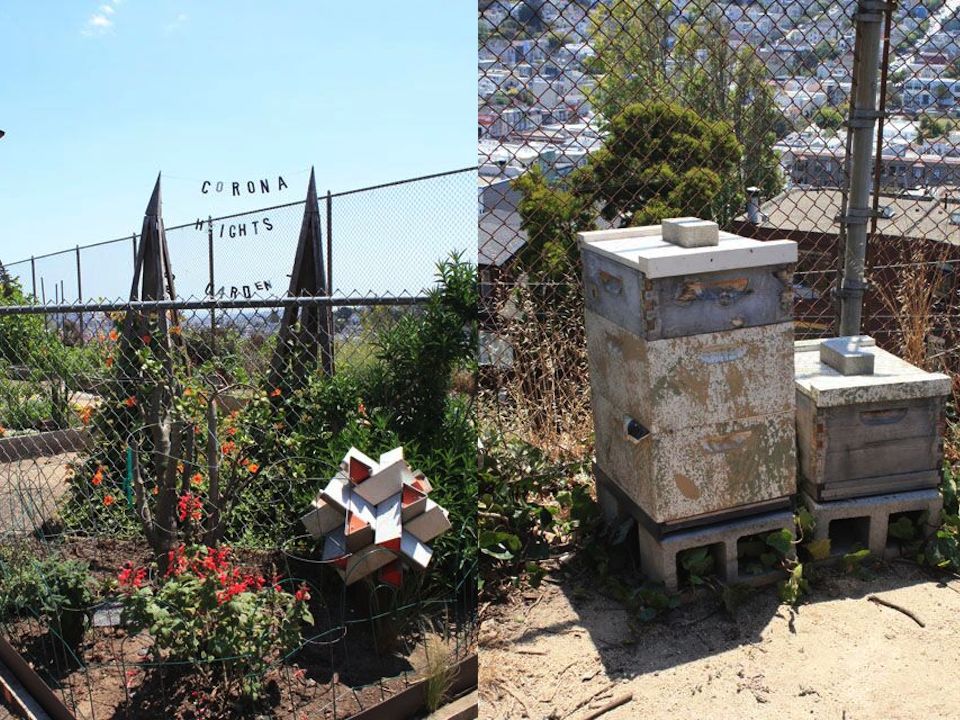 States Street/Corona Heights Community Garden
A 101-person wait list for this garden's 18 plots (four turned over this year) means that it's unlikely that you'll ever tend any dirt at this beautiful site, which is adjacent to the playground and open field atop Corona Heights. The garden features an array of nicely groomed vegetation of all varieties, from lettuce to snapdragons, and even has its own bee colony. The bees' caretaker is said to produce honey as a remedy for local patrons with allergies.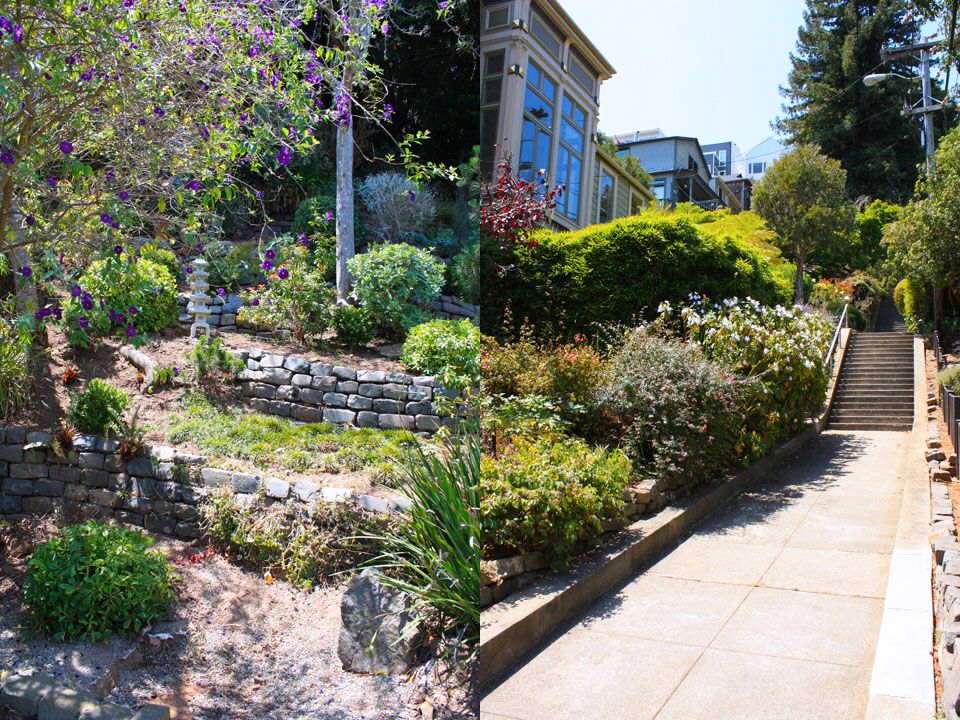 These bifurcated steps traverse a long, narrow slot between Ord Street and Levant Street, providing peek-through views of Corona Heights Peak, the Pride Flag, and well-groomed landscaping on either side. The verdant passage feels like a portal into a different world, complete with a miniature pagoda where the path diverges. The path splits and reunites via a small set of wooden steps through the trees. You may channel the famous scene from Rocky as you ascend the steps to the top.
Lower Terrace Green Space
While technically not a park or community garden, this leftover space, an overgrown path, is watered and cared for by neighboring residents.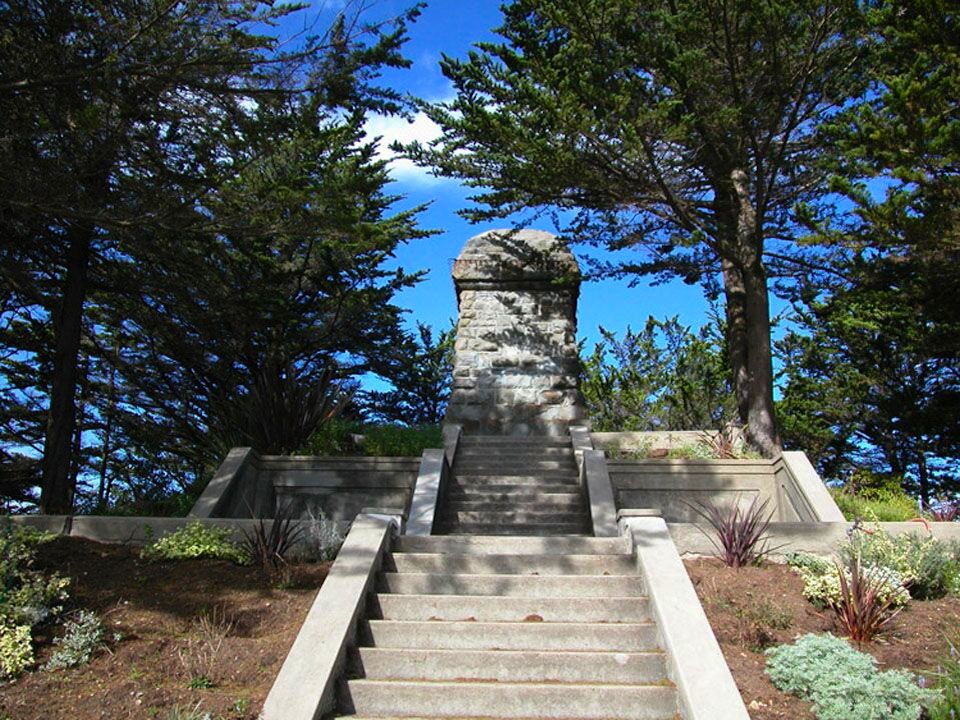 Photo: Sanfranciscotodays.com
The peak destination for this portion of the walk is Mount Olympus, a broken pedestal that's all that remains of the former obelisk that once marked the geographic "center of San Francisco," according to San Francisco Recreation & Parks. The 553-foot peak is literally falling apart, but it's worth a look for those seeking additional exertion after the Vulcan Steps. To learn more about Mount Olympus, check out our article from back in March.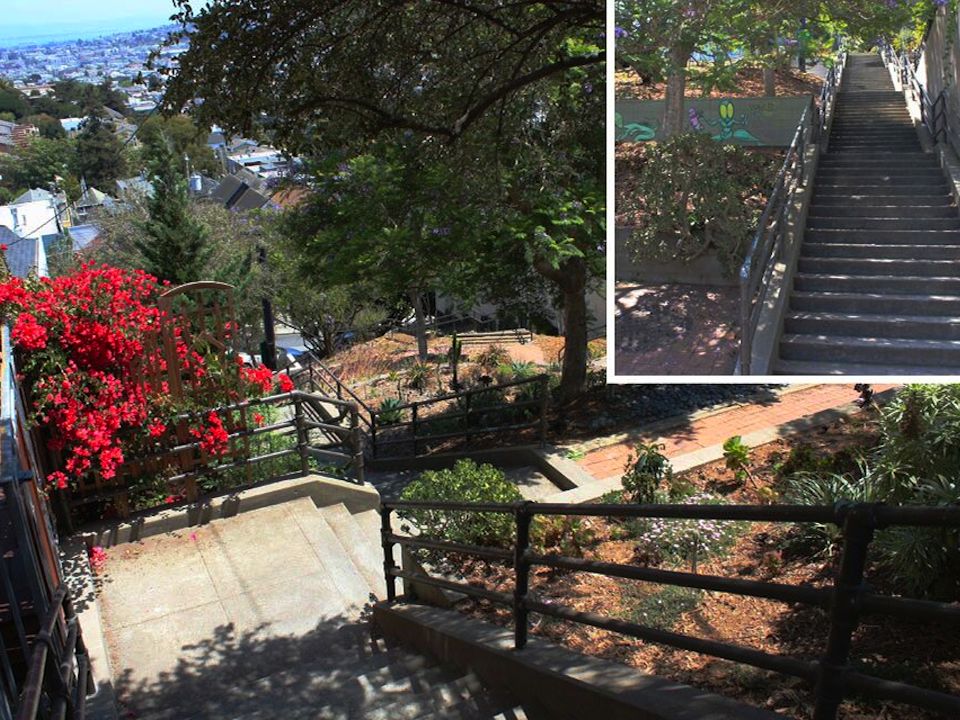 While shorter and less well-groomed than the neighboring Vulcan Stairs, the Saturn Steps offer nicer views. Linking Saturn Street with Ord Street, the park is, like many others, maintained by the neighbors and surrounding community. During our visit, the greenery was looking a little parched, though the accompanying (bizarre) graffiti recommending a donation to the alien movement gave us a chuckle.
Ord & Corbett Park
The park at Ord and Corbett is also bordered by 17th Street, facing a purple Art Deco building. It offers a shady respite just off of Market Street. One notable feature is a tree planted January 1st, 1980 by David Geisinger, with a small but heartfelt plaque dedicating it to the memory of Harvey Milk.
Ord/Storrie Community Park
A cute, albeit random slice of green space, the so-called "Community Park" (according to Google Maps) is blink-and-you'll-miss-it small. A short walking path and retaining walls link lower Ord Street and Storrie Street, if you'd rather not take the steps from Market. Who knew Ord Street had so many mini-parks?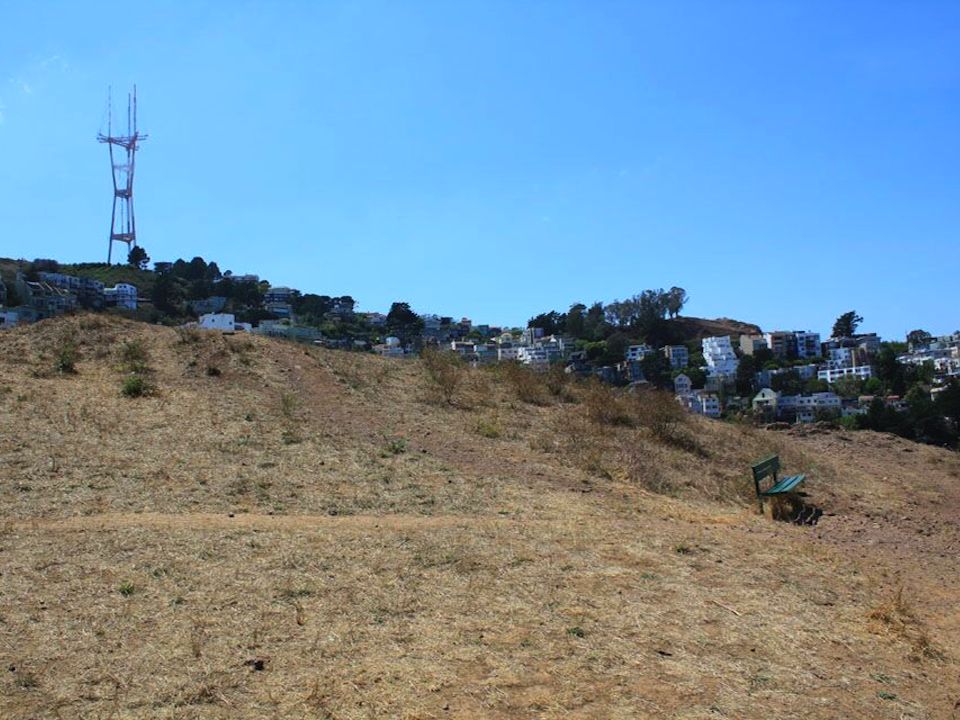 Sweeping views of the city and occasionally long grass (when we visited, it was crusty and brown, thanks to the drought) can help you live out your urban Sound of Music fantasies close to home. The space is open from dawn to dusk, and provides panoramic vistas of the city from within Eureka Valley. Depending on your route, you can swing by the Alfred E. Clarke Mansion at the corner of Douglas and Caselli Street on your way.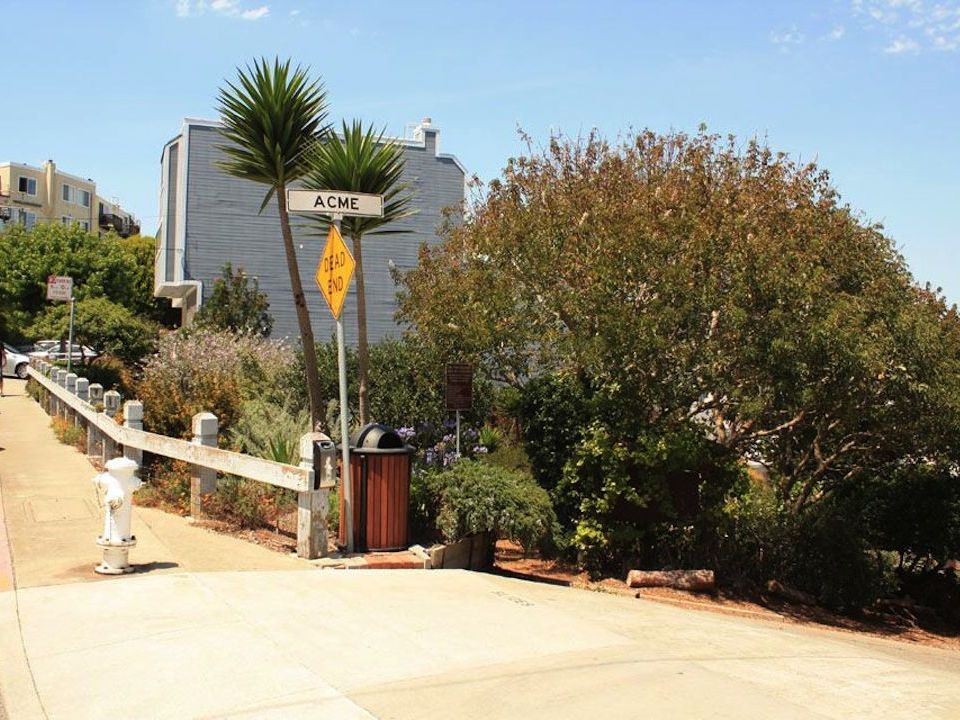 Corwin Street Community Garden and Seward Mini-Park
Perhaps the most well-known of the Castro's garden spaces, the Seward Mini-Park is notorious for its always-packed concrete slides. This open space has a particularly interesting history. Originally saved in a dramatic neighborhood-versus-developer battle in the 1960s, it was converted into a children's play area and mini-park in 1973, and further developed into a community-cultivated garden in 1995.
At the time, it was decided that a diverse array of California plant life available to the public would be better-suited to the site than individually-maintained plots. The garden portion of the park sits above the slides, offering a quieter, contemplative space, complete with wood-chip pathways and a moving tribute to Stephen A. Berg.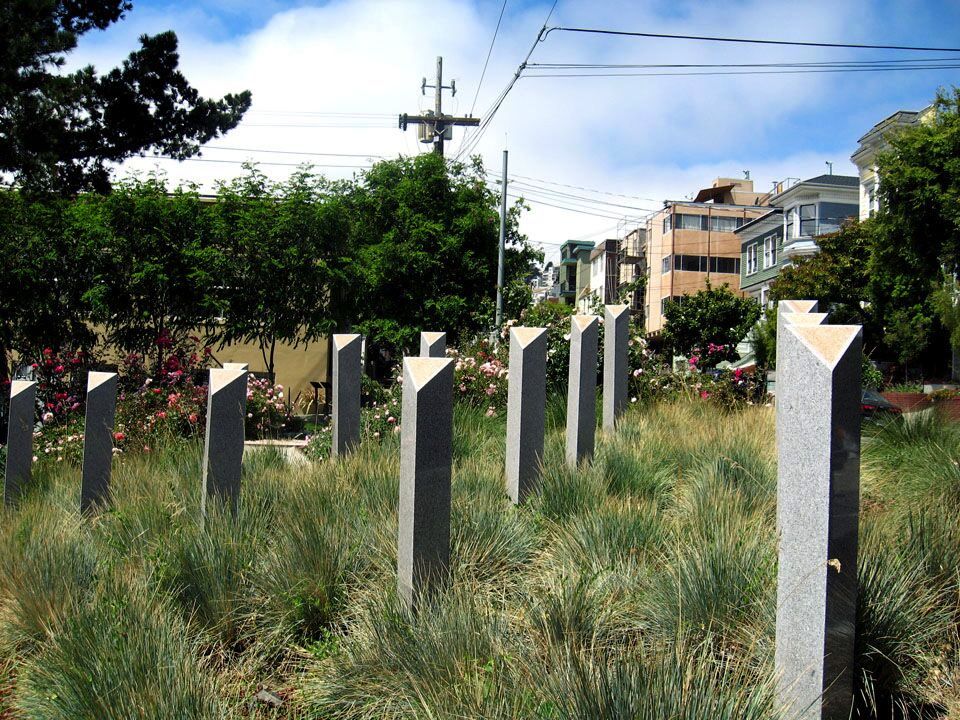 Photo: Wikimedia.org
Pink Triangle Park and Memorial
A memorial as much as an open space, the last stop on the tour is the Pink Triangle Park and Memorial, which features 15 Sierra White granite pylons adorned with pink triangles, to commemorate the loss of LGBTQ life during and after the Nazi regime. Built by the Castro/Eureka Valley Neighborhood Association in 2003, the memorial is "the first permanent free-standing memorial in America to the LGBT experience during this chapter of history." Within plain view of the Pride Flag, it's a worthy place for contemplation, adjacent to the busy stretch of Market Street.
---
Interested in joining one of these community gardens? Each space generally has a decent-sized waiting list to participate. You can sign up with San Francisco Recreation & Parks, but be prepared to wait for the opportunity get your hands dirty.