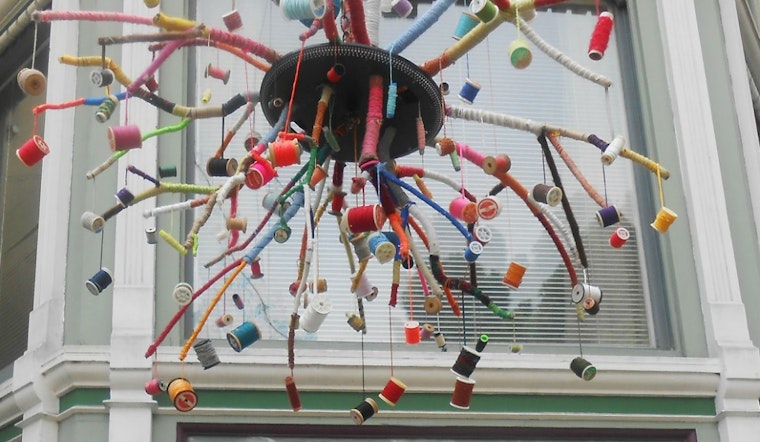 Published on December 25, 2015
To close out 2015, we've asked our local neighborhood editors to choose their favorite stories from the past year, and to explain why they loved them so.
Today, we hear from local editor Nuala Sawyer:
A series of creative mobiles changes monthly in front of a large Victorian on McAllister Street, near Alamo Square. Huffing and puffing up that hill on my bike, I'd always wondered about their origins. I wandered down there one day when I was low on stories, and left a note in the orange mailbox outside the house where the mobiles hung. Two days later I received a phone call from Miguel Gutierrez-Ranzi. He invited me over for tea, and the next day I was helping him sift through his garage filled with old mobiles, untangling them from one another.

Miguel is a small man with a vibrant history, filled with tangential stories and asides that paint a picture of a colorful life. His history as a costume- and set-designer means he sees inspiration in everything—plastic spoons, credit cards, old light bulbs. After two hours of chatting, I had to drag myself out the door, and we were still shouting to each other as I walked home up the street. I feel greatly honored to now count Miguel as a friend, and go out of my way at the beginning of each month to swing by and see what his latest installation is made of.

Below is an excerpt from the original story, published on June 16th, 2015.
---
Thanks to a tip from reader Michael A., we recently learned about a constantly evolving installation of mobiles hanging outside a home on McAllister Street. According to artist Miguel Gutierrez-Ranzi, the mobiles have been up since 2000, with a new one appearing at the end of every month, installed under cover of night.
Gutierrez-Ranzi has been living at 1269 McAllister Street since 1984, when he joined his partner Alan in the old Victorian home. Built in 1887, the house is one of only a few in the neighborhood to have survived the Urban Renewal Project, which knocked down old Victorians and replaced them with modern buildings. According to Gutierrez-Ranzi, the planner for the project used the house as his office, thereby preventing it from being demolished.
But for the past 15 years, 1269 McAllister has offered more than just history: it's also home to an ever-changing collection of large-scale mobiles, which hang from the second-story window ...
Continue reading one of Nuala's favorite story of 2015, "Meet The Artist Behind The Mobiles Of McAllister Street."