Surfing, swimming and bonfires are legitimate reasons to visit Ocean Beach, but the seaside is also an ideal spot for urban hunter-gatherers.
Depending on one's level of interest, budget, and the time of year, Ocean Beach offers foraging options that include fish, crabs and flora. But before you jump on the N-Judah with a bucket and some waders, here's a look at what's in season, the rules on what's OK to bring home (and what's not), and the potential health risks that come with eating coastal seafood.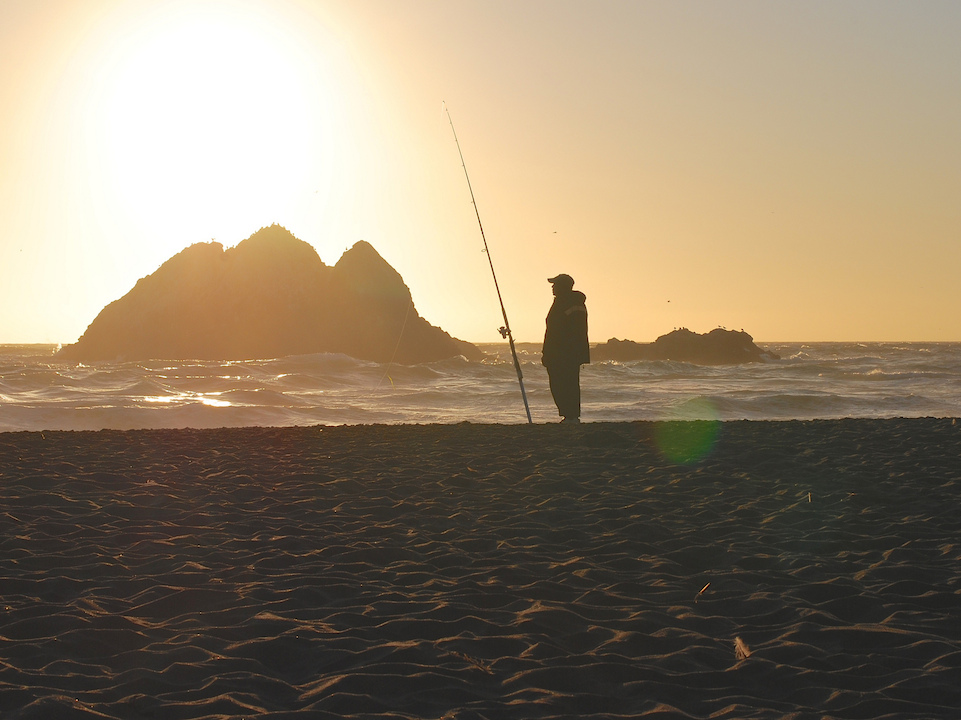 Photo: Lisa Williams/Flickr
Coastal Seafood: The Risks
Due to an algal bloom along the West Coast, the California Department of Health has issued an advisory regarding seafood caught along the state's coastline.
The algae produces domoic acid, a neurotoxin that accumulates in sea animals; when creatures higher up the food chain eat contaminated seafood, domoic acid can cause seizures, tremors, and death. In severe cases, the poison causes permanent short-term memory loss known as amnesiac shellfish poisoning.
Crabs contain the highest levels of the biotoxin, but bivalves and small fish like anchovies and sardines have been determined to be safe. Since issuing the advisory last year, CDPH conducts weekly testing. Dungeness crabs were recently put back on the menu after tests indicated their domoic acid levels were safe, but rock crabs have not yet been cleared.
Ocean Beach can also be a dangerous place for amateur fishing. On February 23rd and again on March 4th, first responders rescued two people in distress, and in the past, riptides and freak waves have caused fatalities. As a general rule of thumb, never turn your back on the ocean.
Get A Fishing License
The CA Department of Fish and Wildlife requires anyone who fishes or crabs to first obtain a sport fishing license. An annual license will set you back $47.01, but if you want to try it out before you pony up, one- and two-day licenses are available for a reduced fee. 
Gear Up From The Feet Up
Depending on what you're stalking, you'll need some specialized equipment and advice. In business for 60 years, Gus' Discount Tackle (3710 Balboa) is the closest bait shop to Ocean Beach. Besides fishing poles and line, Gus' stocks crab pots, live and frozen bait, and waterproof clothing.
Buying the right gear "is a very simple process," said owner Stephanie Scott. "For the beach, we have complete sets that begin at $38, so it's definitely affordable."
Did a little foraging at Ocean Beach - otherwise known as putting on your wetsuit & hand-picking Dungeness crabs. pic.twitter.com/iHnjXslJ8F

— Edible San Francisco (@EdibleSF) November 2, 2014
Today: Dungeness Crab, Shark, Perch and Rays
State laws prohibit the taking of Dungeness crabs from San Francisco Bay, but they're fair game at Ocean Beach. To attract crabs, anglers use their poles to cast a bait box that's surrounded by plastic snares. Once cast, the box sinks to the bottom; after a few minutes, the snare is reeled in.
When casting a crab snare, deeper water is better; approach the water's edge, cast the snare as far as you can, then back away.

Right now, Scott said most Ocean Beach anglers are using crab snares or fishing for leopard sharks, perch and bat rays. Are bat rays good eating? "Not from my point of view, but I do have customers who do," said Scott. "They usually take the wings off." 
Coming Soon: Striped Bass
"Right now, it's slim pickings for striped bass," said Scott. Although the striper season hasn't started yet, last year "was the best in 10 years and ran from April to October," she said. "But right now, they're catching nothing."
When in season, striped bass fishing at Ocean Beach can be quite rewarding; the fish average about three feet in length, and and can weigh anywhere from 10 to 30 pounds. Although stripers are less likely to feed in cold water, many will take the bait as they migrate inland for spawning.
There's a daily two-fish limit, but even novice piscators can catch their quota of striped bass at Ocean Beach, said Scott. The species will go after a variety of lures, but many fishers prefer anchovies, which congregate in giant schools off the coast at different times of year.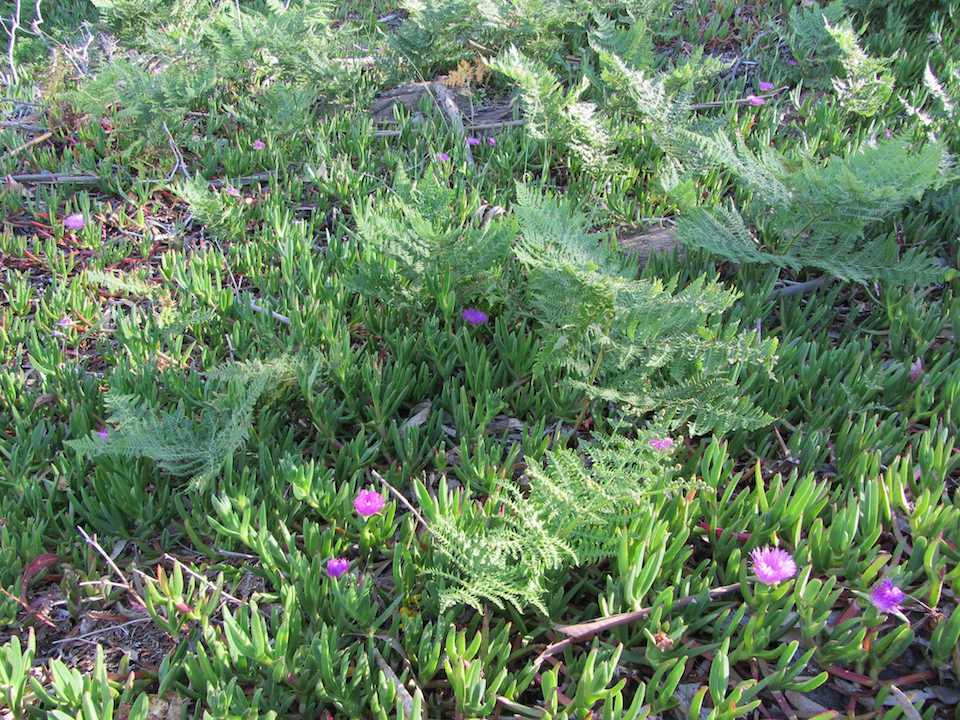 The buds of the ice plant are edible. (Photo: Akos Kokai/Flickr)
Ice Plants 
If you'd rather skip out on fishing, consider a bit of ice plant foraging instead. Although native to South Africa, ice plants (Carpobrotus edulis) are found along the California coast, and are a popular ornamental plant across the Sunset. 

Their succulent leaves can used like aloe to soothe irritated skin, or dried and used as a salt substitute. The spiky bulbs that explode into vibrant flowers are edible; peel back the slimy outer layer to expose a small, firm fruit at the center.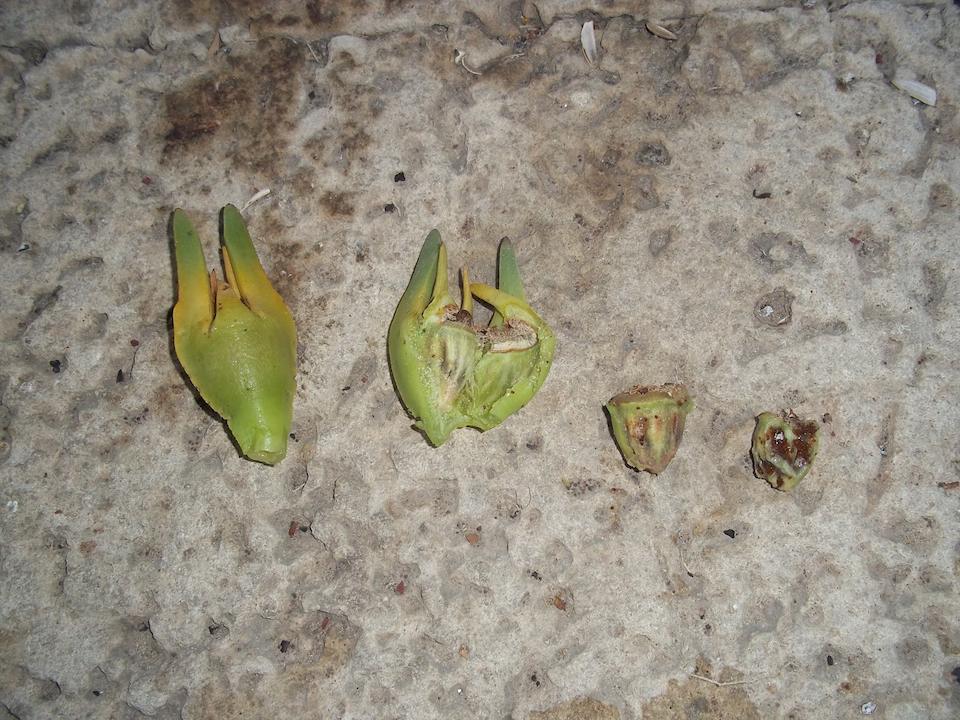 The fruit of the ice plant is also called a "sea fig." (Photo: pennilessparenting)
We asked Scott if she had any words of wisdom for newbie fisherpersons. "My advice is don't take it seriously; go and have a good time," she said. "People who take this seriously are defeating the whole purpose."