At the peak of his powers, developer Henry Doelger built as many as two houses per day in the Sunset, leading efforts to transform the Outside Lands from sand dunes to affordable single-family housing. In 1932, Doelger hired architect Charles O. Clausen to construct his new headquarters: a bold Art Deco building on Judah Street that incorporated many of the same materials and motifs found in the thousands of Doelger homes across the City's west side.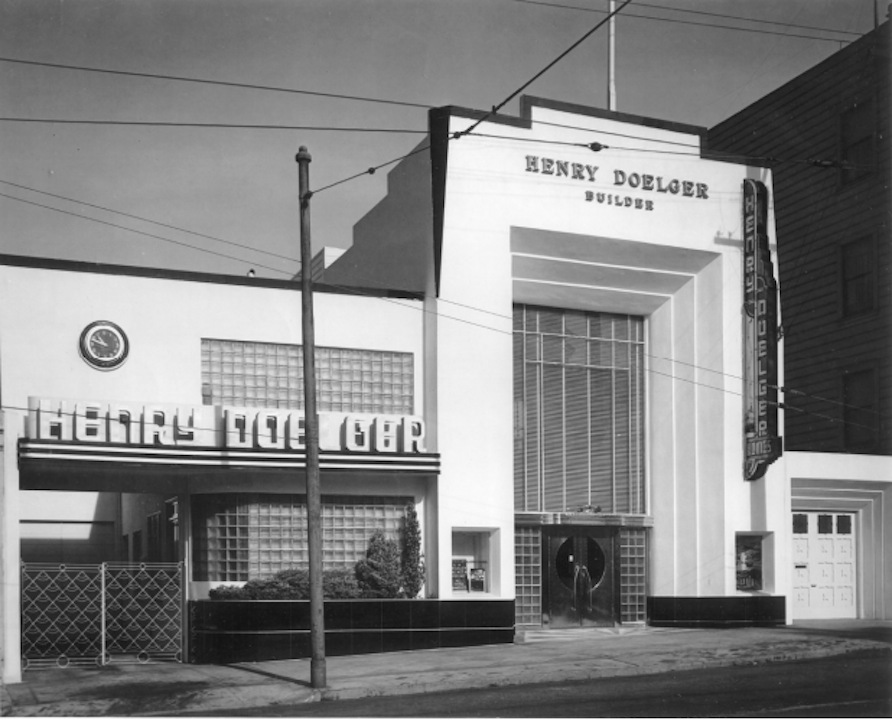 After final expansion in 1940. (Photo via SF Planning)
Initially, Doelger started working out of a basement office in the 18-unit apartment building next-door where his family lived. After constructing his headquarters, a garage was added and the building's interior was expanded several times to accommodate Doelger's growing success.
After the third and final expansion in 1940, the building accommodated most of the cogs in Doelger's machine: design workshops, sales offices, administrative space, plus room for storing construction materials like lumber and hardware.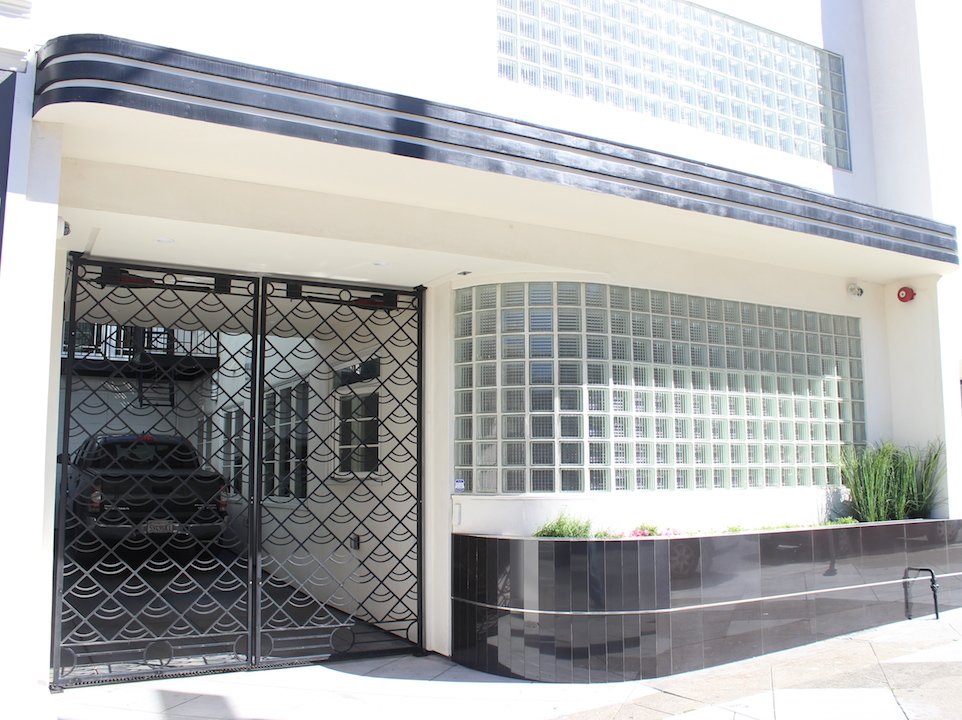 The horizontal frontage was added in a 1940 expansion.
The building at 320 Judah St. became an historic landmark in 2012, and was renovated by Geoffrey Darby, who purchased it that same year. According to the Planning Department's investigation, the building comprises two unique architectural styles: the original two- and three-story vertical section built in 1932 is pure Art Deco, while a horizontal 1940 addition, "which doubled the building's street frontage, was designed in the Streamline Moderne style."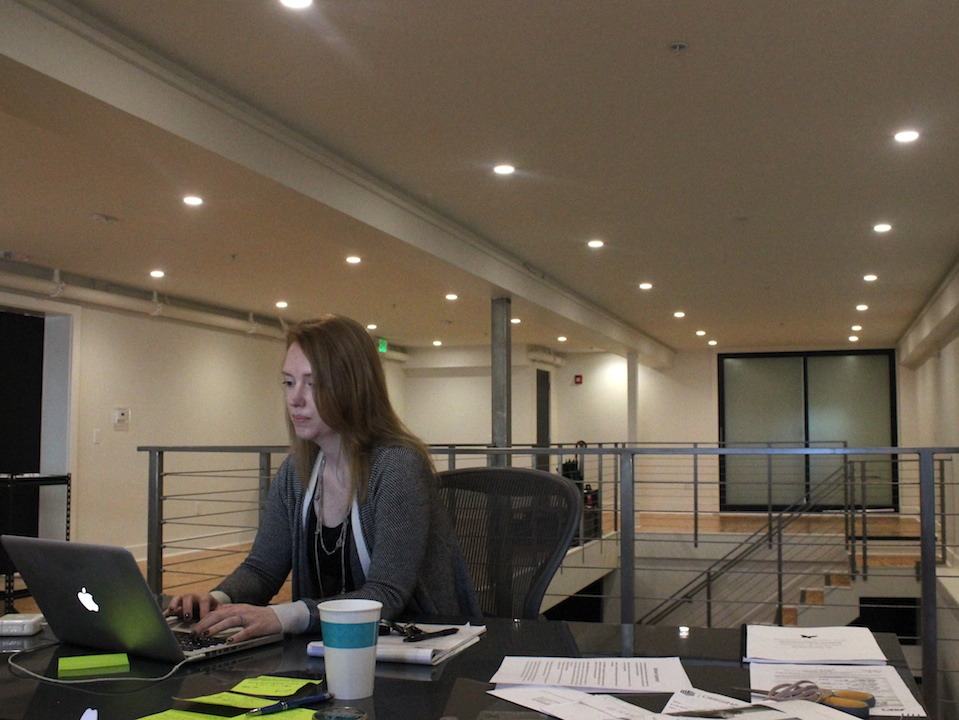 Diane Dahlstedt at her desk in M.Dev.Dev's open suite.
In 2013, cat boarders Mission Cats considered moving in, but withdrew their tenancy bid due to the multi-year renovations. Since then, Darby has divided the building into four open office suites for SF Botanical Garden, Five Design and Stapley Hildebrand. In February 2016, medical device developers M.Dev.Dev became the final tenant to move in.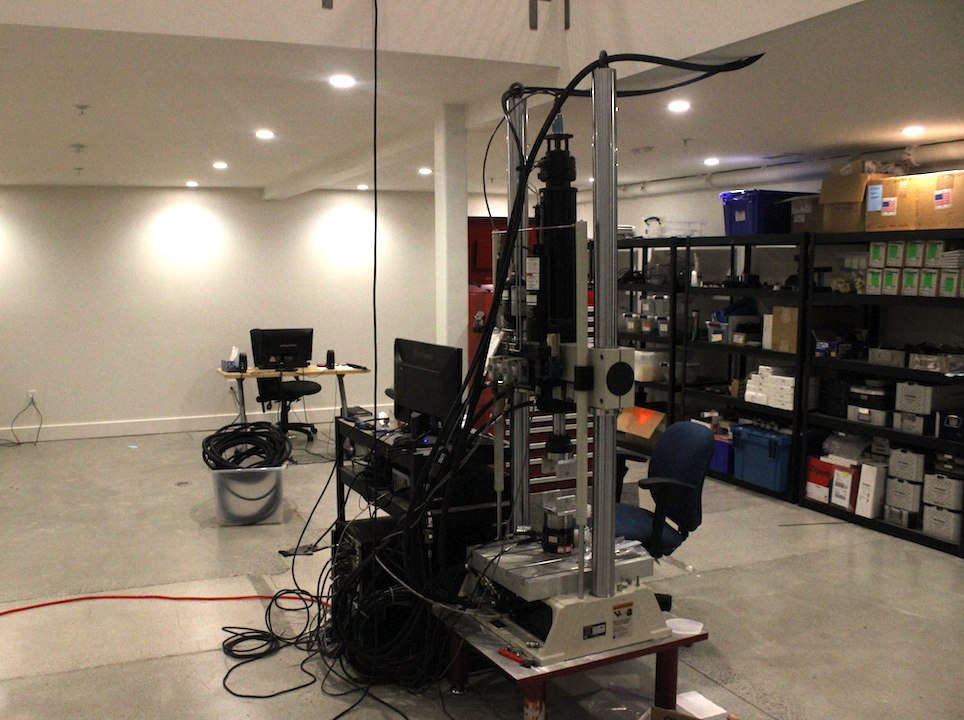 The company's MTS machine is used to stress-test medical devices and implants.
"With us moving in, the building is at full capacity," said Diane Dahlstedt, M.Dev.Dev's Business and Marketing Manager. Her company's suite occupies open space on two floors; on the lower level, engineers use a machine called an MTS to stress-test medical devices and implants. "It helps us test and gauge how well they'd work and how well they will function," she said.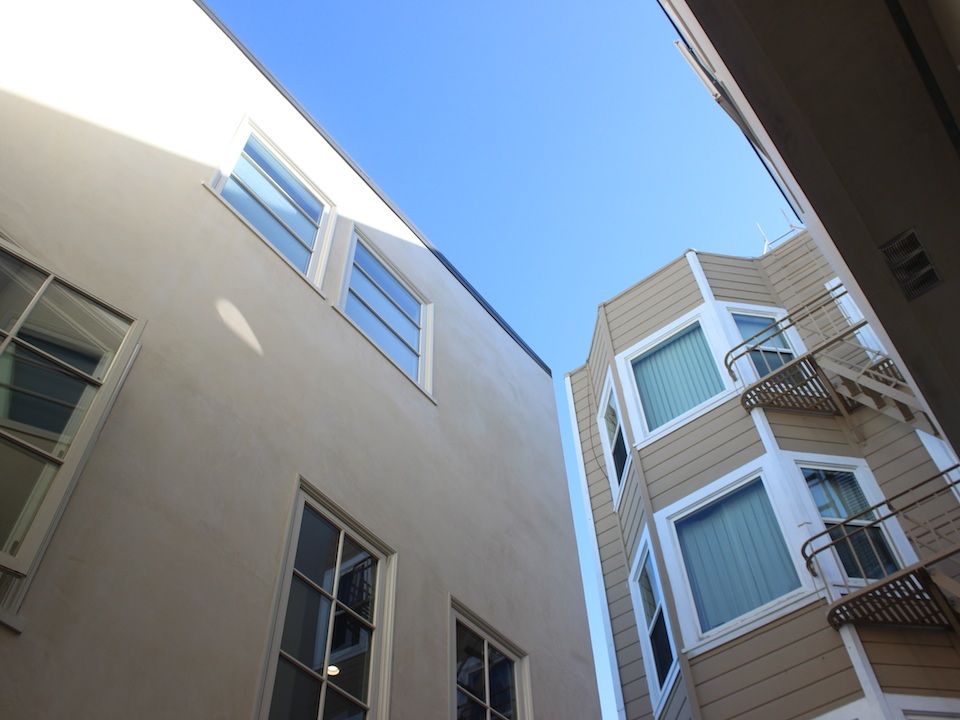 An atrium admits light and integrates the building with the neighborhood.
"We were drawn to this space because when you walk by, it's a beautiful building," Dahlstedt, a Sunset resident, explained. "You look at it, and you kind of want to be a part of what's happening in it." Considering the amount of space, accessibility to parking and public transit, "the rent is very comparable" to a space downtown, she said.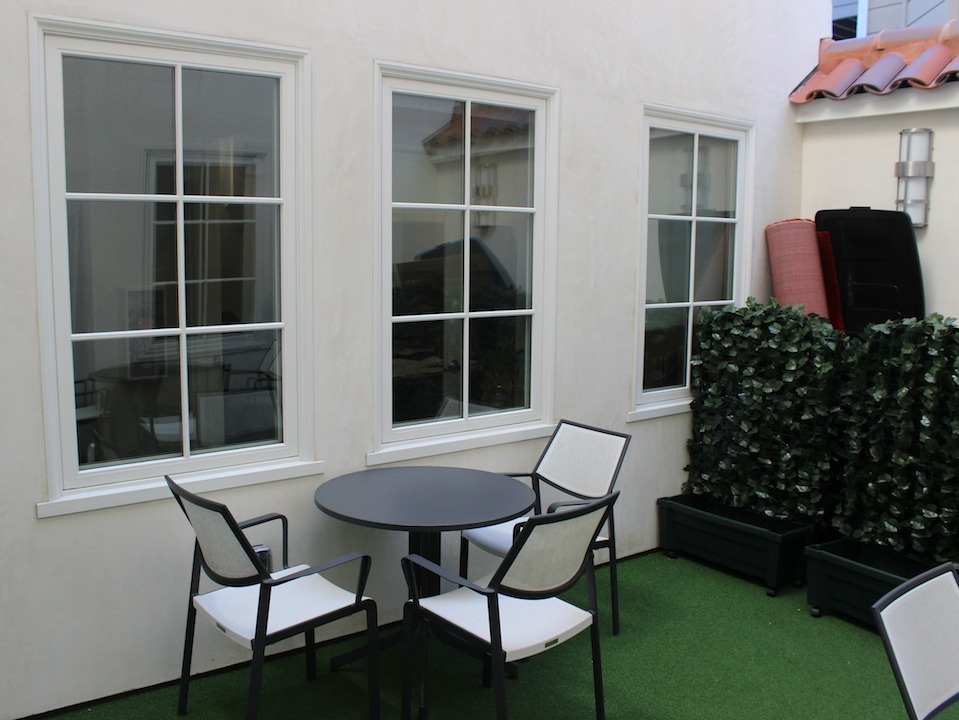 Atrium, ground level.
"I love it because it's not downtown," said Dahlstedt. "We can walk to a grocery store, or to the park, or to a coffee place or restaurant to have a meeting. It's a beautiful neighborhood to bring a client to, and a beautiful building to bring them into."
The building has been revamped inside and out; an original window pane from the 1930s etched with the Doelger logo has been installed in a display window that formerly advertised model homes. An Art Deco-inspired chandelier hovers over the stark-white lobby. Even the original clock on the facade has been restored to working condition.
"This building has wonderful karma," said Darby in a statement. "It is a happy building."