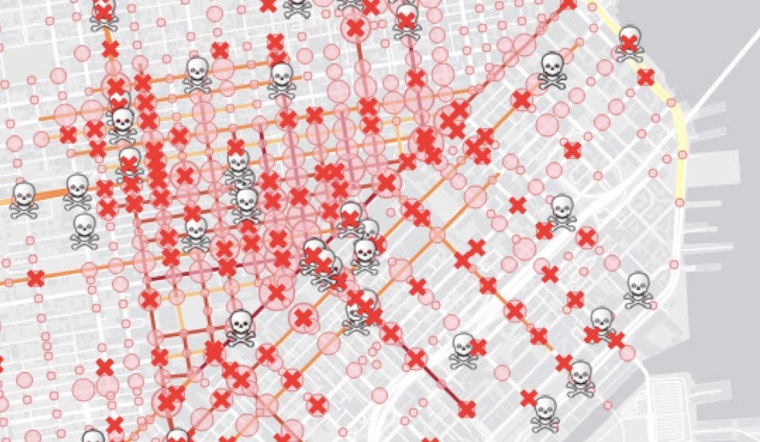 Published on April 07, 2016
Today is Walk To Work Day, and thousands of pedestrians around the city will strap on their walking shoes to score freebies and discounts along the route. But for the many San Franciscans who make trips on foot, walking isn't just about fun and fitness. Pedestrians are regularly injured and killed in the city, usually after being struck by vehicles. 
Thanks to Vision Zero—a citywide initiative to eliminate all traffic deaths by the year 2024—it's well-known that 12 percent of San Francisco's streets account for 70 percent of collisions each year, and many of those "high-injury corridors" are located in the heart of the city. But so far, the data-driven Vision Zero initiative's efforts to reduce traffic-related fatalities have yet to make a dent. Fatalities remained flat at 31 in 2014 and 2015, and are currently on track to reach the same level this year.
Are there certain streets pedestrians heading downtown should consider avoiding—or navigating extra-diligently?
Photo: Vision Zero "Pedestrian-Vehicle Injuries and High Injury Corridors" Map
To find the most dangerous streets for pedestrians in the central city, we took a look at the city's map of high-injury corridors (based on collision data collected from 2005-2011), as well as recent news reports and the SFMTA's ongoing capital improvement projects. Here's a guide to the seven central-city corridors that pedestrians should traverse with particular caution—as well as what the city is doing about them.
#7: South Van Ness—Market to 12th (.21 mi)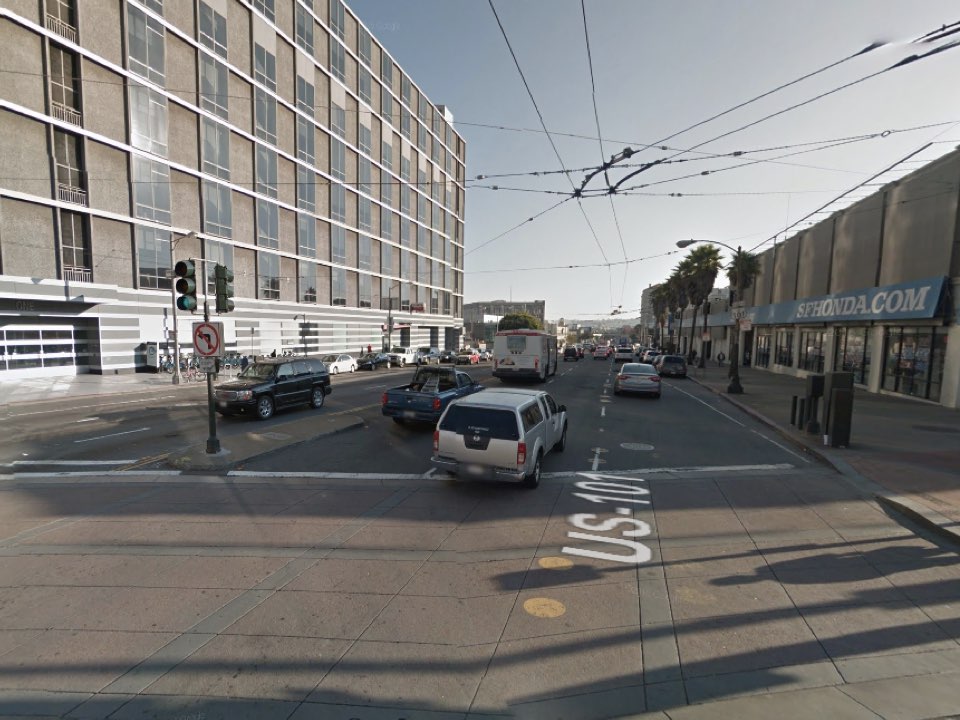 South Van Ness and Market. (Photo: Google Maps)
According to the city, South Van Ness from Market to 12th streets saw a rate of 118 injuries per mile from 2005-2011, including 28 severe or fatal injuries per mile. When weighing severe and fatal injuries more heavily, as the SFMTA has done for each high-injury corridor, the total spikes to 175 injuries per mile. 
Using city data from 2005-2012, the driving navigation app Waze conducted its own study last fall and named the nearby intersection of Market, Van Ness, Mission and Otis streets one of the most dangerous in the nation. "This enormous intersection has 17 lanes of traffic and 7 crosswalks," the report said. "Between 2005 and 2012, there were 92 vehicle collisions here: six with bicycles, 12 with pedestrians, and 74 with other cars."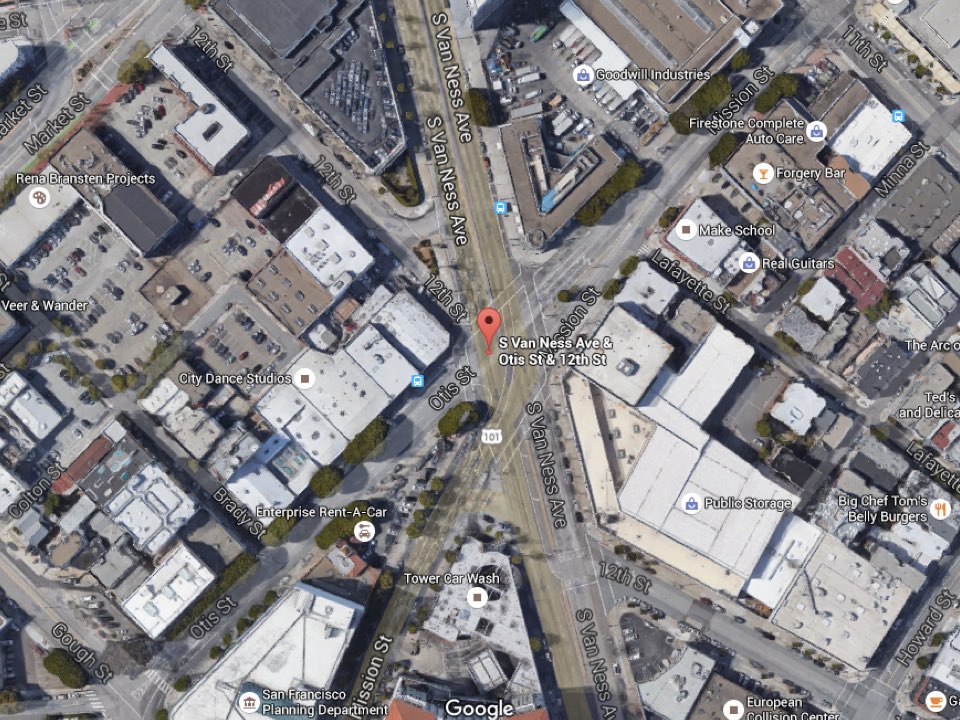 Photo: Google Maps
While the Vision Zero map of capital improvement projects currently on the table doesn't outline any plans for this specific stretch of South Van Ness, the Planning Department is beginning to engage the community in re-envisioning the intersection of Van Ness and Market, as well as the southern neighborhood spanning Market Street from Valencia Street to 11th Street—historically dubbed "The Hub."
From 6-8pm on Wednesday, April 13th, at 1 South Van Ness, city planners will offer a brief presentation and discussion on increasing affordable housing and improving transportation in this region. Click below to learn more about the workshop and RSVP.
#6: Golden Gate—Van Ness to Market & Taylor (.56 mi)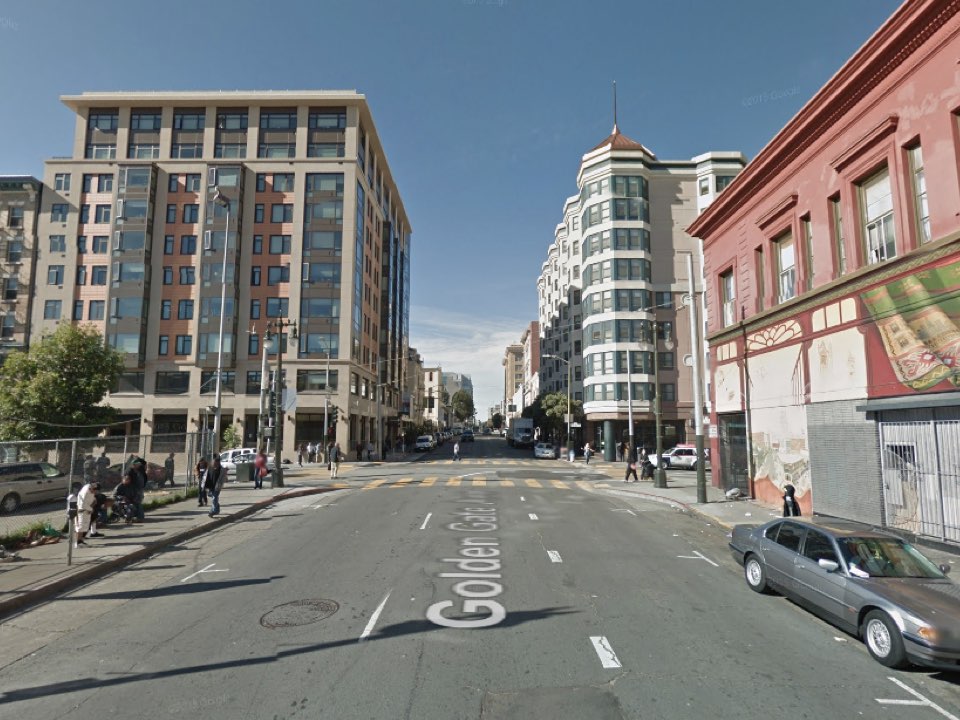 Golden Gate and Jones. (Photo: Google Maps)
Golden Gate Avenue, cutting straight through the Tenderloin from Mid-Market to the Civic Center Historic District, saw 144 total injuries per mile and 17 severe or fatal injuries per mile between 2005 and 2011. When weighing the total for severity more heavily, that goes up to 179 injuries per mile, making it slightly more dangerous than South Van Ness. 
The most recent traffic-related fatality along this corridor occurred in April 2014, when a driver struck and killed a 72-year-old man who was crossing Van Ness at Golden Gate. On the other edge of the corridor, a 73-year-old woman was struck and killed in 2008 while at the corner of Sixth and Golden Gate.
Last summer, Golden Gate was one of the many Tenderloin streets that received daylighting—a reduction of parking spots at 80 intersections throughout the district, to increase visibility at crosswalks.
According to the SFMTA website for the corridor, the department has also been planning a road diet for Golden Gate Avenue from Market to Polk since March of last year. Proposed improvements include reducing Golden Gate Avenue from three lanes to two, installing a buffered eastbound bike lane "to provide a better connection between Polk Street and Market Street for people riding bikes" and moving travel lanes farther from the sidewalks and on-street parking, to address "collision patterns involving pedestrians crossing mid-block."
An engineering hearing is set for April 15th, and the SFMTA could approve the project next month, potentially allowing construction to begin this summer. Look for more on that later this month.
#5: Market Street—Fourth/Stockton/Ellis to 10th/Polk/Fell (.91 mi)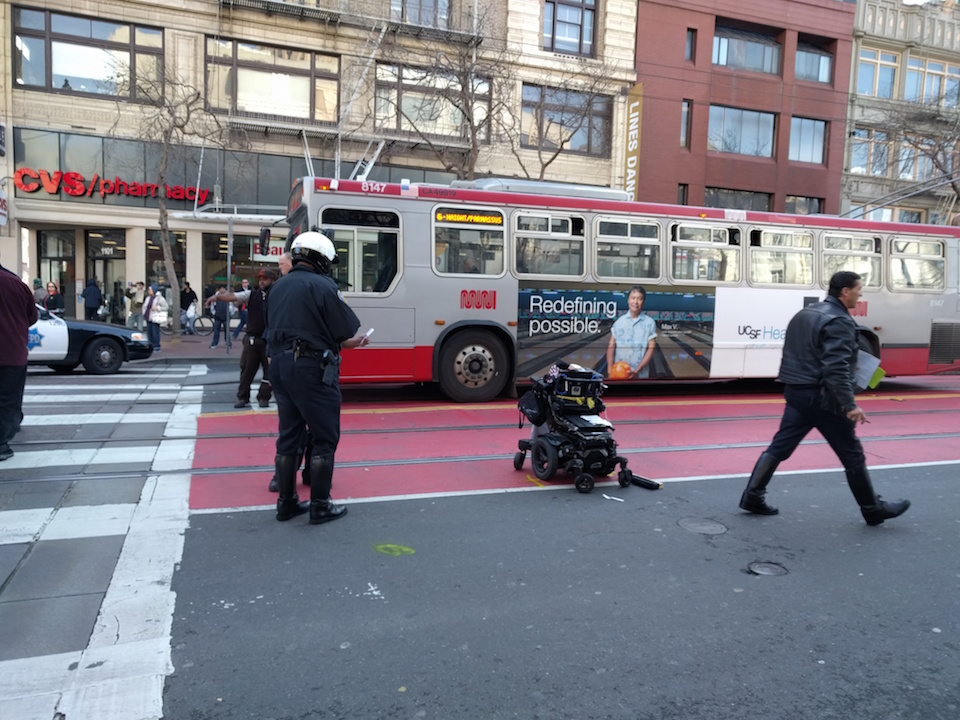 Police investigating the collision in February at Seventh and Market that resulted in the death of a city employee. (Photo: Brittany Hopkins/Hoodline)
This section of the city's major thoroughfare for public transit, private vehicles, pedestrians and cyclists had 192 injuries per mile during the study period.

Five city agencies are currently working on the Better Market Street initiative, which will include improvements to the corridor's public space, in addition to safety for pedestrians, cyclists and transit users.
While that plan won't be finalized and enacted until 2018 at the earliest, SFMTA has been making adjustments to increase pedestrian safety concerns along this corridor. Last summer, the department restricted private vehicles from turning onto Market Street, and began adding transit-only lanes to the corridor.
Despite the turn restrictions, 38-year-old city employee and disability advocate Thu Phan was struck and killed this February by a city-owned vehicle that turned left on Market from Seventh Street. The SFPD did find the driver at fault, but clarified that city vehicles are exempt from the turn restrictions. 
Since then, the SFMTA has agreed to simplify signage, to clarify the turn restrictions at a glance. But the pedestrian advocacy group WalkSF is still advocating for the SFMTA to reduce exemptions to Market Street's turn restrictions. Currently, both taxis and commercial vehicles are allowed to turn onto the corridor.
#4: Jones Street—Sutter to Market (.53 mi)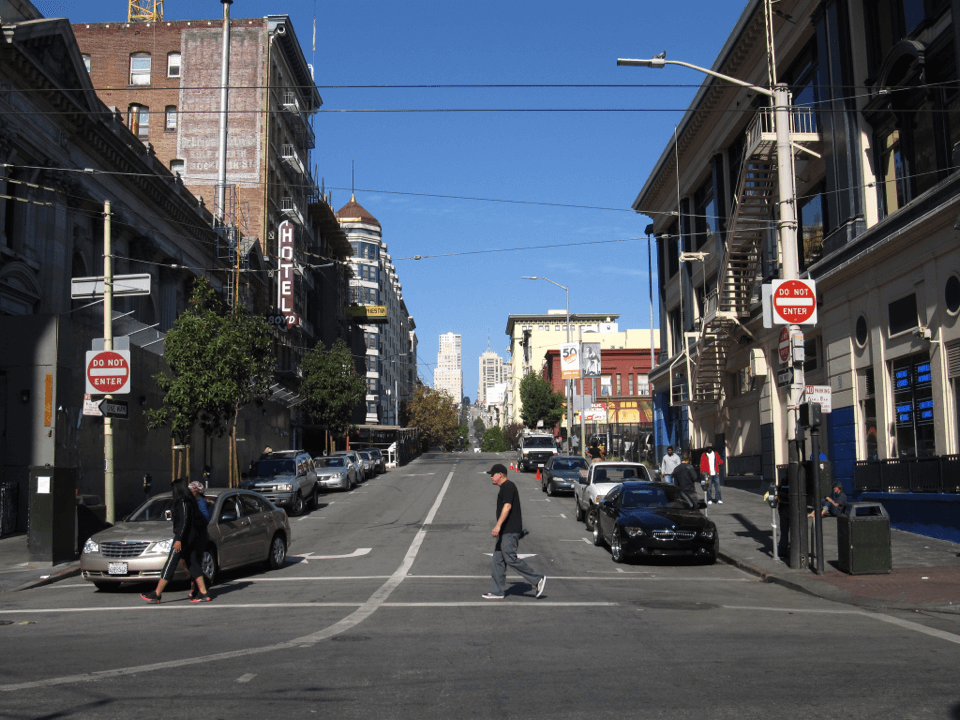 Jones & McAllister (Photo: Ken Lund/Flickr)
Next up is Jones Street, from Lower Nob Hill to Mid-Market. This half-mile stretch had 203 injuries per mile from 2005-2011. 
The most recent fatality in this intersection occurred in 2014, when a man driving a stolen minivan careened into another vehicle while fleeing the police. The two vehicles collided with and killed a 29-year-old resident walking on the sidewalk.
While there are no major improvement projects on the table for this corridor alone, it also benefited from the SFMTA's daylighting project for the Tenderloin.
#3: Taylor Street—Sacramento to Market/Golden Gate (.73 mi)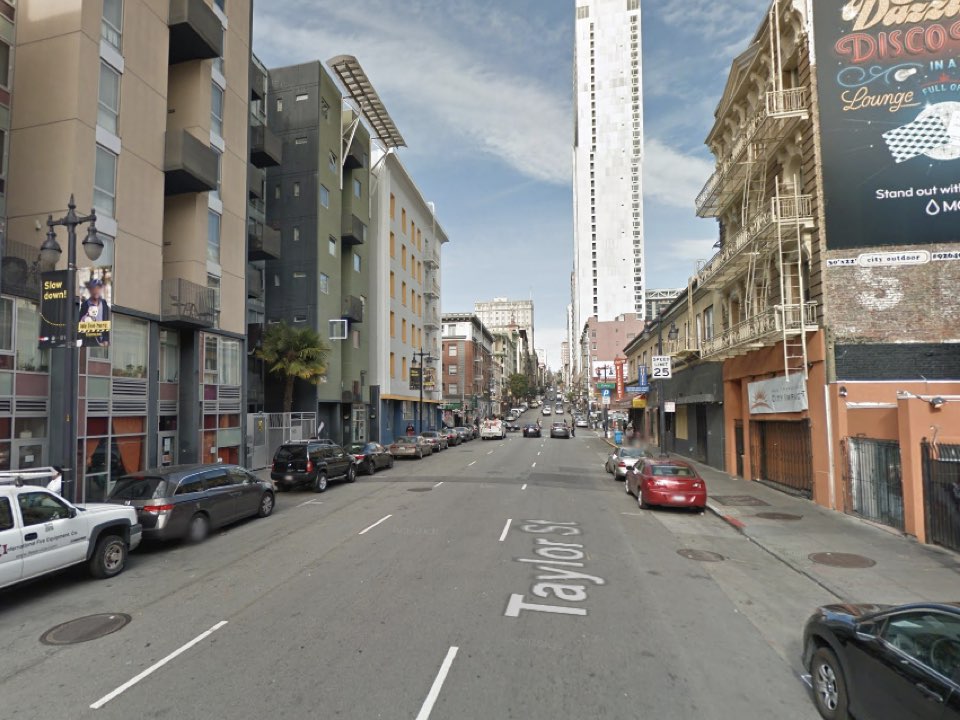 Northbound on Taylor. (Photo: Google Maps)
Like Jones, Taylor Street from Nob Hill to Mid-Market saw 203 injuries per mile from 2005-2011, after weighting for severity. And also like Jones, there are no specific capital improvement projects on tap for this corridor. Last summer's daylighting did reduce parking at six intersections along Taylor, from Pine to Market, to increase crosswalk visibility.
#2: Sixth Street—Market to Brannan (.72 mi)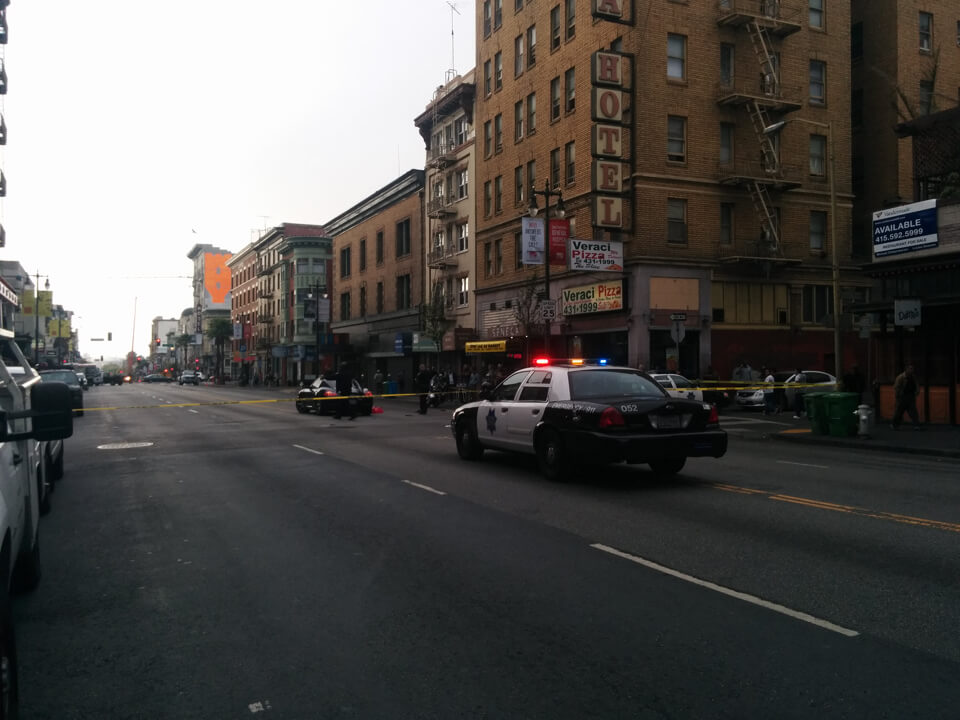 Police investigating a collision on Sixth Street last year. (Photo: Brittany Hopkins/Hoodline)
From 2005-2011, there were 242 injuries per mile on Sixth Street between Market and Brannan streets, making it the central city's second most dangerous corridor.
According to the city's fatality map for 2014 through February 2016, there has not been a traffic-related death in this stretch within the past two years. However, an elderly man was sent to the hospital with life-threatening injuries in August of last year, after being struck by a Porsche on Sixth Street between Market and Mission.
To improve pedestrian safety along this corridor, the SFMTA has a major improvement project in the works. It'll include pedestrian safety and streetscapeimprovements from Market Street to Bryant Street, including reducing the lanes from four to two heading north and south, widening sidewalks on both sides of the street, adding bulb-outs and raising the crosswalks.
The SFMTA's latest timeline for the project notes that community engagement on the conceptual designs could begin this fall, but construction on the full package won't commence until September 2018 at the earliest.

In the meantime, a few interim improvements—namely bulb-outs at Sixth and Howard and a pedestrian signal at Sixth and Minna—have already been implemented.
Finally, that brings us to...
#1: Cyril Magnin—O'Farrell to Market (.17 mi)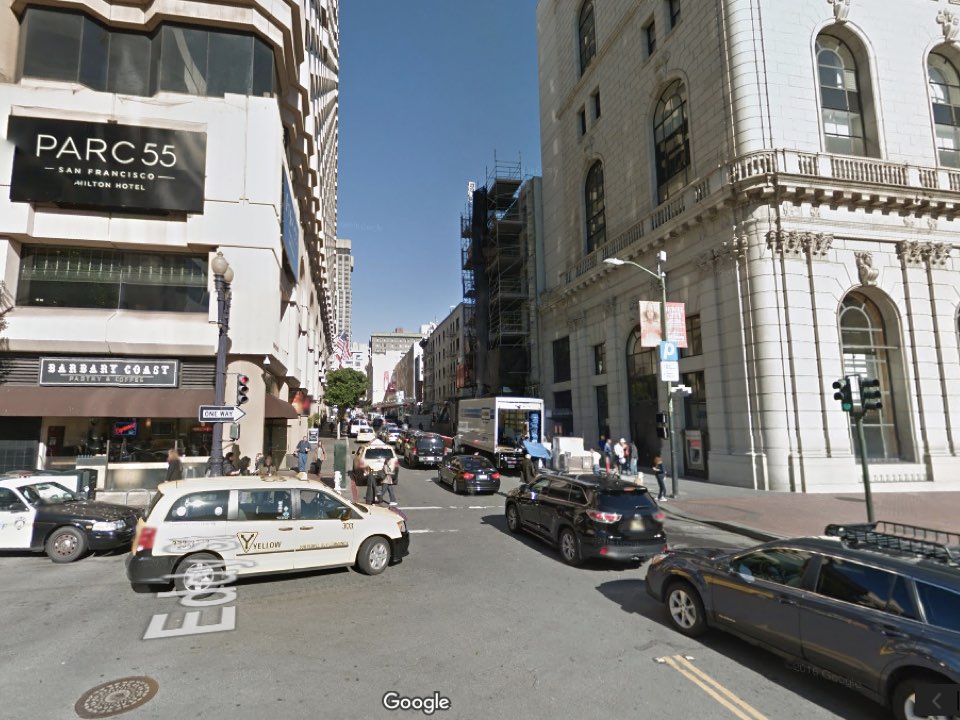 Cyril Magnin at Eddy and Market. (Photo: Google Maps)
This tiny street on the edge of the Tenderloin and Union Square is more dangerous than its small size would imply. It saw 313 injuries per mile from 2005-2011.
According to Vision Zero data, the most recent death within this corridor occurred in 2007, when a 14-year-old girl was struck and killed by a vehicle at the corner of Fifth and Cyril Magnin.
As for improvement projects, daylighting at Cyril Magnin and Eddy Streets took place last summer. No other major projects are planned for the corridor. 
We'll be keeping an eye on all of these and other high-injury corridors throughout the city's center, and sharing updates on both capital improvement projects and the city's progress towards reaching zero fatalities by 2024. In the meantime, be aware of your surroundings when you're walking in these corridors.