At last night's sparsely attended monthly Park Station community meeting, Capt. John Sanford, Jr. offered a debriefing on last weekend's Haight Street Fair and a look at recent crime statistics.
Sanford opened the meeting by calling out two "good arrests" made by Park Station officers on June 11th. The first involved a man who was obstructing the sidewalk on the 100 block of Belvedere, who was found to have a felony no-bail warrant for a previous assault charge.
That same day, Sgt. Joe Salazar of the station's plainclothes unit observed "suspicious activity" near the McDonald's at Haight and Stanyan. One individual was arrested with nearly 100 grams of marijuana, assorted pills, tabs believed to be LSD, a scale, and currency. According to Sanford, this individual also had an open warrant.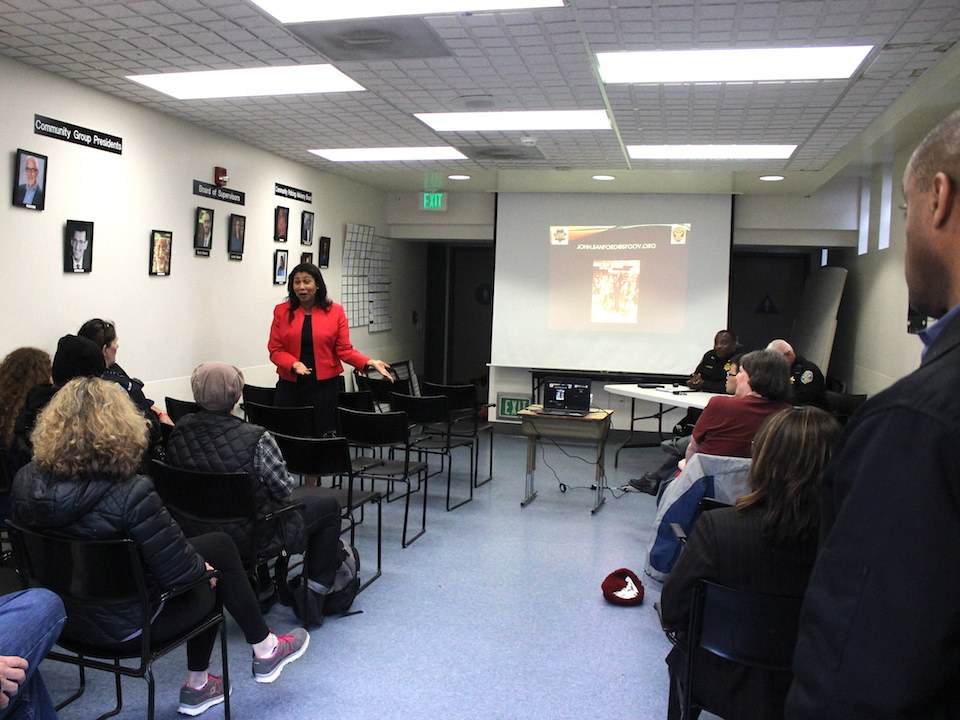 Sanford wouldn't offer specifics on the ongoing investigation into the recent homicide at Alvord Lake, but said that the department's homicide investigations team has "netted some great results."
Since the incident, Sanford said he hasn't felt the need to divert more resources to the area, which is just a few hundred feet from the station. "We have already stepped up operations on the Haight Street area, so that continues," he said. "We've been giving Haight Street a lot of attention, and we stay steadfast with what we're doing."
A city lawsuit launched last year against the owners of the McDonald's at Haight & Stanyan "most definitely" reduced street crime in the area, said Sanford. The private security guards who now patrol the restaurant are "our eyes and ears," he said, and additional lighting and fencing have helped. "Whenever someone's doing something illegal on their grounds, they want to protect their interests."
As for the Haight Street Fair, things were relatively quiet—though it attracted an estimated crowd of 55,000 people, police only made two arrests and mostly just asked attendees to pour out their open containers.
"For the police department, we were extremely bored," said Sanford, adding that there were "no problems whatsoever." The two people detained were too inebriated "to take care of themselves."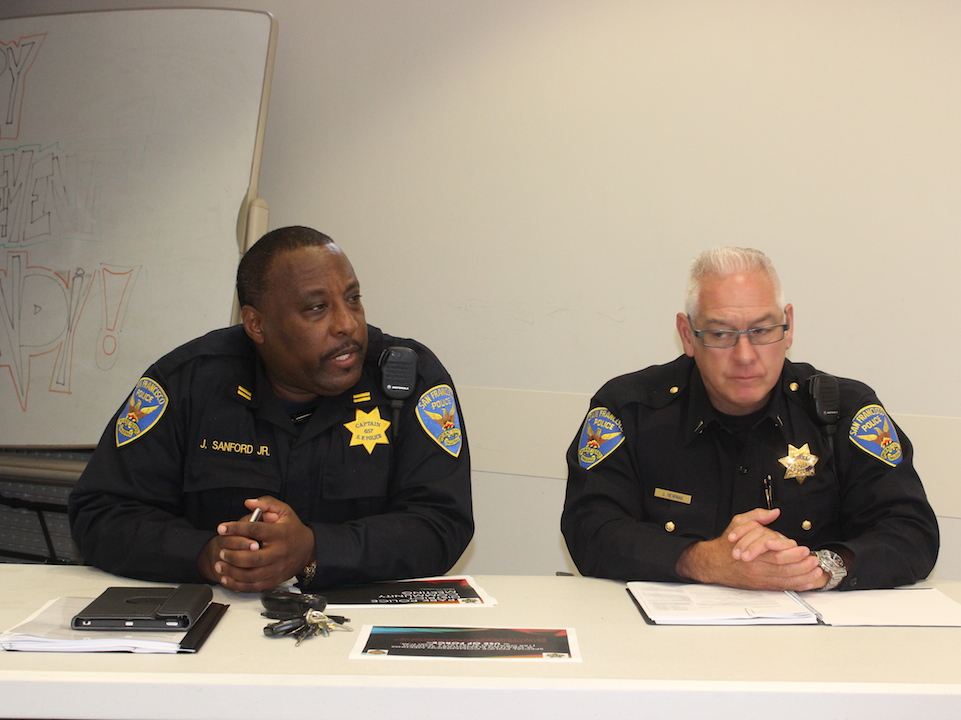 Before discussing crime statistics, Sanford introduced Terry Lam, an SFPD analyst who's now helping the station prepare its monthly data roundup. "It has been absolutely outstanding for me having her on board," he said, adding that she's streamlined the data collection process.
"She's cleaned everything up for us," said Sanford.
Although vehicle-related thefts are still at an all-time high citywide, they've been on a slight decline year-over-year, with 615 reports of break-ins in the district in 2016, compared to 646 at the same time last year. Sanford couldn't explain the 5 percent decline, but he said efforts continue to educate residents and visitors to remove all valuables from unattended cars.
"Even though it's down, there are still way too many auto burglaries," said Sanford, noting that recent strategies have focused efforts on Twin Peaks and other high-problem areas.
The number of stolen cars has dropped 26 percent compared to last year, with 137 reports in 2016—a steep decline from 186 for the same period in 2015. "We're very happy at the fact that there's a decrease, but there's still way too many cars being stolen," Sanford said.
Robberies are also on a downswing. This time last year, 66 had been reported in Park District, but in 2016, there have only been 39, a decrease of 41 percent. Sanford said there were four robberies in May, including one shoplifting incident "where a struggle over something completely insignificant" escalated into a robbery after the suspect was confronted.
The number of burglaries held steady at 174, the same number for this time in 2015. This year has seen four homicides in Park District, including the one at Alvord Lake.
Sanford said he's ordered officers to conduct more field interviews with people they encounter, so they can better track individuals who "may be connected to a crime or have the potential" of being involved in future illegal behavior.
"We have recognized, especially with some of our violent crime, how important the field interrogation cards are" for investigators who need to establish a suspect's associations and friendship, said Sanford. The interviews are "an additional tool" that helps direct resources, he added. So far, Park Station officers have conducted 643 field interviews this year.
Finally, some traffic stats: officers from Park Station issued 44 citations to drivers using cell phones, 9 to bicyclists and 365 to drivers for other violations, such as running red lights and stop signs.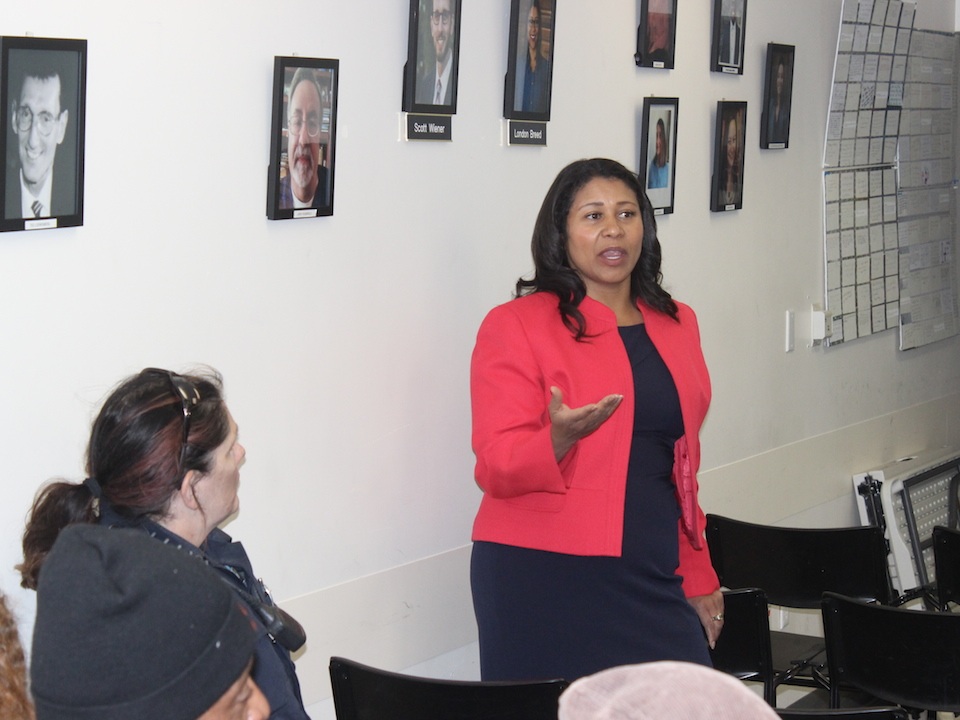 Before the session adjourned, District 5 Supervisor London Breed appeared to express her support for Park Station's homeless outreach, and recent operations that target quality-of-life crimes. "From my perspective, when you're disrespectful and infringing on somebody else's rights, that's when you're crossing the line," she said.
Breed said groups like Taking It To The Streets, Larkin Street Youth Services and the Homeless Youth Alliance are making the Haight Street corridor cleaner and safer. "it's really what a community is about, and we have to continue to work at that," she said.
To address community concerns about the section of the park near Alvord Lake, Breed said she's contacted Rec and Parks Director Phil Ginsburg to discuss improvements that will make the area safer and more inviting.
"We need to activate that space," said Breed. "The bike rental program is great and I love the skateboarders, but it's the entryway to Golden Gate Park," and open-air drug use shouldn't be permitted there. "We have to change it for the better, and I'm continuing to work on that."
The next monthly meeting will be held on Tuesday, July 12th at 6pm in Park Station's community room (1899 Waller St.)