It's been a rainy, windy week in San Francisco, with more bad weather on the schedule until the weekend. But thanks to our tipsters, we've been able to cover all the aftermath, from the big fallen tree that blocked traffic at Haight and Masonic to the power outage in the Castro that left a dangerous intersection without traffic lights (or cops) for nine hours.
You can help by texting us at (415) 200-3233, emailing [email protected], and tweeting us @hoodline. Here's a look at some of the most interesting items we've received over the tipline in the past week.
We'll start in Nob Hill, where tipster Patrick S. reports issues outside his home:
"I live in the Nob Hill district (California and Joice) and have for 20-plus years. I'm trying to understand why, in the last two months, there have been so many homeless in the area. I have and do try to help, but the demeanor of these people has gotten much more desperate and downright aggressive.

When I came home on Monday, there was a guy outside my door. When I came into the building, [he] grabbed the door and came in and said he was not leaving, and was attempting to grab my phone as I called the police—who never showed up. But it was enough to scare the guy away.

Tonight, when I come home, there he was again across the alley, staring at me. Where are the patrols, and at what point do we fight back?"
Patrick isn't the first person to speak up about this issue; police officers from SFPD's Northern District fielded similar questions from concerned Nob Hill and Pacific Heights residents at a meeting last September.
At the meeting, Lt. Mike Nevin, the homeless outreach liaison for the Northern District, reminded attendees that being homeless was not a crime, and that police only respond when the person is actually committing a crime. 
In response to the tipster's question about police foot patrol presence, Northern Station's Officer Liggons told us that officers aren't assigned to this specific beat, but that if residents see an incident happening around them, they should call the dispatch line at (415) 553-0123.
Over in the Financial District, tipster Albertino M. sent in a photo of a mysterious new eatery in the First Republic Building.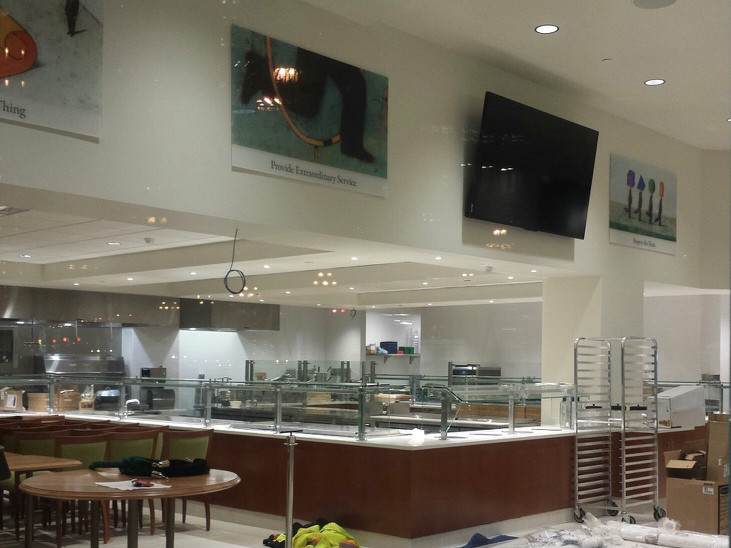 First Republic Bank building on One Front Street is doing a full build out of what looks like a walk-up, cafeteria-style eatery. I asked one of the construction workers on site if it's for the public or employees of the bank, but they kept tight-lipped about it. It looks like it's open only for employees of the bank; there aren't any prices or menu listed. People just swipe their ID badge after picking up orders.
In major business corridors like the Financial District, ground-floor retail spaces are often required to be open to the general public. We reached out to the Planning Department to find out if this is the case with First Republic, but they did not respond by press time.
Albertino M. also clued us into the newest location of Proper Food, which is set to take over the U-Sushi space at 525 Market St.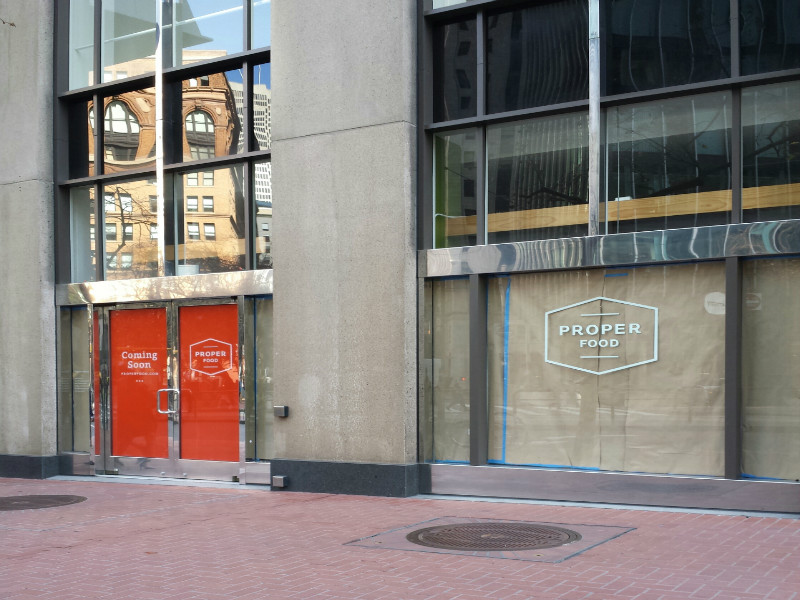 Proper Food already has two storefronts in SoMa, and four other locations in the Financial District. 
Speaking of SoMa, tipster Asha M. chanced upon this entrepreneurial Girl Scout at 4th and Market over the weekend: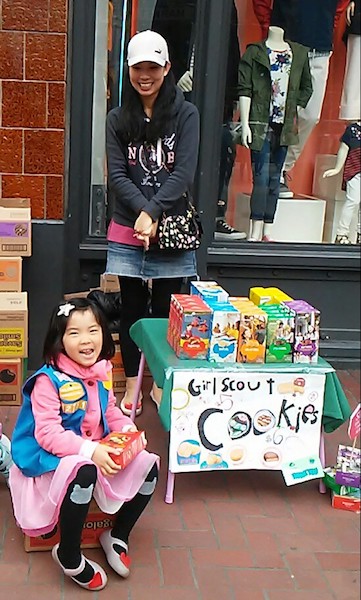 Yesterday, Time released a map of the most popular Girl Scout cookies in each state. Californians' preference? Thin Mints. 
Over in the Tenderloin, Albertino M. pointed out some renovations underway at Spiro Coffee (826 Van Ness Ave.) "On the door there's a notice from ABC saying they've applied for an alcohol license, probably to serve beer and wine," he said. "No one was on-site, and the windows are covered with fabric curtains."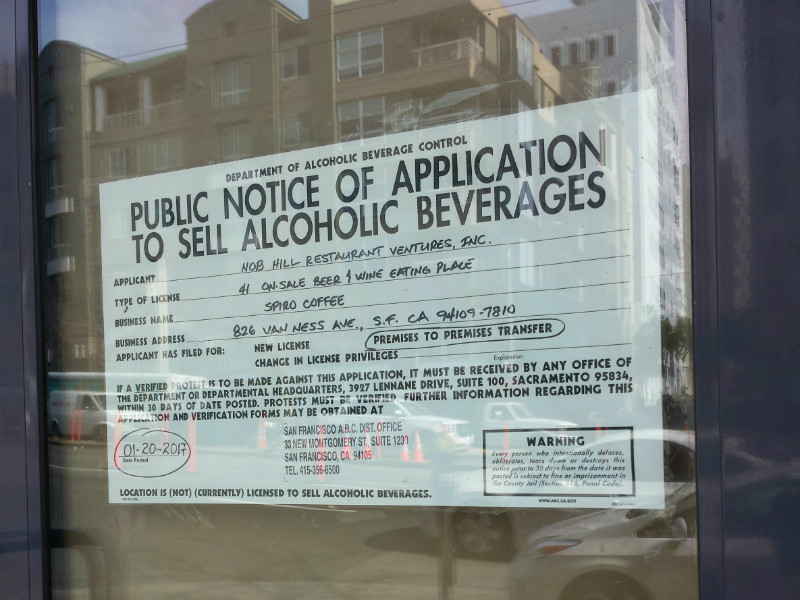 Spiro Coffee has indeed applied for a license to serve beer and wine. We reached out to find out when they'll reopen, but have yet to receive a response.
A number of tipsters have texted us to say they're still seeing Uber's controversial self-driving cars around the city: 
@Hoodline Got a photo of Uber's new self-driving car tests ~5min ago at 8th and Bryant pic.twitter.com/eXWIrzgxMZ

— 🏳️‍🌈🌹 ATTAKER (@asmallteapot) February 2, 2017
Uber yanked the self-driving cars from SF's streets in December, after blowback resulting from its failure to get a California DMV permit for autonomous vehicles, and an incident in which one of its self-driving cars was caught on camera running a red light in SoMa.
However, the cars have returned to the streets with the DMV's permission, because there are now drivers behind the wheel. They're being used exclusively for mapping purposes, the company says. 
Swinging down to the Mission, tipster Desiree P. sent in this photo on January 25th, showing a Travel Channel host filming a segment at mini-golf spot Urban Putt (1096 South Van Ness Ave.)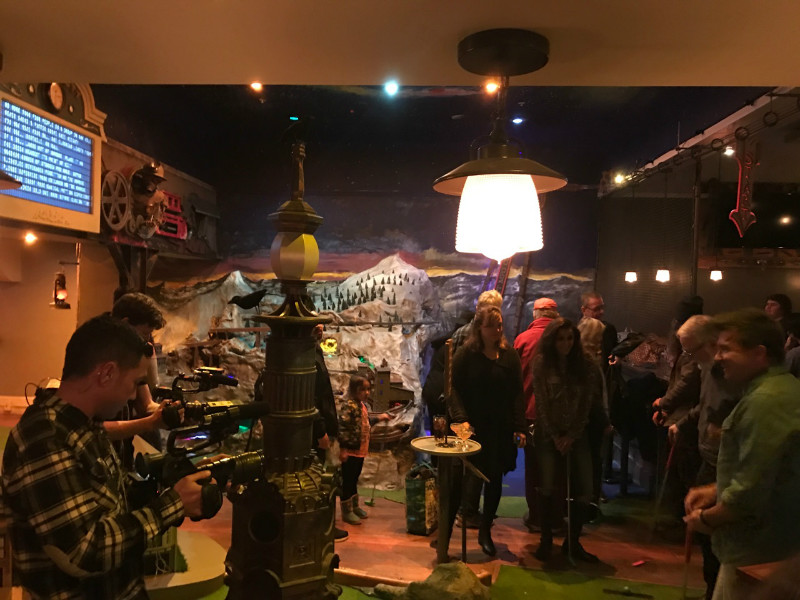 Urban Putt's chief greenskeeper, Steve Fox, told us that the crew was from an as-yet-unannounced show hosted by Booze Traveler's Jack Maxwell, and that it dropped by for some "drinking, eating, and putting." He said he's not yet sure when the episode will air.
This isn't the first celebrity sighting we've had in recent weeks—tipsters also spotted Dwayne 'The Rock' Johnson filming his HBO series, Ballers, outside Another Cafe in Lower Nob Hill. See any celebrity sightings in your hood? Text us at (415) 200-3233.
Over in Noe Valley the Castro, tipster Paul notified us of a local business closure. "It looks like the Bauer Hardware and Cabinetry store on 17th at Noe is closing," he said. "It has been the unique one-stop shopping location for all knobs and pulls for cabinetry."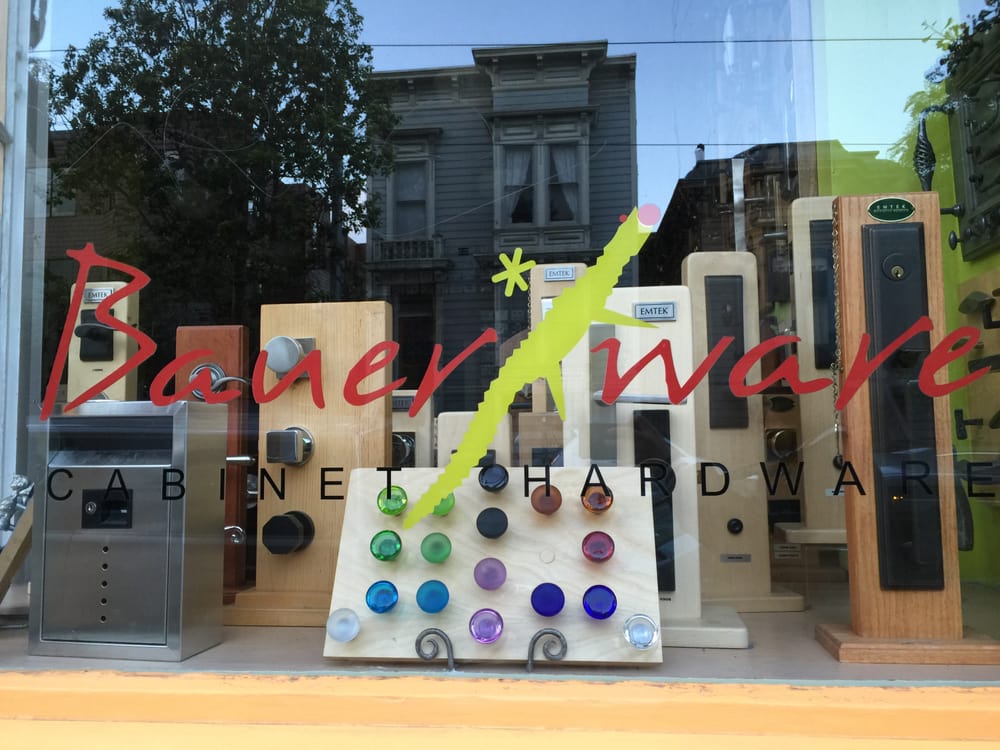 But Matt Scot, a sales representative at the store, told us that the business is not closing—it's just up for sale. However, no one has made an offer yet.
Also in Noe Valley, tipster Monica S. sent in a photo of an anti-Semitic slur written on a sticker outside of Happy Donuts on 24th and Noe: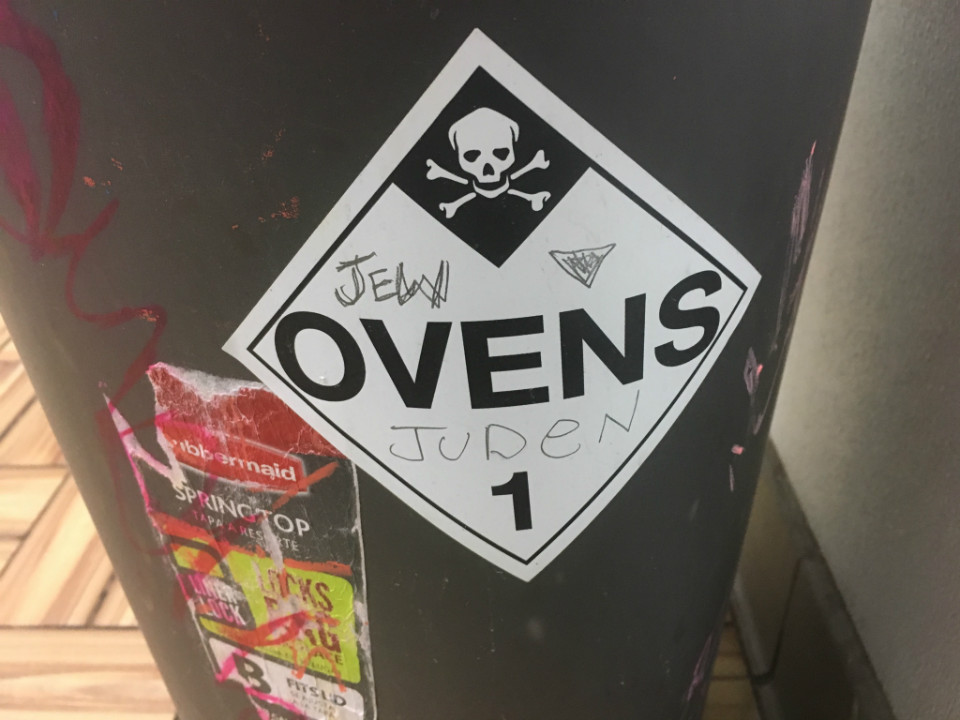 This is the second incident of racist graffiti in Noe Valley this week; we also reported on a racist "white power" note that was left on a resident's car.
In Hayes Valley, tipster Randall D. spotted a nasty auto collision yesterday afternoon:
Car collision on Fell St , possible DUI @Hoodline pic.twitter.com/QQIS1CWPRV

— _ (@R27D) February 8, 2017
Pieces of the Mini went through this fence. Witness says Mercedes driver went through light at 50+ mph pic.twitter.com/wgwChclvSu

— _ (@R27D) February 8, 2017
Up in Duboce Triangle, tipster JS inquired on January 31st about fire trucks on the scene of a man who was on the ground in the area. We reached out to SFFD's Jonathan Baxter regarding this incident, but he has yet to respond. We'll update the story if and when we receive more information.
Meanwhile, neighbors have continued to send us snapshots of the ongoing demolition of the former Home restaurant at Church and Market, which is set to become an apartment building. Here are a couple of the most recent photos: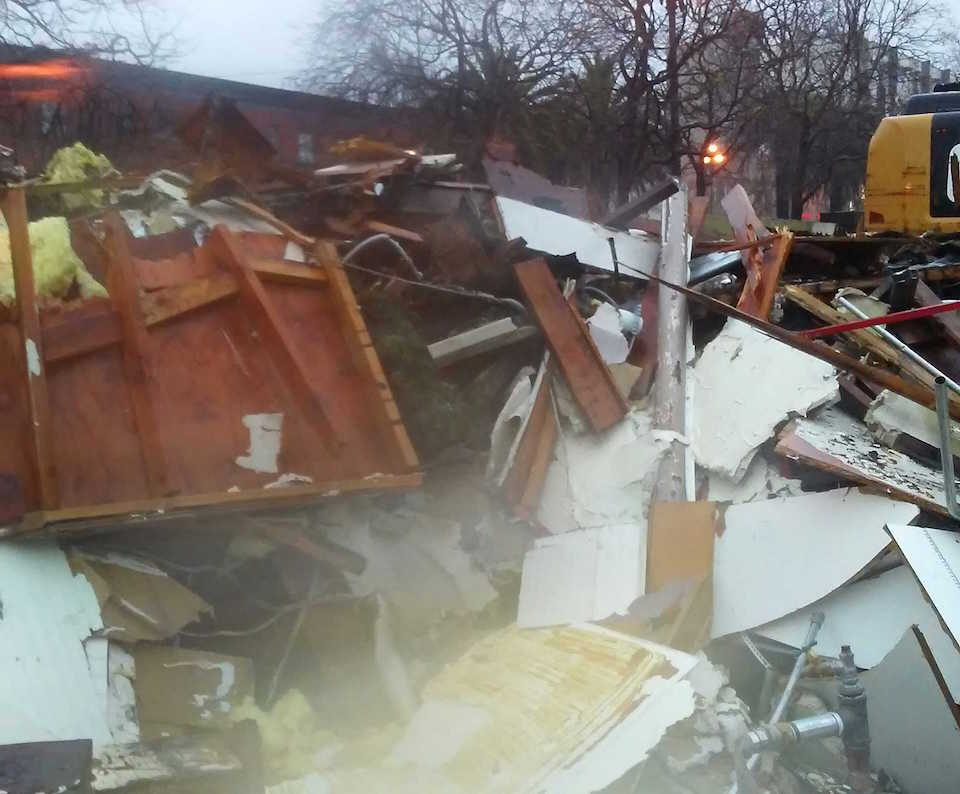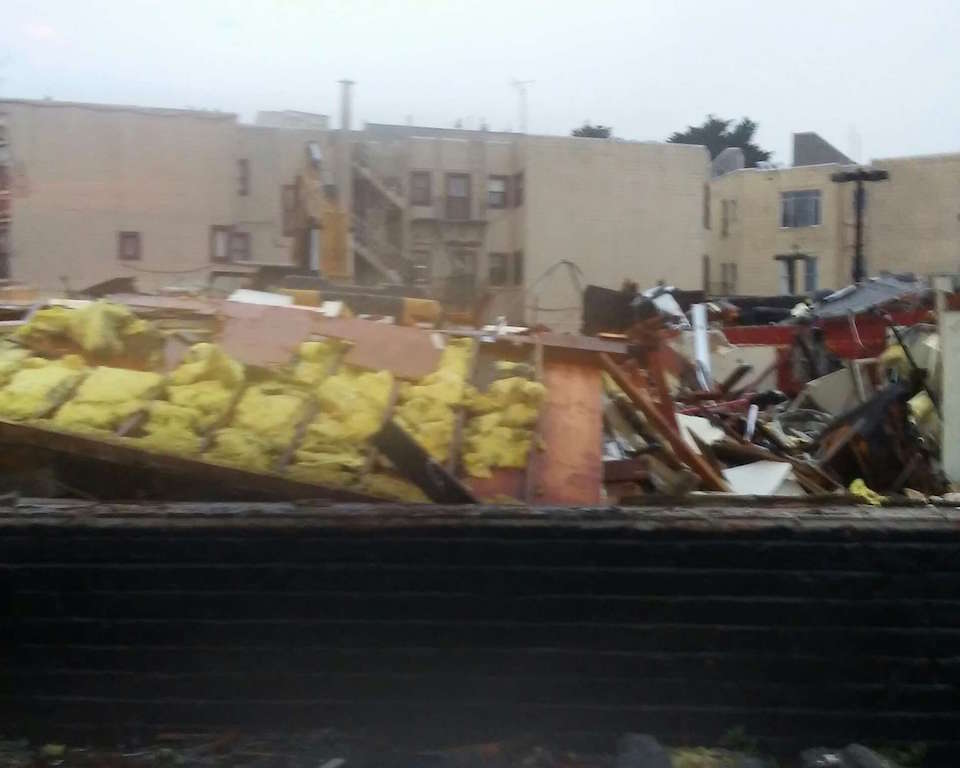 Finally, up north in Alamo Square, a concerned resident sent us a tip about a crime that has been plaguing the city in recent months: mail theft. 
"I live in an apartment building in Alamo Square (zipcode 94117; Fulton St) that has ~30 units, and mail theft has become an increasingly worrisome problem. In the past six months, we had at least three separate incidents, where two unidentified women entered the locked lobby, opened the USPS mailbox and stole letters and packages from all residents.

We expected that this problem would go away when the door lock to the building was changed a couple of months ago (using special DO NOT COPY keys), but the two women were back this week with the new set of keys. The leading hypothesis is that they have access or stole the post office master key."
This has been a continuous problem in the city, as residents in Corona Heights, the Inner Sunset, Duboce Triangle, and the Tenderloin have all had mail and packages stolen from their mailboxes. 
If you have faced similar problems, the U.S. Postal Service urges you to file a report online or call its number at (800) 275-8777.
Thanks to all our tipsters for their contributions! Don't forget to text us your questions and observations at (415) 200-3233, or leave a comment below.