The owners of an abandoned sausage factory in West Oakland have agreed in a settlement to pay the city of Oakland $65,000 and rehabilitate the property, which has been a target for graffiti and illegal dumping for more than a decade.
The Coast Sausage Co. at 28th and Adeline Streets has been closed since 1993, when the US Department of Agriculture ordered it closed for selling contaminated meat. Its owner, Ed Gonsalves, later pleaded guilty to conspiring to sell hot dogs and sausage unfit for human consumption.

Francis Rush and Seth Jacobson bought the abandoned factory and adjacent vacant lots in 2002, according to the settlement agreement with the city. In March, Rush sold his interest in the building to Jacobson.

Jacobson was also the owner of live-work spaces at 1919 Market St. that were closed and demolished last year after city building inspectors found they were unsafe for habitation.

The city sued Jacobson and Rush on March 13, 2015, saying that at that point they had been cited 26 times for code enforcement issues such as graffiti, illegal dumping, overgrown vegetation and other problems with the property. 

When the owners didn't respond, the city Department of Public Works stepped in, issuing 167 work orders since 2006 to abate violations at and around the Coast Sausage property, mainly for graffiti removal  and illegal dumping.

City inspectors went to the property in January 2015 and found damaged and crumbling bricks, rusted steel, large cracks in the outside walls and holes in the windows. When the lawsuit was filed, the property owners had not let inspectors inside the building.

"The owners' failure to maintain the property and provide security measures allowed homeless encampments, squatters and crime including burglaries, shootings, car break-ins and vandalism in and around the property," the city attorney's office said in a statement today.

The settlement requires the owners to fix holes in the fence, secure the building, and move forward with a new commercial property on the site. They're required to hire an independent monitor to oversee compliance. 

"The settlement recovers enforcement costs that the city has expended over the years, and more importantly guarantees redevelopment of a property that has been vacant and blighted for decades in this neighborhood," city attorney Barbara Parker said in a statement.

Attorneys for Rush and Jacobson did not immediately return requests for comment.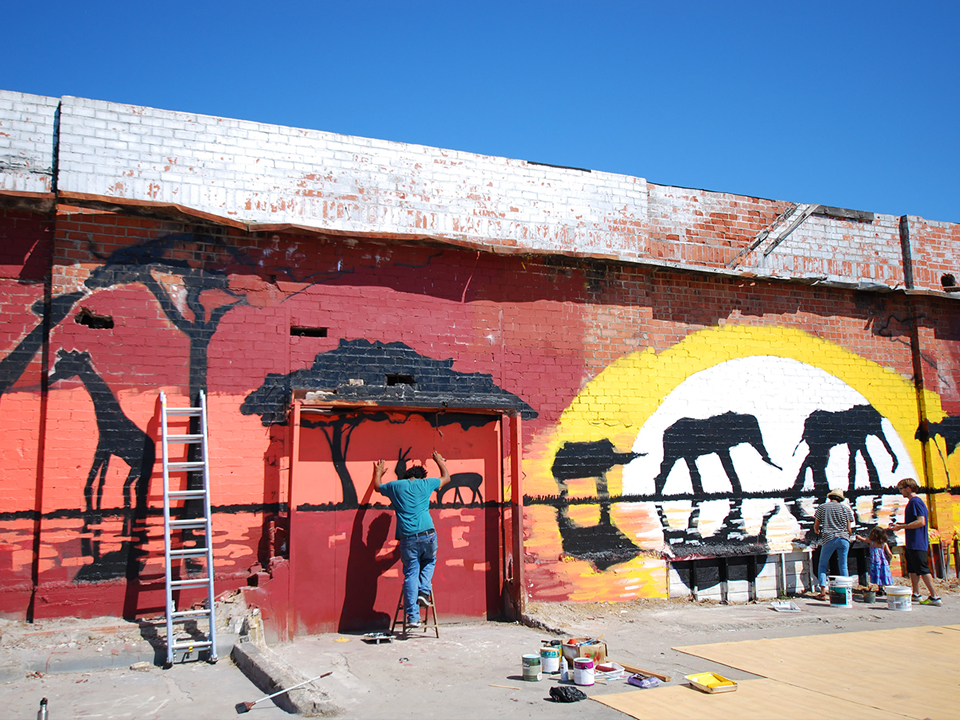 At the building, some abatement is already taking place: a group of artists with the newly formed Bay Area Mural Project have been painting a safari scene of giraffes, elephants and a vibrant sunset on one wall of the building.

Some of the same artists were involved in another mural painted back in January on San Pablo Avenue.