SFMTA's board this week approved plans to speed up bus service on one of San Francisco's busiest transit corridors.
The Geary Bus Rapid Transit (BRT) is expected to cut commutes for the nearly 54,000 daily riders by 10-15 minutes per trip, according to city estimates. The vote on July 18th approved an environmental review process that was led by the San Francisco County Transportation Authority.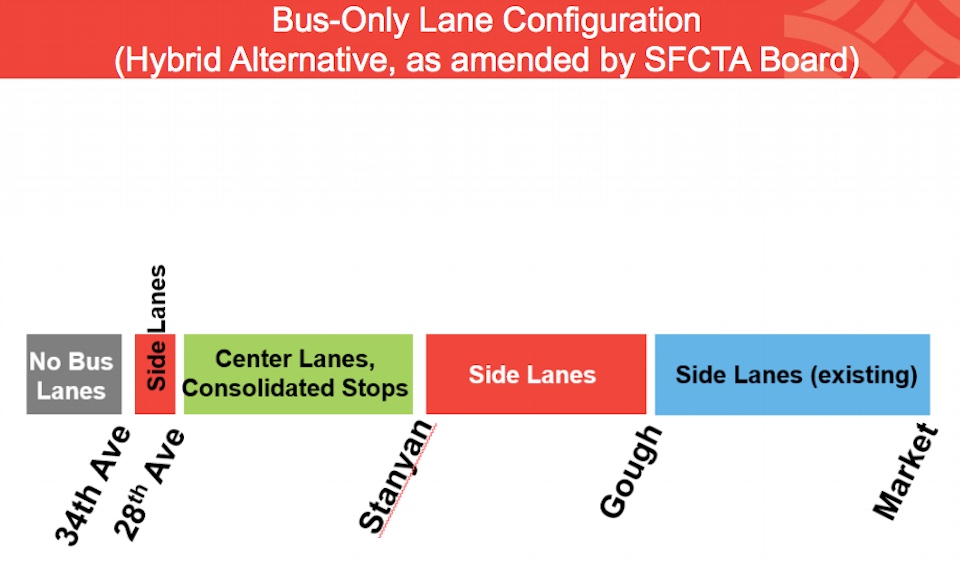 The project will move forward in two phases, SFMTA spokesman Paul Rose told us.

The first phase will begin this fall, with community outreach to gather public feedback on the project's design between Market and Stanyan streets. SFMTA staff will use public input to finalize designs that will need further approval from the agency's board, Rose said. Construction on the first phase could begin in 2018 and is expected to last two years, he said.
Phase 1, the Geary Rapid project, is fully funded with funds from the state's Transit Performance Initiative, and local funds, including $6.8 million raised through the half-cent Proposition K sales tax and $4.4 million from vehicle registration fees.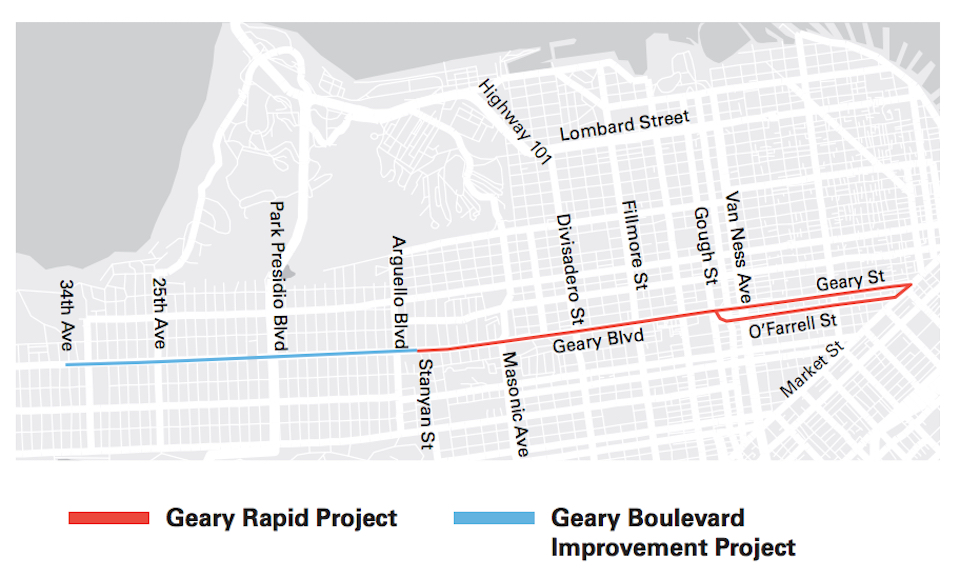 SFMTA staff will also be working on preliminary designs for the second phase, the Geary Boulevard Improvement project, between Stanyan Street and 34th Avenue, Rose said.
That preliminary design phase is expected to last about a year. The second phase of the project is expected to be funded in part with $44 million from Proposition K and $100 million from the Federal Transit Administration (FTA) Small Starts grant program.
Although the city and county transportation agencies have given initial approval, the FTA must still issue the final environmental impact study to complete the federal environmental review, Rose said. Before any construction can begin, further approvals will be needed from the FTA, local authorities, and Caltrans, he added.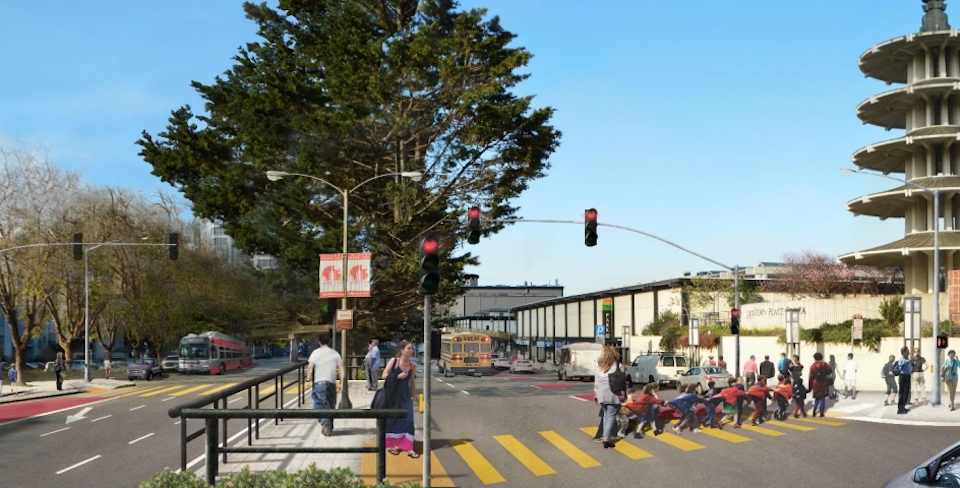 The project is also facing an ongoing lawsuit. As we reported, San Franciscans for Sustainable Transit sued SFMTA in February arguing it did not adequately consider the "no construction" option in its environmental analysis. Hearings in that case are currently scheduled for November 2017. 
As the BRT project moves forward, the public will continue to have opportunities to voice their opinions and concerns to inform the final design. Just last month, SFCTA amended the project plans to change the switch from the center bus lane to a side-running bus lane from 27th to 28th Avenue in the westbound direction, in response to feedback from project stakeholders.
To stay informed about the BRT project's progress, sign up for updates on SFMTA's project page.