A developer hoping to construct a new tourist hotel at 824 Hyde St. has put the site up for sale after the Board of Supervisors approved an appeal of its approved permits.
The lot, vacant after a 2010 fire destroyed the four-story, eight-unit Chatom Apartments, does not have a disclosed price. According to city records, the lot last sold on August 28, 2015, for $1.8 million and is currently assessed at $1,836,000.
The listing includes a "concept plan set" for a 14-unit, five-story apartment building, which appears identical to plans that received SF Planning approval in March 2016, before the property changed hands.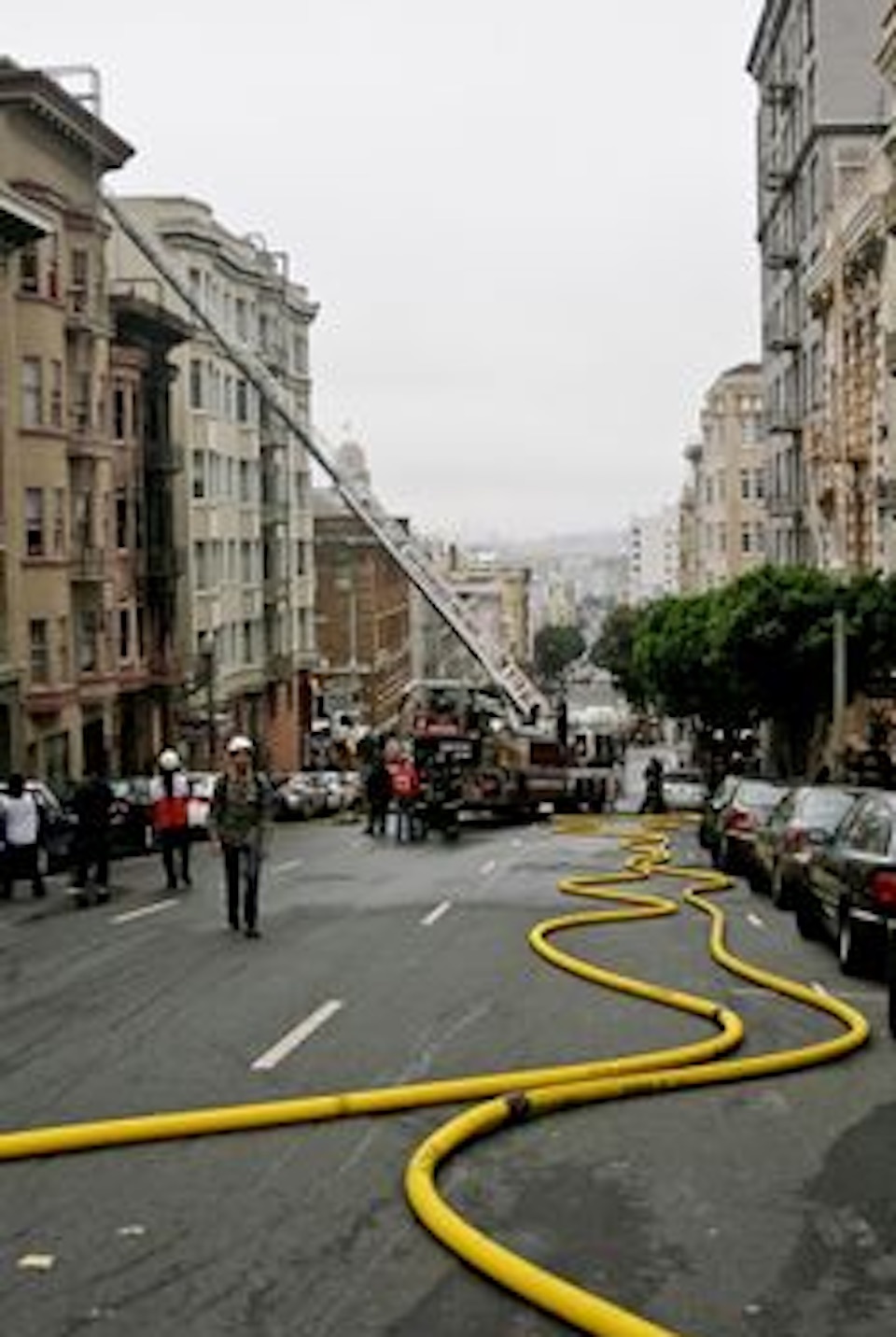 Initial plans to replace the building with another residential structure were filed in 2012, and received neighborhood support. Although the fire destroyed eight rent-controlled units, the plan for replacement housing in the area was widely welcomed.
But on June 1, 2017, SF Planning granted a new authorization for plans filed by 824 Hyde Street Investments, LLC, last year. The property owners intended to erect a six-story tourist hotel that could rise up to 69 feet tall, with up to 30 'micro' tourist hotel rooms and no off-street parking. The hotel rooms would be only 148 square feet on average.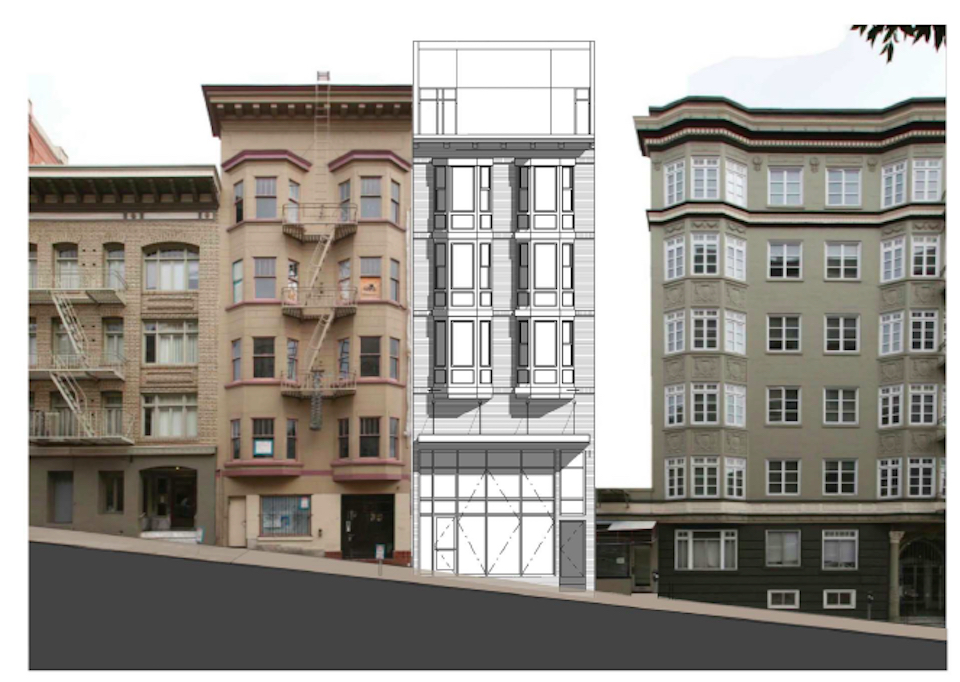 Those plans were completely overturned by the BOS at its meeting on July 25th, and the site is now currently on the market, appellant Chris Schulman, executive committee member of the Lower Polk Neighbors Association, told us. 
Representatives of Farella Braun and Martell, who represented and spoke on behalf of the tourist hotel project sponsors at the BOS meeting last month, did not respond to requests for comment. 
Schulman's main argument in the appeal was that the conversion of the site to a tourist hotel would set a precedent that could lead to further displacement of housing in the neighborhood, largely without any community input.
"The previously proposed 14-unit housing project is supported by the neighborhood and our intent is that it can be built as entitled without much delay," Schulman said.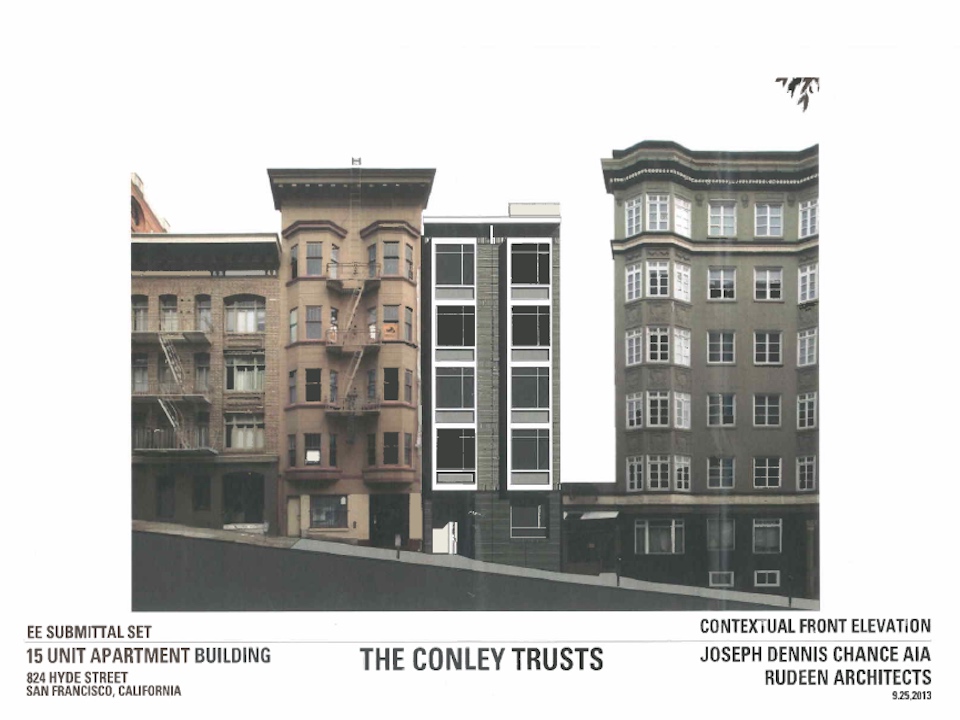 "Lower Polk Neighbors is very pleased that the Board of Supervisors agreed that housing is the preferred use for 824 Hyde Street and we look forward to housing being built at this site," he added.
He said the neighborhood advocacy group broadly supports the plans for the residential building that SF Planning approved in March 2016. But if the buyer of the site were to take advantage of some of the city's voluntary height and density bonuses, "we would request on-site affordable housing," Schulman said.