Over the weekend, youth from Chinatown and the Chinatown Community Development Center (CCDC) gathered at Portsmouth Square to host the neighborhood's first Eco Fair to demonstrate models for understanding methods of environmental conservation, waste water treatment, solar power, and toxic-free housing for area residents. 
"The Chinatown EcoFair is about claiming environmentalism as a low-income neighborhood issue," CCDC deputy director Cindy Wu told Hoodline. "With the EcoFair, they can learn more about Chinatown's resilience, especially in the face of global warming," Wu added.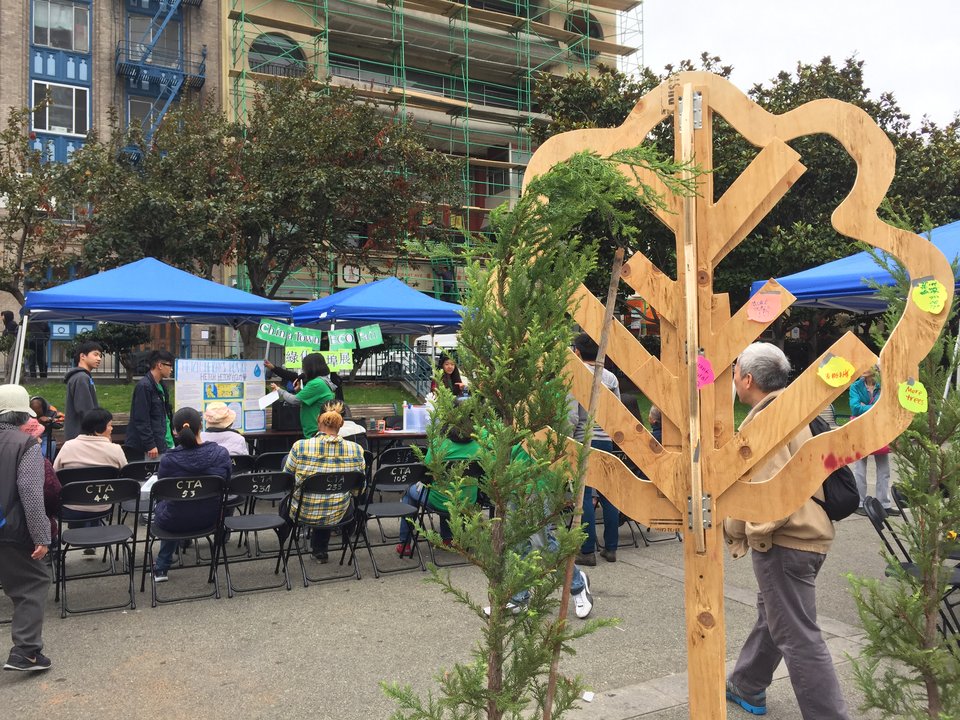 At the fair, the youth-led demonstrations focused on areas where residents can  save water and reduce waste and energy use by implementing waste water treatment techniques, using solar energy and hydroelectricity when possible, and decreasing air pollution. 

The educational festivities also included a "Wishing Tree" where neighbors could write their wishes for the future of Chinatown and tie the notes on an eight-foot tall "tree" referencing the tradition of tossing a written message on an orange between two banyan trees during Lunar New Year. 
An array of city departments and nonprofit organizations were also on hand to field questions and support the youth effort, such as San Francisco Environment, SF Public Works, the San Francisco Police Department, Recology, and Sustainable Chinatown. 
"The eco fair brought together people from different ages together to learn about environmental topics," said Selena Yi, a youth volunteer. "Most of the residents don't speak English, and this fair makes it accessible to them."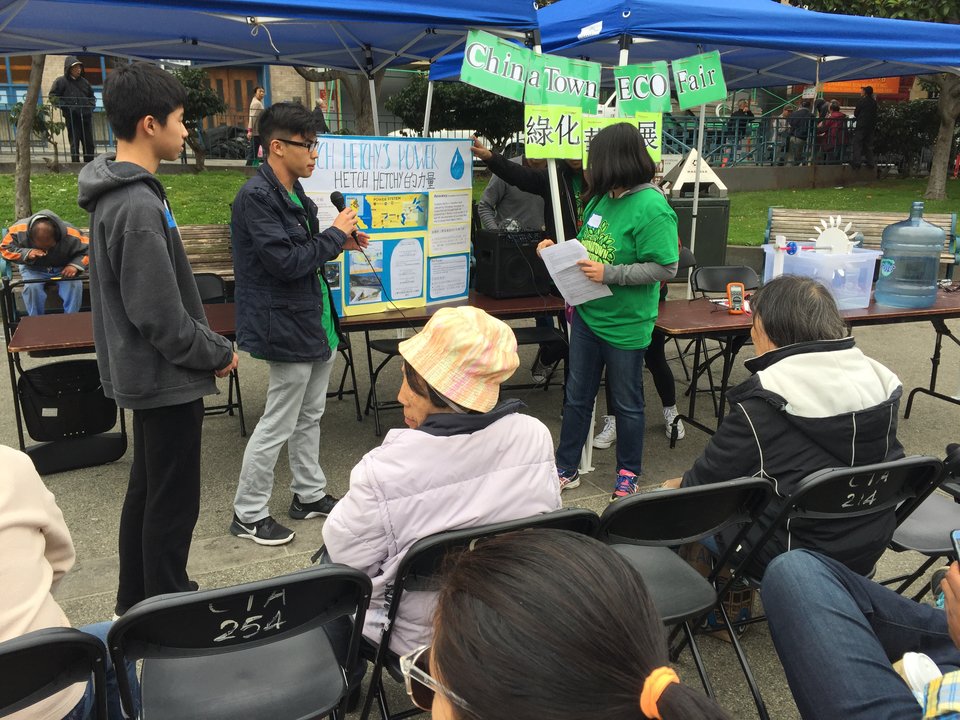 According to a 2014 study conducted by the Department of Public Health, Chinatown is more susceptible to the effects of climate change than other San Francisco neighborhoods for several reasons, including its lack of trees and green spaces, a high volume of automobile traffic, and an abundance of non-permeable surfaces that absorb heat. 
88 percent of Chinatown is covered by pavement, and the neighborhood has a 7.4 percent tree canopy,  compared to 13.7 percent citywide, according to the Planning Department and the San Francisco Indicator Project. 
As a result, CCDC says climate change will disproportionately affect Chinatown's low income, monolingual, senior, and youth populations. As the community continues to grow, the Eco Fair aims to serve as a model for other communities by looking at long-term sustainability. 
"Chinatown residents are already 'green by necessity,'" Wu said. "Reducing and reusing in order to save money." Residents also consume fewer resources according to CCDC, citing the neighborhood's density and the large percentage of residents who walk and use public transit.
But more can be done to reduce the environmental impact resulting from Chinatown's approximately 900 businesses and 12,000 residents, said Wu. 
"This movement is [also] about talking about environmentalism as a anti-gentrification strategy. Resilience and sustainability are about our ability to stay in the neighborhood," Wu said.