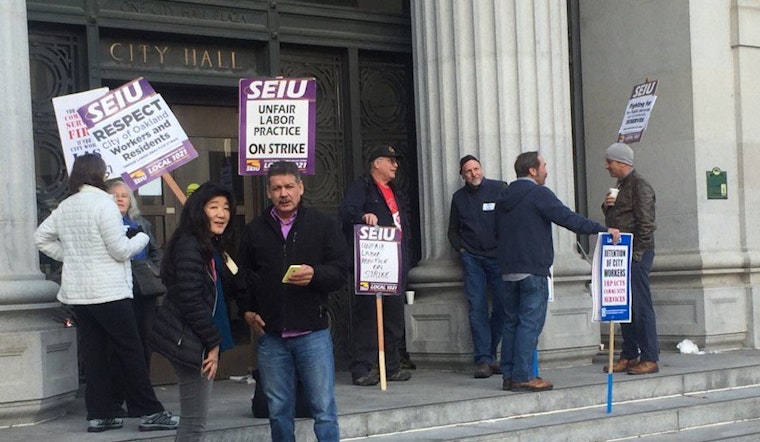 Published on December 08, 2017
Four days into a strike that has shut down city services, the city of Oakland intends to declare a formal impasse and seek mediation with Service Employees International Union Local 1021.
The move came as union organizers rejected Mayor Libby Schaaf's most recent offer. In turn, the city rejected a counter-offer from the union. 
"Her offer fails to address the major issues we wanted to address at this bargaining," SEIU's David Velez, a building inspector, told ABC7. "There's no resolution on the homelessness issue, illegal dumping, exploitation of part time workers." 
Happening: Assemblymember @RobBonta, @nikkifbas & more in act of civil disobedience in support of striking city workers fighting for justice pic.twitter.com/gpcYw1kOFO

— SEIU 1021 (@seiu1021) December 8, 2017
According to the East Bay Times, the strike could stretch on for months since the union can choose between meeting with the city for mediation or entering into a months-long fact-finding process.
During mediation or fact-finding, the union can also choose to continue the strike. 
At City Hall cause Oakland workers need fair wages and just working conditions to stay in this city @seiu1021 #Solidarity #UnionStrong pic.twitter.com/mGayivm2s2

— CausaJusta (@CausaJusta1) December 7, 2017
Nearly 3,000 Oakland workers are on strike, with many city services, including libraries and after-school programs, shuttered for the time being. However, emergency services are still available.