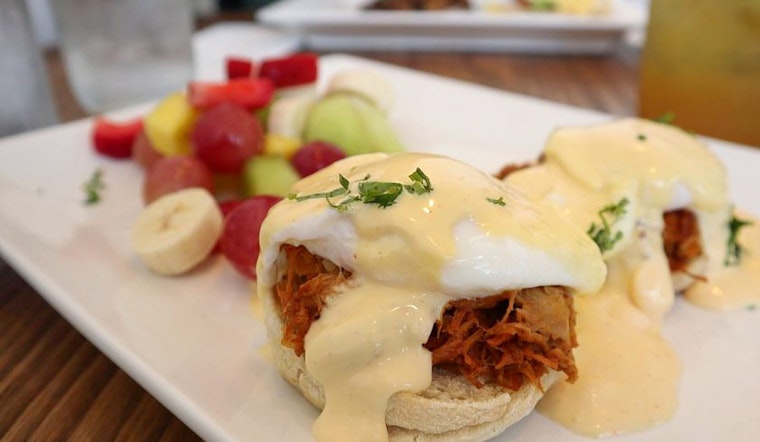 Published on October 18, 2018
A new Mexican-American restaurant, offering breakfast, brunch and lunch, has opened its doors in the neighborhood. Called Lucho's, the new addition is located at 2675 Ocean Ave. in Lakeside.
For breakfast, visitors can expect a mix of Mexican and American classics, like French toast served with real maple syrup; California avocado toast topped with bacon, poached egg, pickled onions and seasonal greens; and the Lucho: two egg omelets, cochinita pibil (pulled pork), onions and cheese. 
For those looking for a later meal, check out the lunch menu, which offers tuna salad sandwiches with celery, onions, capers, mayonnaise and Dijon mustard on a roll with lettuce and tomato. Other offerings include pozolé, a traditional Mexican soup made with hominy, pork shoulder, chilies, spices and garnished with onion, cilantro, house made chips and limes.
Lucho's has already attracted fans thus far, with a 4.5-star rating out of 18 reviews on Yelp.
Carole L., who was among the first Yelpers to review the new spot on October 10, wrote, "I had the roasted chicken and my son ordered the special (shrimp tostada). Both were delicious. The place is small but clean and cute — simple decor that makes the place actually feel bigger than it is."
And Courtney S. wrote, "Everything was delicious! I love eggs Benedicts and the eggs on this one were perfectly poached. Love me some runny yolks! The chilaquilles tastes great with their salsa, which the chef and owner, Luciano, gave us when we'd asked for hot sauce."
Intrigued? Stop in to try it for yourself. Lucho's is open from 8 a.m.-3 p.m. from Tuesday-Sunday. (It's closed on Monday.)