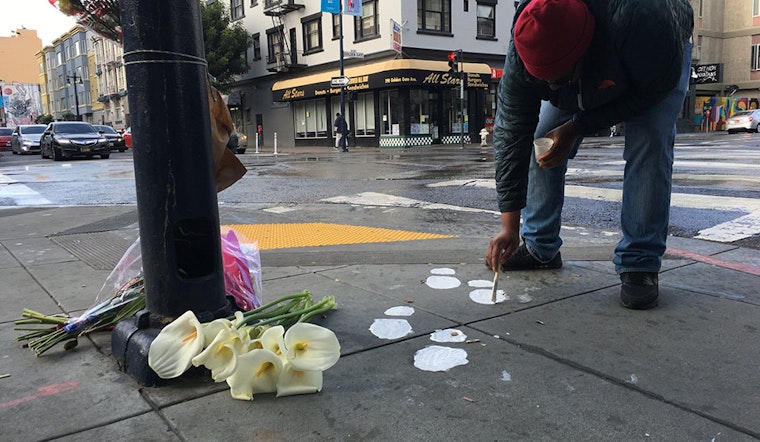 Published on May 21, 2019
A week after a man was struck and killed while walking at Hyde Street and Golden Gate Avenue, a new pedestrian "scramble" will be installed at the intersection.
District 6 Supervisor Matt Haney said that the scramble will be put in place within the next 30 days. Its implementation is being sped up in the wake of the death of 66-year-old Mark Swink, who was struck by a Golden Gate Transit bus driver while in the crosswalk at the intersection. 
The new scramble "holds all turns while pedestrians are crossing," Sup. Haney wrote on Twitter, allowing them to cross the street without fear of cars turning. Pedestrians may even walk diagonally through the intersection.
San Francisco Municipal Transportation Agency (SFMTA) spokesperson Erica Kato confirmed that the city agency is working "to get [the scramble] installed as soon as possible."
But Haney's 30-day timeline might be ambitious, as "the signal hardware at this intersection is old and challenging to work with," and could require a lengthy installation process, Kato said.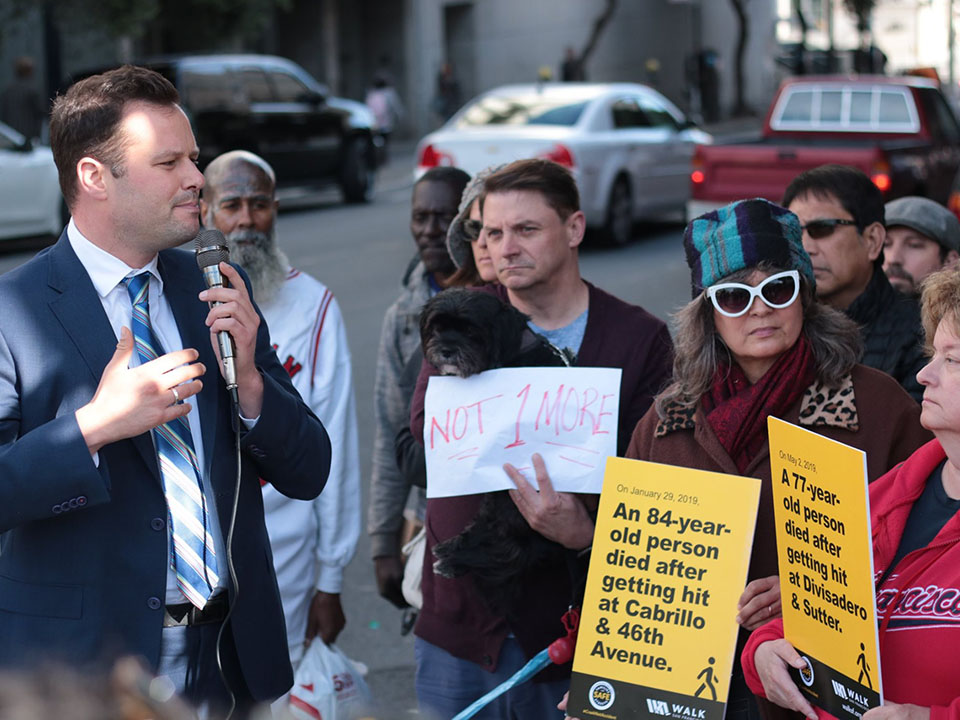 Last Monday, pedestrian advocacy group Walk SF held a vigil for Swink at Golden Gate and Hyde. While the organization's leadership expressed gratitude for the new scramble, it also noted that many other people have been killed while walking and biking in the city this year, and that installing fixes after people are killed is insufficient. 
"We need the city to be proactive rather than reactive when it comes to making changes to fix these known dangerous intersections," Walk SF communications manager Marta Lindsey told Hoodline.
Earlier this month, Lindsey said, the SFMTA installed another pedestrian scramble at Golden Gate Avenue and Leavenworth Street, where 58-year-old Janice Higashi was struck and killed two months ago while on a lunch break from jury duty.
"We're of course very glad a scramble has been added, but it's also incredibly painful for this to be triggered by a preventable traffic death," Lindsey said.
There are "a lot of proven ways to fix dangerous intersections that are quick and cheap to implement," she added. "It is taking far too long for these life-saving solutions to get on the ground."
Simon Bertrang, executive director of the Tenderloin Community Benefit District (TLCBD), echoed Lindsey's concerns about proactive, not reactive, measures.
"[We] welcome fast action by the SFMTA to make immediate safety improvements on Tenderloin streets," he said. "[But] we are heartbroken that it takes people being killed or injured to spur these much-needed changes."
On Sunday, yet another pedestrian suffered life-threatening injuries after being struck by a driver in the Tenderloin.
"Rather than highways to speed vehicles through the Tenderloin, we need neighborhood streets designed for the people that are living here or visiting," Bertrang said.
Sup. Haney said that the SFMTA will be implementing more pedestrian improvements in the Tenderloin and SoMa in the coming months, including lead pedestrian intervals, longer crossing times, slower vehicle progression speed, and more pedestrian scrambles.
"We'll be retiming most of the traffic signals in Civic Center, the Tenderloin, Financial District, SoMa and the Western Addition to include the features [Sup. Haney] mentioned," Kato said. The Tenderloin portion of the project is scheduled to begin installation this summer.