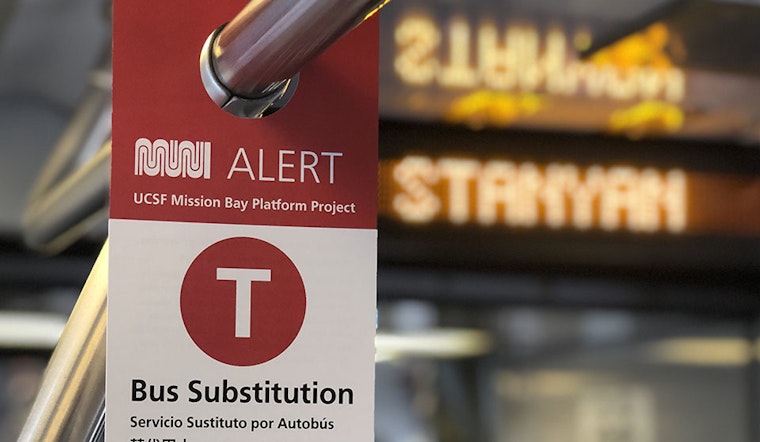 Published on July 25, 2019
This Saturday, July 27, Muni's T-Third rail line is shutting down for yet another round of bus substitutions between Embarcadero station and Sunnydale.
The substitutions, which will last approximately 10 days, are the third on the line this year. The T-Third also underwent a two-month bus substitution in January and a 10-day interruption at the end of May. 
The line has been in upheaval this year, as Muni demolishes and replaces the platforms at the UCSF Mission Bay station to accommodate the forthcoming Chase Center. The Chase Center, which will be the new home of the NBA's Golden State Warriors, will open in September. 
At the end of the last shutdown, SFMTA spokesperson Erica Kato said the line would only need to be closed to trains for one more weekend. Asked why the effort is now extending from two days to 10, Kato said it's to perform work and testing around the clock, uninterrupted by train service.
The T-Third project was originally set to be completed by late April. Kato said the extension was caused by weather delays, "due to all the rain during construction earlier this year."
Currently, crews are wrapping up pouring concrete at two intricate rail sections, both the single and double crossovers, Kato tells us. During the bus substitution, final concrete pouring will be combined with additional equipment testing.
Muni stations between the Embarcadero and the terminal at Bayshore Boulevard and Sunnydale Avenue will be closed. During that time, buses will service all stops along Third Street, curbside.
Customers traveling underground towards Sunnydale will have to transfer to a T-Third bus at Embarcadero station. Signs will direct riders to the shuttles.
The E-Embarcadero will also go offline; customers can use the F-Market line as an alternative. On Third Street, one travel lane in each direction will remain open near the construction site throughout this project phase.
When the UCSF Mission Bay station reopens, it will have one 320-foot platform that can hold up to 700 travelers at one time, allowing four two-car trains to stop simultaneously for events at the Chase Center.
The new platform is currently anticipated to open in August, but no opening date has been set yet, officials said.