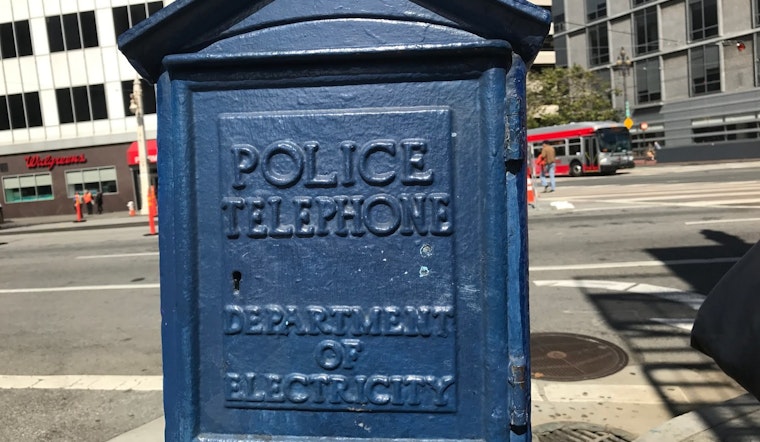 Published on July 30, 2019
Here's a selection of crime reports from Hayes Valley and the Western Addition since our last roundup. All reports provided by SFPD, unless otherwise noted.
Duffel bag robbery
On July 25 around 8:30 p.m., a 23-year-old man pepper-sprayed a 32-year-old man, before taking his duffel bag and some cash at Ivy and Franklin streets. No arrest has been made. Police said that another suspect, a 30-year-old woman, was involved as well.
Robbery through car door
On the same day, a robbery with force took place at Fulton and Webster streets at 4:45 a.m. A man of unknown age opened a 69-year-old woman's car door, and took a phone and a wallet containing ID and credit cards. He then attempted to steal a bluetooth device but was unsuccessful. The suspect then fled on a bicycle. No arrest was made. Police added that the woman suffered non life-threatening injuries, but refused medical treatment.
Suspect uses garage door opener to steal bike
On July 17, an unidentified suspect broke into a car belonging to a 49-year-old man, and using the remote found in the car, opened the garage door of a house on the 900 block of Fulton Street. The suspect then entered the garage and took a bicycle before fleeing the scene. The hot prowl burglary took place in the early morning hours, at 3:25 a.m. No arrest has been made.
Backpack robbery leads to facial injuries
On July 1, two men of unknown age attacked an 18-year-old man at Laguna and Grove streets. They took the victim's backpack and fled the scene on foot. The robbery took place a few minutes after midnight. No arrest has been made. The victim suffered non-life threatening injuries to his face and was transported to a hospital.
Northern Station monthly community meeting
Residents interested in learning more about crime and safety in the area are invited to attend SFPD Northern Station's monthly community meeting, held at the station (1125 Fillmore St.) at 6 p.m. on the second Thursday of each month. The next meeting will take place next week, August 8.
Hayes Valley public safety meeting
The Hayes Valley Neighborhood Association invites residents to its monthly meeting on Monday, August 5. Expect to learn more about tree trimming, removal, and replacement. Information on tree adoption and community help will be provided as well. A representative from SFPD's Northern Station will give an update on arrests and stay-away orders in the neighborhood.
The meeting will take place at 7 p.m. at the Korean American Center (745 Buchanan St.)
---
Anyone with information about any of the incidents listed above is asked to call the SFPD tip line at (415) 575-4444 or Text-a-Tip to TIP411 and begin the text message with 'SFPD.' Tipsters can remain anonymous.
Did we miss anything? If you have any information on any crime or safety-related issues in the neighborhood, feel free to text Hoodline at (415) 200-3233.