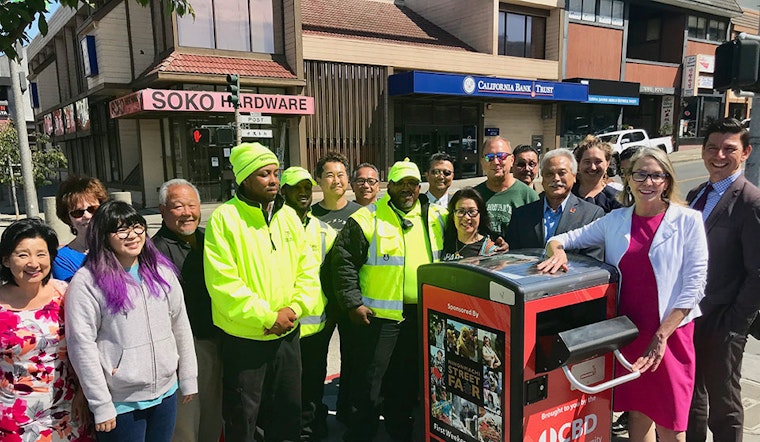 Published on September 05, 2019
The first four of 80 "smart" Bigbelly trash cans were installed in Japantown last week, part of a $12 million investment by the city to increase cleanliness on highly trafficked corridors.
Japantown's Bigbelly additions were unveiled by city officials, including District 5 Supervisor Vallie Brown, in a ceremony on August 27.
"Having clean streets is important to the vibrancy of our neighborhoods, and these new trash cans will enhance our public spaces so that residents and visitors have a good experience in Japantown," said Mayor Breed in a statement.
The city installed trash cans along Post and Webster streets, on Sutter Street, and near the Peace Plaza, which are all frequented by a high number of pedestrians. The locations were determined based on 311 cleaning request data.
Sandra Zuniga, the mayor's Fix-It team director, told Hoodline that the Bigbelly trash cans will be emptied by Recology, just like all other city trash cans.
"We partner with Community Benefit Districts and neighborhood organizations who take care of additional maintenance like cleaning, removing graffiti, and emptying the cigarette butt collector," she said.
In Japantown, the Japantown Community Benefit District (CBD) will take over this role. The group also works on sweeping, scrubbing, and pressure washing sidewalks, along with litter, graffiti, and trash removal.
"Not only will the trash receptacles help keep Japantown trash free, but will be an eye-catching reminder for all of us to do our part in keeping our neighborhood clean," Grace Horikiri, executive director of the Japantown CBD, said in a statement.
As Hoodline previously reported, the "smart waste" cans are popping up in neighborhoods across the city, including North Beach, the Castro, Central Market, SoMa, Hayes Valley, and the Tenderloin. 
Unlike standard city receptacles, the solar-powered Bigbelly cans are equipped with built-in trash compactors, enabling them to hold five times as much waste. Sensors in the receptacles alert garbage collectors remotely when they need to be emptied. They're also secured, to prevent people from going through the garbage and redistributing it to the streets.
Japantown's four new Bigbelly stations also come with displays of neighborhood initiatives and businesses such as the Nihonmachi Street Fair, the Japan Center Garage, the Japantown Merchants Association, and Kinokuniya Bookstores USA.
The remaining 76 new trash cans will be installed over the next few months in Lower Nob Hill, SoMa, and the Excelsior.