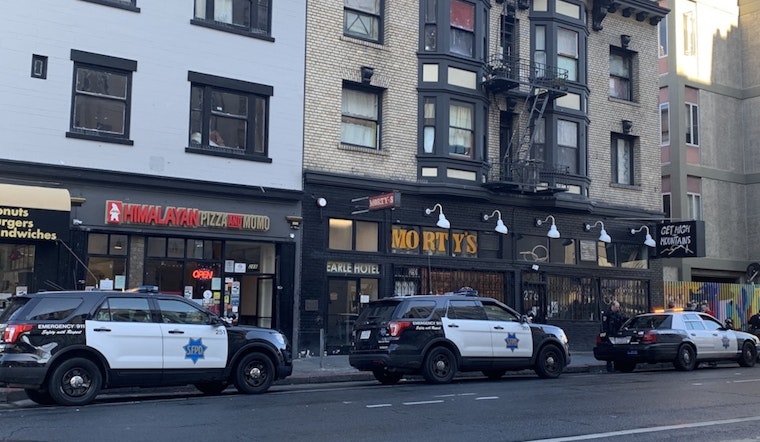 Published on January 09, 2020
It's time for a roundup of notable crimes from the SFPD's Tenderloin Station in the weeks since our last roundup. All details come from official police reports, unless otherwise noted.
Man robbed at gunpoint
At 9 p.m. on January 4, a man said to be 35 years old stole a 30-year-old man's money at gunpoint near the intersection of Eddy and Gough streets. The suspect has not been arrested.
App, simulated handgun used in 4-on-1 robbery
Four men, all said to be 20 years old, approached and robbed an 18-year-old man at Mason and O'Farrell streets on January 4 at 8:40 p.m. After one of the suspects simulated a handgun, the group electronically stole money from the victim via a smartphone app. No arrests have been made.
Cab driver robbed at gunpoint
Around 7 p.m. on January 4, a 36-year-old male cab driver was engaged by a man, said to be 45 years old, to drive to multiple locations in the Tenderloin. According to police, the passenger then became "paranoid," told the driver he had a gun, and demanded the driver's phone. The driver complied, and the passenger exited the car on the 700 block of Market Street (near Kearny).
Man loses phone, wallet in 2-on-1 attack
Around 12:22 a.m. on January 2, a 22-year-old man on the 600 block of Eddy Street (near Larkin) was robbed at knifepoint by two men said to be in their late twenties. The two suspects stole the victim's phone and wallet before fleeing the scene.
2 robbed just after midnight on New Year's Eve
Just after 1 a.m. on January 1, two men said to be in their late twenties attacked and robbed two victims near the intersection of Post and Hyde streets. 
One of the suspects hit a 48-year-old man with a stick and pressed a knife into his stomach. They then demanded he and his companion, a 47-year-old woman, surrender their phones and wallets. The suspects fled the scene and have not been identified. 
Man reportedly stabbed in midday incident
A 24-year-old man told officers that he was stabbed near the intersection of Jones and McAllister streets around 12:15 p.m. on December 31. The victim was taken to a hospital for non-life-threatening injuries, but refused to offer the police any further details. 
Man robbed at gunpoint in 3-on-1 attack
On December 29 at 7:30 a.m., a 55-year-old man met two women, both said to be 25 years old, at a bar near Ada Court and O'Farrell Street. The women drove him to an unknown location, where another suspect, a man said to be 25 years old, pulled a gun on the victim. 
All three suspects then robbed the victim of his money. The victim suffered non-life threatening injuries, and the suspects remain at large. 
Man stabbed after argument escalates
A 47-year-old man and another man of unknown age got into an argument near the intersection of Myrtle Alley and Larkin Street around 5:30 a.m. The argument escalated after the unknown male stabbed the victim with a knife and fled. The victim was treated for non-life-threatening injuries. 
Man robbed by trio in midday attack
Around 12:22 pm. on December 25, three suspects of unknown age approached a 58-year-old man near the intersection of McAllister and Leavenworth streets and stole his money. The victim suffered non-life-threatening injuries. 
Woman attacked, robbed on the bus
A 40-year-old woman was robbed aboard a bus at the intersection of Fifth and Market streets around 1:15 p.m. on December 24.
The two suspects in the incident were men, said to be 25 years old. One shoved the woman to the ground and struggled with her, while the second stole her phone. Both fled the scene on foot. 
---
Anyone with information about any of the above incidents is encouraged to contact SFPD via its anonymous tip line at (415) 575-4444, or email [email protected].
Community members can also attend Tenderloin Station's monthly community meetings, held on the last Tuesday evening of the month at precinct headquarters (301 Eddy St.). 
Here's why we usually don't include suspect descriptions in crime reports.