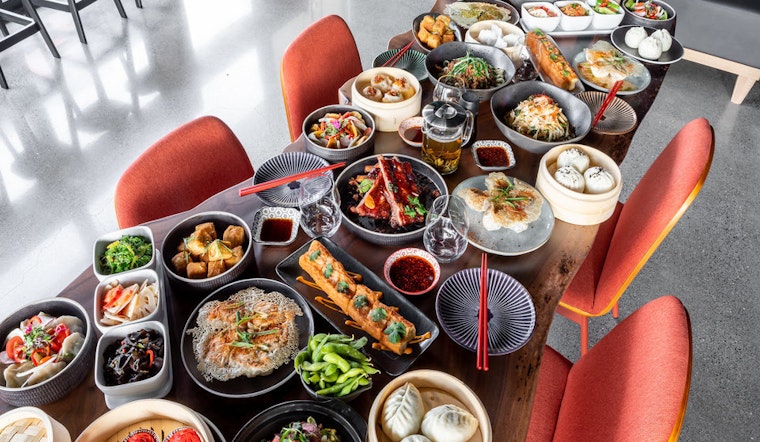 Published on February 04, 2020
Here's the latest in SF food news. In this edition, a restaurant closes in Hayes Valley after only one year of business, a dumpling eatery expands to the Chase Center and a popular Greek eatery reopens in Hayes Valley after a brief renovation.
Closings
Hayes Valley
Laguna Restaurant (602 Hayes St.)
Laguna Restaurant, at the corner of Hayes and Laguna streets, shuttered over the weekend. Its last day was February 1.
The American restaurant, which served dishes like salads, burgers and risotto, opened just a little over a year ago, in January 2019. Owner Brian Stafford confirmed the closure, but declined to provide any additional information.
The space has seen a fair bit of turnover: previous tenant The Meatball Bar closed in November 2018 after just eight months of business. (Its owners still run Doppio Zero, located down the street at 395 Hayes.)
Prior to that, Forget Me Not Cafe operated in the space for two years, from 2014 to 2016. 
Public records don't indicate an imminent takeover for the address, but we'll keep an eye on it.
Openings
Mission Bay
Dumpling Time (191 Warriors Way, Suite 101)
The Warriors have constructed an 11-acre plaza around the brand-new Chase Center, called Thrive City. And as of this week, it has its first restaurant tenant: Dumpling Time.
The new location is the third and largest in SF for the dim sum-focused eatery, which got its start in the Design District (11 Division St.) In August, it opened fast-casual sequel Dumpling Time Express down the street at 55 Division, after its spinoff Udon Time didn't pan out in the space. There are also two Dumpling Times in Tokyo.
At the new Dumpling Time, diners will find the same menu of favorite items, including shrimp har gow, crispy gyoza, xiao long bao soup dumplings and pan-seared chicken or pork bao.
A few new items will be exclusive to the location, such as scallop siu mai with XO sauce; Wagyu beef fried rice; and Dungeness crab garlic noodles. A full bar will offer cocktails, beer and wine.
For its first week (Feb. 3-8), Dumpling Time will offer lunch Monday-Saturday from 11 a.m. - 3 p.m. and dinner from 5 - 10 p.m., extending to 11 p.m. on Warriors game nights. Starting on February 9, it'll operate Tuesday – Saturday only.
As for Thrive City, it's expected to get several more eateries in 2020. The largest will be a food hall operated by celebrity chef Michael Mina. Burger joint Gott's Roadside, Oakland-based Asian fusion eatery Belly, Burlingame-based Mexican restaurant Nachoria and the team behind Ferry Plaza Wine Merchant will also expand there, and more restaurants may be yet to
Hayes Valley
Souvla (571 Hayes St.)
After a brief closure, Souvla has reopened the doors at its original Hayes Valley location (571 Hayes St.), which closed on January 6 for renovations. During the closure, it operated a food truck down the street at PROXY. 
Owner Charles Bililies first opened the Hayes Valley location in 2014, and it's been mobbed for much of the subsequent time, necessitating an update. Expect to see new floors, a remodeled kitchen, and come summer, air conditioning. 
---
If you've seen something new (or closing) in the neighborhood, text your tips and photos to (415) 200-3233, or email [email protected]. If we use your info in a story, we'll give you credit.