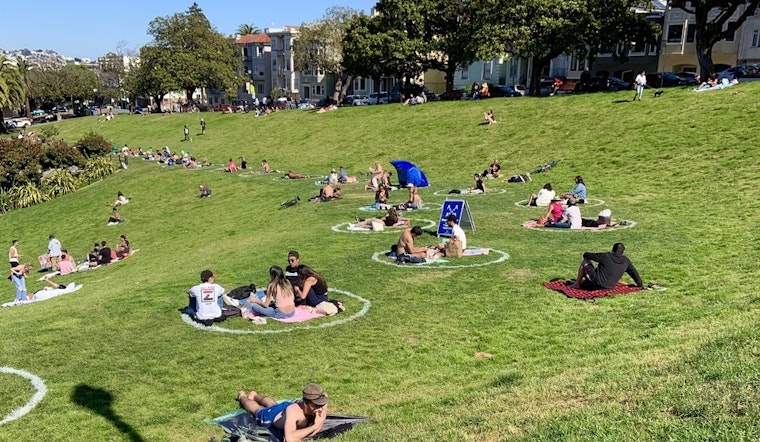 Published on May 31, 2020
To promote social distancing among parkgoers ahead of Memorial Day weekend, SF Rec & Park installed social-distancing circles at four city parks: Dolores Park, Little Marina Green, Washington Square Park and Potrero Hill's Jackson Playground.
The program appears to have been a success: the department has expanded the program to another three parks.
Pacific Heights' Lafayette Park, Bernal Heights' Precita Park and Alamo Square Park now also bear the circles — totaling 749 citywide, according to Rec & Park spokesperson Madison Sink. There are 35 at Alamo Square, 64 at Lafayette Park and 106 at Precita Park.
"People seem to be loving the social-distancing circles," said Sink.
Social distancing circles in Precita Park.
I ❤️San Francisco. pic.twitter.com/aALFZoldwS

— Mary Peelen (@ohmary11) May 29, 2020
An additional 37 circles were added at Dolores Park, including the area commonly known as "Gay Beach." In total, Dolores Park now has 214 circles.
Officials were out in force over Memorial Day weekend, with SFPD and park rangers handing out masks and reminding parkgoers to practice social distancing.
"Last Saturday and Sunday, our teams talked with 2,912 park users about safe park practices and handed out 1,918 masks," Sink said.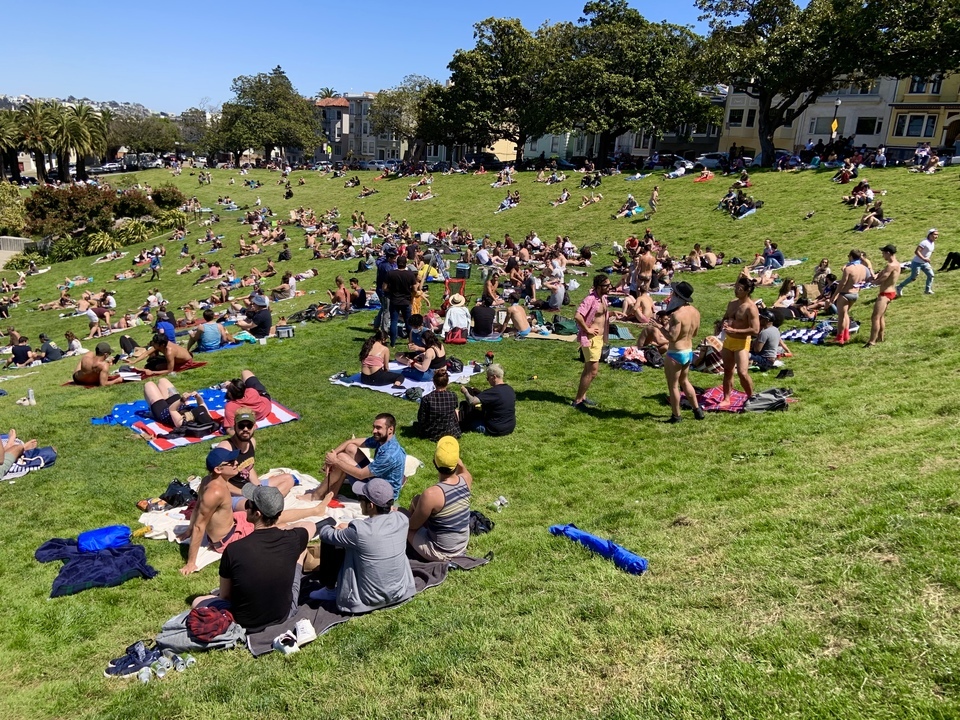 Sink tells Hoodline there's currently no plan to add additional circles, due to rain in the forecast. (The circles are made from the same material — and installed by the same crews — used to line the city's sports fields.)
The circles have drawn largely drawn praise on social media, but there's been some criticism, too. 
"Are we moving too fast?" wrote Dolores Park visitor Omid Scheybani on Twitter. "I'm happy to see small elements of normalcy but also worried we might be over-confident in our approach."
In San Francisco, California every city park is full. It's disgusting! And I don't see any masks... pic.twitter.com/NxoEyMtYfn

— ShortE (@ShortErica) May 24, 2020
Under the latest health order from the San Francisco Department of Public Health, which went into effect Friday night, San Franciscans will now be required to wear masks in most situations where they're within 30 feet of another non-household member. But being seated inside a social distancing circle with members of the same household is considered an exception. 
"[W]hen someone is sitting with only household members and they are entirely within a distancing circle that is painted on the grass in a public park or on a picnic blanket that is at least six feet from the nearest picnic blanket, a face covering is not required to be worn," the health order states.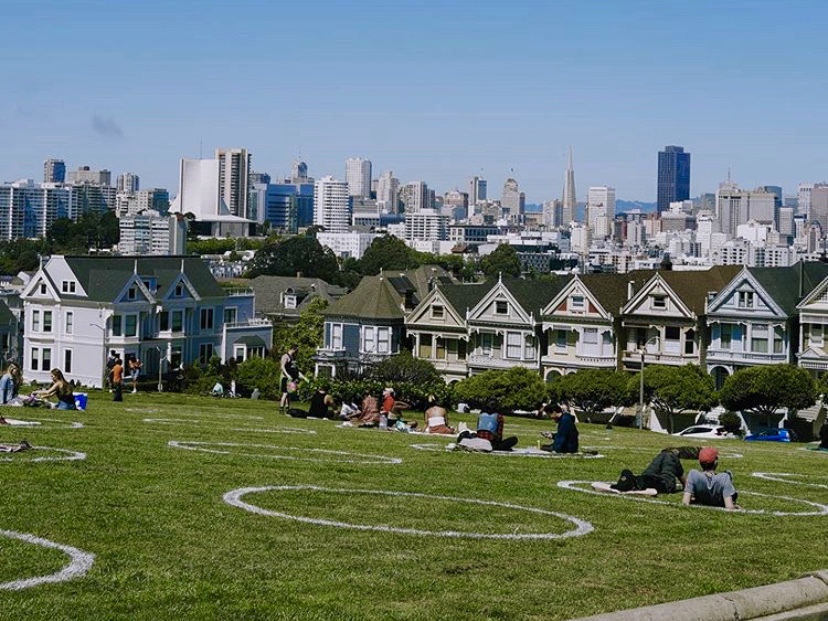 On April 29, the City Attorney's Office issued updated guidelines that specifically identified sunbathing and picnicking as allowable activities during shelter-in-place, provided that social distancing is maintained among individuals who are not members of the same household.
The move came after confusion arose last month when SFPD officers allegedly kicked out people sunbathing at Dolores Park in the name of safety — even though they were maintaining an appropriate social distance. (The department denied the enforcement, saying that parkgoers were only told to keep their distance on a megaphone.)
"This is not an invitation to have parties in the parks," spokesperson John Cote told Hoodline in April. "If parks become too crowded to maintain six feet of distance (or if people are sitting within six feet of non-household members), that would violate the order."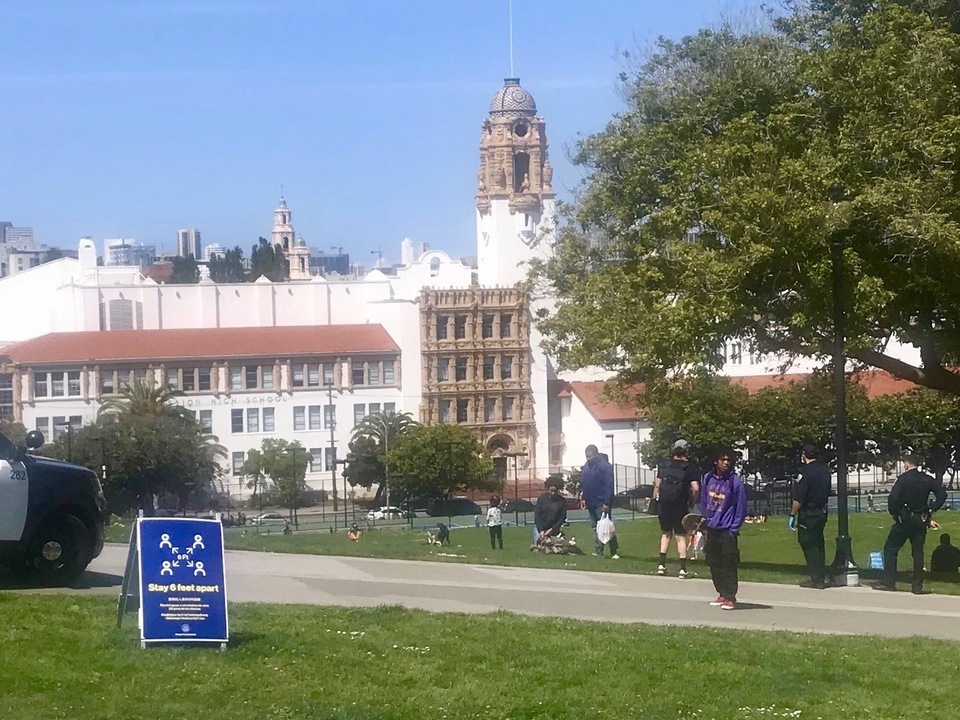 "We will continue outreach this weekend and each day moving forward to help with the transition to the latest health order from City Hall," said Sink.