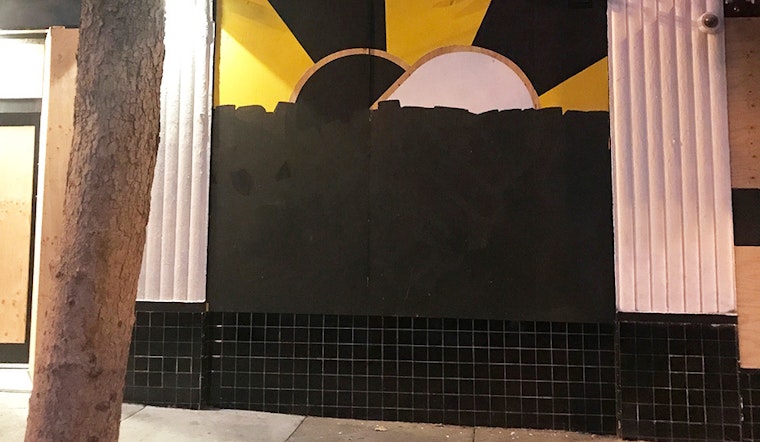 Published on June 08, 2020
Last week, Scandinavian-inspired eatery Kantine (1906 Market St.) painted a mural on its boarded-up storefront. But it was painted over by Public Works employees just hours after it was put up, surveillance video provided to Hoodline shows.
The mural — a heart made from two clasped hands, one black and one white —was created by Jennifer Sonderby, former SFMOMA design director and founder of Sonderby Design. Intended as "a response to the death of George Floyd and Breonna Taylor," it was painted on Thursday.
Around 2:15 a.m. on Friday, surveillance footage shows two workers painting over the mural, completed by Sonderby just hours before.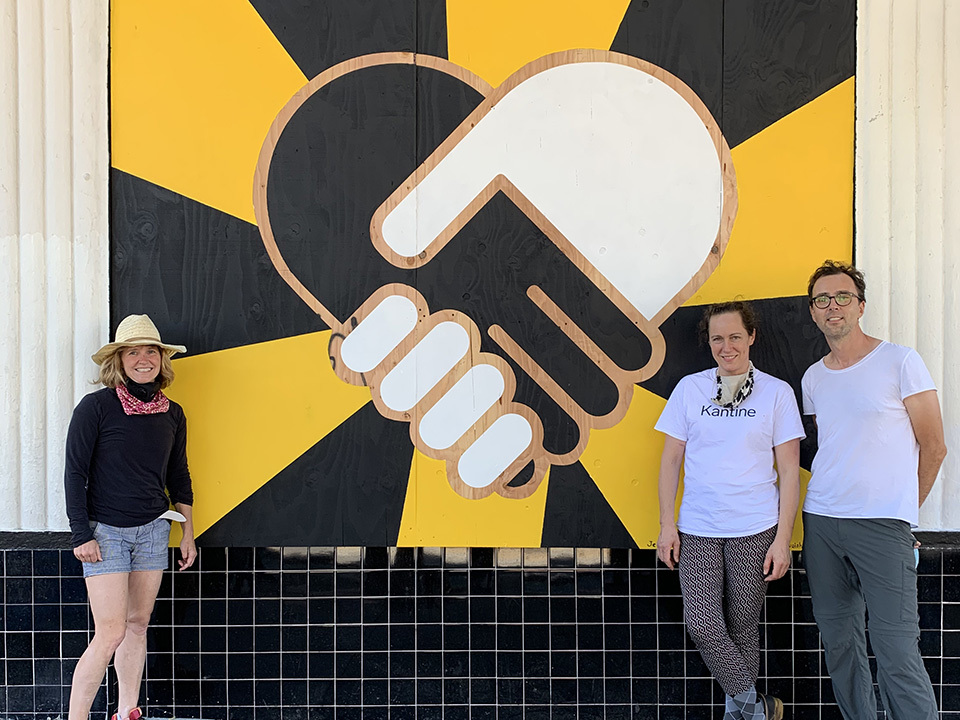 In an email sent to Sonderby and Kantine owners Nichole Accettola and Joachim Majholm, a Public Works representative wrote, "our staff will only paint over graffiti that is offensive or contains profanity," but "your mural was not offensive and did not contain profanity; our staff should not have painted over it."
Public Works spokesperson Rachel Gordon told Hoodline that the department "assigned extra crews to address the proliferation of graffiti vandalism, with the focus being on profane/offensive graffiti."
However, "this mural should not have been painted over," Gordon confirmed.
"It was amazing when we were installing it how enthusiastic passersby were," Sonderby said, adding that many drivers honked their horns in support. Inspired by an icon uploaded to the Noun Project, Sonderby explained the mural was initially created to "deter vandals" from the plywood, but also to serve as a symbol for "racial equity."
In the email, the Public Works representative added, "the employees in the video will be counseled and re-trained on what constitutes an appropriate abatement."
Additionally, the department representative said he will be "discussing with our entire staff about the larger issue of appropriately abating graffiti so that this does not happen again."
Sonderby said it's unfortunate if that's how the city responds to murals going up on storefronts, given the response from other cities like Washington, D.C., whose mayor, Muriel Bowser, had a "Black Lives Matter" slogan painted in the streets.
"To see the surveillance video was so shocking to us," Majholm said. "It is ridiculous." 
Accettola said they kept some leftover paint because she assumed the mural would be tagged, but she didn't expect that city workers would paint over it.
"We wanted to have something that would be nice to have," Accettola said, hoping that the mural would stay up "for people to enjoy."
Kantine has stayed open for takeout and delivery since shelter-in-place went into effect, and Accettola ultimately decided to board up Kantine's windows after some cardboard was set on fire in front of neighboring business Orbit Room at the end of May.
Worried about damage to one of Kantine's large windows, the plywood seemed like a better alternative after Accettola talked to a business owner who had to pay $7,000 to repair windows. "An expense like that would be disastrous," she said.
Majholm said he asked Public Works to provide a reimbursement for the damage to the mural, but Public Works responded, "a regrettable reality in our city's current climate: we have no resources to repaint your mural." 
Majholm said they incurred about $1,000 in expenses, but that doesn't include the two days it took Sonderby to paint.
While property owners usually receive a notice if graffiti appears on their facade, the Public Works representative wrote in the email that the normal process was suspended during the COVID-19 pandemic, due to a spike in graffiti citywide. The representative wrote that the normal process will likely resume in July.
Majholm added that tomorrow, Sonderby "will 'resurrect' the mural." "Not with paint this time, but as a vinyl print."