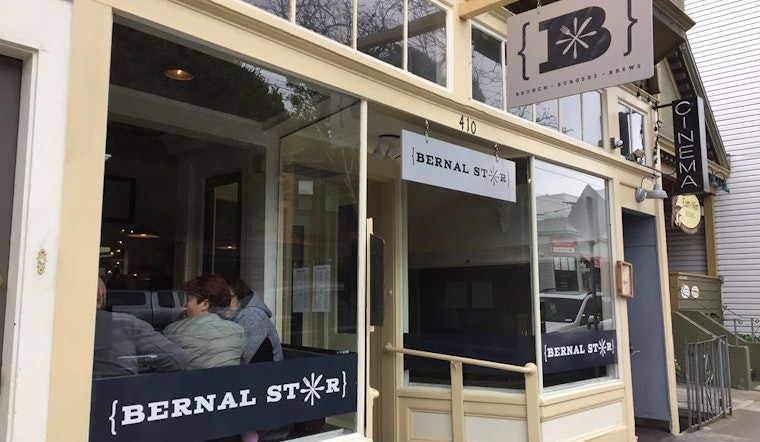 Published on July 14, 2020
Last week, staff at Bernal Star (410 Cortland Ave.) arrived at work to find an unexpected note taped to the restaurant's window.
The notice came from the lawyers of landlord Maher Memarzadeh, who owns the property at 408-412 Cortland Avenue. It stipulates that the restaurant must pay $24,867.50 — the amount of unpaid rent since April — within one month. 
The message was a complete surprise to business owners Vega Freeman-Brady and Giuseppe Manna, who said they had negotiated reduced rent with their landlord and had not discussed a plan for rent deferral, much less a condition that required them to pay nearly $25,000 with less than a month of notice. 
"It's totally unrealistic," Freeman-Brady said in an interview with Hoodline, noting that even though Bernal Star has offered takeout since shelter-in-place started, and recently reopened its back patio for outdoor dining, business is still only about one quarter of what it would usually be. "There's just no way we're going to be able to pay him $25,000."
Bernal Star's normal monthly rent is over $10,000. Citing financial hardship caused by COVID-19, the owners agreed with Memarzadeh to pay half rent starting in April. In June and July, as business remained slow, they were allowed to pay $3,500 per month. 
The adjustments were negotiated through property management company Citywide Property Management, who handles all communication for the landlord. "Paying back the rent wasn't discussed when we were talking with the property management company," Freeman-Brady said. "We talked about cutting the rent in half for now until we can afford to increase it again."
The property management company did not respond to a request for comment.
Co-owners Freeman-Brady and Manna also run VinoRosso (629 Cortland Ave.) and Vega Pizzeria (419 Cortland Ave.) in Bernal Heights. Freeman-Brady noted that the landlords for those properties have been understanding of their situation, and agreed to cut rent in half until things pick up again. As San Francisco residents themselves, she said, they're aware of the struggles faced by restaurateurs in an already-expensive city.
In contrast, Memarzadeh lives in Los Angeles and conducts all business with Bernal Star through Citywide Property Management. Freeman-Brady said she's only spoken with him once or twice.
"I think part of the reason he doesn't communicate with us directly is so that he doesn't feel bad doing this to us," she said. "It's like we're objects and not people."
Hoodline reached out to Memarzadeh and received a written statement from his lawyer, Francisco Gutierrez.
Gutierrez said his client did not want to evict the business, and that the notice of non-payment of rent, allowed under the city's commercial eviction moratorium, was given to preserve his rights as a landlord.
"The owner has been accommodating the tenant Bernal Star, including by accepting reduced rent, sometimes at amounts less than half of the contract rent, from the tenant while attempting to negotiate a payment plan for its past-due rent," Gutierrez said. "However, a permanent agreement about the rent has not been reached due to the fact that the reopening of businesses in the City, such as restaurants, is on hold."
"The owner has a vested interest in the tenant's success," Gutierrez continued, "but as the owner he must also meet his own financial obligations."
Freeman-Brady and Manna have been gathering the necessary documents to prove their inability to pay full rent, a fact that Freeman-Brady says should be obvious to any landlord.
"Nobody should have to deal with this," she said. "Running a small business is already hard. Then you have this person pressuring you to do more work for nothing."
Gutierrez responded that the landlord "intends to continue to assist Bernal Star on finding appropriate solutions [for increasing revenue], including increased outdoor dining." As an example, he said, Memarzadeh "has encouraged the tenant to seek a free city permit to enable and encourage outdoor dining."
But attracting more customers during a pandemic is not that easy, Freeman-Brady said, referring to the fact that many San Franciscans are still hesitant to dine out. "Business is going to be bad for at least a year."
She said Memarzadeh told her to sign up with additional third-party delivery apps like Grubhub and Doordash to increase revenue (Bernal Star had previously been handling all orders and deliveries in-house, which helped keep its wait staff employed).
Although Freeman-Brady previously spoke out about her opposition to these apps, whose delivery and processing fees would cut into the restaurant's already razor-thin margins, she says Bernal Star may no longer have a choice.
One thing's for sure, Freeman-Brady says: she will fight "tooth and nail" to keep Bernal Star open. She said she hopes that by publicly sharing her situation with the broader community, landlords like Memarzadeh might be forced to make sacrifices, instead of small businesses. 
As for the $25,000? "I don't think he deserves it." Like many other landlords, she said, he should agree to accept half rent for an extended period of time while the business operates with reduced capacity. "This behavior is unacceptable, and we need to stand up to it."