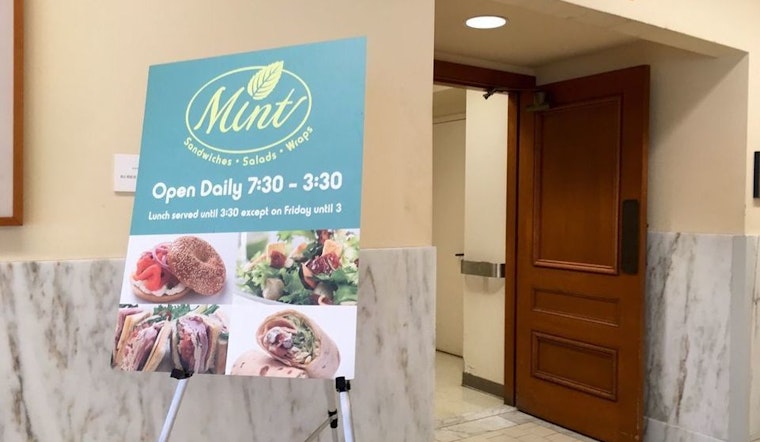 Published on August 11, 2020
Here's the latest in SF food news. In this edition, a trio of cafes in city government buildings is closing for good, as is a restaurant-turned-general store in the Mission. Meanwhile, a new juice spot will open in the Lower Haight.
Closures
Civic Center
Mint Café (400 McAllister St. and 1 Dr. Carlton B Goodlett Pl.)
With two locations at City Hall and one inside the Superior Court of California courthouse, Mint Café has long had a lock on the Civic Center political crowd.
But with the disappearance of government office workers under shelter in place, the business hasn't been able to sustain itself. Co-owner Reem Nasra said all three locations, closed since March 16, will not reopen.
Nasra and her family are San Francisco natives, and she says it's tough to see the cafés go. Today would have marked the 17th anniversary of her original location at the courthouse (400 McAllister St.), where she served sandwiches, wraps, parfaits, espresso drinks and homemade cookies.
"We are are just sad we didn't get to say goodbye to our patrons," she said. 
For those seeking to start their own food business post-pandemic, Nasra is now unloading most of the cafes' equipment via Facebook groups like SSF Buy, Sell, Trade and East Bay Garage Sale. Items for sale include a wooden table/cart and a conveyor toaster.
"We are grateful for everyone's support, and will miss them tremendously," she said. "We hope that everyone is safe at this time."
Mission
Prairie (3431 19th St.)
After nearly three years of business, eclectic Mission eatery Prairie will permanently shutter. Chef/owner Anthony Strong announced the closure today via email; the restaurant's last day will be this Friday, August 14. 
It's an unexpected farewell to a restaurant that showed an impressive flair for pivoting in its short life. Opened in 2018 as a modern Italian spot, Prairie transitioned to more of a family-style, grill-centric restaurant earlier this year. 
When the pandemic hit, Strong was one of the first restaurateurs in the country to adapt, turning the eatery into a "general store" with then-hard-to-find essentials like pasta, toilet paper and bread flour. Prairie was also one of the first SF restaurants to introduce post-pandemic cook-at-home meal kits. 
Strong told the Chronicle that the general-store model was a "Hail Mary" to save the business during the pandemic, not a permanent solution.
"The reality is we traded a tough-to-run, low-margin business model that we knew, for a tough-to-run, low-margin business model that was completely foreign to us," he said. 
Prairie has launched a GoFundMe for its staff, many of whom won't be able to receive state or federal assistance in what Strong calls "a rough stretch ahead."
"It's been my dream to have a restaurant of my own in SF since I started cooking here 14 years ago," said Strong via email. "We were barely over a year old when COVID hit, but although this feels devastating and unfair, I'll be forever grateful for having had the opportunity, and for all of the memories and lessons learned along the way."
Openings
Lower Haight
Sidewalk Juice (791 Haight St.)
Sidewalk Juice is expanding once again. Tipster Lukas F. alerted us to its takeover of the former FK Frozen Custard space in the Lower Haight, where it's set to open on August 29. 
After making its debut with a takeout window in the Mission in 2006, Sidewalk Juice has since opened a second Mission location (3100 24th St.) and outposts in Daly City's Serramonte Center and at SFO Terminal 3.
Haight Street will be its fifth location, but the expansion isn't stopping there: a sixth will open at an undisclosed address in Oakland in the spring of 2021.
For the unacquainted, Sidewalk Juice specializes in a customizable menu of fresh-pressed juices, smoothies and organic açai and pitaya bowls. (CEO Gus Daibis recommends the blueberry-almond and kale colada smoothies as his "must-trys.")
Recently, toast has joined the menu, with toppings like avocado or garlic hummus with cucumbers and tomatoes.
"We are so excited to join the Lower Haight community," Daibis said in a statement. "As an original San Francisco concept, Haight Street has always been on our radar, and when the opportunity was presented to us, we knew it was a great way for us to share the love that Sidewalk Juice has been serving for years in the Mission."
---
Thanks to tipster Lukas F. If you've seen something new (or closing) in the neighborhood, text your tips and photos to (415) 200-3233, or email [email protected]. If we use your info in a story, we'll give you credit.