Even for San Francisco restaurants with outdoor seating, delivery has remained a key piece of the puzzle for staying in business during shelter-in-place.
But getting food to customers' doors also means paying the high fees charged by the likes of Caviar, UberEats and DoorDash. That cuts into small, independently owned restaurants' profits at a time when they can least afford it. 
Concerned about the longevity of their local restaurants, neighborhood organizations have stepped in to help with delivery — and their ranks are quickly growing.
The trend started back in April, when community group North Beach Neighbors started North Beach Delivers. The program spotlights a different local restaurant each Thursday night, with customers placing orders online one to two days before.
From there, a fleet of volunteer deliverypeople set out by foot, bike or car, bringing the orders to neighbors. Delivery is free for customers as well as restaurants, and any tips are donated directly to the featured restaurant.
The program has been a success. According to an SFGate story, it's brought in more than $50,000 for North Beach restaurant owners as of last week. It's catching on in other neighborhoods, too. 
Russian Hill Neighbors launched a similar program in May, offering free deliveries from a partner restaurant every Wednesday night. In July, SoMa's East Cut Community Benefit District (CBD) introduced its version, East Cut Eats. And this month, organizations in the Outer Richmond and on Polk Street will debut their takes on the model.
"We're really eager to hand off the information on how to run this program, so that any community group or band of neighbors can start a similar program in their area," said Danny Sauter, president of North Beach Neighbors and a District 3 supervisorial candidate.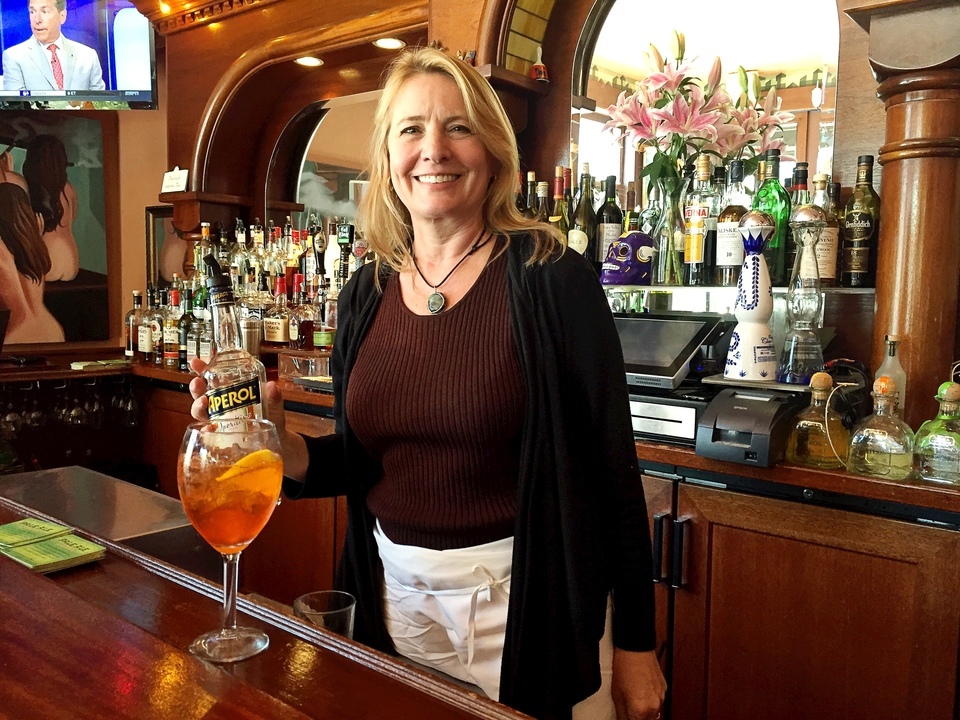 On Wednesday, August 19, the Discover Polk CBD will launch its delivery initiative with Bell Tower, a long-standing restaurant and bar at 1900 Polk St.
"That's a very logical first partner," said co-executive director Ben Bleiman, noting that Bell Tower owner Barbi Tice is a "most beloved community member."
Bleiman said that North Beach Neighbors has provided helpful support for Discover Polk's program, especially surrounding logistical challenges like how to take orders, space out deliveries or handle credit card payments.
Over in the Richmond District, the Balboa Village Merchants Association plans to launch Balboa Village Delivers on Thursday, August 27.
Co-founder Yuka Ioroi will first feature her own restaurant, Cassava (3519 Balboa St.), followed by Eat Americana (3532 Balboa St.) and Kio Ramen (3528 Balboa St.) in the weeks after. More details will be announced on the group's Facebook page in mid-August.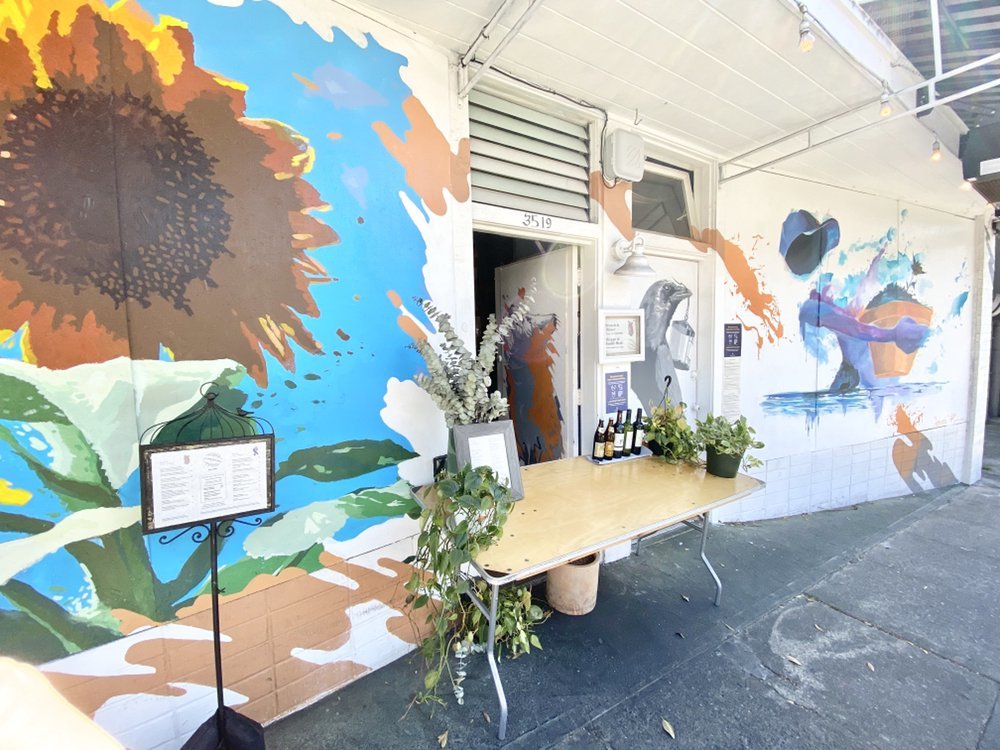 Over in SoMa, the East Cut CBD has averaged 22 deliveries per week since its launch three weeks ago. Fundraising and development manager Pierre Lagarde said the program has come at a critical time for area restaurants, who've long relied on office workers that are now working from home. 
Pre-orders are accepted Monday to Wednesday, with deliveries going out on Thursday. That gives restaurateurs enough time to prepare and order ingredients, and volunteers enough time to figure out their routes. All deliveries are done on foot, and Lagarde said volunteers can get pretty much anywhere in the delivery zone within 15 minutes. 
North Beach Delivers also connected the East Cut CBD with OnFleet, a service that allows delivery customers to see the status of their order on a map. They've been given permission to use it for free until the end of September.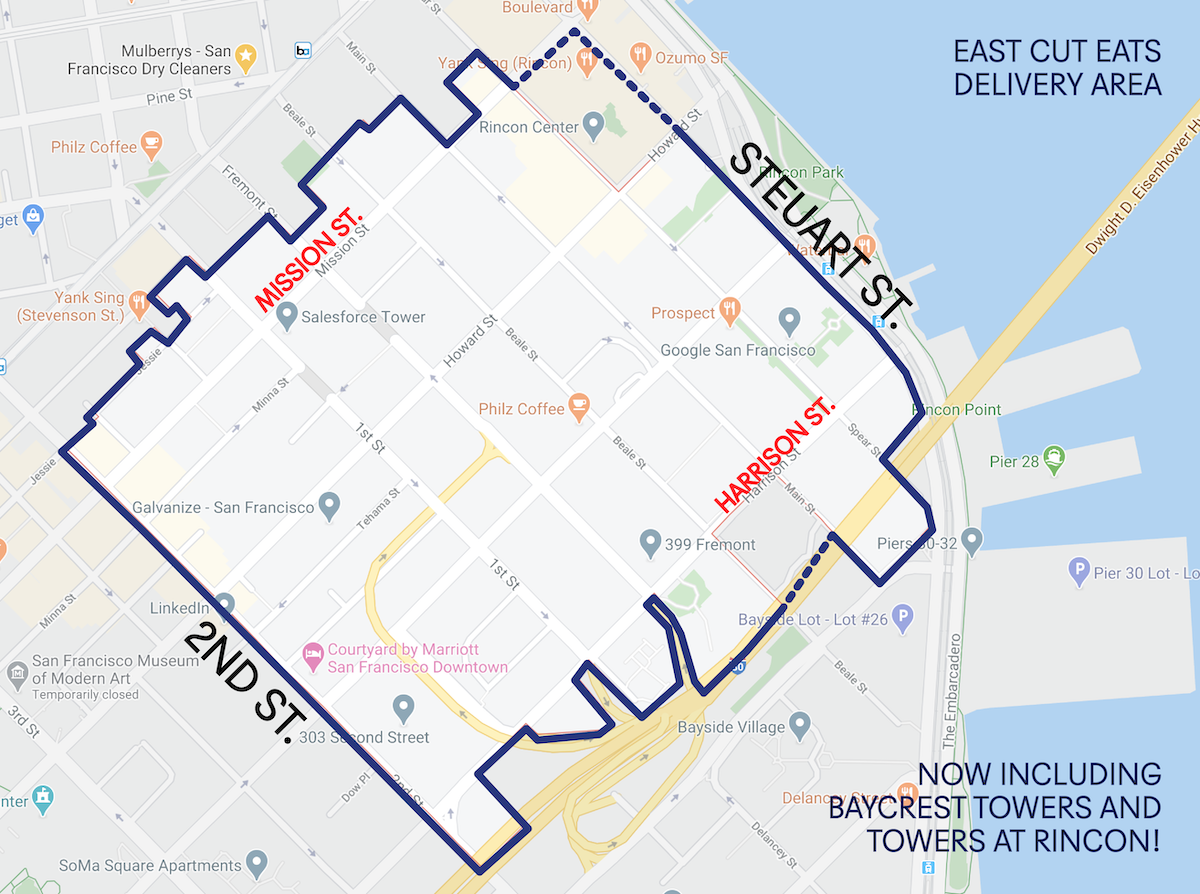 The neighborhoods organizations say customer demand has come from everywhere: social media, their own newsletters, and even emails from property managers to the residents of area buildings.
As hospitality business owners themselves, Bleiman and Ioroi say they're excited to find a way for restaurants to opt out of what Ioroi calls "a predatory economy."
Bleiman says he "has serious doubts" that delivery apps care about the community, while Ioroi has opted not to offer delivery at Cassava through the apps, citing the poor treatment of drivers.
For now, all the organizations are dependent on unpaid volunteers who want to give back to local small businesses. 
But some are already making longer-term plans. Lagarde said the East Cut CBD has talked about acquiring 10 to 15 delivery bikes for local businesses to share, hiring low-income people to do deliveries.
"This program would need to be subsidized, and funded through partnerships with either public or private entities," he said. "But so far, we believe there is a worthy idea to explore."
Over on Polk Street, Bleiman is hopeful that neighbors will come together to help. His goal is to recruit eight to 10 people, who'll make 40 to 60 deliveries during the late-afternoon and early evening hours.
"We will continue as long as there is a pandemic," he said.
---
For those interested in volunteering for deliveries, contact the East Cut CBD, Discover Polk CBD or TogetherSF, which is recruiting volunteers for the Balboa Village effort.
Want to start your own neighborhood delivery program? Reach out to North Beach Delivers.