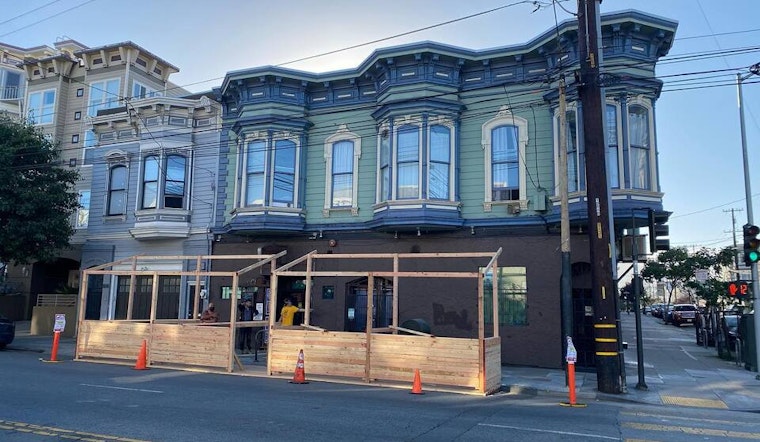 Published on October 26, 2020
After a seven-month closure, beloved Mission dive bar Bender's Bar and Grill is coming back to life. Its doors will swing open on Wednesday, October 28 at 2 p.m., along with some notable changes to its set-up.
To help stay afloat during its closure, due to the shelter-in-place, the bar's owners launched a GoFundMe campaign this summer, which was quickly followed by rumors that the bar was in danger of closing for good. But Hoodline set the record straight after talking to co-owner Kevin DeMattia, who said that the bar wasn't going anywhere; he and his business partners Dion Jolley, Johnny Davis, Liam Martin, and Will Schoeppe just needed to raise funds for staff, bills and rent, since they had no revenue coming in during the interim.
Its goal of $50,000 was met in record time — just about one week after its GoFundMe campaign was launched. DeMattia attributed the fundraiser's swift support to the community giving back, since Bender's is the "de facto benefit bar." For more than a decade and a half, the bar has helped raise money for various causes, ranging from someone's dog dying and needing money to cremate it, to people needing funds for medical bills.
"Once we got the support from the GoFundMe, we knew that we had some breathing room," said co-owner Johnny Davis, adding that its reopening was "a long time coming" but he and his partners just "wanted to do it right."
Known for its old-school rock-and-roll vibe, the bar is has undergone some modern-times changes to comply with new guidelines due to COVID. One of the most notable changes is that after 17 years as a cash-only bar, Bender's will now accept credit cards.
It'll also debut two new parklets on either side of the building (one on South Van Ness and the other on 19th), and additional outdoor tables, making room for 64 new seats outside.
Its owners have also cleared the bar's pool tables and pinball games from the interior and will offer distanced, partial seating inside (due to COVID-19 safety guidelines, all games will be put on hold until further notice). The back patio, for now, will only be used for staff.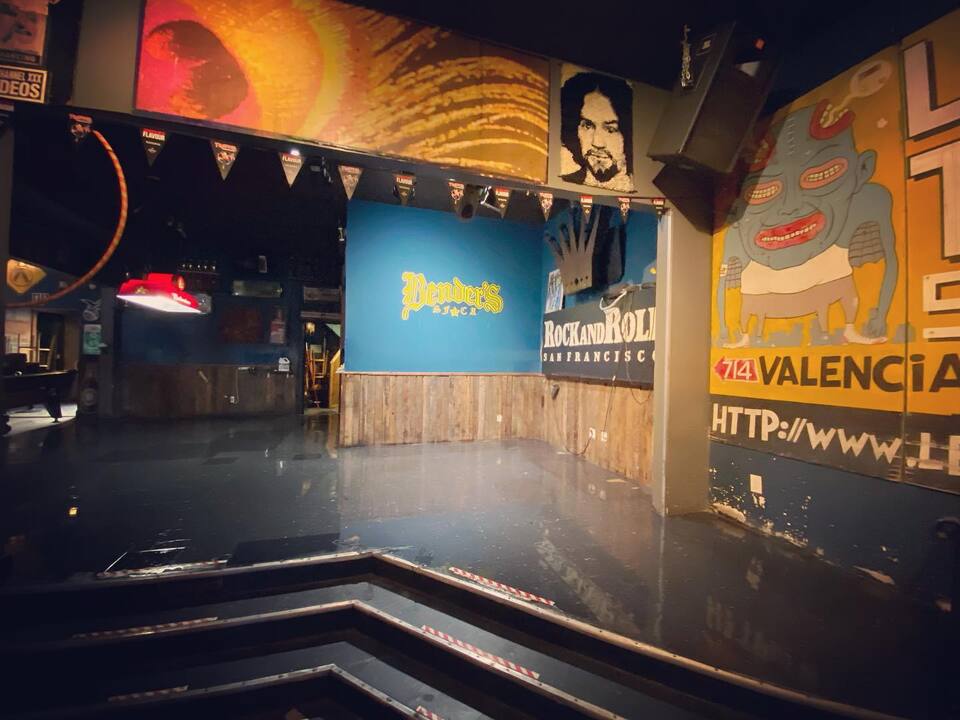 Food will continue to be served by Counter Offer, who will amp up the menu's burger offerings and will also serve new items, such as chili, grilled cheese, and a few "bargain meals," according to co-owner Johnny Davis.
Additionally, servers have been hired to deliver beverages and food to seated customers for the first time.
"We are doing whatever we can to keep the doors open," said DeMattia, who also owns Emperor Norton's Boozeland with Jolley, Martin, and Cam Maddern. He and his partners reopened Boozeland last week along with a new parklet, a plastic shield at the indoor bar for safety, and food by L & G Vietnamese Sandwich — since it's a 48-type bar and is required to offer food.
DeMattia said it was wonderful to see familiar faces and coming back in to support them.
"It's nice to be around everyone again in a distancing manner," he said.
As with any food and beverage business, some folks have been great so far about following the rules, said DeMattia, while some need to be reminded to order food if they are drinking and to wear masks and keep their distance from others.
While the Tenderloin might add a few challenges with outdoor seating, as many or most neighborhoods do in San Francisco, DeMattia said it's been going well. He said he's optimistic about opening Bender's outdoor space since the Mission is one of the warmest and sunniest parts of the city.
"It's been people's comfort place. They will come back to support us. We're hoping to not only survive, but thrive," said DeMattia.
"We are really excited," added Davis of the opening. "We are stoked to see our regulars and friends."
Hours at Bender's will be from 2 to 11 p.m. Wednesdays through Sundays. Keep an eye out on their Facebook page for updates.