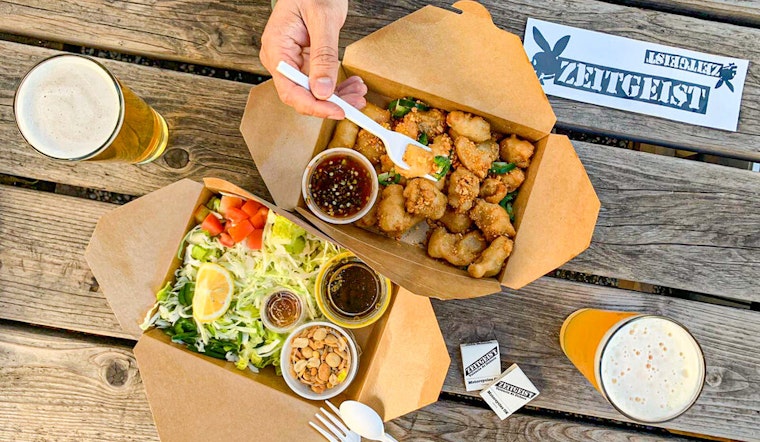 Published on March 01, 2021
Starting Monday, Mission businesses Zeitgeist and Burma Love are offering a brand new lunch service at Zeitgeist (199 Valencia St.). Mondays through Fridays at 11:30 a.m. to 2:30 p.m., customers can order specialty Burmese lunch items from Burma Love (211 Valencia St.) on a QR code at Zeitgeist, and bento boxes will be delivered to the outdoor beer garden to pair with libations from the bar.
Appetizers and lunch items from Burma Love include mango chicken, fiery tofu, lamb kebat, and its ever-popular tea leaf salad, and more. Zeitgeist will offer cocktails to pair with the food, such as margaritas and palomas, as well as other mixed drinks and beer specials. (While Zeitgeist's kitchen might remain open for lunch with its usual bar menu, that could change, depending on demand.)
This is not Zeitgeist's first collaboration since the pandemic has hit. In July, it debuted a pop-up breakfast spot, Zeitcafe, with Valencia Street neighbor Four Barrel Coffee. Initially the project took off, but a historic wildfire season prevented people from wanting to sit outdoors in the late summer and early fall, and after that the pop-up didn't quite rebound, so the team at Zeitgeist put the brakes on it. But Zeitgeist's General Manager Lara Burmeister said she has not ruled out bringing the coffee cart back someday for weekend brunch.
Earlier in July, the bar debuted its "Zeit booths" for socially distanced table seating, each separated by glass partitions. Since reopening in late January, each table's capacity is six people, reduced from eight per booth to comply with new COVID regulations. Pre-COVID, the space was designed to comfortably fit 291 people, but its capacity limit is now 144. Burmeister said that to seat people six-feet, socially-distanced, they could fit 80 people.

The first incarnation of the "Zeit booths" in early July. | Photo: Courtesy of Zeitgeist
Zeitgeist's more recent collaboration, Comedy Night, with local group House People, is "doing really well," said Burmeister. First launched in mid-November, the project immediately took off but was abruptly paused when outdoor seating was shut down by government officials in early December. However, since outdoor dining opened up in late January, the Sunday night comedy troupe has been bringing in a steady flow of customers to the beer garden for the event.
Burmeister said that she feels fortunate to have the outdoor space to help other businesses and artists expand their offerings.
"I am lucky that we offer an experience that makes people want to come to the beer garden," she said. "You come because you want the music, the bartenders, and the seating."
Of the collaboration with Burma Love, she said. "If we could offer something to keep the street vibrant we will because that's we want to see."
Burma Love Manager Uugii Chuluunbaatar said he and his team love their neighbors at Zeitgeist and are happy to team up with them. "It gives us a sense of community to be able to work together to create a new and safe dining experience for our customers," he said.