For diners looking for a unique outdoor dining experience, they need to look no further than the newly renovated garden patio at Castro's Fable Restaurant (558 Castro St.).
While San Francisco restaurants aren't typically known for their outdoor dining game, Fable has been providing outdoor seating on its garden patio since it opened eight years ago. And with most restaurants adding sidewalk tables and chairs or a Shared Spaces platform, Fable was already setup to provide outdoor dining.
Current co-owners Ramsey Garcia and Jon Vargas tell Hoodline they decided to take advantage of the COVID shutdowns to upgrade and expand Fable's garden patio. During the first three months of the shutdown, they renovated the garden patio and then completed the upgrades during the most recent seven-week shutdown over the holidays.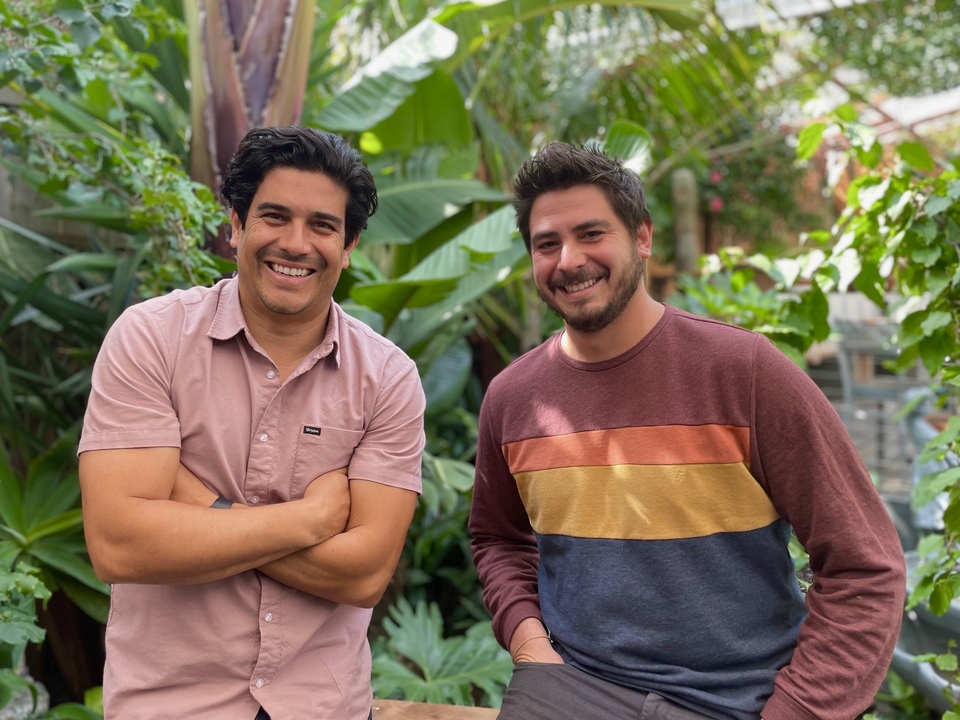 Fable co-owners Ramsey Garcia and Jon Vargas. | Photo: Ashley Wacker/Fable
Garcia and Vargas tell Hoodline they spent approximately $50,000 renovating the garden patio by making more space for tables, installing benches, heaters, fencing, plants, and an awning over the space to protect diners from the elements.
With social distancing guidelines in place, the garden patio now has room for 14 tables and once Fable is allowed to operate at 100% capacity they'll have room for 20-25 tables. Even with limited seating, Garcia said he's created a 'ghost table' for Fable regulars to ensure they'll always be able to get in.
In the coming months, Fable may also add a Shared Spaces platform. "We want it to be amazing," said Vargas about the design. "We've had cold feet on it whether or not to spend the money." Finding the right contractor has also proved difficult as many are busy right now and Fable's job is too small for them.
Vargas acts as Fable's resident gardener and says he takes care of the plants on Mondays. "I come in the morning, it's quiet, I pull the weeds, I plant some new stuff, I love it," said Vargas.
With San Francisco moving back into the state's Red Tier last week allowing indoor dining at 25% capacity, Garcia and Vargas tell Hoodline they plan to continue to focus on outdoor dining. "We're going to concentrate on our garden patio seating," said Vargas.
Asked if they were considering allowing indoor dining Vargas said, "I don't think so." He added, "There's maybe a couple sections if somebody wants to do it."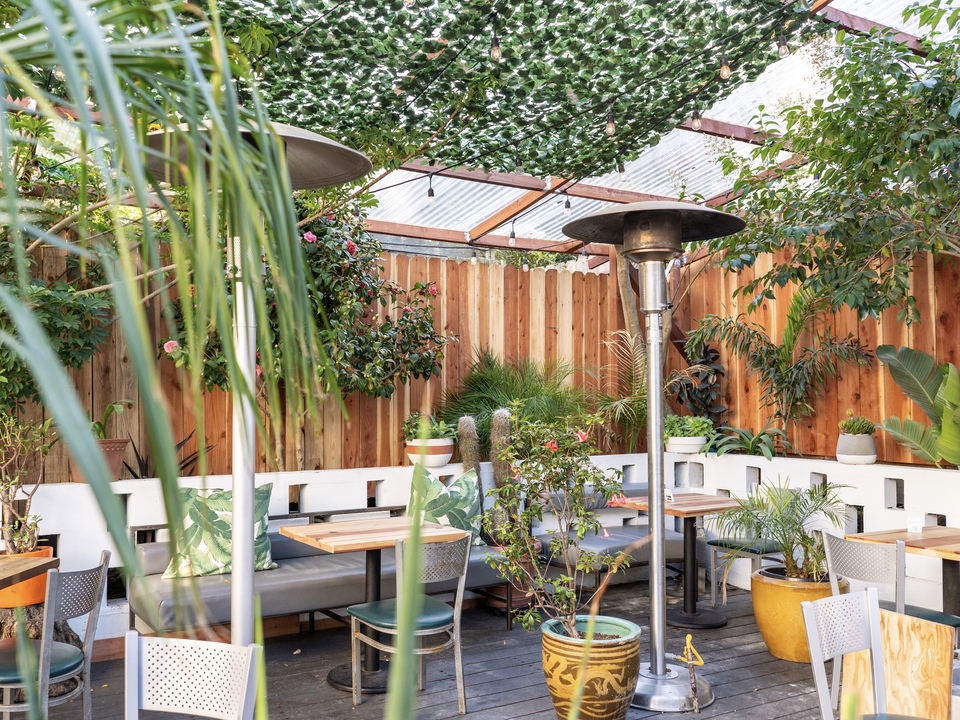 An awning and benches are just two of the upgrades made. | Photo: Ashley Wacker/Fable
Like all restaurants across the city, Fable was forced to pivot and adapt to the pandemic restrictions early on. While they hadn't provided takeout food in the past, Garcia tells Hoodline he quickly realized there was a demand for takeout food early on in the pandemic after he took a trip to visit an ill family member and food options were limited.
"I started thinking of Fable and discussed with Jon that we needed to open back up because people in the neighborhood must be struggling to find a place to eat," said Vargas. "We knew it was going to be a loss, but we reopened with a to-go menu."
The past year has been tough said both Ramsey and Vargas. "We never really did to-go food," said Garcia. "We're just not designed for it."
Opened by former chef Jon Hearnsberger (The Bridges at Rancho Santa Fe, Anchor, Woodhouse Fish Co.) and Erik Rhoades in 2013, Garcia tells Hoodline "Chef Jon saw how there was a dire need for higher quality food in the Castro District, because everything was just bars and quick-fire food."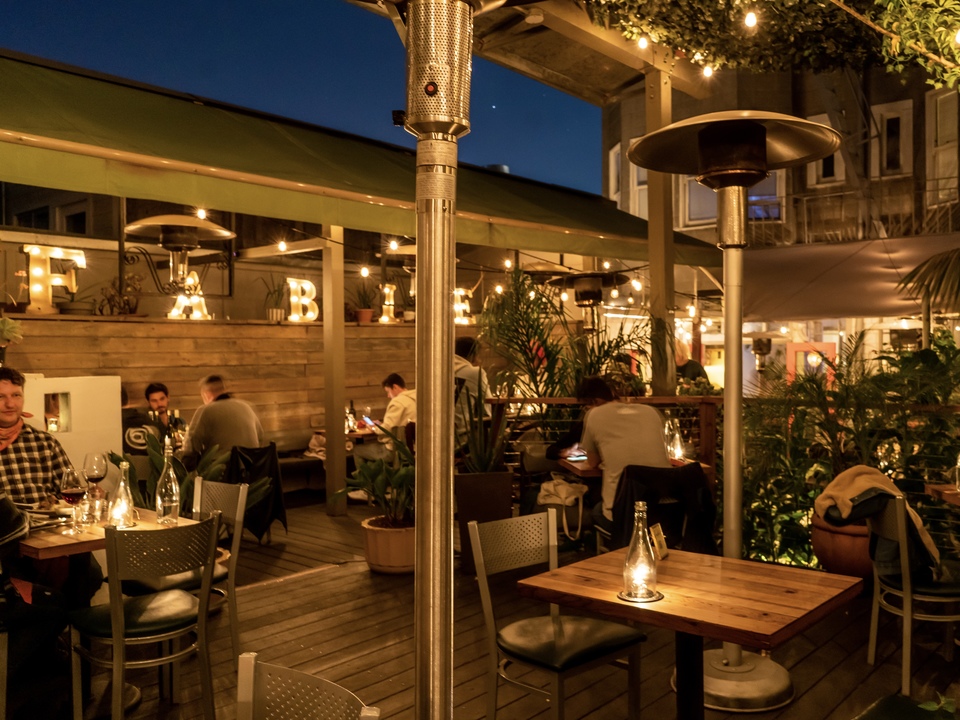 Photo: Ashley Wacker/Fable
Switching formats took some time and Garcia said it took them about a month to get up to speed. "We didn't have a to-go food program because the rest of the Castro was setup for quick-fire to-go food," explained Garcia.
Fable is also now open for lunch, something Garcia says Fable had never done in the past. "That's been a really good success story," explained Garcia.
To make it through the first year of the pandemic Garcia and Vargas tell Hoodline they received a coronavirus-related Paycheck Protection Program (PPP) loan from the Small Business Administration. Public records indicate Fable received $72,700.
Vargas explained that early on no one really knew how to apply for the loan and that "it was like a race to the finish line to hurry up and get the money before it runs out." "We didn't apply for enough and it was gone within seconds," added Vargas.
According to Vargas, Fable has applied for a second PPP loan and is awaiting approval.
The financial struggles brought on by the pandemic shutdown came just three months after Fable reopened from a mandatory seismic retrofit. Added on top of that, Vargas became a partner in January after Rhoades's departure.
Vargas, who also owns Lower Nob Hill bar The Royale (800 Post St. at Leavenworth) and worked as a server at Fable in 2013, said "I thought we were in the biggest financial hole and we were done for." "We doubled-down, we persevered and we dumped money in the garden patio."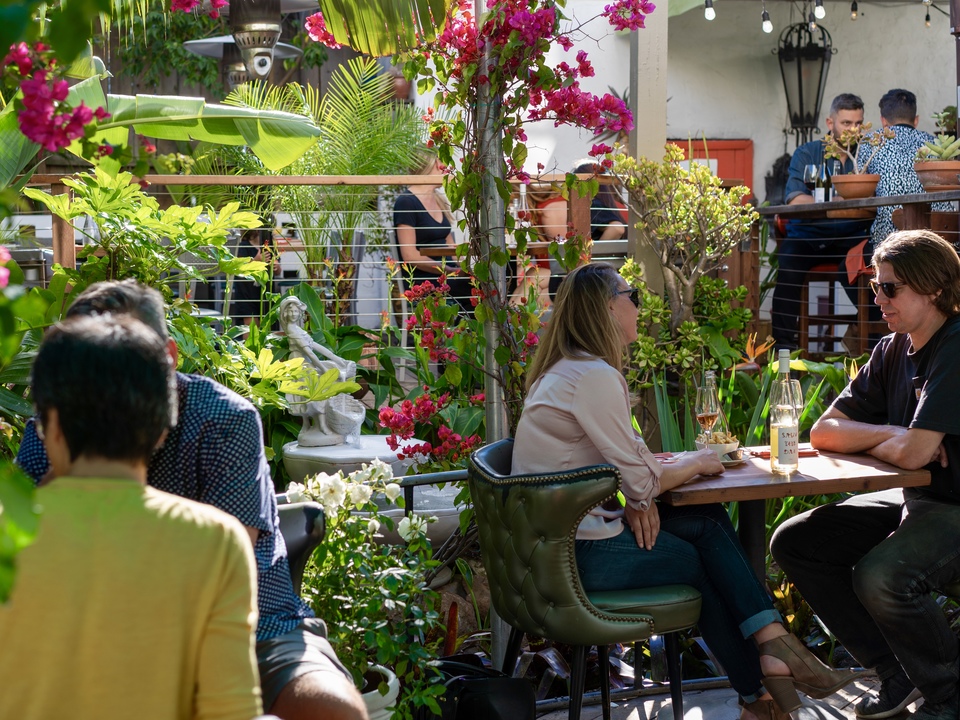 Photo: Ashley Wacker/Fable
"Now we're just trucking along and trying to survive," said Vargas.
Garcia and Vargas were dealt another financial blow when the restaurant was burglarized. Back in November, after installing a security system and a safe, they said someone broke in through a side door and stole money from their safe. Garcia and Vargas estimated the loss at $10,000.
Despite all the challenges, Garcia and Ramsey remain optimistic about Fable's future and look forward to welcoming diners back to their garden patio.
"We've given the neighborhood a space to be back here, this is for the neighborhood," said Garcia.
"Out of all the neighborhoods, the Castro is just the most welcoming and has some of the best regulars," said Garcia. "I feel like they're family."