After months of delays, the Castro/Upper Market Community Benefit (Castro CBD) held a virtual town hall Tuesday about its proposal to install a private network of 125 security cameras.
Hoodline broke the news of the proposal back in September, which involves funding from tech entrepreneur Chris Larsen, who has funded similar camera networks in five other SF neighborhoods. Larsen has taken it as a personal mission to deter and prosecute petty crime around the city, as he previously told the New York Times, and he believes the police department needs help in the form of broadly available surveillance footage.
Tuesday's town hall was moderated by Griffin Gaffney, Castro resident and co-founder of controversial digital media startup Here/Say Media. Gaffney then briefly went over some ground rules and shared discussion norms from the Office of Racial Equity.
---
---
Additional panelists included Andrea Aiello, Castro CBD executive director; Kyra Worthy, executive director of SF Safe City Camera Program; California Deputy Attorney General Tom Ostly; Randall Scott, executive director of Fisherman's Wharf CBD; and Brandon Quan, Japantown CBD operations manager.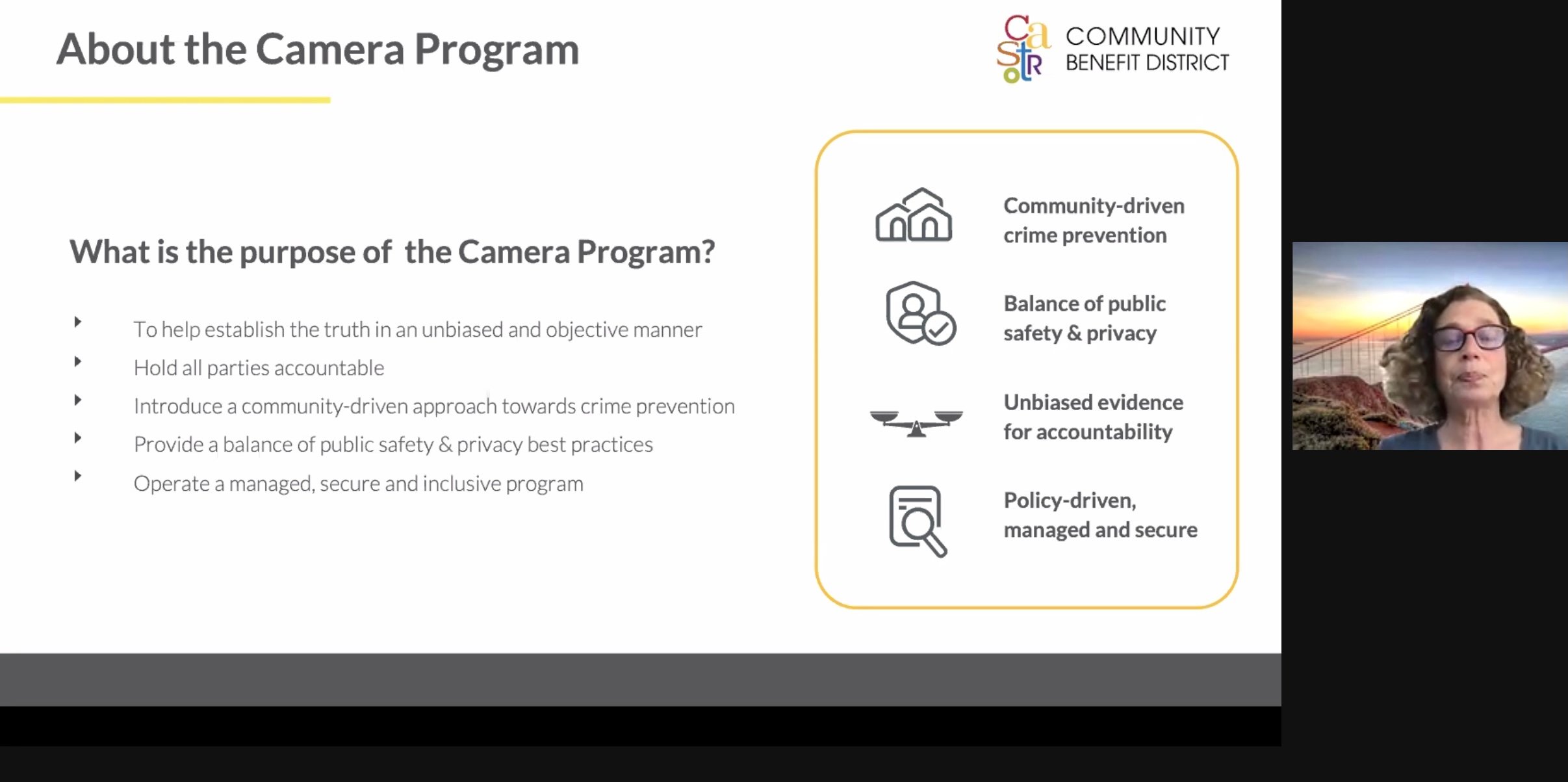 According to Aiello, a representative from the Castro LGBTQ Cultural District (CQCD) pulled out at the last minute.
Aiello began the meeting with background information on how the proposal got to where it is today.
In October 2020, the Castro CBD delayed a vote to accept the $695,000 grant from Larsen after community members raised concerns during a virtual board meeting. Larsen will also be contributing $50,000 to the Castro CBD's new public safety ambassadors program.
Larsen, who lives in Russian Hill, is the co-founder of cryptocurrency company Ripple and mortgage lender E-Loans. Larsen has been gifting security cameras to the community benefit districts in the city since 2012, and his network now spans 1,000 cameras.
Later that month, the Castro CBD announced plans for a security camera town hall and an online survey. Then in January, the Castro CBD extended the deadline for the survey and delayed the town hall as it needed more time to organize the virtual event.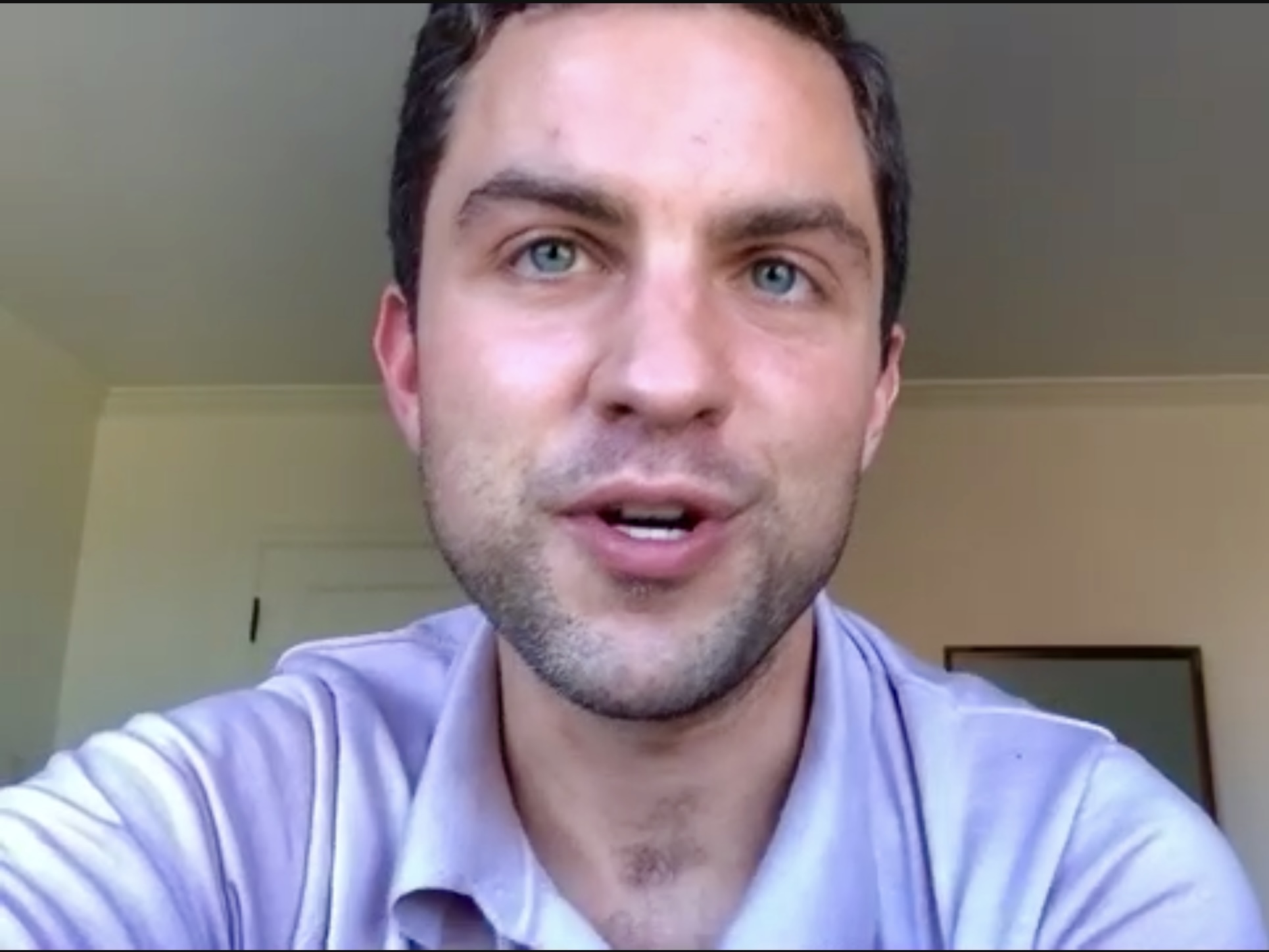 Griffin Gaffney, moderator and co-founder of Here/Say Media. | Image: Steven Bracco/Hoodline
Aiello explained that the Castro CBD received approximately 700-800 responses to its online survey. Results of that survey will be released at an upcoming Castro CBD meeting in May.
"We're reaching out and striving for a lot of community engagement," said Aiello. "We've done a lot to get community feedback."
According to Aiello, the security cameras would be one of three components to the Castro CBD's "3 Way Public Safety Initiative" which also includes its new Public Safety Ambassadors program, and Patrol Special Police.
"All three work together," said Aiello. "It makes a nice whole."
Within the current Castro CBD footprint, Aiello said there are currently 224 separate security cameras that are operated independently. "They have no policies and procedures," said Aiello. "They can do anything they want with the video footage."
Should the Castro CBD approve the proposal, Aiello said this would create "one voice for the community." "With that one voice, we can advocate for the neighborhood and make improvements."
"The cameras provide an unbiased opinion," said Aiello.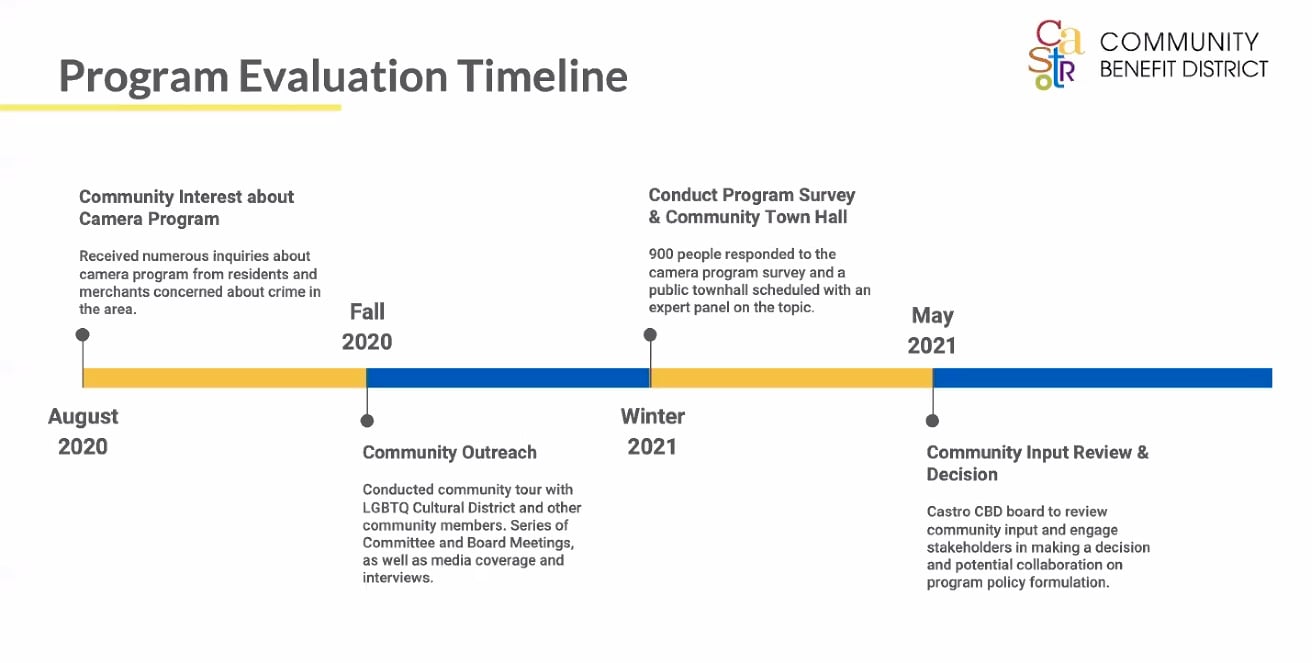 Aiello explained the Castro CBD plans to have transparent policies and procedures with the ability to complete an audit in order to assure they are following them. "We will be looking at policies in coordination with what city policies are regarding video and monitoring," she said. "We need to comply with the city's policies and rules."
Aiello added that only law enforcement, not private citizens, would be able to request access to footage for a documented crime with a case number. Law enforcement would be required to fill out an online form which will then be reviewed by the Castro CBD. Once approved, the Castro CBD will look for the footage and load it up into an online portal for retrieval.
Aiello anticipates installing cameras at hotspots around the Castro including some major intersections like Castro and Market, 16th and Castro, and Church and Market. According to Aiello, each intersection will have anywhere between three to five cameras.
"Cameras aren't political, they don't have a bias," said Ostly, the state's deputy attorney general and a former San Francisco assistant district attorney. "They just show what happened. Video is the most reliable evidence you can use."
Ostly then gave a few examples of how the security cameras have assisted in an investigation including exonerating someone wrongly accused of a crime.
Scott stated that the Fisherman's Wharf CBD currently has 47 cameras in their district. "It's not as restrictive as the Castro is proposing," said Scott. "Cameras provide no bias."
Quan, who manages Japantown's security cameras on a day-to-day basis, said "One of the benefits of the cameras is that it's strengthened our relationship with Northern Station and SFPD in general."
Worthy explained that SF Safe partners with local residents and merchants to allow access to their security cameras.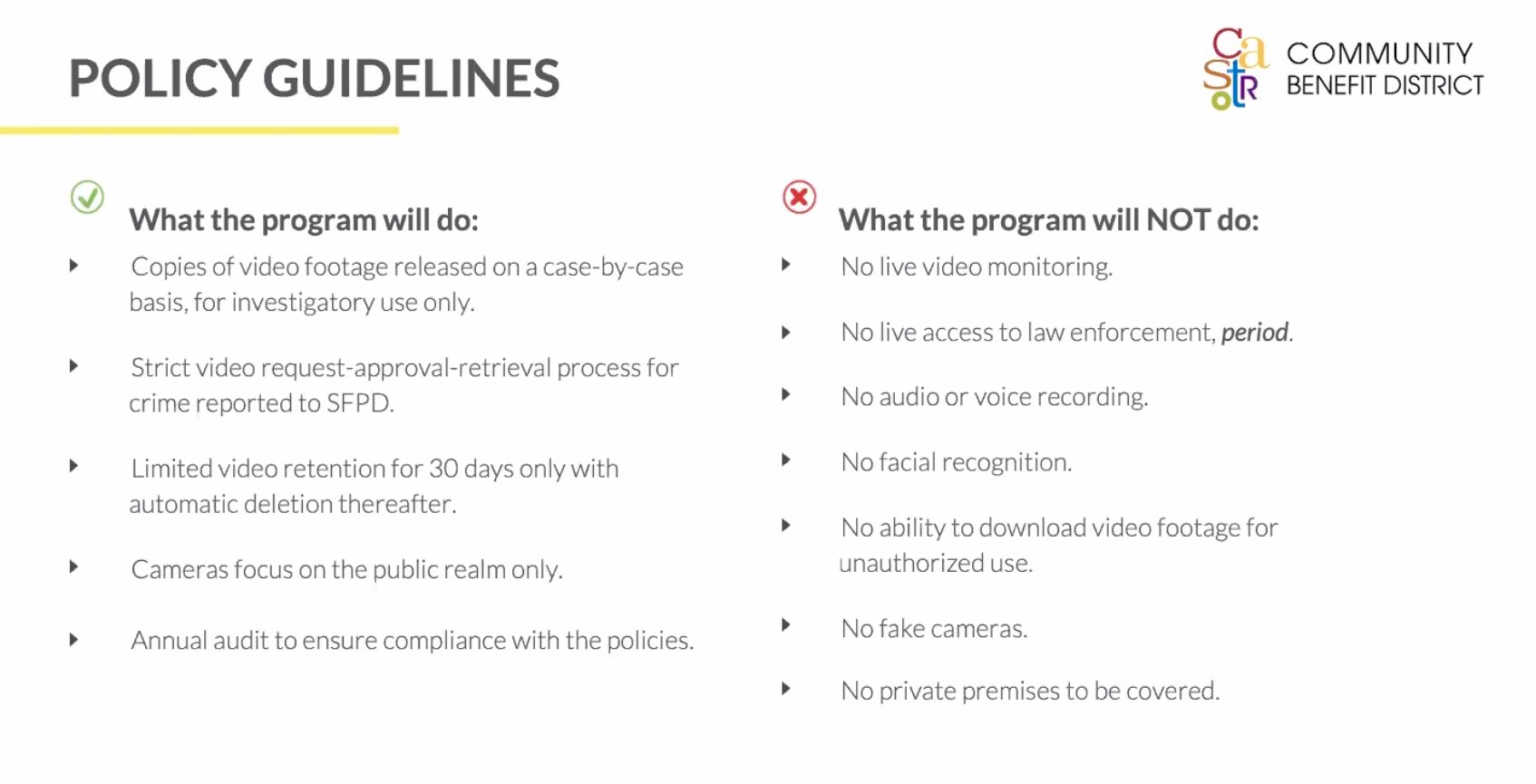 After the panelists finished the floor was open to questions and comments from attendees. Approximately 80 people including Castro CBD board members, panelists, and guests were in attendance.
Many attendees asked why the panel did not include anyone in opposition to the cameras. Aiello explained that at the last minute, a representative from the Castro Queer Cultural District (CQCD) pulled out.
In response, Stephen Torres, CQCD secretary, said, "I'd like to clarify that we withdrew because our requests to include others on this panel and not be the sole voice of opposition were declined."
Torres said the group had requested members from the Harvey Milk LGBTQ Democratic Club, United to the Save the Mission, and a privacy expert from either Electronic Frontier Foundation, American Civil Liberties Union (ACLU), or MediaJustice, also be invited. [Full disclosure: Steven Bracco, Hoodline's Castro reporter, is a board member of the CQCD.]
Crispin Hollings, Castro resident and Castro CBD board member, said that he was also disappointed by the unbalanced panel not giving a formal opportunity to the opposition. "This should be a town hall, not a sell," said Hollings.
Ahead of the meeting, the Alice B. Toklas LGBTQ Democratic Club issued a letter in opposition to the cameras. "We strongly object to the Castro CBD's plan to install 125 privately owned and monitored security cameras across the Castro," the group said. "Queer people and people of color have historically been the victims of targeted violence from law enforcement, and we believe that further eroding our community's privacy will only put our lives in greater danger."
The Milk Club also issued a statement ahead of the town hall in opposition to the cameras, calling the proposal "a sophisticated surveillance network throughout the Castro," and saying, "This is not the way to create an inclusive community discussion about a decision that threatens to impact all of us."
Privacy concerns and constitutional rights were common concerns amongst attendees.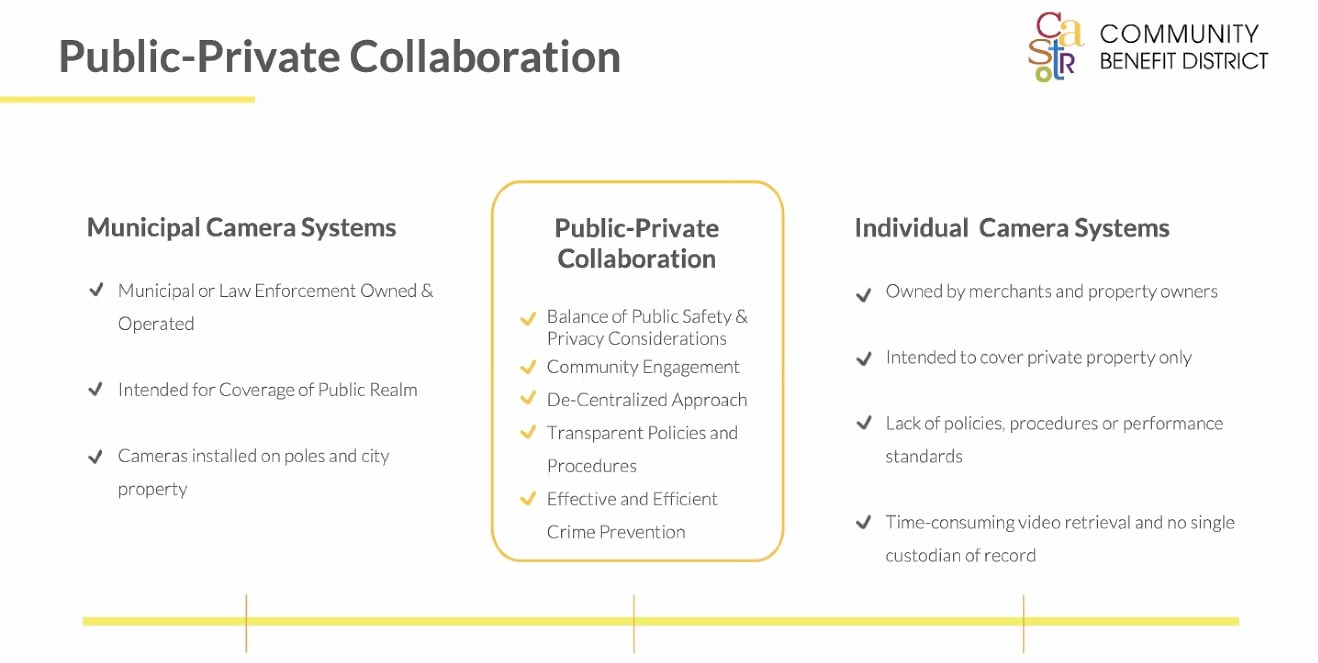 "Once a written request is made, who is making the decision whether to release the footage or not to the SFPD/Sheriff/FBI/District Attorney," asked Alex Lemberg, Eureka Valley Neighborhood Association President. Lemberg asked whether warrants or subpoenas would be required to gain access to the footage and whether the video would be authenticated.
In response to questions about obtaining warrants, Ostly said private business and property owners can always give consent to access their cameras. "They can do what they want with it," said Ostly.
"I haven't seen any evidence to show this footage makes the neighborhood safer, just how to prosecute in court," wrote Cindy Shih.
"I support cameras but the claim that they're 'preventative' is debatable," said Shelah Barr. "We'd be better served with more actual 'preventative' action, like supporting more Police Special who has been invaluable in preventing issues."
"And unless the addition of the Public Safety Ambassadors can really be justified the funds that go to that program should be directed to actively protecting the people who live and work here, and their property," Barr added. "Cameras are necessary, but so is actual active and proactive preventative action."
"San Francisco banned facial recognition cameras in 2019," said Jose Hernandez. "How will the public safety cameras remain in compliance?"
Last year, three protestors along with the American Civil Liberties Union sued the city of San Francisco after police reportedly accessed the Union Square Business Improvement District's network of security cameras to surveil and prosecute protesters and alleged looters during the late May unrest following the killing of George Floyd.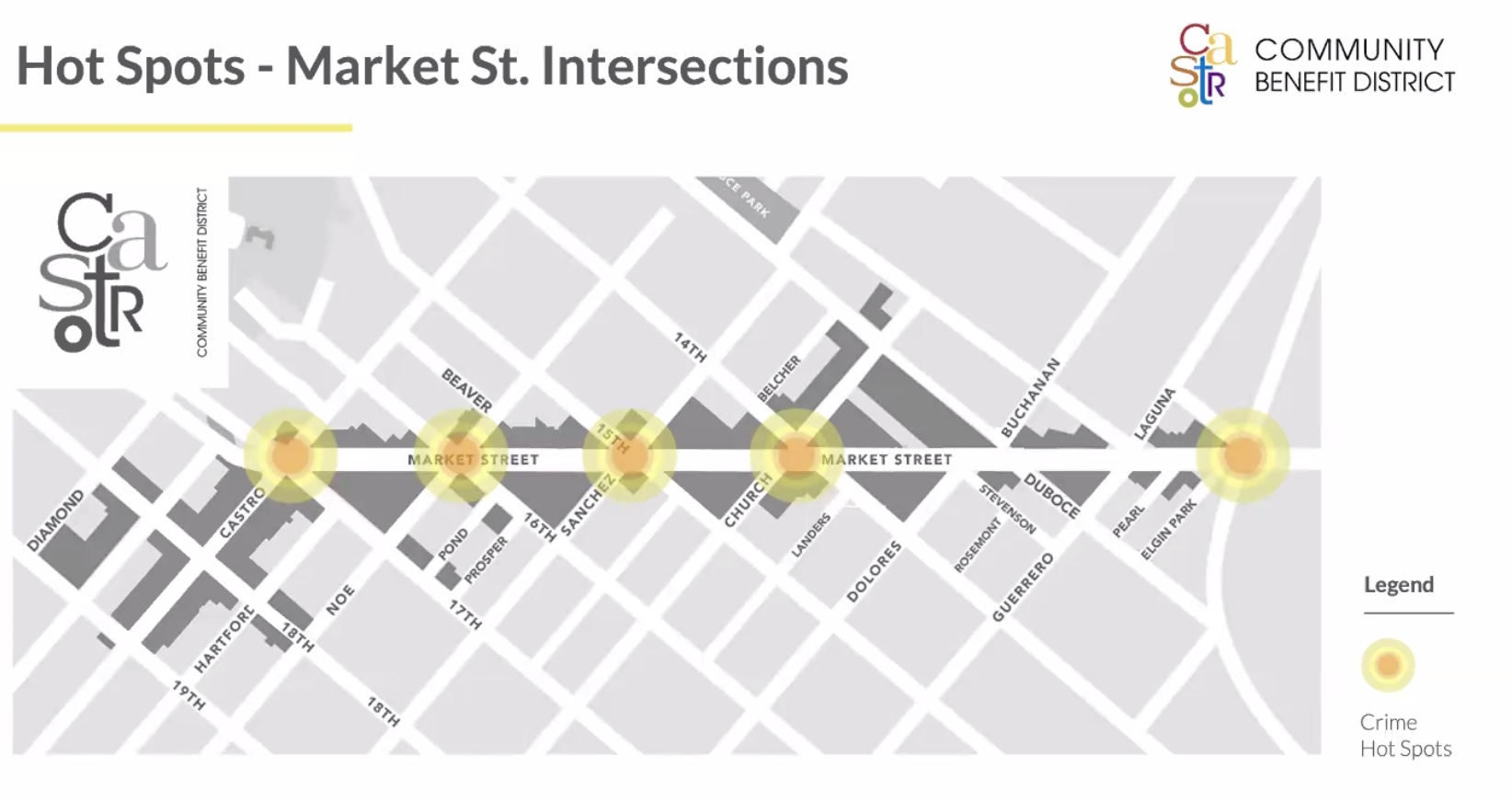 "My biggest concern with regard to any policing of the LGBTQ+ community is informed by the past and the level of threat to weaponizing our queerness to threaten our employment, housing, and other forms of discrimination," Hernandez added. "What makes this effort any different than the police prior to Stonewall riots or The Compton's Cafeteria Riot that occurred in August 1966 where police used entrapment tactics in the not-so-distant past to 'catch' and jail queer folx?"
A Hoodline reporter attending the town hall asked why Larsen, Applied Video Solutions, and District 8 Supervisor Rafael Mandelman were not on the panel or in attendance for the meeting. In response, Aiello said, "[Larsen's] just a philanthropist, we're making the decision." She added, "We've never even met with him."
"The fact that Chris Larsen is not here to represent his role does not inspire trust," wrote Shih.
Other attendees also asked what Larsen's role and interest are in the Castro CBD. Aiello again stated, "He's a philanthropist." Aiello then pointed out that he also recently funded the $1.7 million Avenue Greenlight which recently donated $50,000 to the Castro Merchants.
"We are talking generalities with only representatives that are pro-camera," said Jason Wyman. "That does not create good guidelines for when and when not to release footage."
"We will only release for a documented crime," said Aiello in response. "If there is no crime, no video is released."
"So, for instance if there is simply a march or a demonstration, and the cops want video," Aiello added. "They don't get it."
Midway through the public comment period, an attendee impersonating state Senator Scott Wiener interrupted the call stating, "How do we spell racism, S-F-P-D."
Pat Sahagun, owner of Castro Chevron and Castro CBD Board Member, said that he supports the cameras. "I don't know how to speak negatively about cameras," said Sahagun. Sahagun then shared a story about a recent incident where he was assaulted at his business where cameras helped identify the perpetrator.
"I appreciate that efforts are being made to help mitigate crime in our Castro neighborhood," said Max Sachar. "While cameras can certainly be a way to verify or discredit crimes that have already been committed, I imagine the turnaround time between the crime committed to video verification will be quite lengthy."
"Are there any efforts being made that are more preventative rather than reactive," Sachar asked. Sachar suggested that along with funding the security cameras that Larsen also fund an evening security walk team.
Castro CBD boundary map.
At the end of the meeting the Castro CBD asked attendees to respond to three poll statements:
I feel there will be adequate protection of the privacy of members of the general public who are not part of an incident as victims or perpetrators
My opinion about safety cameras versus privacy
My opinion about the proposal to install safety cameras with a well-managed camera program with no direct access to the police or the public is
In response, Markoff said, "The poll is highly flawed. There is no evidence that the cameras lead to safety."
"I agree that this poll is very biased and makes a lot of weird assumptions," said Bob Letters.
"Is the aim 'how can we work together to install cameras' or 'are cameras good for the Castro'," asked Wyman. "Those are not the same questions and it feels like we are being strong-armed into figuring out how to put up more cameras."
Public comment went on until 8 p.m., at which point the Castro CBD ended the meeting with many attendees not having a chance to speak.
Going forward, Aiello said she plans on holding a meeting with the Milk Club, CQCD, and United to Save the Mission.
The next meeting about the cameras will be on April 29 at 10 a.m. at the Castro CBD's Services Committee. The virtual meeting is open to the public.