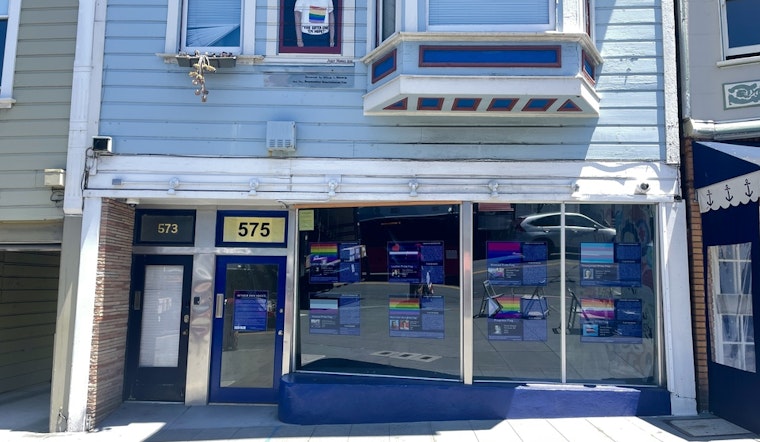 Published on June 04, 2021
On Tuesday the Gilbert Baker Foundation in partnership with the GLBT Historical Society unveiled a new Pride Flag pop-up art exhibit "In Their Own Voices" at Harvey Milk's former camera shop at 575 Castro Street.
Gilbert Baker Foundation president Charley Beal announced the art exhibit at yesterday's monthly meeting of the Castro Merchants.
Beal, a longtime friend of Gilbert Baker, said the exhibit would be up throughout Pride Month. The art exhibit was unveiled on what would have been Baker's 70th birthday.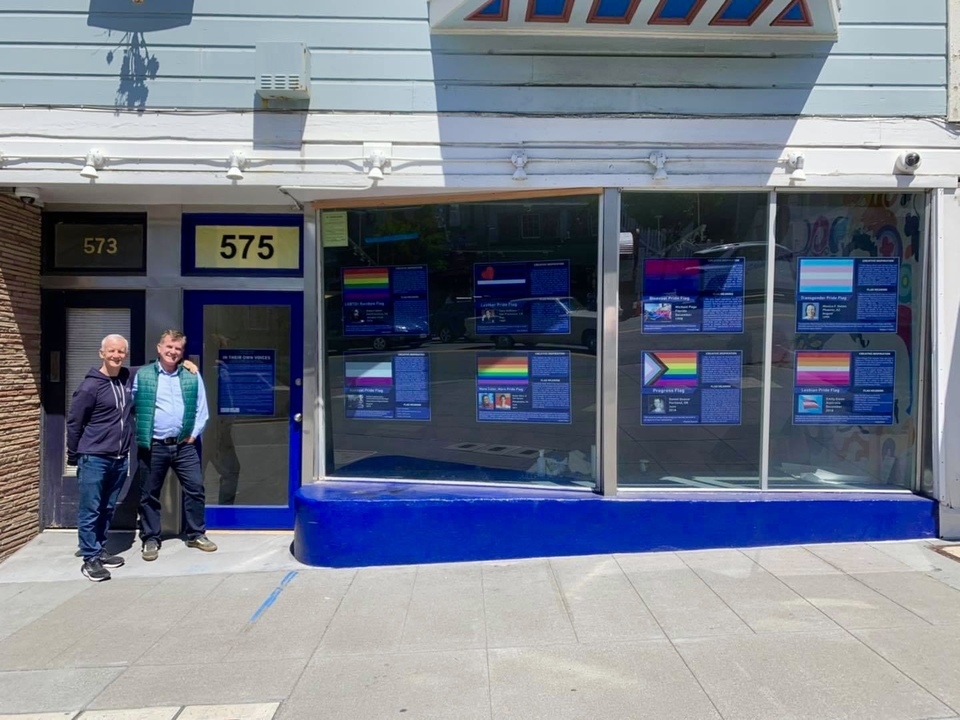 Gilbert Baker Foundation's Charley Beal (left) and GLBT Historical Society's Terry Beswick (right). | Photo: Gilbert Baker Foundation/Facebook
The Human Rights Campaign (HRC) merchandise store closed in March after over a decade in the space. The GLBT Historical Society and the National Parks Conservation Association are currently exploring the idea of the store becoming a National Park Service Site.
The same exhibit is also on display inside New York's Stonewall Inn, which was the site of the 1969 protests and birthplace of the modern LGBTQ civil rights movement. In 2016, Stonewall became the first LGBTQ National Monument.
The art exhibit celebrates the community of different Pride flags that have been created since Gilbert Baker first made the Rainbow Flag in 1978. Baker passed away at his home in New York City in 2017 at the age of 65.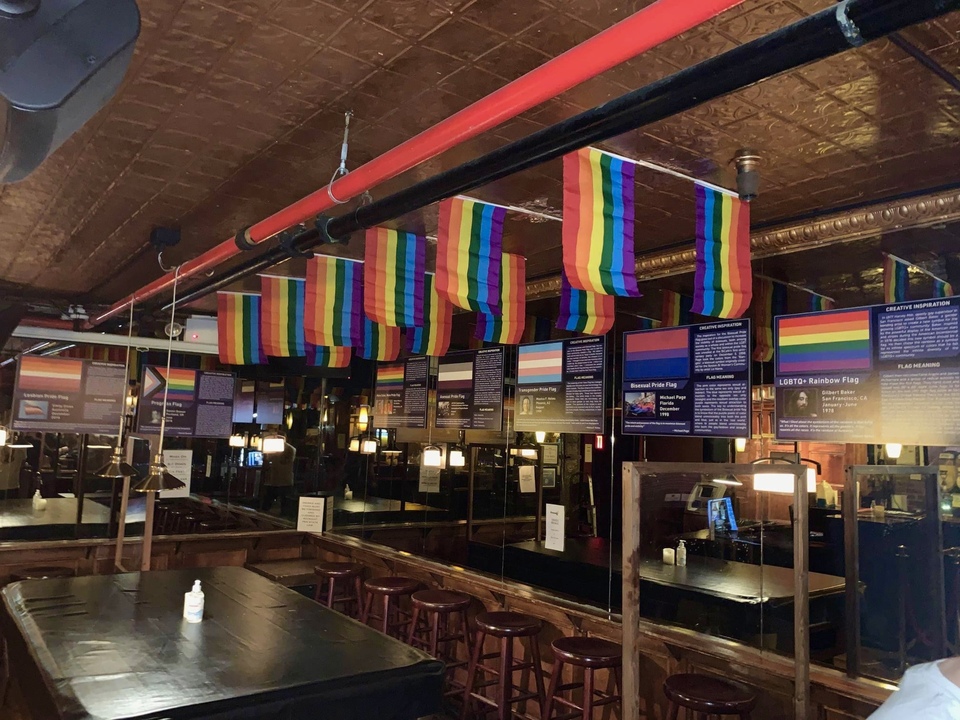 'In Their Own Voices' at Stonewall Inn. Photo: Gilbert Baker Foundation/Facebook
The eight flags include; Baker's Rainbow Flag, AVEN Community's Asexual Pride Flag, Tony DeBlase's Leather Pride Flag, Amber Hikes and Teri Gerbec's More Color, More Pride Flag (Philadelphia Flag), Michael Page's Bisexual Flag, Daniel Quasar's Progress Pride Flag, Monica F. Helms' Transgender Pride Flag, and Emily Gwen's Lesbian Pride Flag.
During the meeting, Beal said people often ask which flag they should fly, and he says, "Fly the flag that speaks to your soul. There is room in the sky for all of them."
The window display consists of eight Pride Flags and includes the history, inspiration, and meaning of each flag by its respective creator(s).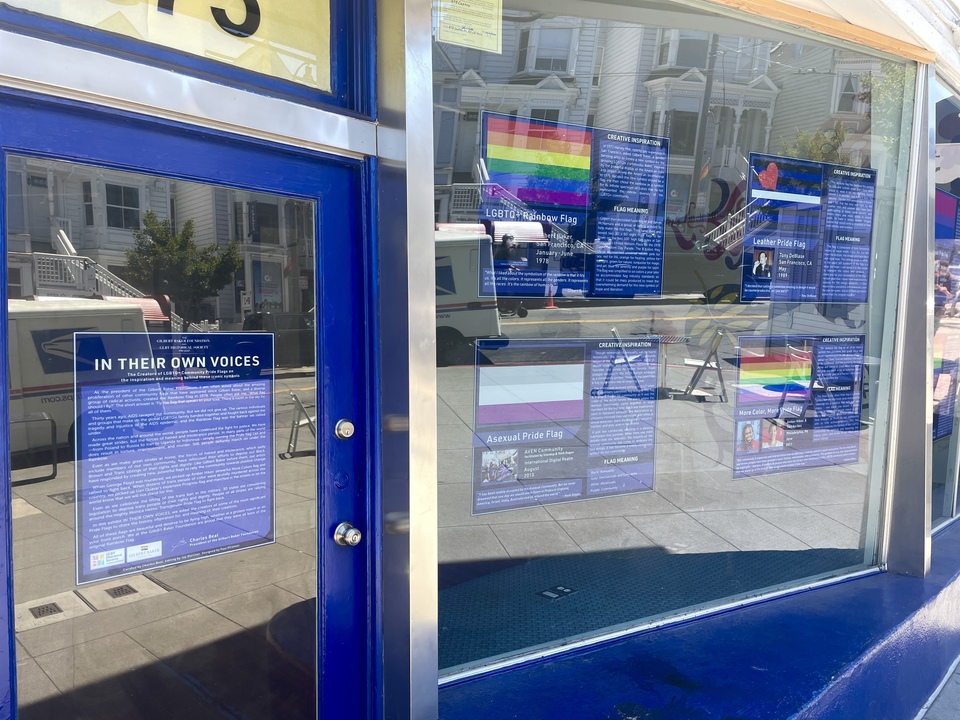 Photo: Steven Bracco/Hoodline
"Even as we make great strides at home, the forces of hatred and intolerance, which sadly include members of our own community, have refocused their efforts to deprive our Black, Brown, and Trans siblings of their right and dignity," said Beal.
"Like Gilbert Baker before them, our artists have responded by creating new, powerful flags to rally the community towards positive change," added Beal.
"All of these flags are beautiful and deserve to be flying high, whether at a protest march or on your front porch," said Beal. "We are the Gilbert Baker Foundation are proud that they were all born of the original Rainbow Flag."
The art exhibit coincides with tomorrow's reopening of the GLBT Historical Society Museum. On Tuesday Mayor London Breed announced she was seeking $12 million for the city to build an LGBTQ museum.
Today the GLBT Historical Society will unveil a 10 by 28-foot segment of one of the two original eight-color Rainbow Flags flown on June 25, 1978 at United Nations Plaza for the San Francisco Gay Freedom Day Parade (now San Francisco Pride).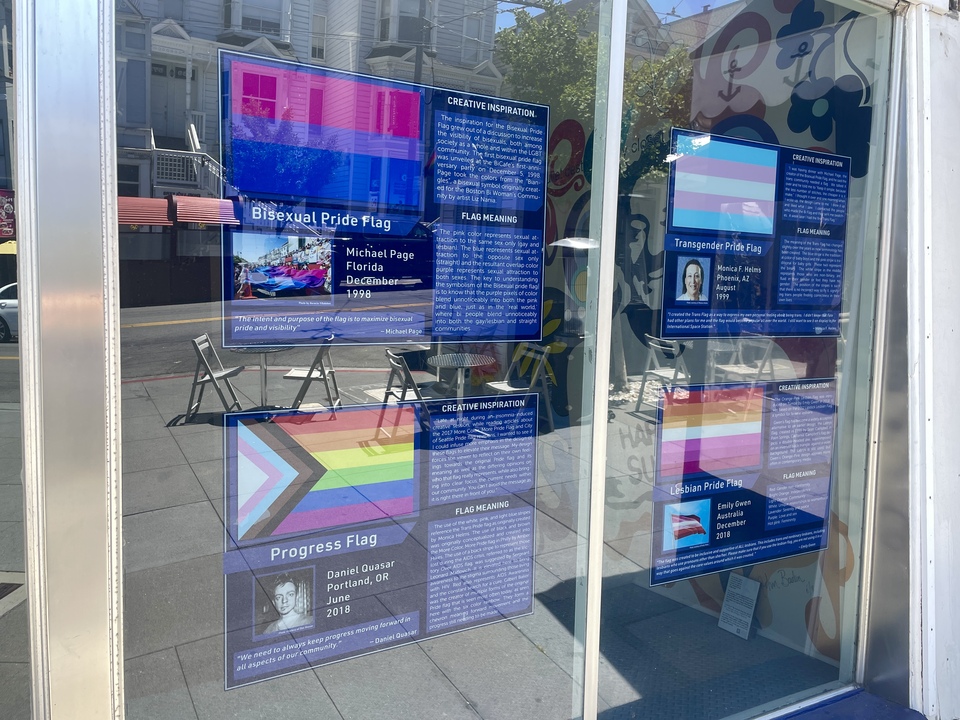 Photo: Steven Bracco/Hoodline
Recently in the Castro, there has been a call for the Rainbow Flag at Harvey Milk Plaza to be replaced with either the Daniel Quasar Progress Pride Flag or the Philadelphia Flag (More Color More Pride).
The large flagpole flying Baker's Rainbow Flag was added to Harvey Milk Plaza in 1997. It was raised on November 7, the 20th anniversary of Milk's election win, and has become a worldwide symbol of LGBTQ+ pride.
In addressing those recent calls, Beal said that he supports the diversity of symbols around the Castro but Gilbert Baker's Rainbow Flag at Harvey Milk Plaza must remain.
"I support the idea that these symbols should be in the Castro," Beal told Hoodline. "Maybe people see themselves more in other symbols."
"Gilbert's flag is a human values flag," added Beal. "There's no L-stripe, G-stripe, B-stripe, T-stripe, or Q-stripe."
"It is always open to new identities. All these other flags are identity flags," Beal says. "I think Gilbert's flag is the most diverse and inclusive symbol in the world. Once you have your stripes related to identity you're going to exclude somebody."
In 2017, former District 8 Supervisor Jeff Sheehy's attempt to landmark Gilbert Baker's Rainbow Flag was unsuccessful due to a Historic Preservation Commission requirement that landmarks be a minimum of 25 years old. Next year the flag and flag pole will qualify for landmark status.
Beal tells Hoodline for the past six months he's been working on landmarking the flag. Beal says he's met with representatives from both District 8 Supervisor Rafael Mandelman and Mayor London Breed's office.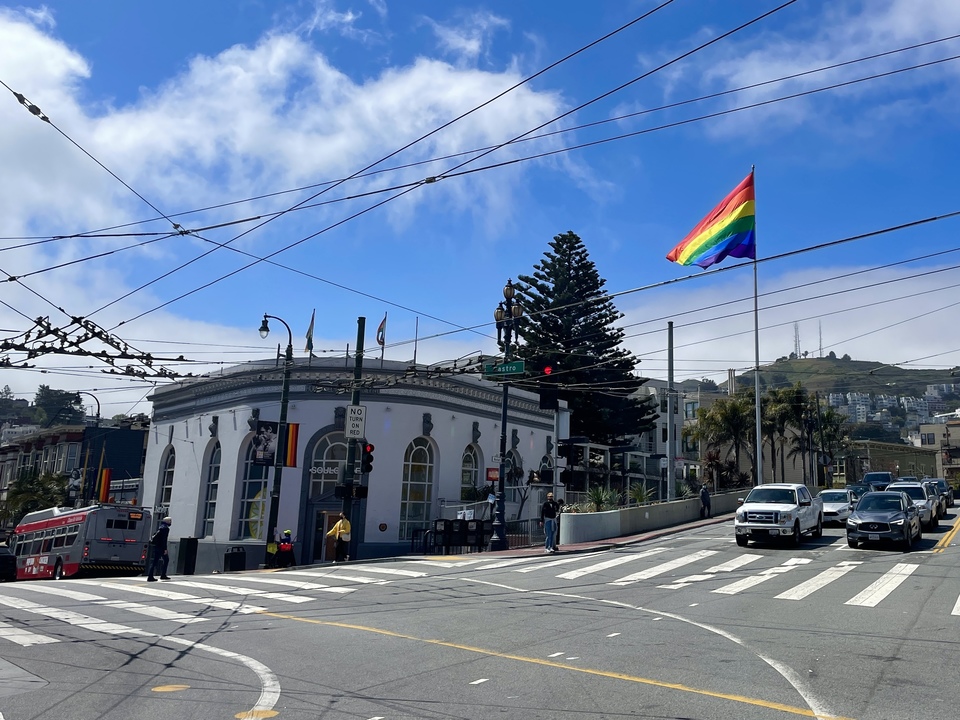 Rainbow Flag at Castro Station and Harvey Milk Plaza. | Photo: Steven Bracco/Hoodline
Beal acknowledged it's likely that the flag and flagpole will need to come down should the Friends of Harvey Milk Plaza be successful with its proposal to remodel the plaza. During that time Beal would like to see a temporary flag pole installed. According to Beal, the plaza redesign might present the opportunity to install additional flag poles to fly other Pride flags.
Beal also announced that the Gilbert Baker Foundation had recently secured $5,000-$7,000 in grant funding to pay for the annual maintenance and replacement of the Rainbow flag and flagpole in perpetuity. At this time Beal declined to disclose the source of the funding.
Maintenance and replacement of the Rainbow Flag and flag pole was previously overseen by the late Tom Taylor and Dr. Jerry Goldstein's Diversity Foundation. Purchasing the flags was funded through donations from the Castro Street Fair, memberships dues, grants, and film crews (h/t daddyinsf).