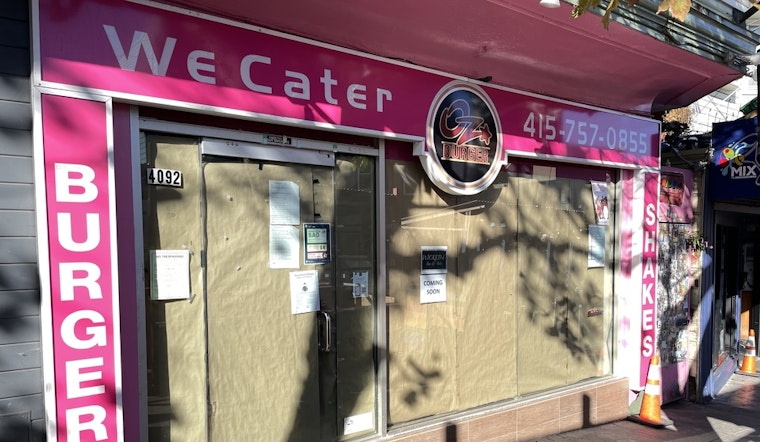 Published on November 01, 2021
Oz Burger (formerly Quicky Burgers) has shuttered after two years at 4092 18th St. and will soon become Wicked 6 Bar & Bites, under the same ownership.
As Hoodline reported at the time, the burger shop opened in 2019 in the former Chocolate Chair and Easy Breezy space.
Owner Onur "Oz" Ozkynak tells Hoodline he'll be pivoting the space in the coming weeks to become Wicked 6 Bar & Bites. Ozkynak also owns nearby Oz Pizza (508 Castro St.)
Oz Burger's closure comes on the heals of Thai restaurant and brunch spot Me & Tasty (3970 17th St.) closing last week.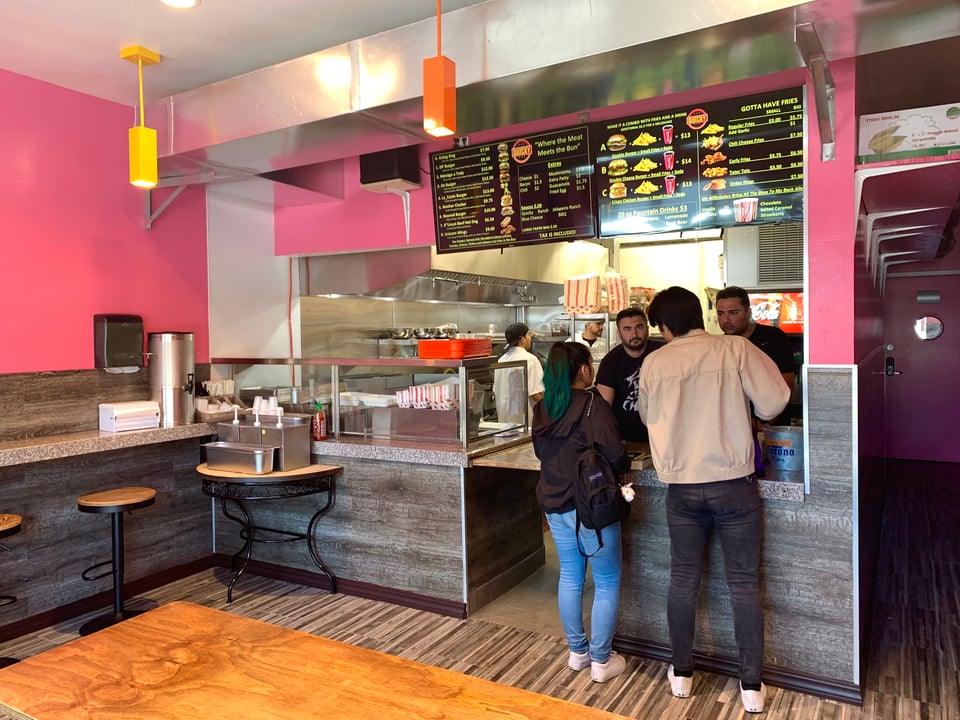 Oz Burger is now closed at 4092 18th St. (2019). | Photo: Steven Bracco/Hoodline
"The only reason I kept it open was to support my employees," said Ozknak. "All my suppliers doubled the prices and people started complaining about my prices."
Public records indicate Oz Burger received two Paycheck Protection Program (PPP) loans from the Small Business Administration. Oz Burger received $23,300 in April 2020 and $32,659 in January 2021.
"Instead of losing money, I've decided to make people happy and sell cocktails and fancy bar bites," added Ozkynak.
According to Ozkynak, Wicked 6 will look similar to nearby Lark. "I'd like to offer more martinis and craft cocktails as well as fancy bar bites to be different than other bars."
Menu items will include rosemary, pineapple, and mozzarella bites, crispy chicken wings, Mexican street corn shrimp, baked oysters with bacon and spinach, rosemary beef tenderloin skewers, fish and chips, a BBQ pork sandwich, and a Beyond burger.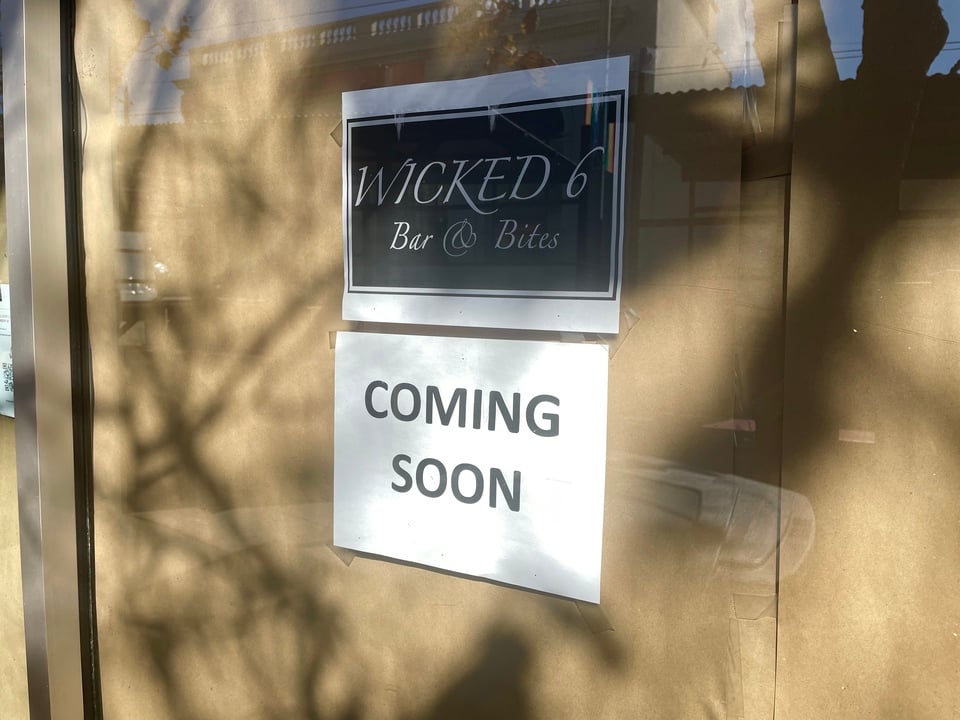 Sign in the window announcing Wicked 6 Bar & Bites. | Photo: Steven Bracco/Hoodline
Ozkynak tells Hoodline he's waiting for permit approvals to start construction and plans to open after Thanksgiving weekend.
Public records indicate a permit has been filed to reconfigure the floor plan and install an ADA-compliant countertop. Construction costs are estimated at $7,000.
Ozkynak says he transferred his Type 75 liquor license permit to 4092 18th St. back in July. Officially categorized as a brewpub, the liquor license will allow Wicked 6 to brew beer along with serving hard alcohol.
As reported by the San Francisco Chronicle in 2015, many San Francisco restaurants have taken advantage of the brewpub loophole, which permits the sale of distilled spirits as well as beer and wine, and is far easier and cheaper to get than one of the city's "on-sale general" liquor licenses. Castro restaurants Bhoga and Lark also operate with brewpub licenses, and serve cocktails.
Last month, the Bay Area Reporter reported on District 8 Supervisor Rafael Mandelman's proposed legislation to allow additional bars in the Castro. SF Planning code does not currently allow new bar in the Castro Street Neighborhood Commercial District.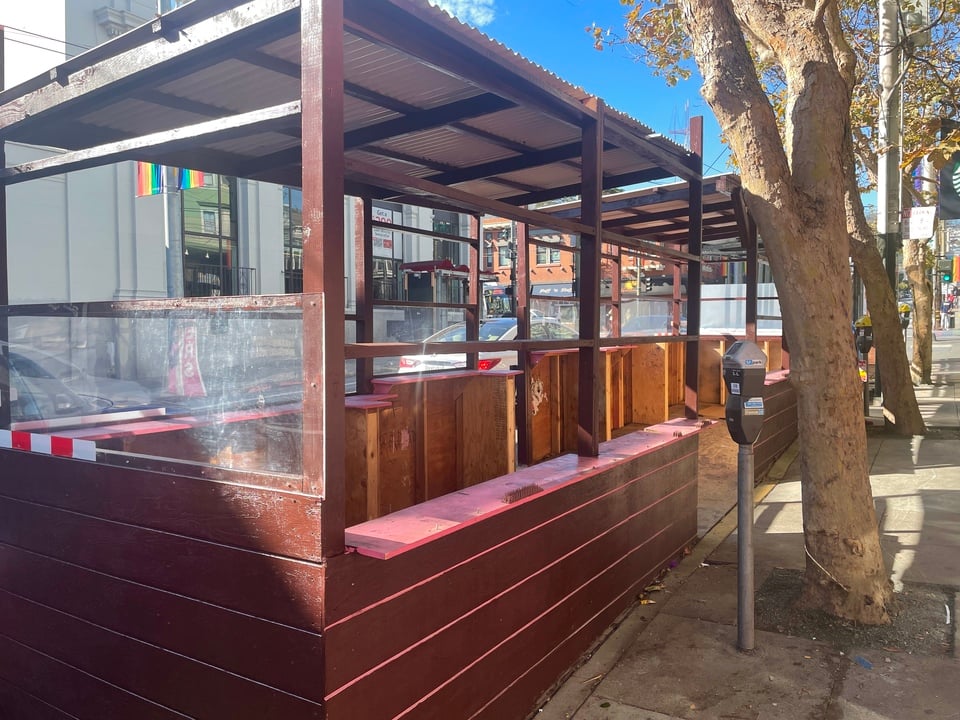 Shared Spaces platform outside Oz Burger. | Photo: Steven Bracco/Hoodline
In order to make more space, Ozkynak says he'll be converting his Shared Spaces platform into an outdoor dining room.
Wicked 6 will be open Sunday to Thursday from 4 p.m. to 12 a.m. and open 4 p.m. to late on Fridays and Saturdays. Happy hour will be daily from 4 p.m. to 6 p.m.