Last week, the Rainbow Honor Walk announced 24 new LGBT luminaries who'll be honored with street plaques in the Castro.
The new inductees will join the initial 20 plaques, which were originally dedicated back in September 2014 as part of the Castro Street Improvement Project.
To date, the Rainbow Honor Walk has installed 36 plaques with another previously chosen eight plaques scheduled to be installed later this spring. The second phase of honorees was announced in 2016.
Honorees must be both deceased and self-identified as members of the LGBT community.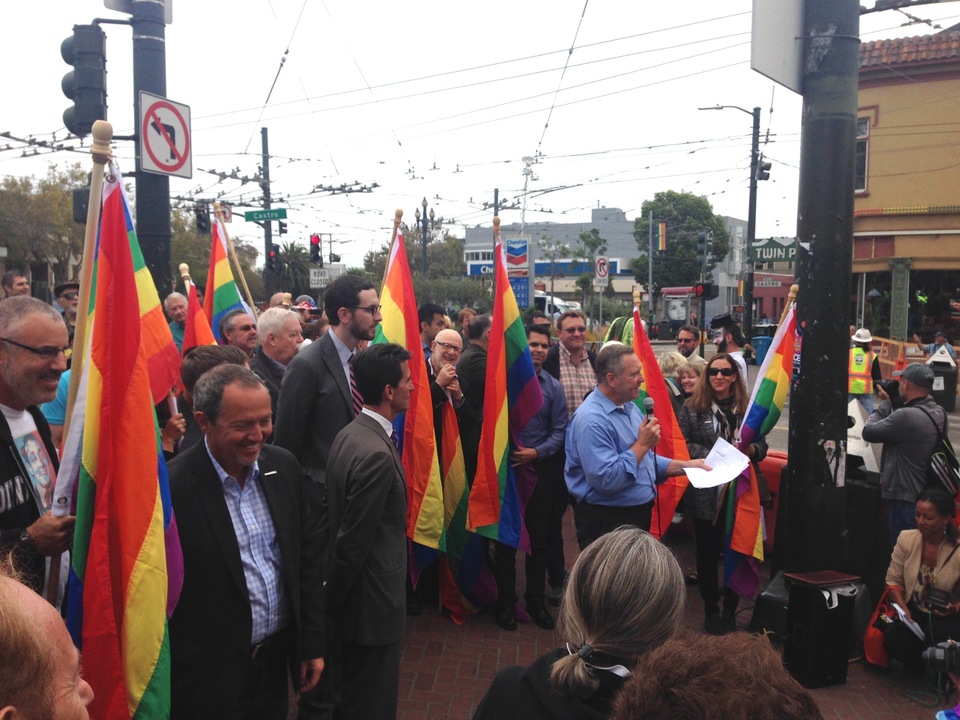 Rainbow Honor Walk co-founder and former president David Perry (center) at the 2014 commemoration ceremony. | Photo: Steven Bracco/Hoodline
"We continue to find inspiration and strength from the lives of LGBTQ pioneers," said Rainbow Honor Walk board president Donna Sachet in a release. "In this diverse group of names, some are quite famous and others not as well-known."
The Rainbow Honor Walk previously announced Phyllis Lyon, the world-renowned San Francisco-based activist for lesbian rights and visibility, would be honored with a plaque.
In 2013, The Rainbow Honor Walk honored Lyon's lifelong partner, Del Martin, with a bronze plaque in its first round of sidewalk tributes. According to the Rainbow Honor Walk, the board is working with the San Francisco Department of Public Works to install Lyon's plaque in close proximity to Martin's on 19th Street, between Castro and Collingwood Streets.
"As we review hundreds of names for inclusion, we seek to honor individuals from a wide range of careers and across a great span of history to highlight contributions that have truly changed the world," added Sachet. "The process of doing this, especially during the ongoing pandemic, has only strengthened the love and appreciation we feel for our far-flung community."
The third class of inductees includes Gilbert Baker, creator of the Rainbow Pride Flag, co-founder and publisher of the Bay Area Reporter Bob Ross, founder of the San Francisco Gay Freedom Day Marching Band Jon Reed Sims, founding member of the Gay Liberation Front and 'Mayor of Christopher Street' Marsha P. Johnson, and LGBT rights activist Edith Windsor.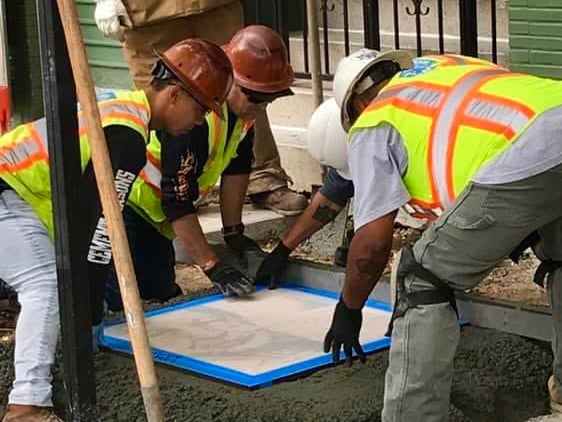 SF Public Works employees installing plaque honoring W.H. Auden (2019). | Photo: Rainbow Honor Walk/Facebook
Activist inductees include HIV/AIDS activist Bobbi Campbell, Argentinian activist Carlos Jáuregui, LGBT rights activist and playwright Larry Kramer, transgender activist Leslie Feinberg, and martyred Bangladeshi human rights activist Xulhaz Mannan.
Artist inductees include filmmaker Peter Adair, Tejana-Chicana author Gloria Anzaldua, 'ambisextrous' stage and screen actress Tallulah Bankhead, painter Bernice Bing, director Esther Eng, playwright Lorraine Hansberry, Harlem-based singer and jazz legend Billie Holliday, poet Langston Hughes, filmmaker Marlon Riggs, and musician Sophie Xeon.
Additional inductees include physician and sexologist Magnus Hirschfeld, California stagecoach driver Charley Parkhurst, and physician and author Oliver Sacks.
The Rainbow Honor Walk board will now need to turn its focus to fundraising the approximately $144,000 to install the plaques. Each plaque costs nearly $6,000 to fabricate and install.
Eight remaining plaques from the second phase of inductees are scheduled to be installed this spring. Sachet tells Hoodline plaques yet to be installed honor film historian Vito Russo, Stonewall Inn protester and co-founder of the Gay Activist Alliance Sylvia Rivera, Air Force veteran Leonard Matlovich, drag queen Divine, American pianist and singer Gladys Bentley, author and illustrator Maurice Sendak, radical feminist Audre Lorde, and English writer Quentin Crisp.
The locations of where the new plaques will be installed were not announced.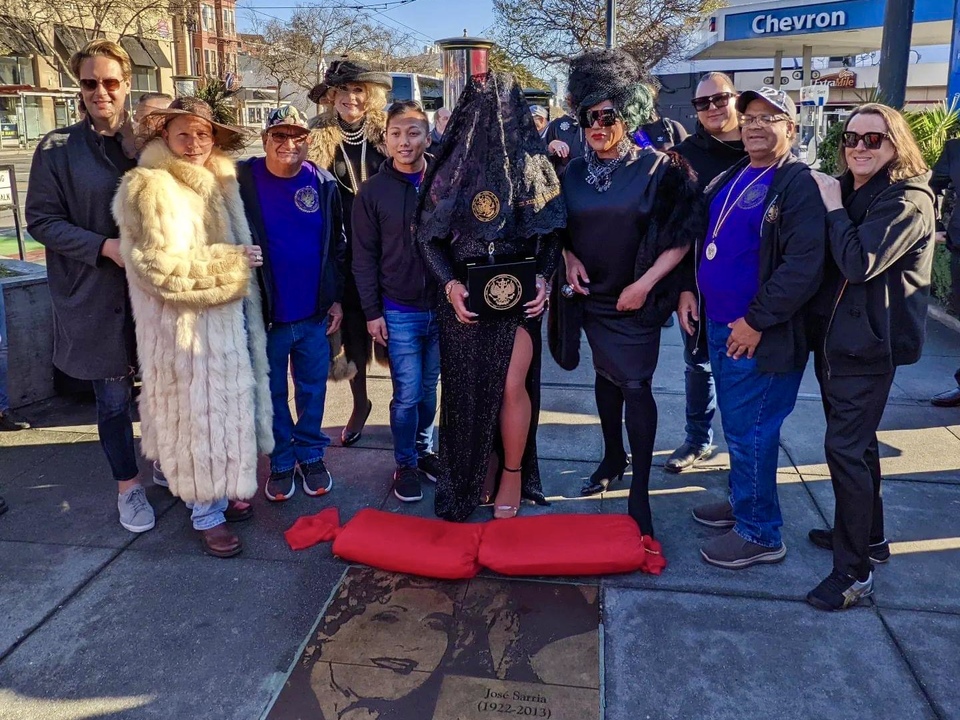 Members of the Imperial Council of San Francisco including Donna Sachet, Khmera Rouge (Coma Te), Empress Ehra Amaya, and Juanita More. | Photo: Khmera Rouge/Facebook
Additionally, former Public Works spokesperson Coma Te announced at the October Castro Merchants meeting that seven of the plaques previously installed will be readjusted.
"The movement of seven plaques is simply to align them correctly with others already in place or is necessitated by city concerns for plumbing or other underground technicalities," Sachet told Hoodline at the time.
Sachet and project co-founder David Perry did not respond to Hoodline's request to provide a list of which plaques need to be realigned.
Hoodline readers will recall this isn't the first time the plaques have needed alterations. When the original 20 plaques were installed, they were beset with spelling and grammar errors, which caused some controversy. Oscar Wilde's plaque included a reference to his 'bitting wit,' instead of 'biting,' and Christine Jorgensen's used the word 'transgendered' instead of transgender.
The two plaques with mistakes were quickly destroyed and replaced with the proper plaques at no cost to the Rainbow Honor Walk.
Update 3/7:
Rainbow Honor Walk board president Donna Sachet tells Hoodline the plaques that need to be readjusted are along the 2300 block of Market St. The plaques honor Sally Ride, Fereydoun Farrokhzad, Barbara Jordan, Kiyoshi Kuromiya, Rikki Streicher, Glen Burke, and We'Wha.
"[T]hese adjustments are deemed necessary by DPW as part of the Upper Market Street Safety Improvement Project and will correct some slight alignment errors with other plaques," said Sachet.