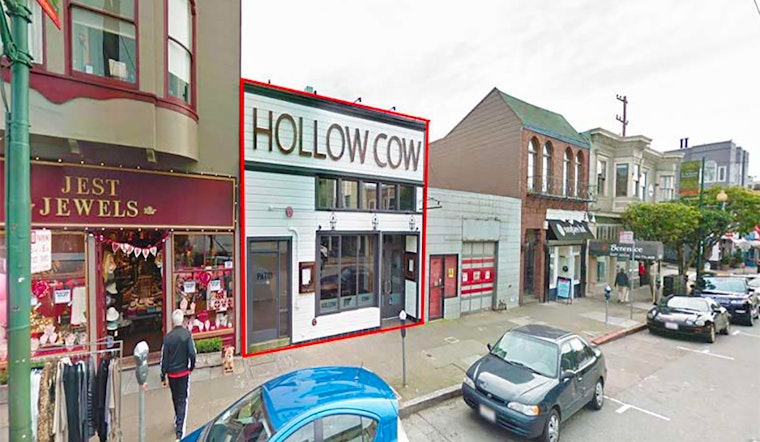 Published on April 11, 2022
There's a taker for the large bar-restaurant space at 1875 Union Street that was formerly known as Hollow Cow and Lightning Tavern, and it's called Sacred Taco — or at least that's the DBA name on a new registration with the city, as the SF Business Times reports.
The owner of Sacred Taco is listed as Sean P. Coyne, and neither Hoodline nor the Business Times has yet reached Coyne for details.
The space on Union Street is quite large, with room for 105 seats indoors and more on an 864-square-foot back patio, and a full liquor license was for sale alongside a recent listing for the property.
Hollow Cow was not a pandemic casualty, but actually closed in 2019. At the time, the owners cited "challenges that come with owning a restaurant on Union Street (labor costs, over-regulation, declining foot traffic, high rent, difficult neighbors, and the growing popularity of the food delivery services)."
As Lightning Tavern, the business was originally opened by the Tonic Nightlife Group, that at one point ran a half-dozen bars and restaurants around the city including Polk Street establishments Bullitt and Tonic. The group sold Lightning Tavern in 2017, and their only two remaining bars are Soda Popinski's in Polk Gulch, and Teeth in the Mission — but in 2020 they expanded into cannabis with the California Street Cannabis Company.
The SF Business Times notes that the opening of a new business at 1875 Union is good news for Cow Hollow, which had a spate of retail vacancies in the last couple of years, some of which are soon coming back to life. These include the new MedMen cannabis dispensary at 1861 Union, which opened its doors last month.