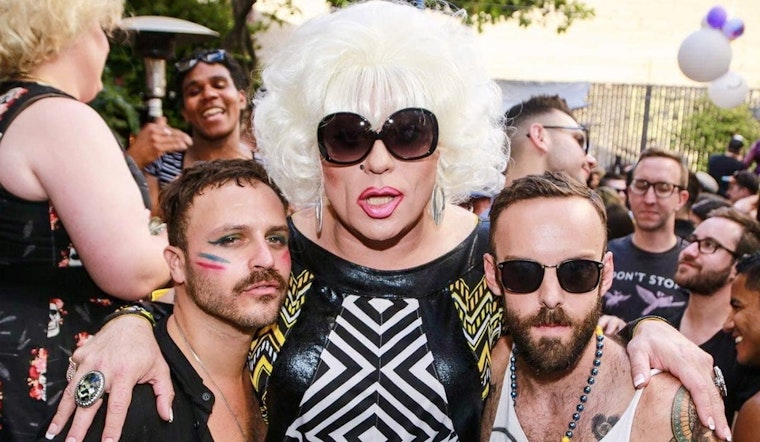 Published on April 04, 2023
On Monday, San Francisco drag icon, club owner, and LGBTQ community leader Heklina passed away unexpectedly. Social media has since seen an outpouring of grief from friends and fans.
Heklina, a.k.a Stefan Grygelko, was on tour with longtime friend and collaborator Peaches Christ in London. Peaches shared the news Monday afternoon (Monday evening in London) on Facebook.
"I am shocked and horrified to bring this news to you," wrote Peaches. "I am living in a real-life nightmare so forgive me if I don't have all the answers just now. This morning, in London, England I went to collect my dear friend Heklina, who is costarring with me in a Mommie Queerest show here, and found her dead."
Peaches, a.k.a. Joshua Grannell, and Heklina had both arrived in London several days ago for a two-week engagement of their show Mommie Queerest set to premiere April 12 at the Soho Theatre.
A cause of death has not been announced at this time. "I know this is shocking news and I am beyond stunned, but I wanted to let folks know what has happened," said Peaches. "Heklina is not just my best friend, but a beloved icon of our community."
"I am utterly heartbroken, stunned, and focusing on what needs to get done next. I shall be in touch," added Peaches.
Grygelko was born in Minneapolis, grew up partly in Iceland, and came to San Francisco in the early 1990s, first working as a barback and bartender at SoMa's The Stud. It was at The Stud and The EndUp that Heklina launched multiple club nights including Trannyshack. That club, and its annual Miss Trannyshack pageant, helped launched the drag careers of many local drag stars. The club featured theme nights that honored everyone from Beyonce to Siouxie and the Banshees, and played host to guests like Lady Gaga (in 2008), Charro, Sharon Needles, Jinkx Monsoon, and many others.
Trannyshack moved on to bigger venues and became a monthly party before changing names in 2014 to Mother due to sensitivity in the queer community over the once-tongue-in-cheek name.
As news of Heklina's passing spread across social media, remembrances and tributes of the drag legend rolled in from across the drag and LGBTQ+ community. Castro residents also hung pictures and posters of Heklina at the memorial wall at 18th and Castro Streets outside the Bank of America.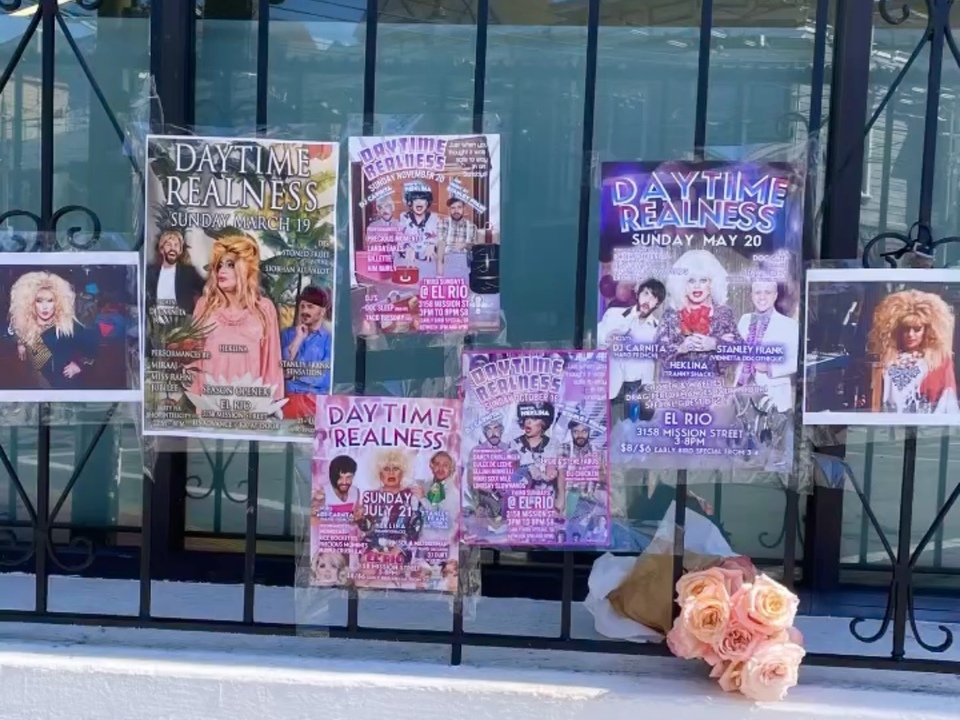 Memorial wall outside the Bank of America at 18th and Castro streets. | Photo: Christopher V./Hoodline
"San Francisco drag would not be the drag you see now without Heklina," says former business partner and longtime collaborator D'Arcy Drollinger, the owner of Oasis, speaking to KPIX Monday night. "This is a perfect example of how drag can help people. She let so many people shine, people that maybe would not have found themselves by giving them that opportunity." Drollinger and Heklina opened cabaret and nightclub Oasis in 2015, but Heklina divested herself of the business in 2019.
Heklina was just in San Francisco two weeks ago to launch the season opener of Daytime Realness at El Rio. Heklina, who moved to Palm Springs in 2019, continued to come to San Francisco for monthly, from March to October, for the party which launched 12 years ago.
"We are heartbroken," wrote Daytime Realness co-hosts Stanley Frank and Tom Temprano in a joint statement. "Spending these past twelve years concocting joy and nonsense alongside Heklina at Daytime Realness was even more fun for us than it was for all of you who came and danced with us every month."
"It feels like a bad joke to have a friend, partner, mentor, and the funniest fucking person I've ever met not be here anymore, " added Temprano. "San Francisco loves you Heklina."
"Without Heklina I don't exist, and I know I stand at the back of a very very very long line of queens who can say the same thing," wrote Raya Light. "Sending you all so much love and one gigantic cackle to the skies!"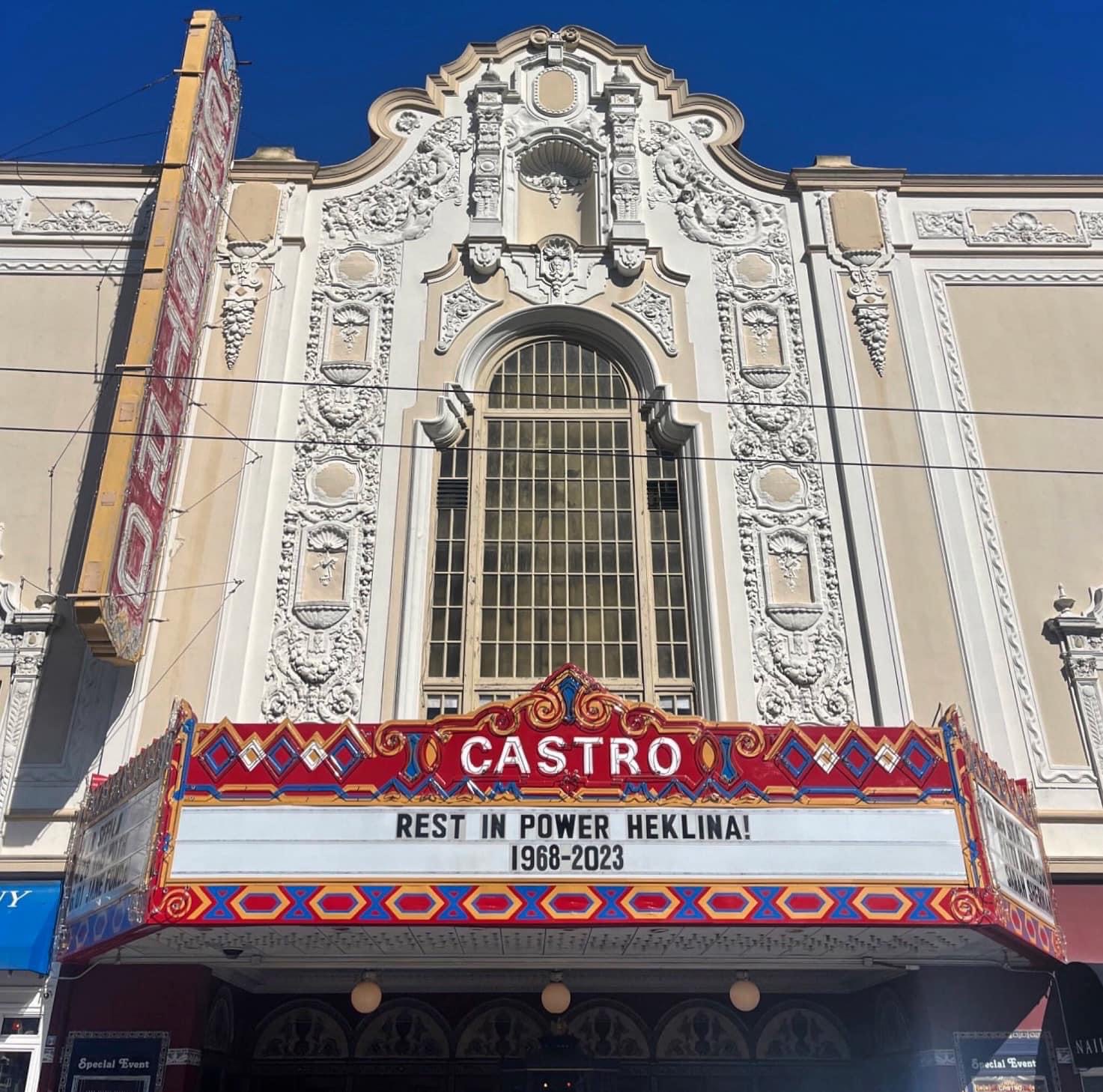 Castro Theatre memorial to Heklina. | Photo: Castro Theatre/Facebook
"This doesn't feel real," wrote Sister Roma. "I'm stunned. I'm confused. I'm heartbroken."
"Rest well, old gal," wrote Juanita More.
"I will cherish every rotted moment we shared together," added Bianca Del Rio.
"I'll miss that funny bitch," said Lady Bunny.
"I do not know how to process this," wrote Honey Mahogany. "Truly a legend who has changed the landscape of drag forever."
"[Heklina] was pivotal in helping to create what is now celebrated as San Francisco drag," wrote the Castro LGBTQ Cultural District. "She was a patron and innovator and her impact will be felt for generations in the LGBTQ community."
"A legend has left the building," wrote Q Bar co-owner Cip Cipriano. "So many memories over the past 3 decades, damn she could make me laugh my ass off."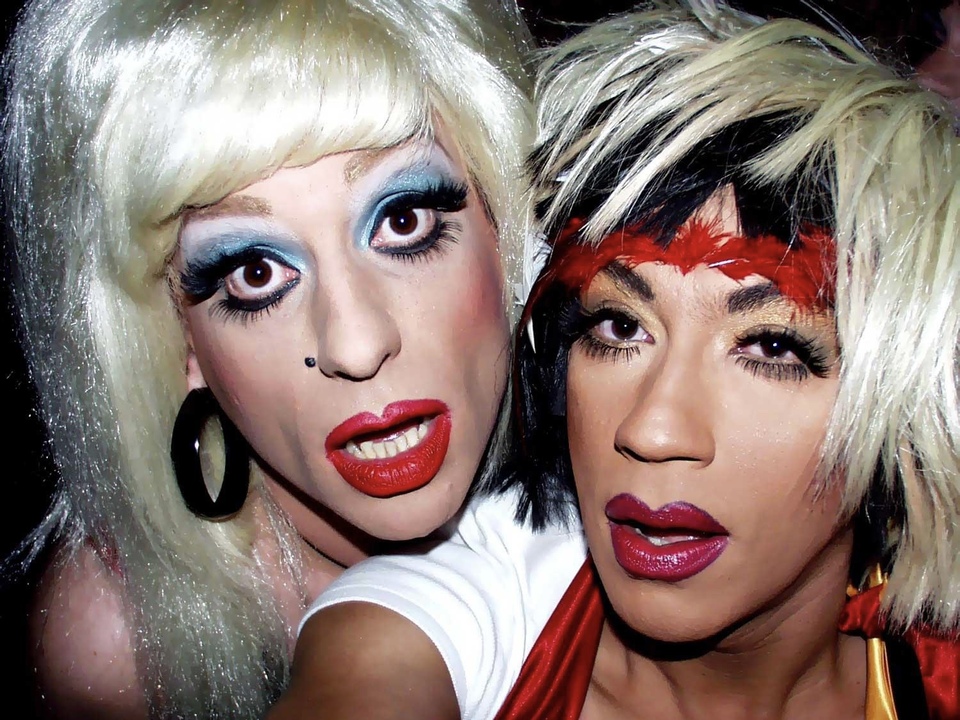 Heklina (left) and Juanita More (right). | Photo: Juanita More/Facebook
"You weren't just an icon. You weren't just a comedic genius. You weren't just an avowed rimmer. You were my friend. And I will always love you," wrote longtime friend and community activist Christopher Vasquez.
"I am absolutely devastated. Heklina was an icon in the truest sense — funny, caring, outrageous, and brave," wrote California State Senator Scott Wiener. "She was the soul of San Francisco, and it's hard to imagine the city without her."
"Heklina was also a staunch defender of drag — which is under extreme attack right now — and created opportunities for young drag queens to find their space," added Wiener. "While we grieve, we must honor her memory by remembering the joy she brought us and the importance of the art form to which she dedicated her life."
Update: 2:30 p.m.
Sister Roma provided an update this afternoon from Peaches Christ.
"Joshua knows how concerned everyone is and that we all need answers to get some closure on the loss of our beloved Heklina," said Roma. "Peaches has asked me to share that after spending a lovely first few days on their trip to London together, she found Heklina dead on the living room floor of their shared flat on Monday morning. Peaches immediately called for emergency assistance and is pleased to report that everyone who responded and everyone she has been working with in London has been completely professional and supportive."
"As of today, Heklina is at rest in the Westminster Public Mortuary where an autopsy will be performed on Thursday to hopefully determine the cause of death," added Roma. "Peaches says she cannot leave Heklina alone in London until she has some answers so she will not be returning to San Francisco until Friday."
"This is all the information we have for now so please be patient and send all of your love and support to Peaches who is handling all of this like the bad-ass best friend she is," said Roma.